WhatsApp, now owned by social media behemoth Facebook, is one of the most popular and widely used messaging apps in the world. That's another reason for Android developers to come with apps and tools for WhatsApp users to help them do more while using the uber app. The WhatsApp dev team is itself working hard to develop new features for the official app. It now comes with several new features like biometric verification for iPhone users including touch and face ID, group audio and video calling, stickers, admin controls, payments, and more.
It still leaves a lot to be desired which is why third-party Android apps for WhatsApp exist. Let's begin.
SKEDit: Schedule WhatsApp Messages
The primary function of WhatsApp is to send messages, in a variety of formats, to people. It is amazing how WhatsApp never thought of releasing a scheduling feature. A must-have for a messaging app, you did think.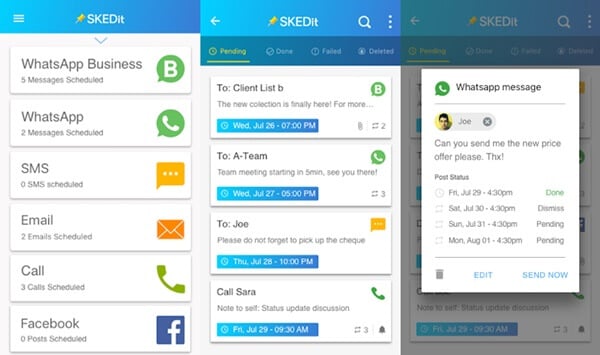 SKEDit aims to solve this problem. Using the app, you can easily create a custom message and schedule it to be sent on a later date. Not only that, but you can also schedule calls with it. Once you have scheduled a message, simply set a reminder so you can review or edit it before it goes out. Note that SKEDit also works with other messaging, email, and calling apps.
Download SKEDit for Android
Wemoji
Well, this is not going to do much for your productivity goals, but that doesn't mean its not fun! On second thought, fun activities can relieve stress which is good for being productive. Stickers are all the rage these days and Wemoji will let you use any image as a sticker. Yup, that's right. You can now use your own selfies and make stickers out of them. One of the most fun Android apps for WhatsApp.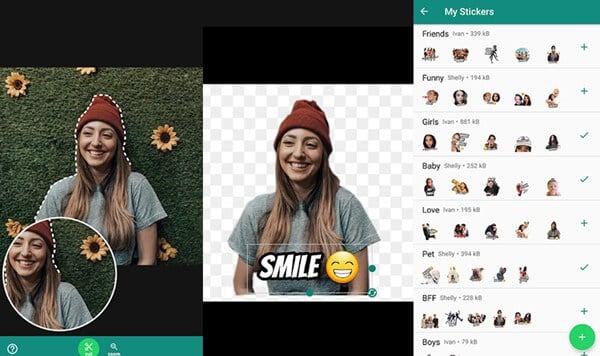 Just open Wemoji to add images, crop using your hand or a pencil to remove unnecessary parts using a magnifying glass, add text or smileys if you are into it, and stickify it on the fly. Once you have a sticker ready, Wemoji will create an entire sticker pack for you, ready to be imported into the WhatsApp library directly.
Wemoji is free to download and use and is ad-supported.
Download Wemoji for Android
Also Read: How to Block A Number on WhatsApp for iPhone & Android?
Autoresponder for WA
You know exactly what to expect going by the title, and you won't be disappointed either. Autoresponder for WhatsApp will let you respond to messages without having to touch your phone. Whether you are using a personal account or WhatsApp Business app, this can be a potential time saver.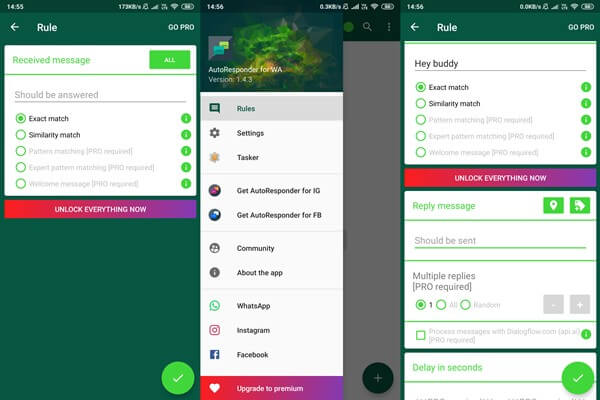 Some examples and features of Autoresponder for WA are sending a welcome messages to prospects/customers, sending live answers like location and name details to queries, schedule messages, setting up different messages for different individuals or businesses, and even more. If you are a Tasker user and fan, you will be happy to know that there is Tasker integration.
Autoresponder for WA is free with ads but if you are an advanced user, get the pro version for $5.
Download Autoresponder for WA for Android
Dashdow
Love chatheads on Facebook Messenger? You can now reply to messages from WhatsApp friends using the familiar ball of notification. Just install Dashdow and give it necessary permissions. You will begin to see chatheads appear on home screen, actually, every screen.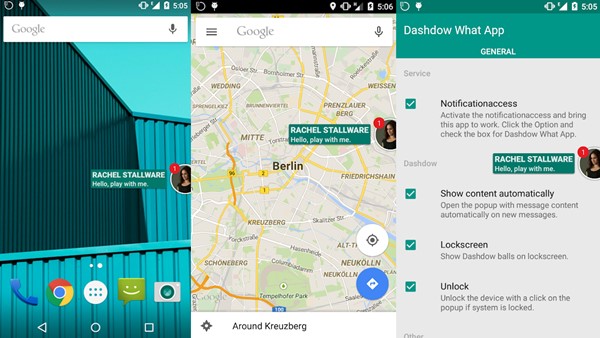 Tap on the chathead to open a floating window where you can easily respond to messages. Don't want to deal with it right now? Move the ball to the trash icon to remove it from the screen, and continue to focus on what you were doing earlier.
Dashdow is free and ad-supported but the ads are not intrusive in nature.
Download Dashdow for Android
Related: 19 Hidden WhatsApp Tricks for iPhone & Android Users
Voicepop
Are you hard of hearing? Maybe sitting in a quiet room with no access to a headphone? Voicepop is a cool transcriber Android app for WhatsApp, that is still in beta, which will transcribe WhatsApp voice messages into text really quickly.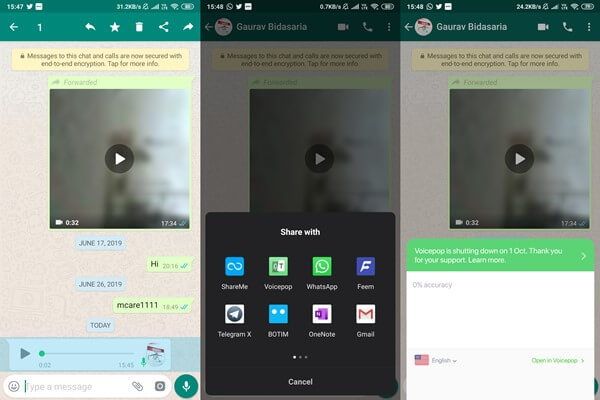 Just install the app and whenever you receive a voice message, forward or share it to the Voicepop app from within WhatsApp. That's it. You can instantly read the message instead of disturbing the whole room. Another notable mention here is Transcriber for WhatsApp.
The cool thing is that you don't have to leave WhatsApp at any time. The transcription will appear on the same screen at the bottom in a pop-up. Cool, huh?
Download Voicepop for Android
Also Read: How to Restrict Group Members from Messaging in WhatsApp?
Parallel Space
Most Android phones now support dual SIM which means you can now have two WhatsApp accounts. The only problem is that WhatsApp doesn't support it and you cannot install the same app twice unless you are using the Second Space feature on a Xiaomi phone. Wait, that's not true. Enter Parallel Space.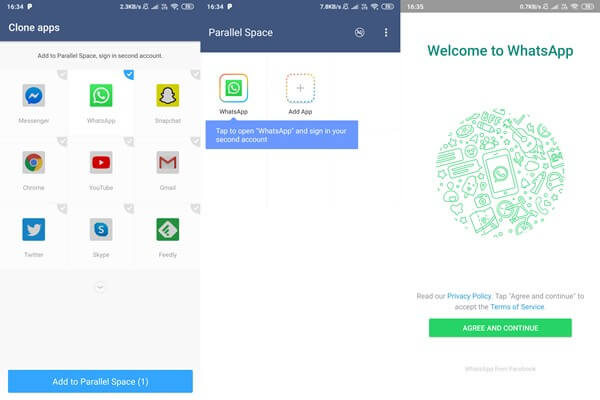 Using this magical Android app for WhatsApp, you can now install any app twice on the same Android phone. This will allow you to sign into WhatsApp with multiple usernames at the same time. Pretty handy when you have two separate accounts for personal and professional purposes.
Parallel Space is free and ad-supported but checks out the pro version to remove ads and add even more features like hiding or locking apps, create private space and hide apps inside, and more.
Download Parallel Space for Android
WAToolkit (Bonus)
WAToolkit is a Chrome extension and not an Android app. It still made the list because a lot of us use WhatsApp on the web and because it offers so many useful features. You don't need to scan a QR code on WhatsApp Web or even have a tab open. It works right inside the extension. Stop scanning code every time you open the browser.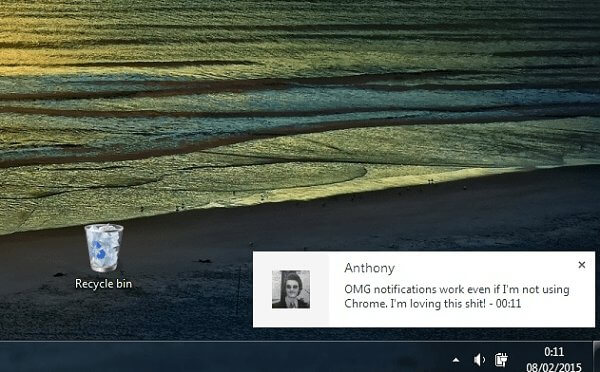 You will see notifications that will be part of Windows OS 10. That means you will see a pop-up in the notification center or in the browser at the bottom. WAToolkit is completely free to use and there are no ads to sore your eyes.
Download WAToolkit for Chrome
There are plenty of Android apps for WhatsApp that you can use to boost your productivity and save precious time and resources. You just need to know where to find them, and how to use them. If you know of any other WhatsApp utility or fun app, please do share them in the comments below.