Mobile cameras are more powerful and they can produce stunning images. Taking a cue, Google released Camera2 API last year which allows budding photographers to take photos in RAW format. This allows you more control over your photos and its outcome while post-processing. Another area where smartphones are winning the race is apps. When you combine these two, you have a powerful photography tool right in your pocket.
So, let's take a look at some of the best RAW image editing apps for Android and see what you can and cannot do with them.
Camera FV-5
Camera FV-5 comes with a lot of amazing features for those who are looking for a professional camera app. This raw image editor app comes with a viewfinder display where you can control ISO, aperture, focus, and exposure. You can set white and exposure balance on auto-pilot. There is, of course, the 16-bit RAW image support in DNG format. I was able to control the shutter speed manually which is adjustable between 1/8 to 2.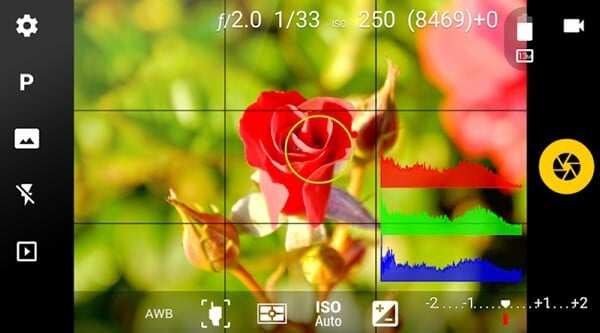 You will find the remaining features in order like zoom, auto-focus, ability to set save folder. The volume key can be set to good use. Any feature can be assigned to it like adjust zoom, EV exposure, ISO, etc. There were no pre-made scenes and filters like on Instagram. You can control all of it manually which actually gives you much more control if you know what you doing.
Download Camera FV-5 from PlayStore
Manual Camera
Manual Camera, as the name suggests, wants to put the control in your hands. You can control shutter speed, ISO, exposure compensation, white balance, and focus manually. When I launched the camera for the first time, everything was set in auto-mode. From here, you can set each individual parameter separately and take a pic. There is support for DNG format which is for RAW images.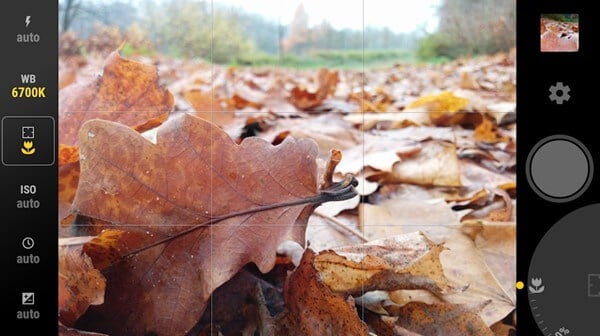 I couldn't make much use of the volume button like in the previous app. This was a little limiting but still OK. Regular features like setting timers and control sound effects were all there. The app will cost you $2.99. There are no ads.
Download Manual Camera from PlayStore
Also Read: 7 Best Android Apps to Scan Old Photos
Snapseed
Snapseed is one of the more popular mobile photography apps on the Android platform, and it comes from the house of Google. What makes Snapseed an amazing app is not just the sheer number of RAW image editing options you get, but the super functional UI where all the options are neatly organized.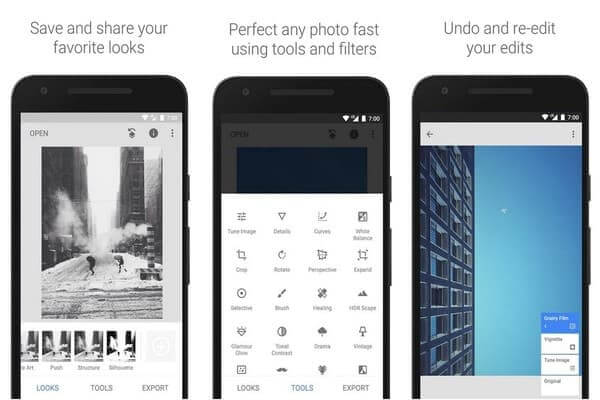 There is a separate develop menu option that will open automatically the moment you open a RAW image. It's like a mobile darkroom that you can carry in your pocket. Snapseed has a powerful algorithm that you can implement using the Control Point tech where you simply select 8 different points on the image. Algo will do the rest and enhance your image. You can also do this manually using a combination of 29 powerful tools like brush, heal, white balance, tune, and using filters.
Download Snapseed from PlayStore
Lightroom
Photoshop has long been the pioneer of image editing apps. It has become a benchmark for other image software and apps to compete with. This is why Lightroom excites me. Adobe Photoshop Lightroom CC brings some of the best features of the desktop version to your pocket, including the ability to edit RAW image files in DNG format.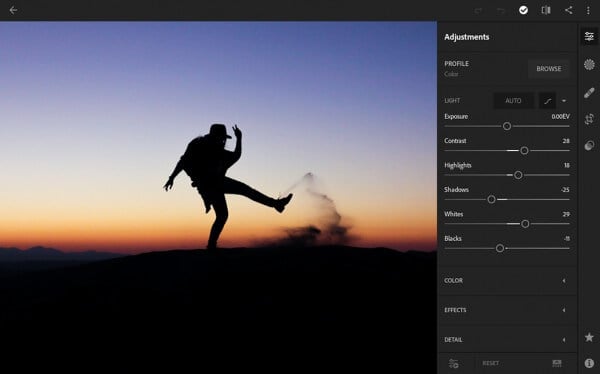 You can control the exposure range with HDR mode which will help take amazing photos even in low lighting. Apart from the manual controls, Lightroom also offers a better way to organize your collection and albums using tags, ratings, and flags. While you can control the different aspects manually, there are also five presets that you can use to enhance your image automatically with a single click.
Download Lightroom from PlayStore
Also Read: Best Camera Drone for Aerial Photography and Videography
VSCO
VSCO has a unique eco-system in the world of mobile photography. Apart from all the amazing filters that you can use to edit your RAW images, there is a social media platform that you can use to follow other photographers.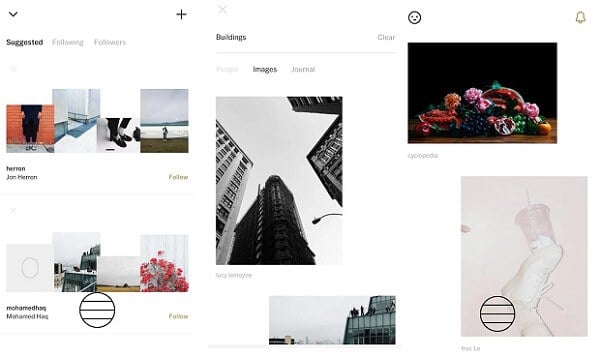 You can capture RAW images and then either edit and control everything manually, or you can use one of the many filters that are available to you. The editor itself is powerful with features like hue, saturation, balance, and recovering lost highlights among others. VSCO comes with in-app purchases where you can buy in-built filters to edit RAW images on the fly. It's so easy even my mom could do it.
Download VSCO from PlayStore
Photoshop Express
Going by the fact how popular photoshop is, it shouldn't come as a surprise that another app from the team of Adobe has made the list. Photoshop Express is completely free and has no ads whatsoever. A true competitor to Snapseed. Easily take or edit RAW images which Express which has a number of tools under its arsenal. Creating a collage is so much easier. Just choose a format, select the images, and you are done.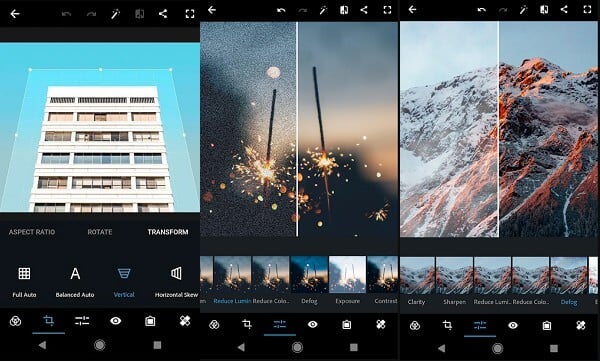 You can work with contrast, exposure, temperature, tint, and even add a watermark for your fans and followers to remember you by. With more than 80 presets and numerous filters, the app is also beginner-friendly.
Photoshop Express is ad-free with no in-app purchases.
Download Photoshop Express from PlayStore
Pixlr
Display your creativity at its best with Pixlr, one of the best raw image editing apps on Android. Access over 2 million combinations of effects, overlays and filters to turn your photo into a beautiful masterpiece with these features. Balance out the colors present in the photo in a single click with Auto Fix tool of the app.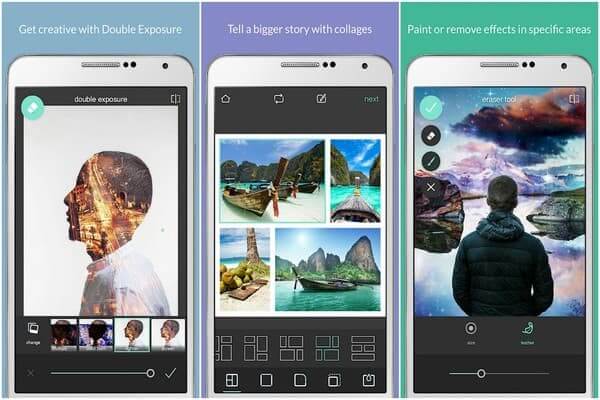 Layover more than one image with Double Exposure to mix them for an elegant look. Focus on a single color with a Color splash and add more impact to it with Focal Blur. Amplify the richness in the photo with the overlays and cool it down as well as add surreal shades.
Download from PlayStore
Adobe Photoshop Express
Use Adobe Photoshop Express as a quick, easy, and powerful editing means on your Android device. With a friendly single touch, remove spots and blemishes as well as unwanted items from your photos. Instantly light up your selfie portraits with the slider controls for clarity, shadows, contrast, and other changes. Create new looks and save them for future use.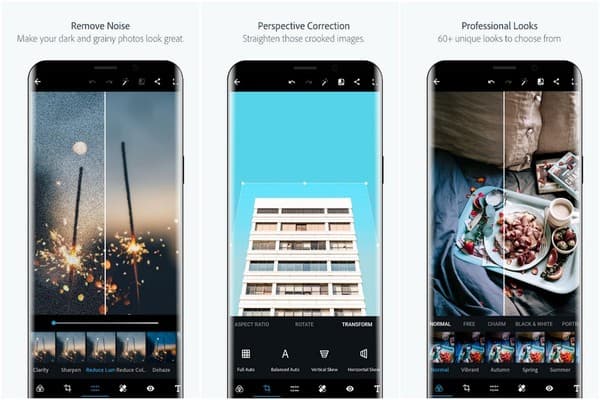 Give a distinctive touch to the photos with the 15 borders and frames. Import as well as edit the photos in RAW format. Add and create text as well as a graphical watermark on the images. Use the Defog feature for reducing the fog and haze present in the photos.
Download from PlayStore
PhotoDirector Photo Editor App
Edit, resize as well as fix the pictures with PhotoDirector photo editing app. The image editor app comes with raw image editing allowing you to retouch the picture with HSL and RGB sliders. Use these sliders to correct as well as adjust the white balance problem.
Apply photo effects to the overall area of the picture as well as to the specific regions of the pictures. Add mood as well as style to the pictures with the help of one-click overlays over the photos. Improve the color accuracy and tweak the saturation for having the most vivid image as result.
Download from PlayStore
LightX
LightX offers advanced photo edit tools like Color mixing, curves along with level, and vignette effects. Put text on your photos and create text memes with the app without any trouble. Cut out and change the background of the photo to make it more impactful as well as attractive. Choose the artistic filters to have a diverse gray shade, color shade as well as paint photo effects.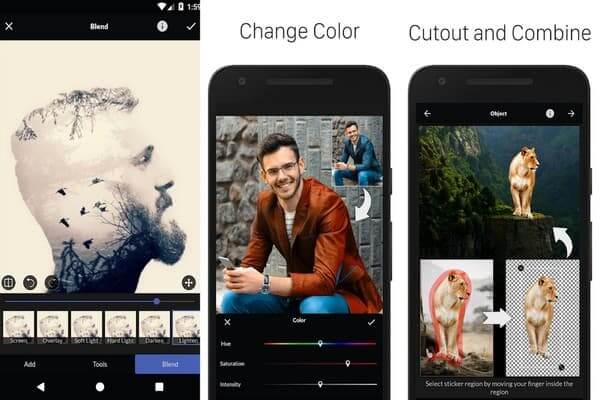 Stylize your hair with the help of hair color and try out different hairstyles on your selfie portrait. Mix photos with diverse blending modes like dark, light, and etc to create double as well as multiple exposure photos.
Download from PlayStore
Open Camera
Open Camera is a fully-featured and an easy to access the app for people. The camera comes with the auto-stabilization feature that ensures the perfect level of every clicked photo. Click photos in RAW format and edit them after clicking for having a better image at the end. Optimize the GUI of the app to click better photos with your right or left hand.
Click photos through sounds and noise from the camera app to capture the frame in a unique way. It comes with support for Camera2API and HDR to ensure good control over photo capturing process.
Download from PlayStore
Mobile photography is a niche in its own right. There are additional mobile lenses and gadgets available in the market that can fit on your regular phone camera to take beautiful shots. Let's face it. DSLR cameras are clunky, heavy, difficult to carry around, and in my case, difficult to understand and use. Mobile is so much easier and fun.
These were some of the best apps to edit RAW images on your droid. These are apps easy to use yet powerful enough to get the job done. The difference between DSLRs and smartphones is reducing by the day. Add to the fact that almost everyone owns a smartphone and it is pocketable, it makes it a better choice to have at least one of the Raw Editing Android App on your Phone.