For students, laptops can be a study aid that also doubles as a place to chill after studies. Finding the finest laptops for students can appear like an extra task, however, because there are so many options available at such a wide range of pricing.
Here, we list out some of the best student laptops for you to buy this year from all categories.
Best Student Laptops in 2022
Best MacBook for Students
Best Windows Laptop for Students
Best Chromebook for Students
Apple MacBook Pro 14-inch (M1 Pro)
Microsoft Surface Laptop Go
Samsung Galaxy Chromebook 4
Best MacBook for Students
Apple MacBook Pro 14-inch (M1 Pro)
Best Windows Laptop for Students
Microsoft Surface Laptop Go
Best Chromebook for Students
Samsung Galaxy Chromebook 4
How to Choose the Best Laptop for Students?
While buying a new laptop for your college purpose, you will have three options to choose from – MacBook, Windows Laptops, and Chromebooks. Though you may be familiar with Chromebook from school days, they can even be useful for you as an adult.
MacBook for Students: When it comes to choosing the Operating System or brand, you should really give it a thought on your usage pattern, requirement, and longevity. Apple MacBooks are stable and portable for students who need to carry their laptops around. They are the power machines built for any resource-hungry tasks, but if your focus is on playing PC games during weekends, MacBook could be a bad idea.
Windows Laptop for Students: Windows laptops come in all shapes and sizes. There are the powerful ones and then the budget models that some people call potato PC. A powerful Windows laptop can rival MacBooks and even lets you play games nonstop without a stutter. But when it comes to the battery, Windows laptops still lag behind.
Chromebook for Students: Chromebooks look exactly like Windows laptops but what matters is under their hood. You get a mobile-grade CPU that runs the ChromeOS for light usage. No gaming, no applications. All you can do is browse the internet, install some android apps, and a bit more. A low-power machine means better battery life too.
Consider the battery life and CPU speed while making your student laptop purchasing decision. These are some of the best value-for-money student laptops that we have on Amazon.
Make sure you check out the Amazon deals if you're trying to save money on your student laptop or any of those extras, as we expect savings on a large number of back-to-school gadgets. If you're looking for the best student laptops and don't want to spend a fortune, we've got you covered.
Related: Your College Email ID Is a Discount Card: Don't Pay Full Price for Gadgets and Apps Anymore
Best MacBooks for Students
Apple MacBooks are stable and portable for students who need to carry their laptops around and work a lot. Although they come on the pricier side, you can rely on a MacBook for at least five years or even more (trust me, I have a 2010 MacBook Pro that is still intact).
MacBook Pro 14-inch (2021)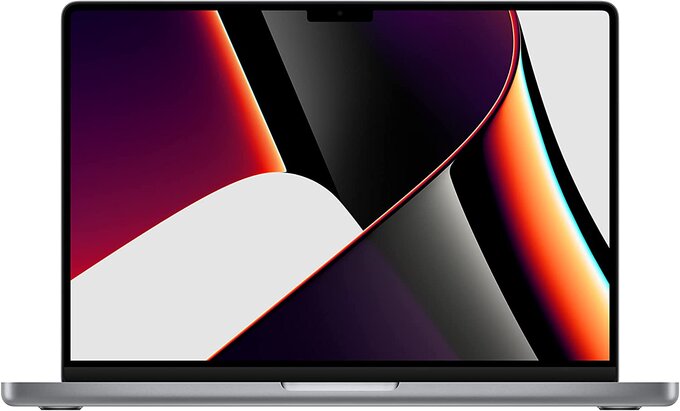 Apple M1 Pro or M1 Max processor offers a big boost in performance in CPU, GPU, and machine learning. As many as ten cores allow for up to 3.7x better performance in professional workflows. The 32-core GPU with 13x higher performance for graphic-intensive applications like games and video editors.
In addition to 17-hour battery life, you can use up to 64GB of unified memory to ensure that all your tasks go smoothly.
It has an incredible dynamic range and contrast ratio on the 14-inch Liquid Retina XDR display. FaceTime HD camera with sophisticated image signal processor for clearer video conversations in 1080p resolution.
Pros:
Powerful and Responsive
Great Battery Life
Excellent Display Clarity
Cons:
Too Pricey
Thicker Design
Key Features: M1 Pro Chip | ProMotion Display 120Hz | 17-hour battery life | Unified Memory
MacBook Air M2 (2022)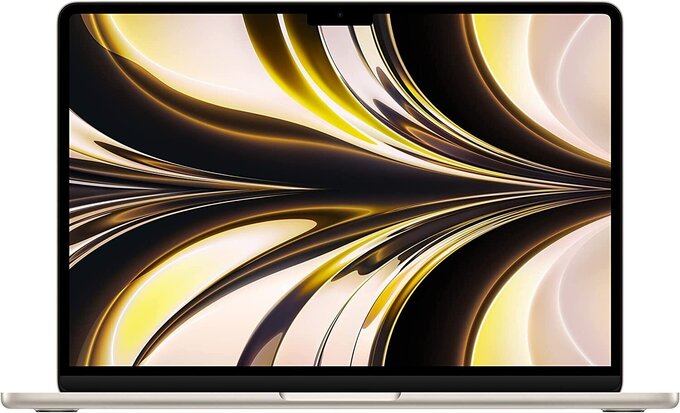 The updated MacBook Air weighs just 2.7 pounds, making it even more portable. It's a powerful laptop that enables you to do almost anything on the go, whether you're working, playing, or creating. The 8-core CPU, up to 10-core GPU, and up to 24GB of unified memory on the M2 chip help you get more done in less time.
With over 500 nits of brightness, P3 wide color, and support for 1 billion colors, the 13.6-inch Liquid Retina display is capable of delivering brilliant pictures and stunning detail. Spatial Audio on the four speakers and three microphones in the 1080p HD FaceTime camera makes you look and sound your best.
Get a battery life of more than 18 hours and charge it using either the MagSafe charging port or either of the two Thunderbolt connections.
Pros:
Lightweight laptop
Fast and Powerful
Excellent Battery life
Cons:
Thermal issues – No fan
Slightly slower SSD
Key Features: M2 Chip | Unified Memory | 13-inch display with Vivid Colors | 1080p Camera | Spatial Audio
Related: MacBook Air vs. Pro M2: Reason to Buy MacBook Air M2 Instead of Pro
MacBook Pro M2 13-inch (2022)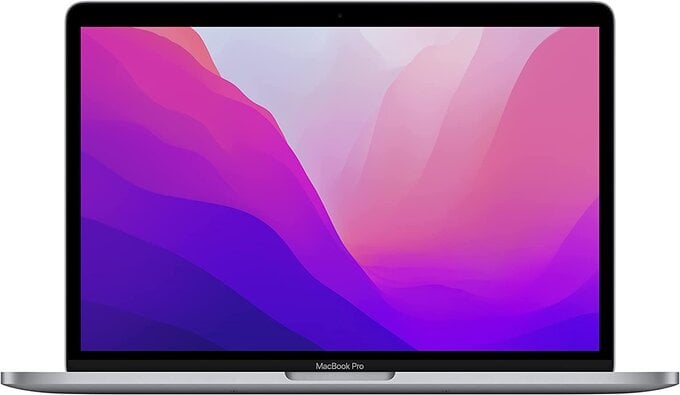 The MacBook Pro laptop with a 13-inch screen is a powerful device that can be carried anywhere. With a next-generation 8-core CPU, 10-core GPU, and up to 24GB of unified memory, you can accomplish more in less time.
Because of its active cooling technology, the 13-inch MacBook Pro can maintain pro-level performance for long periods of time.
This retina display's 500 nits of brightness and P3 wide color gamut make images pop with detail. With a FaceTime HD camera and a three-microphone array, you can look crisp and sound excellent at the same time. The power-efficient performance of the Apple M2 chip lasts for up to 20 hours of battery life, allowing you to go all day and into the night without having to worry about charging your device.
Pros:
M2 Chip enables better performance
20-hour battery life
The fan allows for better heat management
Cons:
Older design
Only 720p camera
Key Features: M2 Chip | 20-hour battery life | P3 Wide Gamut Display | Better Thermal Performance
Today's Deal: $174.24 Off
MacBook Air M1 (2020)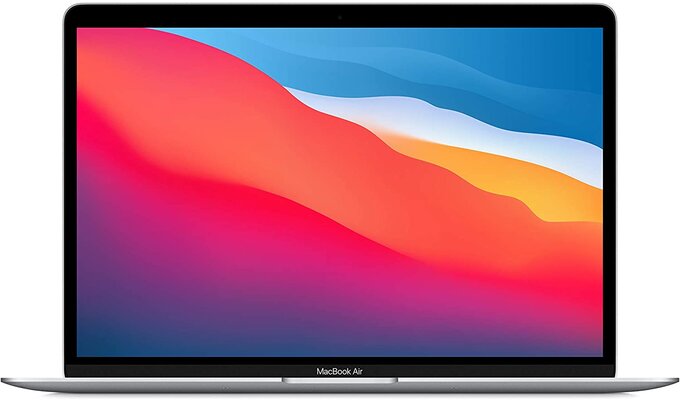 Apple's M1 chip, which features an 8-core central processing unit, is capable of delivering a performance that is up to 3.5 times more than that of the previous generation of Intel MacBooks while consuming significantly less power.
Your system will run faster and be more responsive with 8GB of unified memory. As a result, it can handle memory-intensive multitab browsing and open large graphic files quickly and reliably.
Incredible Display: The 13.3-inch Retina display brings a whole new degree of realism to the images you see on your screen. The colors and text are bright and clear. Also, with the M1 processor's efficiency, you can get up to 18 hours of battery life.
Pros:
Long battery life
Slim and Lightweight
Powerful processor
Cons:
Older design
Cannot run too intensive tasks
Key Features: Apple M1 Chip | Slim and Lightweight Laptop | Unified Memory | 18-hour battery life
Today's Deal: $150.00 Off
Related: 15 Best Accessories for M1 MacBook Air & Pro with M1 Chip
Best Windows Laptops for Students
Windows laptops are the best choice for those who do not want to invest too much in a computer but still want some performance. You can rely on them for your daily tasks at college, some programming to a large extent, and some entertainment. Plus, if you are a hardcore programmer who wishes to work in a Linux environment, booting Linux Distros on such laptops is easy. Plus, think of working with Windows Subsystem for Linux, which comes in handy in any situation.
Microsoft Surface Laptop Go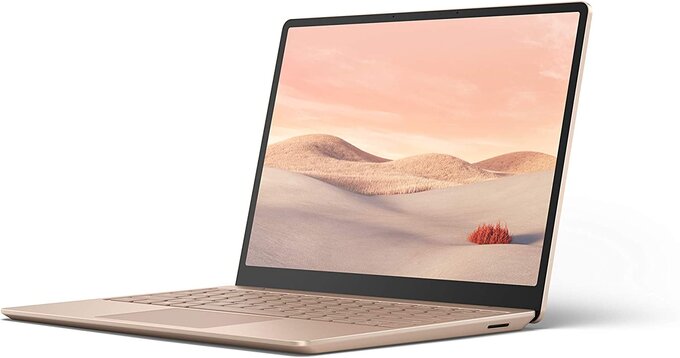 The Microsoft Surface Laptop Go weighs only 2.44 pounds, making it light enough to carry around easily and small enough to remain by your side throughout the day. Utilizing the 12.4-inch touchscreen display with PixelSense, you can get work done, browse the web, or view hours of content.
It promotes ease of use with the Windows Hello sign-in, in addition to the Fingerprint Power Button with Windows Hello and One Touch sign-in on some models.
With a 10th Gen Intel Core i5 or i7 Processor, you can run all of your favorite programs and keep up with the latest social media updates. During video conversations, meetings, and other types of online get-togethers, the built-in 720p HD camera will allow you to present yourself in the best possible light.
Pros:
Portable design
High-Quality Touchscreen Display
Powerful Processor
Optimized for Windows 11
Cons:
Pricey for a compact laptop
No dedicated graphics
Key Features: 10th-Gen Intel Processor | Windows 11 Support | Lightweight | 12.4-inch PixelSense Touchscreen display
Related: 7 Best SSD for Laptops to Upgrade Windows System
Lenovo ThinkPad E15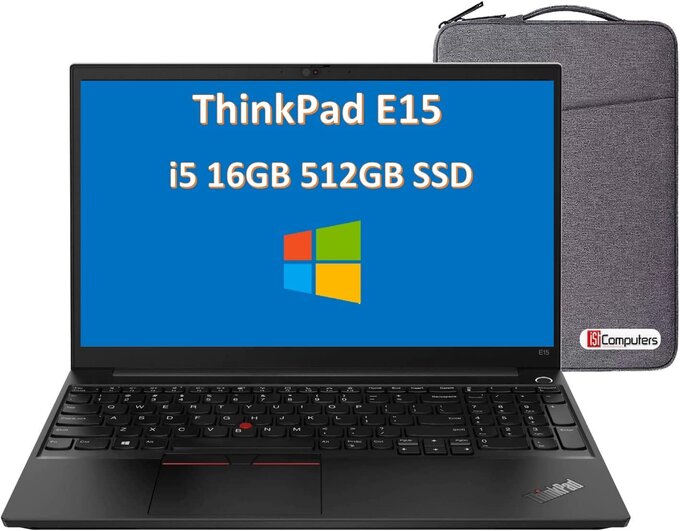 The ThinkPad E-series E15, which is the successor of the E590, features a 15.6-inch display that is capable of Full HD resolution.
The processor is an Intel 10th Generation Core i5-10210U, which has four cores and eight threads, a base clock speed of 1.6GHz, and a maximum turbo speed of 4.2GHz. The memory is 16GB DDR4 memory. It also has 512GB of PCIe NVMe M.2 SSD storage for quicker data transfer.
Additionally, there are a good number of ports, with one Type-C (Power Delivery and DisplayPort) and two USB 3.1 Gen1 ports, one USB 2.0 port, one HDMI 1.4b port, and one RJ-45 port, and one audio combo jack on the laptop.
Pros:
Great rugged laptop
Decent selection of ports
Fast NVMe SSD
Cons:
Thick laptop
No thunderbolt port
Key Features: 10th-Gen Intel Core Processor | Rugged and Tough build | Fast SSD | USB-C Charging Support
Today's Deal: $53.99 Off
Acer Aspire 5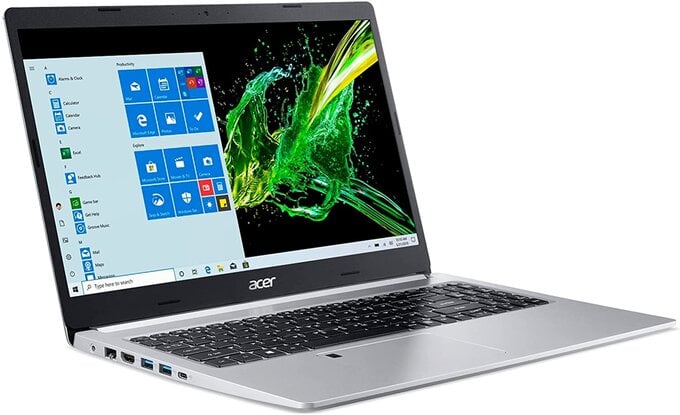 The Acer Aspire 5 includes a 10th Generation Intel Core i5-1035G1 Processor with a maximum clock speed of 3.6 GHz, 8 GB of DDR4 Memory, and 256 GB of NVMe Solid State Drive.
The display is a 15.6-inch widescreen LED-backlit IPS Display with Full HD resolution, and it is powered by integrated Intel Graphics.
In addition, the AX201 802.11ax Wi-Fi, backlit keyboard, fingerprint reader, and HD webcam are all included, as well as a battery that lasts up to 8 hours. A USB 3.1 (Type-C) Gen 1 connector (up to 5 Gbps), two USB 3.1 Gen 1 ports (one with power-off charging), one USB 2.0 port, and one HDMI with HDCP support round out the decent port choices.
Pros:
Cheap pricing
Fast Intel Core Processor
Full HD display
Cons:
Old and Boring Design
Only Integrated Graphics
Key Features: 10th-Gen Intel Processor | Windows Hello Fingerprint Support | 8-hour battery life | HD Webcam
Today's Deal: $36.99 Off
HP 15 Laptop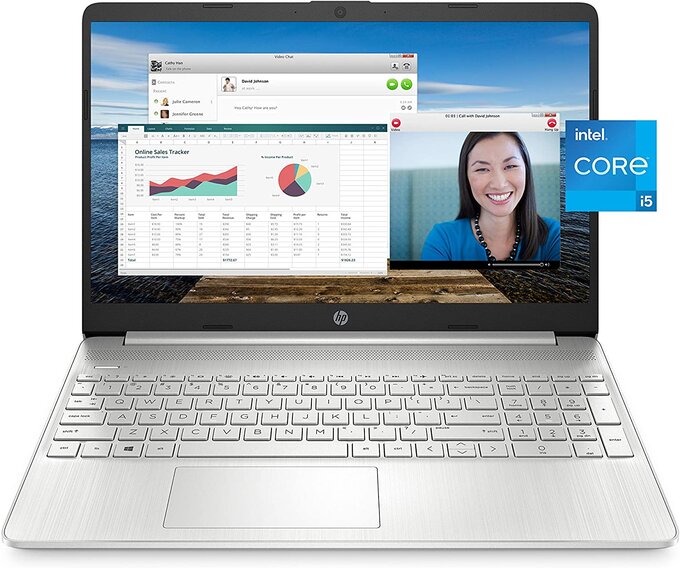 Get things done quickly with the HP 15 Laptop, which features an 11th Generation Intel Core i5-1135G7 processor. This processor offers speedy response and the best connectivity available in its class.
You can experience a new level of performance, along with sharp and breathtaking images, thanks to the Intel Iris Xe Graphics. With 256 GB of PCIe NVMe M.2 SSD storage, you can experience performance that is up to 15 times faster than that of a conventional hard drive. Additionally, owing to 8 GB of RAM, you will have increased multitasking and higher bandwidth.
You can get work done anywhere thanks to the long battery life of up to 7 hours and 15 minutes, and the HP Fast Charge feature allows you to get from 0 to 50% charge in just 45 minutes.
Pros:
Fast 11th-Gen Intel Processor
Excellent Battery life
Fast SSD
Cons:
Only has Integrated graphics
Thermal issues
Key Features: 11th-Gen Intel Core i5 Processor | 8GB RAM | 256GB NVMe SSD storage | Long 7-hour battery life |
Related: How to Get Android Phone Notifications in Windows PC, Laptop or Tablet?
Dell Inspiron 14 5420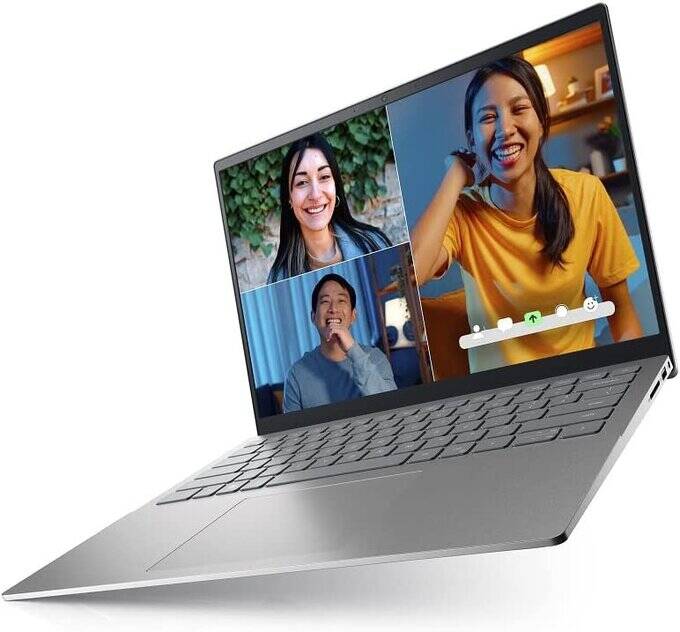 The Dell Inspiron 14 5420 14-inch laptop features a 2.2K anti-glare thin border 300-nit WVA display featuring ComfortView Plus support. Also, when it comes to multitasking, the latest 12th Generation Intel Core i5 or i7 processors with 8GB or 16GB RAM and NVIDIA GeForce MX570 graphics deliver exceptional responsiveness.
This little laptop, which has a screen size of 14 inches, is very easy to carry around with you wherever you go, whether you're going to your favorite cafe or studying in the library.
With a built-in lid sensor, this lightweight student laptop powers on instantaneously when opened, no matter where you are or what state your computer is in.
Pros:
High-Resolution Display
Lightweight laptop
12th-Gen Alder Lake Processor
Cons:
Only has NVIDIA MX series graphics
Not Great Battery life
Key Features: 12th-Gen Intel Alder Lake Processor | 2.2K Display | Lightweight and Slim Laptop
Today's Deal: $52.13 Off
Best Chromebooks for Students
You might not want to add up to your debt by buying an expensive laptop during college or school. Considering you would not need any coding or performance-intensive tasks to be done, cheap Chromebooks are always the better option. Note that you cannot do everything on a Chromebook that you do on Windows or MacBooks. For a bit of coding or compiling, you can use online compilers.
Samsung Galaxy Chromebook 4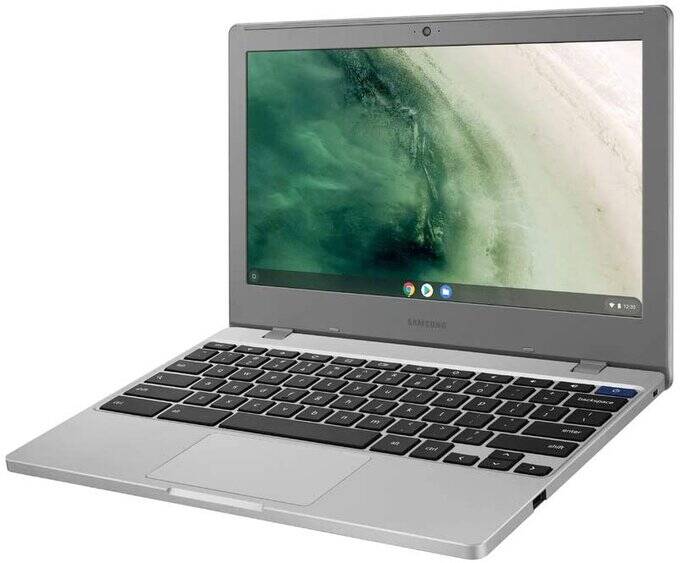 The Galaxy Chromebook 4 has a 12.5-hour battery life and a USB-C charger that can recharge the battery in a matter of minutes. With an 11.6-inch screen, a full-sized keyboard, and a trackpad, this laptop is lightweight and compact.
The laptop is powered by an Intel Celeron N4000 processor with 4GB of memory and a 32GB eMMC flash drive. Depending on the network environment, usage patterns, and other factors, battery life can vary significantly.
Streaming videos or downloading large files will go pretty quickly when you have access to a Gigabit Wi-Fi connection. The product complies with eight military-grade (MIL-STD-810G) standards, which are as follows: transit drop, vibration, high temperature, freezing, dust, humidity, and low pressure.
Pros:
Long battery life
Smooth Operating system
Ultraportable laptop
Cons:
Not suited for desktop apps
Compatibility issues
Key Features: Cheap pricing | Type-C charger | Best for Google users | 12.5-hour battery life
Today's Deal: $88.99 Off
Related: Want to Use Windows Apps on Chromebook? Use These Apps Instead
Samsung Galaxy Chromebook Go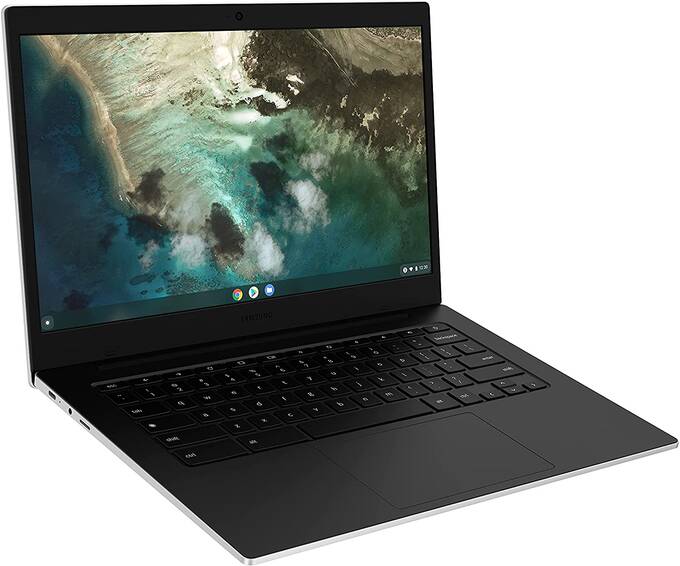 The Galaxy Chromebook Go is Samsung's lightest Chromebook laptop to date and features a new super thin design, making it ideal for people who lead hectic lives that require them to be on the go. The Galaxy Chromebook Go is built with military-grade materials to withstand accidental drops, dings, and spills.
A rechargeable battery that lasts all day with an extended battery life of up to 12 hours means you'll be able to go through your schoolwork with ease while still having plenty of juice left over for some "me time."
With Wi-Fi 6, you'll be able to get more done in less time. Wi-Fi 6 is three times better than the previous version of Wi-Fi. It uses the Intel Celeron Processor, 4GB RAM, and 32GB SSD storage. Connectivity is provided by Wi-Fi and LTE on some models.
Pros:
Faster Wi-Fi
Best for always online people
Lightweight for use
Cons:
Quality control issues
Not suitable for desktop software
Key Features: Portable Laptop | 12-hour battery life | Great display quality
Lenovo 10E Chromebook Tablet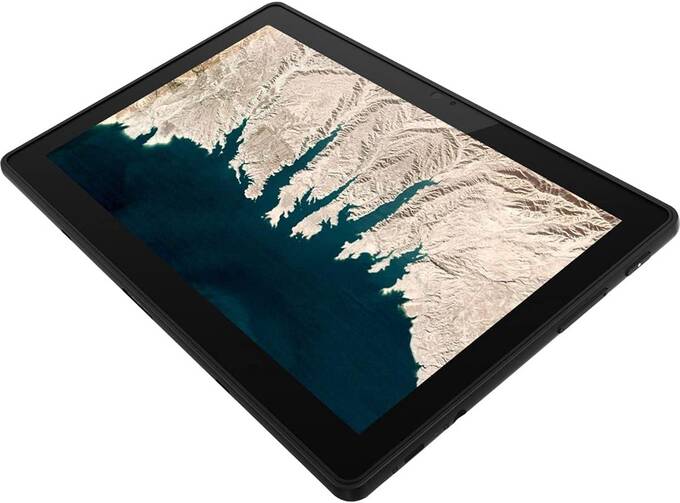 The Lenovo 10 E is a powerful tablet that measures 10 inches and features a Full High Definition (FHD) display protected by Dragontrail Pro glass. It's easy to integrate into your school's Chromebook network.
The MediaTek Processor provides power for the tablet, which also features 4GB of RAM and 32GB of storage space. Wi-Fi and Bluetooth are available, as well as a variety of other networking choices.
The Lenovo 10E Chromebook offers a battery life of 8 hours, which can assist you with your studies as well as other multimedia consumption demands.
Pros:
8-hour long battery life
2-in-1 device with a touchscreen
Cons:
Uses an old processor
Less storage space
Key Features: 8-hour battery life | MediaTek MT8183 Processor | Convertible Device (2-in-1)
Related: Best Tips to Customize Chromebook And Make It Your Own
HP 2-in-1 Chromebook
The HP 2-in-1 Chromebook comes with Chrome OS from Google and features a 12-inch LCD display. The laptop is powered by a 7th-gen Intel Core M-7Y30 Processor.
It also features 4GB RAM and 32GB eMMC storage provided. Connectivity options include Wi-Fi and Bluetooth. The capacitive touchscreen also supports a stylus if required.
It has a long battery life of around 8 hours on a single charge, making it a decent choice for light academic work and media consumption.
Pros:
Ultra-low power consumption
Decent connectivity options
The touch screen supports a stylus
Cons:
Overheating issues sometimes
Slower eMMC memory
Key Features: 12.3-inch Touch screen | Chrome OS latest version | Low power consumption | 4GB RAM and 32GB memory |
As a student, you will need something that's both reasonable and dependable when it comes to your laptop purchase. It's generally a good idea to get a laptop from a well-known brand because you want it to last you through your whole college career, if not longer.
If your college has any specific policies or recommendations, it's always a good idea to check them out. In order to minimize software compatibility concerns or to make access to technical help easier, Windows-based laptops are often recommended.