Like every year, Apple has updated its MacBook lineup, MacBook Air 13 and MacBook Pro 13, with a powerful M2 chip. As you must be already thinking, many Pro-users would want the MacBook Pro, and college students go for the MacBook Air for the sake of portability. But for the first time in Apple's history, the Air seems to get ahead of the Pro model this time, at least in some areas.
MacBook Pro M2 is not up to the mark and the MacBook Air M2 could be the best choice for you. Want to know why? Read along.
MacBook Air M2 vs. MacBook Pro M2
Apple entirely ditched the Intel chips except for the cheese grater Mac Pro, which was overthrown by the Mac Studio (M1 Max) recently. The new MacBook Air and Pro 2022 are from Apple's commitment to bringing more powerful machines without sucking up a lot of power and space.
Powered with the M2 chip, MacBooks this time gets up to 35% faster than the M1-powered 2020 model MacBooks. Despite being different models at two price ranges, both Air and Pro share a handful of features as well. Before diving into why you should not buy the MacBook Pro M2, let's look at both hardware specifications.
MacBook Air M2 vs. MacBook Pro M2: Specifications
Specification
MacBook Air M2
MacBook Pro M2
Display
13.6-inch Liquid Retina
2560×1664 px (224 PPI)
500 nits
True Tone, P3 WCG
13.3-inch Liquid Retina
2560×1600 px (227 PPI)
500 nits
True Tone, P3 WCG
CPU Cores
8
8
GPU Cores
8 / 10
10
Memory Options
8GB / 16GB / 24GB
8GB / 16GB / 24GB
Storage Options
256GB / 512GB/ 1TB / 2TB
256GB / 512GB/ 1TB / 2TB
Max. Battery Life
Up to 18 Hours
Up to 20 Hours
Speakers
Four-speaker Wide Stereo
Stereo Speakers
Microphones
Three-mic array
Three-mic array
Camera
1080p FaceTime HD camera
720p FaceTime HD camera
Ports
MagSafe 3 Charging
2x Thunderbolt 3, USB-C 4
2x Thunderbolt 3, USB-C 4
Display Support
Up to 1x 6K @ 60Hz
Up to 1x 6K @ 60Hz
Power Adapter
30W / 35W Dual USB C / 67W
67W
Weight
2.7 lbs
3 lbs
Device
2022 Apple MacBook Air Laptop
2022 Apple MacBook Pro Laptop
Display
13.6-inch Liquid Retina Display
Device
2022 Apple MacBook Air Laptop
Display
13.6-inch Liquid Retina Display
Device
2022 Apple MacBook Pro Laptop
Related: Do I Need New M1 MacBook Air or MacBook Pro: How to Choose the Right M1 MacBook
Reasons to Buy MacBook Air M2 Instead of Pro M2
You must have already set up your mind to buy any of the new MacBooks powered with Apple M2 chips. But as someone who has been using MacBooks for longer, I wouldn't recommend getting yourself a MacBook Pro M2. Why would I suggest the MacBook Air M2 instead? Below are some reasons.
Better Design, Display
Looking for a massive upgrade in the MacBook design? Apple seemingly disappointed the MacBook Pro buyers this time by keeping the same old design with a Touch Bar (I mean, who wants Touch Bar anymore?). MacBook Air M2, on the other hand, gets the updated design language from the last year's MacBook Pro 14 & 16 with M1 Max/Pro chips (yes, with a notch on display).
The main design change for MacBook Air is reflected in more than just the screen. I'd say the MacBook Air M2 is purely a budget version of last year's 14 & 16-inch MacBook Pro models, at least in the design department.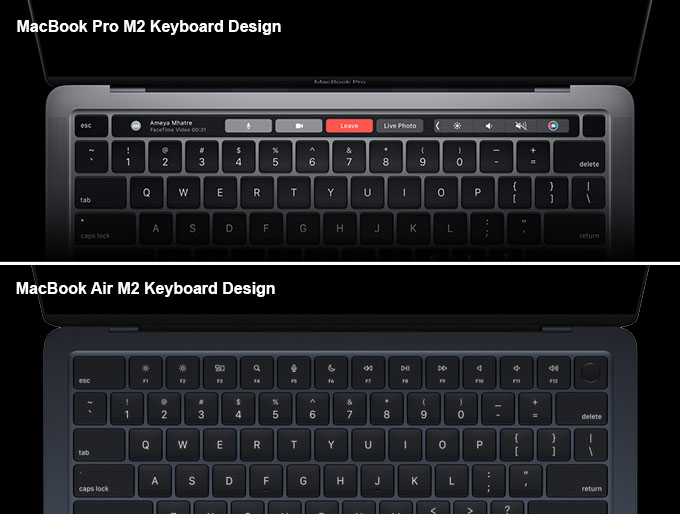 The keyboard The function key row now has full-size keys, along with its low-profile design for a seamless typing experience. The MacBook Pro M2 features the same keyboard, but the top function key row is taken by the Touch Bar, which, by the way, no one loves to use these days (except for some programmers).
Both the MacBook Air and Pro with M2 have the same screens. This means you will get the same resolution, brightness, contrast, HDR, and whatnot. Even here, the MacBook has the upper hand with a notch screen, giving extra space for the apps to run without bothering about the menu bar.

Let's close the lid and take a look from the outside. MacBook Air has the new design Apple will keep for at least another 3-5 years. But you get left behind with the old MacBook design from 2020 or before if you purchase the MacBook Pro M2 (👎). Who wouldn't want to slay with the new MacBook after spending over a grand on it? MacBook Air M2 is your choice as you get the updated design. The Air lineup also adds two more colors – Moonlight and Starlight.
You Get MagSafe Charging on Air, Not on Pro
You'd think this is a joke, but for the first time, a MacBook Pro lags behind its Air counterpart in many areas, especially the ports and connectivity. Apple brought back the popular MagSafe charging port with the M1 Max/Pro MacBook Pro in 2021, leaving out the USB-C ports for connecting your docks or SSDs. Most people, including me, expected to see the same tech for 2022 MacBooks, but it turned out worse.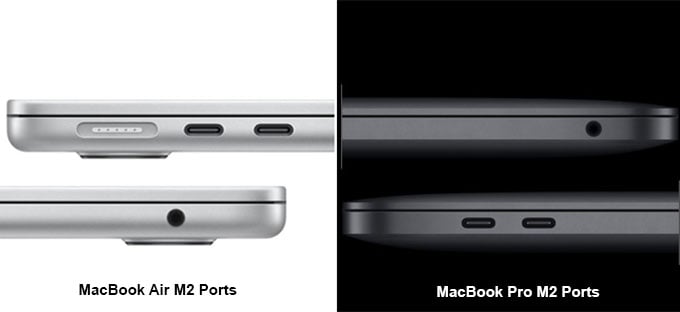 The 2022 MacBook Air M2 has a MagSafe 3 charging connector, which leaves out two USB C ports unused so that you can connect multiple displays and USB docks to them. But Apple intentionally didn't include a MagSafe connector for the MacBook Pro M2; they just ridiculed the demand for a better MacBook Pro this year. You will be left with one vacant USB port if you plan to buy the new MacBook Pro and plug it in a while using it.
Related: 10 Best MagSafe (Magnetic) USB-C Adapters for MacBooks & iPads
Better Camera and Speaker System
Laptop web cameras were never sufficient, even for Zoom meetings. Although, MacBook had decent webcams even if they lacked a Full HD resolution. Since the launch of MacBook Pro 14 & 16 in 2021, the standard 720p FaceTime cameras have been replaced by better quality 1080p FaceTime HD Cameras. MacBook Air M2 gets the same Full HD FaceTime camera. But to my surprise, the MacBook Pro still has the same old 720p FaceTime camera, duh!
Buying the new MacBook Air M2 will also give you dominance in the sound quality. While the MacBook Pro only has stereo speakers with wide stereo sound, the MacBook Air houses a massive four-speaker setup for an immersive audio experience. The same speaker combo from the M1 Max/Pro MacBooks Pros.
You Can Get Pro-like Performance on MBA M2
Suggesting a MacBook Air and Pro to people used to be a cakewalk, as the students and homemakers bought MacBook Air while the professionals get MacBook Pro. As we reached the M2 silicon, things got harder. The MacBook Air is no longer an underpowered machine, instead, it still can do Pro-tasks without bottlenecking the memory or computing power.
Starting from the M1, MacBook Air models will no longer have a fan, and it's the same case with the M2 model. The performance benchmark for the fanless passive cooling system cannot surpass the active cooling system on MacBook Pro. But this is purely relative, and you can find how powerful the Air is if you compare it with an Intel MacBook or a PC laptop.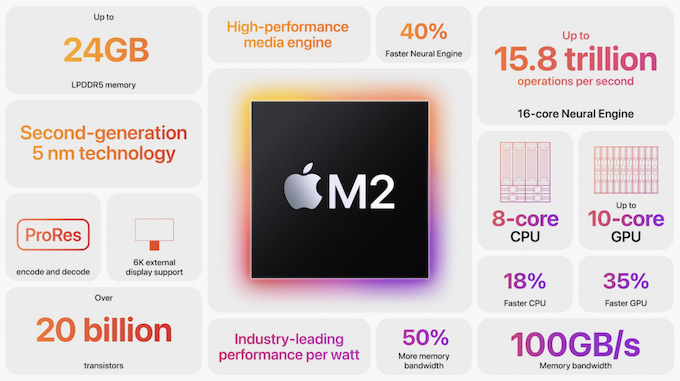 The 2022 MacBook Air comes with an M2 chip that houses an 8-core CPU, 8-core GPU, and 16-core Neural Engine for producing a massive performance even for heavy tasks. The new chip is 18% faster than the M1 in terms of CPU and 35% in terms of GPU efficiency.
The M2 chip for both MacBook Air and Pro has a ProRes encoder and media engines so that you won't get any spinning rainbow wheels while editing videos, even on Air. Apple claims the MacBook Air M2 to be 1.4X faster than M1 and 15X faster than Intel for video editing and rendering. That says it all.
The Price, Of Course
Like the M1 MacBooks, the M2 models come at the lowest-tier price tag for any MacBook lineup, just above $1000. The starting price for MacBook Air M2 is $1,199, and the Pro M2 is tagged at $1299. There isn't much of a difference in their price tags, but for many, even a hundred bucks make a lot of difference.
Today's Deal: $196.09 Off
But when you choose higher memory options, there's only a narrow line between their pricing and you might end up finding the new MacBook Air and Pro with similar specs at the same price tag. That creates another dilemma; should you be buying an Air for the price of a Pro?
Today's Deal: $60.00 Off
The answer to that totally depends on your usage and your expectations of the MacBook. Let's take two scenarios here;
Scenario 1:
You plan to get MacBook for your college projects, presentations, and less resource-hungry apps. Then, the Air is definitely a sure shot at the pricing. Plus, you will be getting the latest design on the MacBook, good enough to flex wherever you go. Its 1080p camera, speaker system, and MagSafe are surely cherries on the top.
Scenario 2:
You need a top-of-the-line performance with tons of video editing, rendering, gaming, and stuff. You'd be thinking of getting the new MacBook Pro M2 instead, but hang on. There's a catch in buying the new MacBook M2 if this is the case. Being a power user, the base variant with 8GB RAM, 8-core CPU, and 10-core GPU might not be enough for you, especially if you plan to use it long-term. Of course, you can upgrade the memory and CPU options before making the order, but how much would it be? See the image below: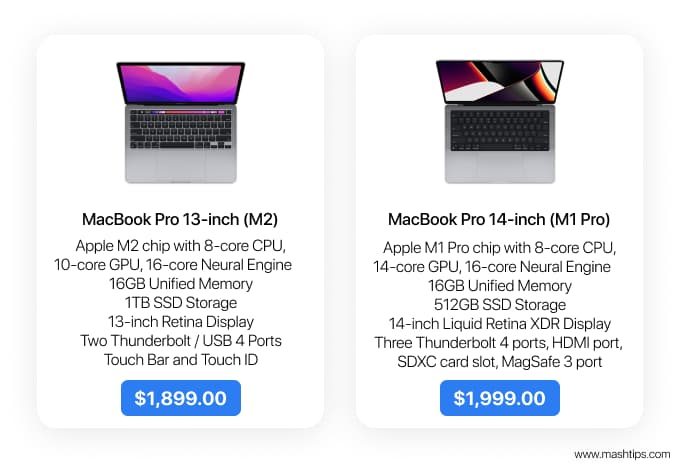 As you see on the left, the new MacBook Pro M2 with 16GB RAM and 1TB storage costs $1,899, while the MacBook Pro 14 with M1 Pro chip (8-core CPU, 14-core GPU, 16GB RAM, and 512GB Storage) is available just $100 away, at $1,999. Even the lowest configured MacBook Pro 14 from last year has a more powerful chip on the board, better memory options, and the new design includes a notch-screen and MagSafe connector.
Which one would you choose? Definitely, not the 2022 MacBook Pro M2, I bet. Apple is tricking you with this year's M2 machines, don't fall for it.
Related: Do I need 8GB or 16GB RAM MacBook Pro?
Wrapping Up: Is Apple Killing the MacBook Pro?
Not everyone would think how much contrast are there between the newly announced machines in the MacBook lineup this year. I could smell something terribly wrong when I saw the differences in the design itself. But does that mean Apple is killing the MacBook Pro models and trying to bring up MacBook Air more? Not exactly; I will explain why.
To know the whole trigger behind the unreasonable design differences between the M2 MacBook Air and Pro, we need to dive back to 2020. After using PowerPC and Intel chips for over three decades, Apple introduced its first in-house silicon for MacBooks and iMacs.
The first chip was called M1, and they launched the MacBook Air M1 and MacBook Pro M1 based on it, at a cheaper price tag than the MacBook Pro 2019 (Intel) and MacBook Pro 16-inch models. Cheaper price tag and far better performance.
Once the M1-powered MacBooks found momentum among Mac buyers, Apple launched an iMac with the same chip. Less than a year ago, the M1 series got a substantial upgrade with the release of M1 Pro and M1 Max chips.
The upgraded MacBook Pro 16-inch and the new 14-inch models (2021) came with these chips onboarded, bringing the MacBook Pros to a whole another level of performance. They even sported a revamped MagSafe port, additional USB C ports, and HDMI port. The new MacBook Air M2 follows the same design pattern, minus a few ports.
The real problem arose here. Apple launched two pretty powerful machines with M1 Pro & Max chips very recently, and now they are forced to bring another MacBook Pro just for the sake of the M2 chip (they probably didn't want to break the pattern). Selling a new MacBook Pro 13 with the updated design at $1299 would definitely hurt the sales of the $1,999 MacBook Pro 14 (even though it has more power).
With this sales trick, Apple just saved itself from the embarrassment of not bringing a MacBook Pro with the newest chip but still got to keep the sales graph up for the 14-inch MacBook Pro. From the looks on your face now, I can say not everyone is happy about it. Anyway, I would say yes to the new MB Air M2 for light usage, but for the pro usage, I'd skip the MacBook Pro M2 and get the 14-inch MacBook Pro with M1 Pro. With the new MacBook Air M2, you can set up a Mac workstation easily and carry it anywhere lightly.