Android Auto is a smart driving app developed by Google to interact with mobile while driving with minimum distraction. Android Auto enables the drivers to mirror the features of Android apps directly on the car dashboard screen. You can use from 100 of apps that are currently compatible with it while new apps are coming to the store. The Google Assistant directly integrated with Android Auto. This brings you a powerful search feature from Google right into your fingertips while you drive. You can ask the questions directly through the car's mic and Google assistance will bring you the result and read for you while you drive.
Let's see more details about Android Auto, the features available, country availability and the apps available for Android in this Android Auto Guide.
Content
What Is Android Auto?
Android Auto is Google's proprietary app available on Google Play Store. This is used for mirroring most of the app from an Android device to a car's built-in dashboard. Android Auto is designed with an intuitive interface, large button panels, and full integration of Google  Assistant (Google Assistant integration is available only in the US now).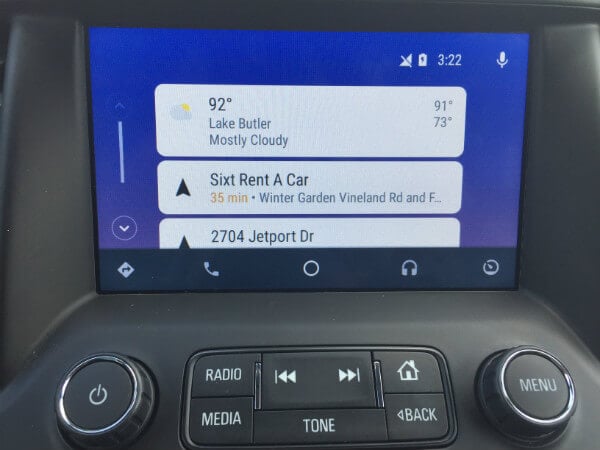 The first announcement happened in Google I/O 2014 while the application itself released by Google on March 2015. Hyundai is the first car manufacturer which offer Android Auto support with its version Sonata sedan. After its successful run, a number of companies started giving Auto support.
Android Auto works with any android device and runs on supported car models. To make full use of this you must go through following list of pre-requisites:
Device OS: The Android device must have OS version 5.0 or above. For better performance, OS should have 6.0 (Marshmallow)
Active Internet connection: Some of the application like iHeart Radio, Waze may require internet connectivity. To enjoy an uninterrupted service your device must have an active Internet connectivity.
USB Cable: For Mirroring, You must have to use any high-quality data cable that is supported by the car's USB dock and your phone. Since many phone manufacturer now provides travel adapter which includes head-adapter and a USB cable so you can use them for device connectivity.
Compatible Head-Unit: Not all car manufacturer supports Android auto, so you also need check compatible vehicle or compatible third-party radio to fit into your car.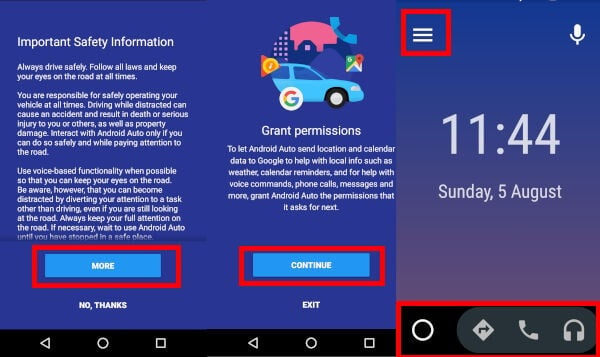 How to Get Android Auto in My Car
First of all, make sure your car is listed in the compatible list of Android Auto. You can see an Android Auto or Apple Car Play icon in your dashboard screen if your car support. Now go through the checklist above to make sure you have all pre-requests. If you don't have Android Auto, please go and download Android Auto from PlayStore. Once the installation is done, you will be asked for necessary permissions. Which you need to permit, in order to run the app successfully.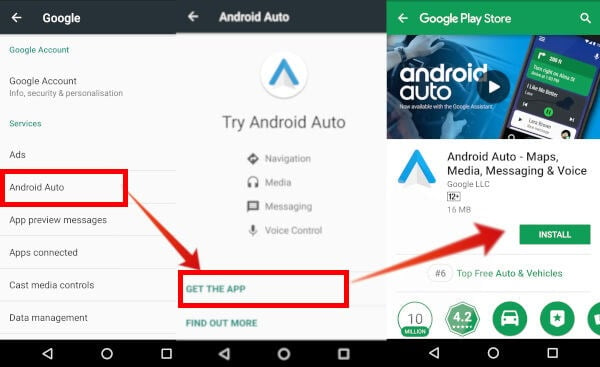 Then proceed with connecting Andriod device with car USB panel. Once you attach correctly both ends and tap on Android Auto app on your device, it will show you default cards on the car's dashboard. You can see Music, Calls, Messages and other apps based on availability and select them based on your need.
Also Read: 10 Best OBD ll Scan Tool for iPhone and Android
Is Android Auto Available in My Country?
Android Auto is available widely available across different regions. The Android Auto-supported countries include the USA, UK, Canada, India, Australia, etc. Here is the full list of Android Auto available countries below in 2021.
Argentina
Australia
Austria
Belgium
Bolivia
Brazil
Canada
Chile
Colombia
Costa Rica
Denmark
Dominican Republic
Ecuador
France
Germany
Guatemala
India
Ireland
Italy
Japan
Mexico
Netherlands
New Zealand
Norway
Panama
Paraguay
Peru
Philippines
Portugal
Puerto Rico
Russia
Singapore
South Africa
South Korea
Spain
Sweden
Switzerland
Taiwan
United Kingdom
United States
Uruguay
Venezuela
You may need to check whether the Android Auto app is available for your region. You can take a look at the updated list available on Android Auto availability.
Which Cars Come with Android Auto?
Over 28 car manufacturers support Android Auto including Accura, Austin Martin, Audi, GMC. The supporting vehicles for Android Auto are expanding day by day and more vehicle manufactures are on the future list.

You need to check with either car dealers or their websites. Moreover, supported vehicle brand & models list are also available on Android website.
How to Install Android Auto in My Car
Android Auto is currently available for a vast majority of car manufacturers, but not every car models come with the Android Auto. So, if your car does not have one, you cna install Android Auto in car using car head units with touch screens.
These Android car head units enables Android auto on your car, while turning your car dashboard into an interactive touchscreen kiosk. Check ot our list to get the best Android Auto and Apple CarPlay car head units you can buy now.
Is Android Auto Compatible with My Phone?
Any Android device that runs on Android 5.0 (Lollipop) or higher supports Android Auto app. However, Google recommends 6.0 Marshmallow for best performance. If you don't have Android Auto on your cellphone, you can check Android Auto from PlayStore and make sure you are allowed to download Android Auto for your phone.
Note: Android Auto works fine on both rooted and non-rooted Android phones.
Which Apps Do Work with Android Auto?
Now you can play music, talk to someone handsfree, send a message to your boss and even check the estimated time to reach your destination. All this can be now possible through mirroring apps from your Android phone to the car dashboard.
Android Auto supports a handful number of apps, thanks to Google we have now more than 100 apps that we can use on car in-dash units. These include a varied range of podcasts, radio, music, and communication apps. Some of the examples include Google Maps, Waze, Messenger, WhatsApp, Spotify, Amazon Prime Music, YouTube Music, and many more. You can see the complete list of apps available for Android Auto.
Difference Between Android Auto and Apple CarPlay
Android Auto is a fitting reply from Google in response to Apple Carplay. Apple CarPlay can mirror most of the apps on the car's built-in display. It works best with any recent iPhone models. Below is a glimpse of how Apple CarPlay look different from Android Auto.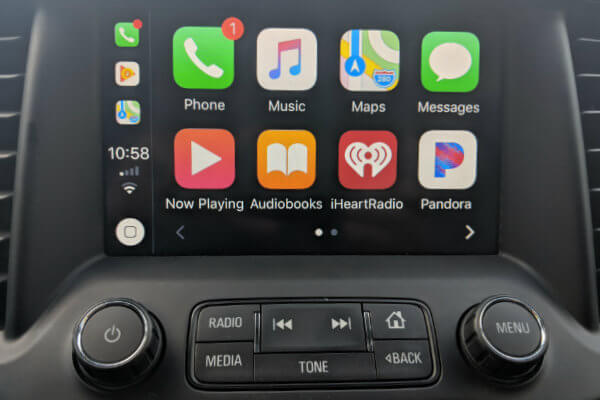 Similar to Google Assistant, Apple CarPlay is also coupled with Siri that works well enough for driving scenarios. Moreover, it includes Calling, Messages, Music, and many more third-party apps that can make your drive more pleasant. We have compared both of them on three parameters which include:
Map Apps: Android app supports both Google Maps and Waze. Google will allow you to set your own default navigation Map from Google Map or Waze. Apple CarPlay only supports Apple's Maps app. Even though your iPhone has Google Map or Waze, the CarPlay app won't allow to open in CarPlay and will not be available on the dashboard screen.
Accessibility: While Apple CarPlay believes in simplicity, Google locks horn with detailed functions. That said, a number of third-party application is supported by Android Auto, while Apple keeps this at a certain level.
Features: Both of the applications are loaded with a good number of features and holding a tug-of-war competition to provide a great user experience for any trip.
In addition to this, Android won't allow you to work with your phone while connecting to the Android Auto Dashboard. Apple CarPlay doesn't have any such restrictions, you can still work on your iPhone while connecting to Apple CarPlay in your car.
Is Google Assistant Available for Android Auto?
Yes, Google Assistant is now available for Android Auto which actually wins many new and existing customers in terms of popularity. Just say "Ok, Google" or "Hey Google" followed by any action and it will do that for you.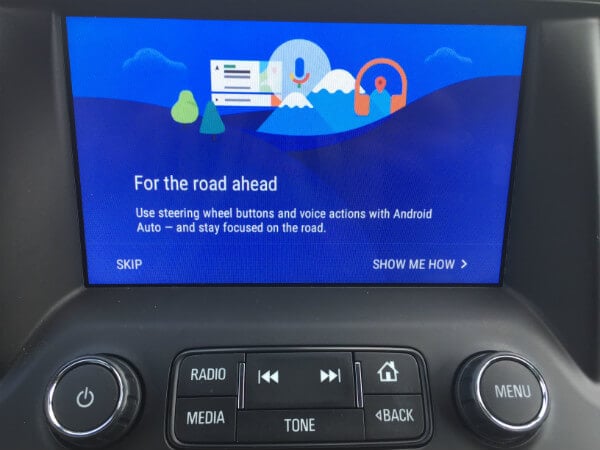 Instead of triggering Google Assistant with voice, you can also try the long-pressing Car's talk button to activate Google Assistant. You can make the most common requests through Google Assistant with Android Auto, like;
Hey Google, call [contact name]
Hey Google, send a message to [contact name]
Hey Google, Reply to [contact name]
Hey Google, show me the directions to [location]
Hey Google, play my radio on Spotify
and many more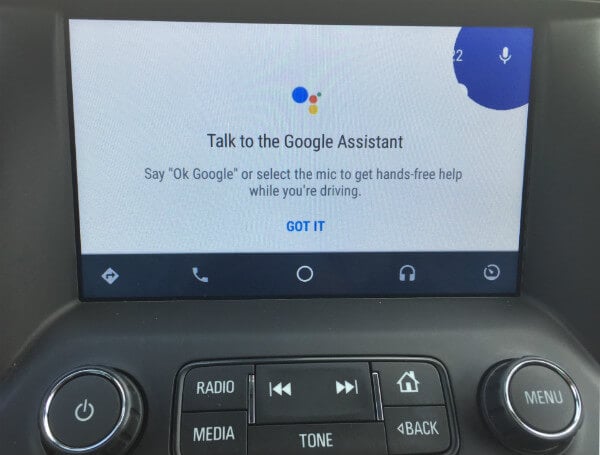 However, the visual result listing like image or video play with Google Assistance is limited with Android Auto for safety. Apart from this, you can also perform several more actions based on car model features.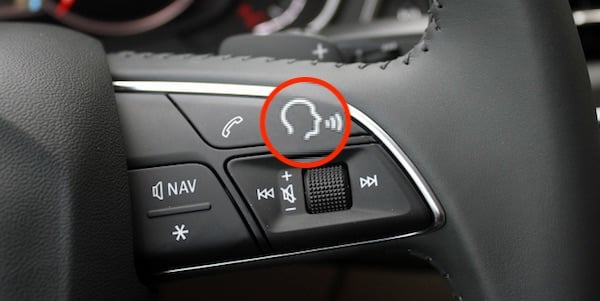 You can ask a couple of questions that we search on Google. You have to long press speak button on the steering wheel to enable the Google Assistant.
"How much Android Pixel 5 cost?"
"How far is California from here?"
"When is Apple launching the next iPhone?"
"How much does Aston Martin Vanquish cost?"
You can ask most of your Google Search questions here and Android Auto will answer these questions through Car Audi System.
How Do I Turn Off Android Auto from Auto Starting
Android Auto app will automatically turn ON whenever the device Bluetooth settings are open and connected to the car. If you don't want to connect your car automatically, you can turn this off. Go ahead through the steps here to turn off Android Auto by turning on automatically;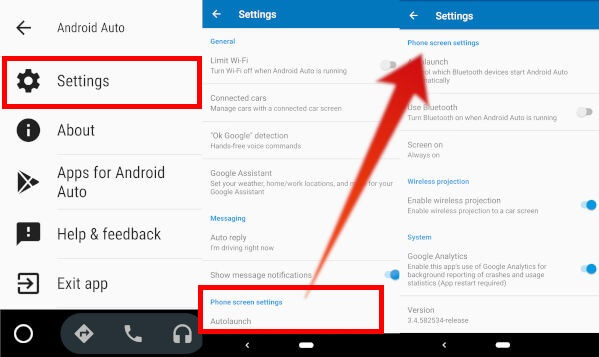 Open Android Auto app from Android Phone.
Select the menu icon in the top left
Tap on Settings
Scroll down and tap Auto Launch.
Turn off the Settings.
How Do I Turn On Driving Mode on My Android Phone
Depends on your car model, sometimes you may need to tap on Android Auto-icon from Car Dash screen. Most of the car models, after connecting to Android auto from your car's aftermarket unit all you need to tap on Navigation sign.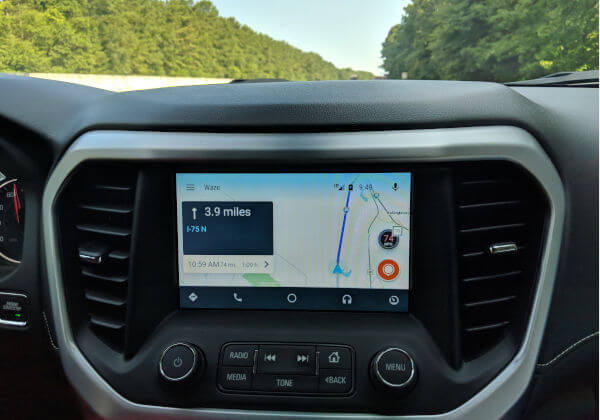 This will open a similar Google Maps screen with all details (like destination, start point, etc). You may require to turn ON GPS and Bluetooth settings before start using this Android Auto driving mode.
What to Do If My Car Does Not Support Android Auto?
As we spoke earlier, not all car models have Android Auto support. So you may need to either purchase compatible aftermarket Android Auto Compatible head unit or visit the nearest car manufacturer service center. These Android Auto head units are way more convenient and easy to replace if you go that way.
How Can I Connect Android Auto Wirelessly?
Several manufacturers started supporting Android Auto wireless to connect your Android phone with the car without a cable. So, first, check your manufacturer to ensure wireless Android Auto support in your car.
Other than that several Android head units like JVC KW-V940BW or Kenwood Head models like Kenwood Excelon DDX9905S introduced several auto head units that will support wireless connectivity. Besides, you need to update the Android Auto app to version 3.1 or higher to support the wireless connectivity features.
Is Waze Compatible with Android Auto?
Waze is another traffic and navigation app similar to Google Maps. Waze is a community-based map and widely famous for real-time traffic reports and road hazard reports by users. Android Auto is supporting Waze like Google map and you can decide either one of the navigation apps to use on Android Auto.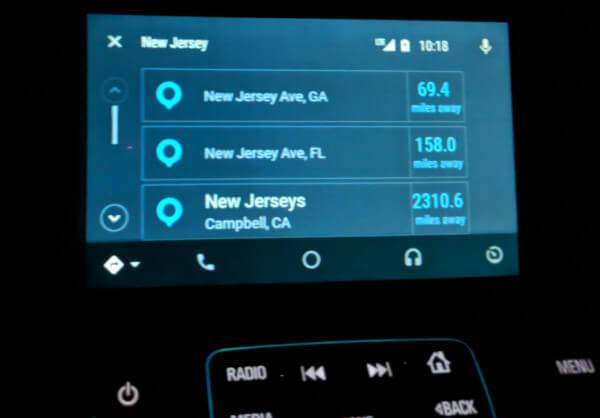 How to Set Waze as Default on Android Auto
Once you start to use Waze as your default map app, then Android auto will send all location instructions to Waze. Any time you can switch between Waze and Google Maps by taping the Android Auto Navigation button.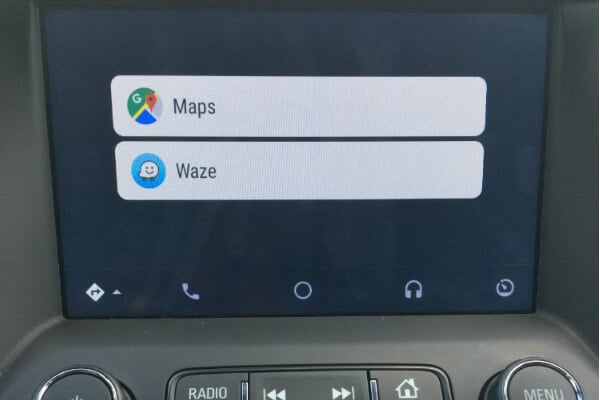 If you want to switch the default app, tap on the Nav button from the car display, tap on the desired Map app. The voice commands and instructions related to the navigation will pass to the default navigation app. Please check here to change default navigation app on Android.
Can I Use Podcast with Android Auto?
Yes, of course, you can now tune podcasts and listen to your favorite music. Since Android Auto supports third-party streaming apps like Spotify and Apple Music, it will be easy for you to start listening to podcasts in your car using Android Auto.
What Are the Best Android Auto Head Units?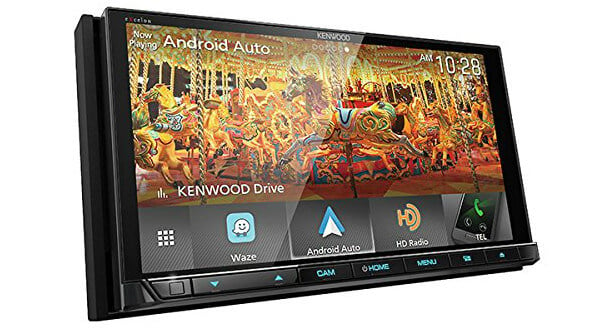 Thso whos doesn't have Android Auto compatible car; they can buy a head unit to convert your car to Android Auto compatible vehicle. There is a bunch of head units available that support both Android Auto and Apple CarPlay. Those who want to get the latest head unit that supports Wireless Connectivity, there are many available.
How to Take Screenshots on Android Auto
Android Auto easaes up many things, but some few things are much complicated. While you can eaisly taker screenshot on Apple CarPlay using an iPhone, there is no such option for Android Auto users.
There are, however, options to take screenshots on Android Auto from the developer options. You can check out our guide to take screenshot on Android Auto here.
Does Android Auto work with Tesla?
Unfortunately, Neither Android Auto nor Apple CarPlay does works with Tesla cars. Due to some notable issues that may conflict with the Tesla cars' working, these two services are disabled for Tesla cars.
You can still connect and sync your Android phone or iPhone with Tesla over their app. But there are only limited options. Why bother so while the Tesla screen itself has internet access (and even lets you watch Netflix while charging).
How to Fix Android Auto Not Working Issues
It is possible that the Android Auto won't connect work properly, and you may need to troubleshoot them. Though we can't enlist all issues, some of them related to Cable Connection, Apps, or Compatibility issues. We have jotted down some common suggestions, that can help you fix Android Auto not working issue
My Android Auto App is not working, what to do?
First and foremost, Check your phone, if it has any updates are pending (either phone software or application updates). If Yes, then first install all of those updates including apps that related to Android Auto. You can also check back after restarting the Android phone. Now turn on Android auto on your mobile phone and make connect the cable to the car dashboard to start Android Auto in the dashboard.
Is Android Auto not connecting?
Well, the car models have dedicated USB connectors for Car Auto. The other USBs are designed just to supply the power or charge the phones and gadgets, make sure you are connected to the right connector. Second, make sure your cables are good and working properly. Some cables may have only power lines to charge the phone, not transfer the data, make sure you have the right cable to connect to the car. If you are using Bluetooth, make sure you turned on Bluetooth on the phone and paired with a car.
My car display doesn't show Android Auto, why so?
If Andriod Auto app is working smoothly on your mobile device and everything up to date there (read above point), still car display doesn't show Android app then you can check with below steps.
Check If Your car is compatible- other than the mobile device, your car also compatible with Android Auto or must have aftermarket unit installed. A common misconception is that the car is having a USB port and infotainment system. Still Android Auto should work. See the list of Android Auto compatible car brands and models and look if your car model does support the app. make sure your USB cable support data transfer and not broken.
I have checked both (phone and car models), it says compatible, but still, I am facing the issue, what to do next?
This means your mobile device and car connection isn't good, which is causing the problem. So what you can do is to check whether your USB is in working condition, as this can be one of the reasons for failed connectivity. Read more about troubleshooting steps from Android Auto.
I hope this ultimate guide for Android Auto certainly helped you to clear most of the doubts on this app. If you still have some questions about Android Auto on your car using your Android phone, feel free to ask them in the comment boxes below.