The Car Code reader or OBD2 scanner can help you to run a diagnostics test on your car. The OBD code reader works with vehicles produced since 1996 and seemingly every vehicle model around the world's assessable through the OBD2 system. The functions are broadly based on code reading or scan specifically.
Here, we've compiled some of the best OBD2 scanner devices that you can trust and is quite economical too and find the best that suits your need.
Best OBD2 Scanner
Best Handheld Car Code Reader
Best Car Diagnostic Tool for Phone
BlueDriver Bluetooth Pro OBDII Scan Tool for iPhone & Android
ANCEL AD310 Classic Enhanced Universal OBD II Scanner Car Engine Fault Code Reader CAN...
FIXD Bluetooth OBD2 Scanner for Car - Car Code Readers & Scan Tools for iPhone & Android -...
OBD2 Scanner for iPhone & Android
Best OBD2 Scanner
BlueDriver Bluetooth Pro OBDII Scan Tool for iPhone & Android
Best Handheld Car Code Reader
ANCEL AD310 Classic Enhanced Universal OBD II Scanner Car Engine Fault Code Reader CAN...
Best Car Diagnostic Tool for Phone
FIXD Bluetooth OBD2 Scanner for Car - Car Code Readers & Scan Tools for iPhone & Android -...
OBD2 Scanner for iPhone & Android
BlueDriver OBD2 Scanner
The BlueDriver OBD2 Bluetooth scanner is one of those quite a few handy OBD2 scanners that is officially licensed and approved by the Android and iOS communities. This OBD2 scanner works by identifying the databases and match them with your vehicle model and maker.
The car code reader can suggest accurate fixes from a database of over 30 million fixes. In fact, you can either hook it up during your engine analysis or you could simply leave it hooked. Leaving it hooked there doesn't drain your vehicle's battery. You can detect, troubleshoot and get accurate fixes within your smartphones. Pairing the BlueDriver OBD2 Bluetooth reader with its app gives you access to repair solutions instantly with prior explanations.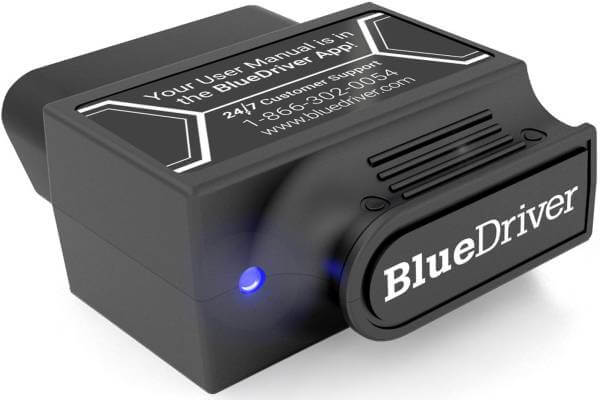 Moreover, with its enhanced diagnostics, you get complete access to a lot of information only the vehicle experts and pros used to get. Unlike other basic OBD2 scanners, this car code scanner gives you information about non-ignition specific issues such as the ABS, airbags, etc. All basic scanning and troubleshoots can be easily obtained from any vehicle with OBD2 port. Other features such as the short and long term fuel trim data and emission data can be scanned with the help of this cool vehicle scanner.
Buy BlueDriver OBDll Scan Tool from Amazon
Kobra OBD2 Scanner
The Kobra OBDll scanning tool is truly wireless and connects to your smartphone through WiFI. This car code reader features up to 3000 databases that are encrypted in most of the vehicle models. This OBD scanner is one of the most effective car diagnostic systems that provides instant data regarding faults and gives adequate fixes by doing custom troubleshoots. The Kobra OBDll car scanner can read the generic and the manufacturer-specific fault codes and it's database includes thousands of apt code definitions.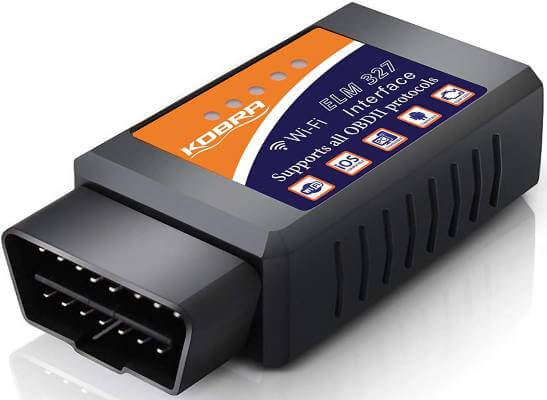 You can instantly get data by downloading the Torque Pro app which is available both on the Androids as well as the iPhones. The moment you connect the obd2 code reader into the port, the device starts detecting fault codes.
The OBD Scanner then sends these data with appropriate fixes into your mobile, it's as simple as that. The car code reader works well with all models that have hit the roads after 1996. Apart from the car, you can invariably use this obd2 code reader with mini trucks and other compatible vehicle models.
Buy Kobra OBDll Scanning Tool from Amazon
Also Read: 9 Best Car Head Units with Android Auto and Apple CarPlay
Panlong ODB2 Bluetooth Scanner
The Panlong ODBll is a real-time car scanning device that reads data from your car and warns you about where your car's having trouble. It's one of those useful gadgets a DIY car owner or a pro driver should possess. Panlong car code scanner can scan a number of aspects of your car, ranging from vehicle speeds to airflow rates and much more. Like most of the modern OBDll devices, the Panlong OBDll scanner only works with vehicle models that have hit the roads after 1996.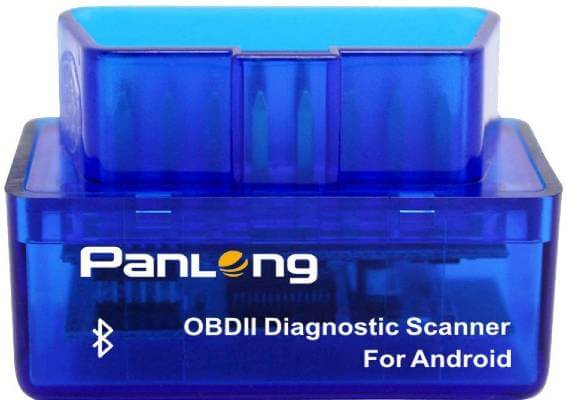 Panlong ODBll detects faults by troubleshooting your vehicle database and obtains faulty codes. The device compiles the information and sends it to your smartphone via Bluetooth. All you need is a professional scanner app such as the Torque pro that's available on all major mobile platforms. To ensure wider compatibility, this compact obd2 code reader obeys all major OBDll protocols too. A small flaw that you could feel is that the Panlong OBD2 code reader isn't compatible with the iOS.
Buy VOMAXTECH ELM327 from Amazon
ELM327 OBD2 Code Reader
The ELM327 is a wireless OBDll car scanner that works with all major vehicle models developed after 1996. This car code reader comes with wireless connectivity and can pair with your smartphone or PC through the WiFi. With this device, you can monitor your car from your phones or your PCs. ELM obd2 code reader is used extensively by pros to detect troubles and gives you instant databases on your phone. Like most other devices, the ELM327 can also read diagnostics codes that are both generic as well a manufacturer specific.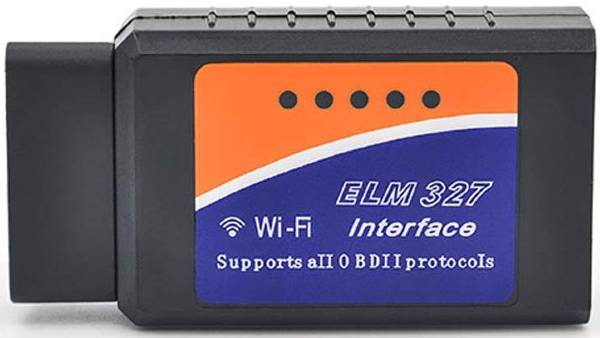 The car scanner can be connected to the OBDll port inside the hood. As it obeys all major OBDll protocols, you can be sure to get the best troubleshoot data every time. ELM Scanner can give you access to airflow data, RPM information, etc and help you do things with your own to a limit. Moreover, while being connected, the device only draws very little current. Hence it's okay to leave it inside the car.
Buy ELM327 OBD2 Scanner from Amazon
Also Read: Android Auto: How to Get and Enable Android Auto in your Car?
BAFX OBD2 Bluetooth Scanner
The BAFX OBD scanner, like all generic OBDll scanners, works by troubleshooting and analyzing the databases. It provides instantaneous results based on scanned data and sends these to your smartphone via Bluetooth. With this obd2 code reader in your hands, you can read and double-check why your vehicle's in a bad mood lately. It clears the Engine Light by keenly accessing all aspects of your vehicle by collecting information from its databases.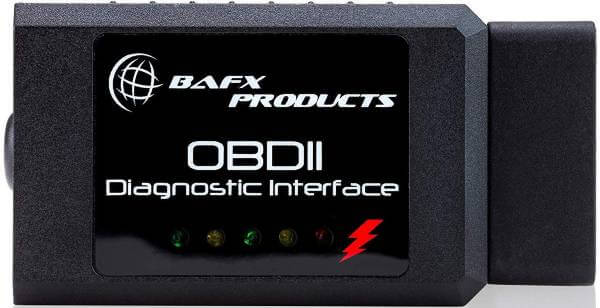 It provides your simple fixes based on your faults to your smartphones with the help of car monitoring apps. The BAFX OBD2 scanner is only compatible with the Android and Windows platforms. It's comparatively cheap as it costs only around 20 bucks. And yes, let's hope they roll out the iOS compatible updated Bluetooth version soon. If you need to try this brand out with your iPhone, you can always buy it's WiFi supported OBDll scanner anytime.
Buy BAFX Bluetooth OBDll scanner from Amazon
Ancel AD310 OBD ii Scanner
The Ancel AD310s might look classic on your first impression but believe me, it more than what you think. It is comparatively more useful and precise than most of the basic OBDll scanners out there. The traditional design, fast scan and clear troubleshoot processing is so much realistic and simple. Like all major OBD2 code reader, it obeys all respective protocols and provides on the spot fixes on its unique screen. You get spontaneous results each time you use them. This car scanner saves a record of the detected fault and its corresponding fix data for future reference. Also, the code reader does a good job of detecting errors and faults on vehicles manufactured after 1996.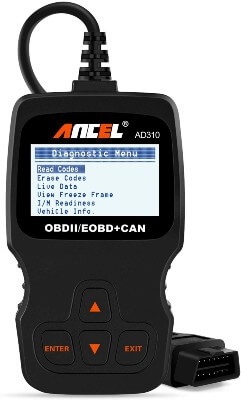 The AD310 features a small LED display that has a contrasting background which helps reading easy even during summer shines. Moreover, it supports multi-language access and gives you access to around 7 foreign languages other than English. Unlink those other scanners mentioned above, the AD310 features a wired connection. The 2.5 feet long cable should be connected into your car's OBDll port for detecting faulty issues and to check engine fault signals.
Buy Ancel AD310 OBDll scanner from Amazon
FIXD OBD2 Car Code Reader
The FIXD OBDll car scanner is something more than the normal OBDll devices in terms of design. It is basically a small car gadget that goes into your car's OBD port. This Car OBD Scanner only takes around a minute to scan and works well with all models after 1996. The FIXD syncs seamlessly to any of the vehicle monitor apps on your smartphone using Bluetooth. It works quite well on all major platforms including the Androids as well as the iOS and Windows. This OBD2 code reader constantly checks your vehicle for issues that keep your engine hazard light on.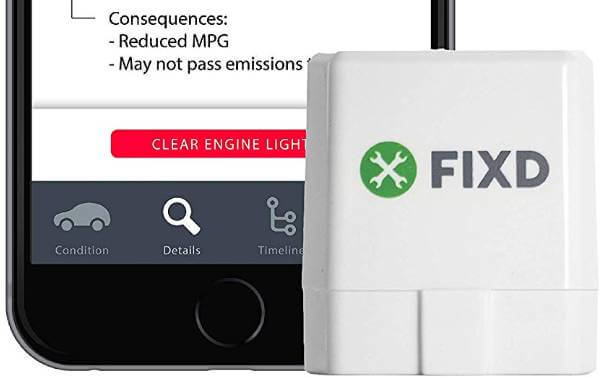 FIXD OBD2 car code reader scans and alerts the reason for faults and gives you adequate fixes and other details right on your smartphone. Unlike other scanners that define only the fault codes. The FIXD OBD scanner provides a 2 to 3 sentence worth description so that you can easily get into work. Moreover, you can also get reminders on scheduled maintenance and top-ups.
The car diagnostic tool helps you detect all major vehicle aspects like rpm rates, engine airflow issues, etc. Its algorithms also determine your mileage efficiency so that you could be sure whether you require a hardcore maintenance check. Additionally, with this cool car scanner, you can scan and monitor more that one vehicle.
Buy FIXD OBDll car scanner from Amazon
OBDLink LX Bluetooth
OBDLink LX is a Professional Grade OBD-II Automotive Scan Tool for Windows and Android. The OBD scanner is lightning-fast and is easy to use. The device can diagnose, and monitor performance in realtime. The app is easy to use and the communication is pretty fast with the OBD device.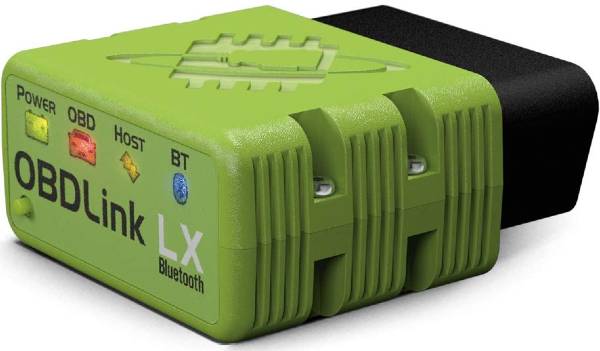 You can get accurate, detailed graphs and virtual gauges in realtime. The OBD Link Lx comes with sleep mode to save power and avoid draining the car battery. With OBDLink LX, you can check the diagnostic codes yourself to know what is going on with your vehicle. The car code reader also supports EOBD, JOBD, and other variants of OBD-II.
Buy OBDLink LX OBDll car scanner from Amazon
PXL Kiwi 3 Car Code Reader
The PXL Kiwi 3 is a professional OBDll plug and play tool that goes into your OBDll port and retrieves data based on fault codes. You can get the fault and its detailed description on your smartphone, tablet, etc through the Bluetooth. You can get accurate fixes based on your fault codes on your Android or iPhone via a smart car monitor app.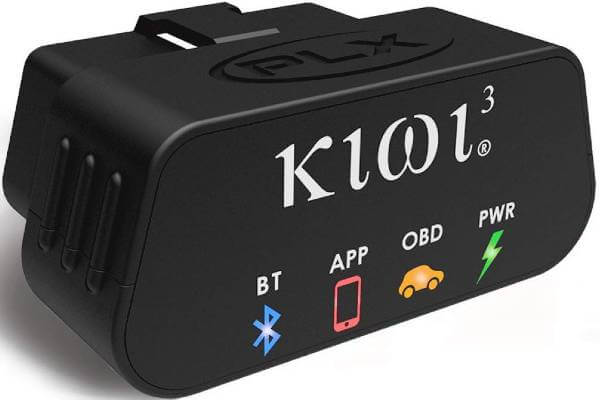 This car OBD2 scanner is up to 4 times faster in detecting faults and only uses an ample amount of current from your vehicle's battery. As it drives only a minute amount of power, there is no harm in leaving it connected into the OBD port. Keep in mind that the Kiwi 3, like all other OBD2 code reader, is compatible with models after 1996. It's also quite advanced in getting accurate fixes as it obeys all OBDll protocols.
Buy PXL Kiwi 3 OBDll Scan Tool from Amazon
Ancel AD410 OBD2 Scanner
The Ancel AD410 can be called as the updated version of the AD310 which has the same functionalities but updated protocols. Ancel Car Scan Tool supports all major protocols that are subjected in the US and supports around 6 foreign languages. Like its older version, the AD410 car code reader doesn't require external power outputs. It draws in power directly from your vehicle's OBD data port. With this car scanner, you can quickly get a hint on why your engine light's popping up.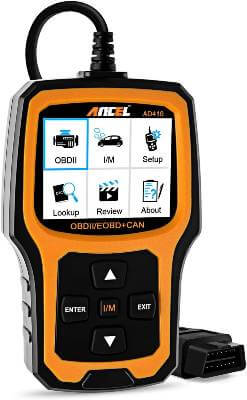 Car OBD2 Scanner tool reads fault codes and searches its database for matching fixes and updates them on its own small screen. Plus, it tells you what all should be checked and replaced before taking your vehicle in for repair jobs.
The Ancel ADD 410 supports O2 and evaporation sensors. The O2 or Oxygen Sensor monitors the amount of air and fuel mixtures. This can abruptly give you data on your car's fuel efficiency. If you look for something basic and trustworthy, the Ancel's AD310 and 410 are equally worth considering.
Buy Ancel AD410 OBDll Scan Tool from Amazon
Launch X431 OBD2 Scanner
The Launch X431 is yet another car OBDll device that comes with an improved on-screen design. It is something like a plug and plays module that analyses the faults codes instantly. The fault codes are then searched in their databases to get the appropriate fix description. These descriptions or codes are displayed on the device's inbuilt screen itself. This cool vehicle scanner also gives you live data streams of engine coolant temp, short and long fuel trip, engine rpm, etc.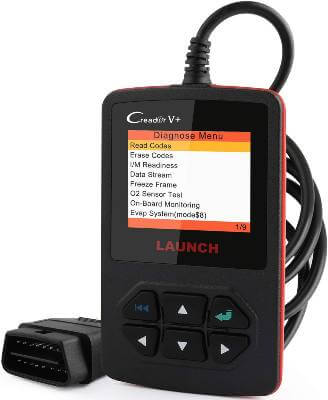 The X431 also doesn't require any battery or charger. All you need to do it to just plug its 2-meter cord into your OBD port. With this car scanner, you can check and clear the engine lights and can analyze fuel efficiency, engine air ratio, etc. As it obeys all major OBDll protocols, you can be sure to get accurate results all the time.
Buy Launch X431 OBDll scanner from Amazon
The OBD2 scanners are a must for every vehicle owner and as you've seen they are extremely helpful in detecting faults and warnings. We've mentioned the best ones above and we believe you've gone through them.
These car code readers are quite affordable and user-friendly and extremely useful in emergency situations. These car scanners save your time and money and make working on your garage. Also, a thing to keep in mind is that all the car code reader mentioned above work with vehicle models that hit the roads after 1996.