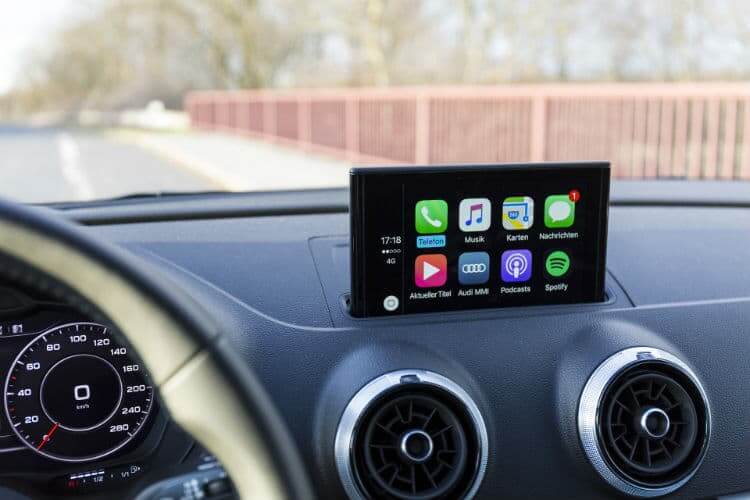 Disclosure: This post may contain affiliate links. We receive a small commission at no extra cost to you when you make a purchase using some of our links.
Most of the premium cars these days come with smart connectivity features like Android Auto and CarPlay. Both of them cover features from the smartphone OS. This enables enhanced connectivity and unlimited entertainment. But, if you own a car which is kinda old, there is a big chance you might not have the luxury of Android Auto or Apple Car Play. Even if you are having an inbuilt head unit, the Android Auto or Apple CarPlay will not be accessible.
But now, it is possible to get Car Stereo with Android Auto or Car Head Units running Apple CarPlay. Here is a list of best car stereo or car head units with CarPlay and Android Auto.
Pioneer AVH-2300NEX
The Pioneer AVH-2300NEX is one of the best Car Head Units with Android Auto and Apple CarPlay. This multimedia player for cars come at a reasonable price tag of $300. It packs a hell lot of in its sleeves features. The car head unit has a 7-inch WVGA full touch screen display and navigation hardware buttons. You can wireless connect your smartphone with the player over Bluetooth. It also supports various types of radio as well.
The Car Head Unit has inbuilt Android Auto and Apple CarPlay features. Using these, you can connect your smartphones and iPhones to play music, share media, etc. You can even attend calls while you're driving. Apart from that, Pioneer's AppRadio mode allows you to mirror apps from your smartphones to the Car driver.
For music streaming, it's equipped with inbuilt Spotify, Pandora, and Sirius XM Satellite Radio. You can control Spotify Playlist over AV connection. The NEX UI allows easy handling with its tablet functions. It is worth a buy if you are looking for a decent Car DVR or Car Head Unit.
Buy from Amazon: Pioneer AVH-2300NEX
Related: 8 Best Car Battery Chargers & Jump Starters.
Sony XAV-AX5000
Sony makes this smart Car Head Unit for Android Auto and Apple CarPlay connectivity. You can use the features of both interfaces using the 6.95-inches touch screen. With very lesser bezels, you can fit it on your dashboard with ease.
Sony XAV has two USB ports to hook up your favorite local music destinations and drives. Also, the inbuilt 4 x 55 W amplification helps in audio improvements. You can also adjust the audio levels between -8 dB to +18 dB using your connected smartphone.
The Sony XAV-AX5000 has a navigation system made with its native interface. This Interface puts the Android Auto or Apple CarPlay aside. The hardware buttons are so easy to use. Plus, the touchscreen has very good feedback.
You can even connect your rearview parking camera as an added surveillance cam. Also, you can access the Sirius XM Radio satellite tuner with this device. Sony also provides a wide range of inbuilt microphones to help voice-control navigation.
Buy from Amazon: Sony XAV-AX5000
Kenwood Excelon DDX9905S
Kenwood's Car Head Unit comes with 6.75-inch HD display, with a bright LED backlit. The DVR supports high-resolution audio source and can amplify music output up to 50W x 4. The Car head unit supports wireless Android Auto and you can connect your Android smartphone without any cables.
Anyways, you need to connect your iPhone over USB Cable. Among the two USB ports, one supports the Android Rapid Charging/Fast Charging. It also comes with Weblink, which enables inbuilt Waze Map, Youtube, Next Radio, Spotify, etc.
The connectivity side includes 3outs, Rear AV IN and OUT, RCA Video Inputs for Front and Rear Cameras, Sound Excellence in DSP, FM/AM Presets, 2xUSB Ports, Bluetooth, Sirius XM Ready, etc. There is also an OEM Remote Control interface too. It is also possible to connect two smartphones and connect calls. The entire stereo device is controlled using the iDatalink firmware. So, we can expect the assured performance.
Buy from Amazon: Kenwood Excelon DDX9905S
Related: 20 Best Compatible Apps for Android Auto
Boss Audio BVCP9675A
BOSS Audio Systems' Car Head Player is a decent product, which has only ECUs and non-movable parts. Therefore it does not come with the support for the CD/DVD. The capacitive touchscreen is of standard size, 6.75-inches. Using the inbuilt Android Auto and Apple CarPlay, you can connect your Android smartphone and your iPhone with your car.
The capacitive, external buttons are touch controllable and can be illuminated in various colors. By connecting it in your car, you can use your steering wheel control buttons to control Music playback. The maximum audio output is 80W x 4 speakers.
Using the Bluetooth connectivity, you can stream Spotify, Pandora, Calls, etc. Other major features include Bluetooth, AUX In, USB, High-Quality Audio, Pre-Amp Output, camera input, and steering wheel control. You can also use the voice assistant on your smartphone to control the device. Also, the soft touch buttons on the sides deliver a new-gen look, compared to the hardware buttons. If you re looking for the best car stereo head unit with CarPlay and Android Auto, this is one of the best.
Buy from Amazon: Boss Audio BVCP9675A
Pioneer AVIC-8200NEX
The Pioneer AVIC-8200NEX is a navigation receiver and controlling device for cars. The stock firmware comes with the native support for both the Android Auto and Apple CarPlay. Hence, apart from the navigation, you can always stay connected using your smartphone. Pioneer Car Head with Car Play can also fit with any cars, even with the double-din dash opening width. You can connect your steering wheel control to the car head unit with ease. hence, you can control your music, calls, etc using the steering wheel control buttons.
This is the best car stereo that fits your needs if you travel a lot in your car. The device has pre-installed maps of 7.9 Millions of Point Of Interest locations, including the United States. You can navigate through the 7-inch touch screen or the hardware button on the bottom row. It also comes with the NEX User Interface, which Panasonic runs on most of their premium car stereos. You can buy this flagship in-dash navigation + entertainment system at $599.
Buy from Amazon: Pioneer AVIC-8200NEX
Related: Android Auto: How to Get and Enable Android Auto in your Car?
Pioneer AVH-W4400NEX
This is another flagship level car head unit from Pioneer, like the AVIC-8200NEX. It has a multipoint touch screen panel, over the 7-inch WVGA display. The faceplate or the screen unit can be detached even after you install the entire unit. This makes it easier to rectify the internal issues when one persists. Moreover, it has official support for the wireless Android Auto and Apple CarPlay. So, despite the smartphone you own, you will be able to connect without even a single cable.
The Pioneer AVH-W4400NEX car stereo with Apple CarPlay and Android Auto comes with Miracast with Wi-Fi connection. You can stream movies, videos and even your smartphone screen to the device over Wi-Fi. Also, the Pioneer AppRadio+ mode expands the control of app on your smartphone to the display screen.
AVH Car Head unit with Car Play and Android Auto has two camera slots so that you can connect your rear cameras. The iDatalink Maestro supported car head unit as a powerful audio output PCB and supports Android fast charging. You can also connect an external hard disk or any source of storage with NTFS File System type. The dual-zone feature lets you split the front and rear speakers to play different music.
Buy from Amazon: Pioneer AVH-W4400NEX
JVC KW-M740BT
The Japanese audio device manufacturer builds this Android Auto, Apple CarPlay Head Units for all premium cars. The device has a standard sized display of 6.8-inches with multi-touch support.
The inbuilt wireless Bluetooth support helps you to connect smartphone and stream media. It lets you pair both Android and iPhone at a time, and use Android Auto as well as the Apple CarPlay. It is also WebLink compatible. Hence, you can control certain apps including Waze, Youtube, Open Weather Map, Media Player with ease.
With no CD support, it's optimized for the digital media from the smartphone or other high-speed data transfer medium. JVC's K2 Technology is also utilized to deliver enhanced audio quality. It can manipulate the speaker height by varying the frequencies. The Bluetooth connectivity supports two device connectivity. Also, Android Auto Car Sterio can control the Spotify on both iOS and Android. Other features include SiriusXM Radio, touch gestures, and simple control hardware buttons.
Buy from Amazon: JVC KW-M740BT
Also Read: 10 Best OBD ll Scan Tool for iPhone and Android
ATOTO A6 Pro A6Y2721PRB
The ATOTO A6 Pro is not much popular among the car owners, but it a nice buy. The Android Auto and Apple CarPlay Car Head Unit come with dual Bluetooth connectivity. The aptX allows low-power Bluetooth transmission to sync with the higher bitrate music and videos.
You need to go through the complete hardware specifications, if you are thinking of going with any other well-known brands like Pioneer, Sony, etc. This one has the latest Bluetooth 5.0 chipset for faster data sync. This car stereo with Android Auto can also support speakers from ranging 2-ohms to 8-ohms.
The rest of the specs includes the wide viewable IPS display, Dual-band (2.4Ghz and 5GHz) Wi-Fi, etc. It can also accommodate two parking cams. Above all, it comes with five unique hand gestures options to control the playback. You can use your hands to show some gestures to skip songs, change volume, and more.
The device runs on the ATOTO's own firmware, which allows various options which others does not give. You can even lock the screen as you do on an Android tablet. The dedicated USB Ports also deliver 2A current, which effects in fast charging your smartphones.
Buy from Amazon: ATOTO A6 Pro A6Y2721PRB
Alpine iLX-F309 HALO9
Alpine's new car stereo with Android Auto and Apple CarPlay comes with a large 9-inch screen. It for those vehicles which have a single-DIN slot. In case of other car head units, your car should need a double-DIN slot.
The head unit with Android Auto displays fit within the double-DIN slot. But, if you want to install the same on your old car with single-DIN, the Alpine iLX-F309 HALO9 one can help you with it. The entire screen unit will match your dashboard. Even when it is a single-DIN slot device, you can have features from the standard devices including the Android Auto and Apple CarPlay.
The flexible mounting bracket can hold the device with any aftermarket DIN holders. After connecting with your smartphones, you can tune in to Pandora Radio, SiriusXM, etc. But it doesn't give you access to Spotify yet. The iDatalink help you solve the issue by controlling the apps from connected devices. An HDMI input port is also provided for the extended usage of the display. But the price of the car stereo disappoints when it comes to the pricing, $895.
Buy from Amazon: Alpine iLX-F309 HALO9
Car Stereo with Android Auto and Apple Car Play
There are a lot other aftermarket car head units you can purchase online to make your car Android Auto or Apple CarPlay compatible. Anyhow, the models will be suitable for most vehicles and top in the market with good quality and support.