Recently, we got our hands on two of the finest budget-friendly doorbells from Amazon and Wyze. Little did we know that there could be a tremendous dilemma about which one's the top lad when it comes to quality and performance. If you are in search of th best budget doorbell camera, we also felt the need for a comparison between the Wyze Doorbell Camera and the Ring wired doorbell.
Considering the tough competition brewing, it's time we finally settle things down. Let us see a detailed comparison between the Wyze doorbell camera and the Amazon Ring doorbell.
Content
Watch Wyze Video Doorbell vs. Ring Doorbell Comparison Video:
Wyze Doorbell vs. Ring Doorbell: Specifications
Before getting started, here we list a quick comparison between Wyze video doorbell and Amazon Ring doorbell based on specifications.
Specification
Wyze Video Doorbell
Ring Wired Doorbell
Brand
Wyze
Amazon
Camera Quality
2K (2048 x 1536)
–
Recording Quality
1080p Video
1080p Video
Aspect Ratio
3:4 Aspect Ratio
16:9 Aspect Ratio
Night Vision
IR Night Light
IR Night Light
Audio
2-way audio, built-in mic & speaker
2-way audio, built-in mic & speaker
Connectivity
2.4GHz WiFi, Sub1G: 906.8MHz (for chime)
2.4GHz WiFi
Weather Resistance
IP65 Weather-resistant
Weather-resistant
Local Storage
16GB
No
Cloud Storage
Free rolling 14-days storage
No free storage
Security
E2E Encryption, AES 128-but encryption, HTTPS
–
Electricity Requirements
Wyze Video Doorbell: 16V-24V AC
Wyze Chime: 100V-240V Standard Power Outlet
16V-24V AC
Chime
16 Tunes chime
No Free Chime
Dimensions
Wyze Video Doorbell: 1.5" x 3.25" x 0.625" (WxHxD)
Wyze Chime: 1.9685" x 1.9685" x 1.37795" (WxHxD)
3.98″ x 1.81″ x 0.88″ (WxHxD)
Wyze Doorbell vs. Ring: Old Doorbell Chime Support
Although both of the Wyze, as well as the Ring smart doorbells, are the finest in their class, none of them supports your old doorbell chime. You'll need to bypass your old chime with an apt fuse wire initially and then you will need to get a new doorbell chime for these doorbells.
Hence, none of them holds an upper hand when it comes to the existing doorbell chime support and that's sad. Wyze Doorbell ships with the indoor chime unit, however, the chime unit is sold separately for Amazon Ring wired doorbell. It costs you $20 more to get the doorbell chime along with the Amazon Ring doorbell.
Related: How to Stop an App from Using Cellular Data on Android
Wyze vs. Ring: Installation
Both the Wyze as well as the Ring doorbells are pretty easy to install. Everything's quite straightforward for both of the doorbell cameras. Although both of them require a bit of hard wiring, the installation, on the whole, is pretty much similar and easy.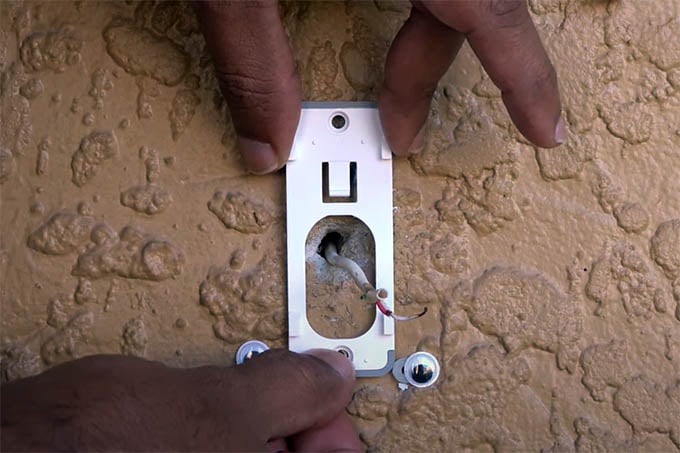 You can use the same doorbell wiring if you're equipped with pre-existing transformer and wiring connections. Both the Wyze doorbell and the Ring doorbell cameras come with a backplate to support the main unit, where all the wired connections go. So both the doorbells are neck to neck when it comes to the relative ease in installation as well as in wiring.
Wyze vs. Ring: Motion Detection
Ring, as well as the Wyze doorbell, comes packed with motion detection as one of their star features. But on a closer look, you will see that the Ring doorbell comes with better motion-sensing capabilities.
When it comes to the Wyze Doorbell, the Motion detection often falls into null zones, and the efficiency of the doorbell at times gets disturbed. Also within the Wyze app, you can adjust the sensitivity of the motion sensor on a scale of 100, where 100 is the max. The default sensitivity on the Wyze video doorbell even gets triggered by trees blowing by the wind. Adjusting motion detection sensitivity from the Wyze app also does not make it accurate. For better results, you can set motion zones to detect movements from the Wyze app.
When it comes to the Amazon Ring Doorbell, it offers accurate motion detection thanks to its efficient motion sensor. Ring also offers more flexibility and a better range of sensitivity arrangements within the Ring app. What's more interesting is that you can set a zone where you wish to activate motion sensing. The plus point is that, unlike the Wyze Doorbell, there isn't any delay in motion detection. So, this time the Ring doorbell holds an upper hand when the motion sensor is put to the test.
Related: Wyze Thermostat Review: Best Budget-Friendly Smart Thermostat
Wyze vs. Ring: Video Resolution and Aspect ratio
Video quality is an important factor to consider while buying a doorbell camera. When it comes to video resolution, both the Wyze doorbell and Ring doorbell offer footage recording at 1080p. Although the resolution is the same, there is an evident difference when it comes to the aspect ratio.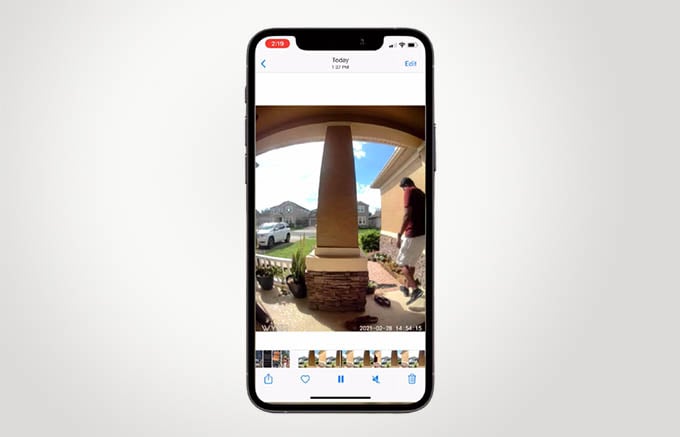 Talking about the Wyze doorbell, the aspect ratio is 3:4, meaning the visuals you stream live are vertical. Also, the field of view encompasses 120° H and 88°V. Wyze claims it to be the perfect way to see the people head to toe and helps you get the visuals of packages delivered at your doorstep. But this aspect ratio has a problem. You will be blocked from getting the wider visuals of your front yard or garage area.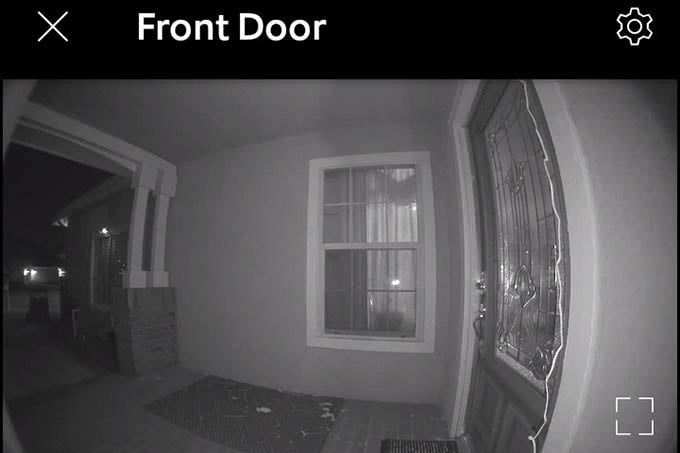 On the other hand, the Ring doorbell offers a video aspect ratio that's suitable for your smartphones. It's more horizontal thanks to its 16:9 aspect ratio. The field of view in the case of Ring touches the 155° H and 90° V mark. A closer look shows that the Ring holds a better field of view and also favors the landscape mode when you are live streaming the surveillance footage. But yet, it's a personal choice and for me, the Ring Doorbell holds a slight edge over the Wyze doorbell.
Wyze vs. Ring: Cloud Storage
Video storage has become a big problem when you look for a video doorbell. There are many local storage and cloud storage video doorbells. The Wyze doorbell can record a 12-second video when motion or activity gets detected. This 12-second video is then saved into the Wyze free cloud storage for a limited 14-day span.
The video clips are saved directly into the cloud storage and you can access them from your smartphone via the Wyze app. If you prefer more flexibility, getting the Wyze Premium version might work for you. With the premium plan, you can save footage with unlimited video duration without any cooldown period. The Wyze premium plan is available at $1.25 per month billed annually.
The Ring Doorbell on the other hand offers no free storage. All you get is the live footage streaming option without an option to save them locally. But there is a paid plan that lets you save the footage into your cloud storage with unlimited footage duration.
Ring offers two subscription plans. The Basic plan is billed $3 per month or $30 annually per camera. Also, there is a Plus plan that is billed $10 per month or $100 per year but with an active subscription to all your Ring Home video surveillance devices. If you choose to go with the Ring doorbell, there is no way you can avoid a monthly subscription for cloud storage.
Related: 10 Best WiFi Video Doorbells with Local Storage & Free Cloud with No Monthly Fee
Wyze vs. Ring: Alexa and Google Home Support
Amazon's own Ring Doorbell, to no surprise, offers seamless connectivity with Alexa. It works fine with many Alexa-enabled devices. With the Ring doorbell, setting up routines and doorbell motion detection is smooth as the breeze. The two-way audio convo is good when coupled with your Alexa-supported smart speakers like the Echo Dot or the Echo Show.
If you have a Google Home device, there is a bit of limitation on the 2 way video and audio convos. You can connect the doorbell with the Google Home but there isn't that much flexibility when compared to what you get with the Amazon Alexa.
Surprisingly enough, the Wyze doorbell also gives broad support to both the Amazon Alexa and the Google Home. It works quite well with Alexa speakers like the Echo Show and favors crisp and clean two-way conversations.
Plus, you can pair up the Wyze video doorbell with your Google Nest Hub displays with Google Assistant. So on the whole, both the doorbells offer support with the Amazon Alexa. But the Wyze doorbell holds an upper edge as there is better flexibility than the Ring doorbell when it comes to Google Home support.
Wyze vs. Ring: Chime Unit and Alexa Notification
The Wyze doorbell clearly holds an upper edge when it comes to the Chime Unit. It comes exclusively with a decent chime that you can install on any wall socket. This chime unit offers up to 19 different chimes for you to choose from. A simple press of a button lets it configure itself with the Wyze doorbell within the blink of an eye.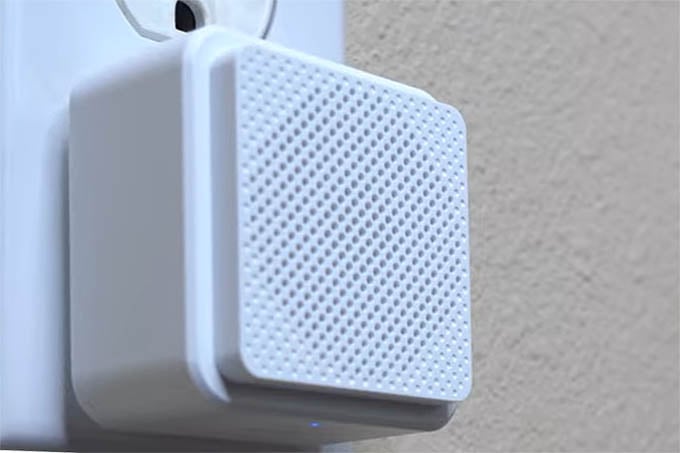 The Wyze chime is quite good and I was amazed by the sound output on the whole. Also, if you have an Alexa device like an echo dot, you can program it to ring when someone presses the Wyze doorbell.
Talking about the Ring Doorbell, this wired version we have here doesn't offer an additional chime. But yet, you can still get an extra chime at a reasonable price online. Also, thanks to the Alexa support, you can set it up with your Alexa enabled smart speaker to give prior notification when someone's at your door. Hence summing up, the Wyze doorbell outshines the Ring doorbell as there isn't a need to spend an extra penny for the sake of a new chime unit.
Why Should You Buy Wyze Doorbell Camera
To put things straight, both the Ring as well as the Wyze doorbells has their own pros and cons. First, let us talk about the Wyze Doorbell. Here are the top reasons why you should go with Wyze doorbell camera.
Cost-effective and affordable
Beginner-friendly video doorbell
In-built flashlight for taking photos and footages
Ships with chime, installation kit, and other necessary accessories
14-days accessible cloud storage
Why Should You Buy Ring Doorbell Camera
Now let's deal with the Ring doorbell. What makes it one of the best in its class is the fact that it gives better reliability thanks to Amazon's trust. Here are more reasons why we suggest you to get Amazon Ring doorbell camera.
Reliable and trusted
Better app controls, smartphone integration
Seamless Alexa connectivity
Better field of view
But on the darker side, the Ring Doorbell is expensive. Also, you'll have to pay extra bucks for the chime unit. Another con that we felt is the lack of free cloud storage. So that sums up to a fairly reasonable amount of money that you need to pay in order to get the best performance.
Related: Eufy Smart Lock Touch & WiFi Review: Finally A Stylish Door Lock with WiFi
Wyze Doorbell Camera vs. Ring Doorbell: Final Verdict
The Wyze doorbell is a budget smart gadget that's for those who wish to know what a smart doorbell is capable of. It's a low-cost and adorable smart doorbell perfect for those how are upgrading from the old doorbell to the new smart doorbell. The video doorbell is compatible with smart assistants like Google Assistant and Amazon Alexa.
On the other hand, the Ring Doorbell is for those guys who are planning to upgrade their existing smart doorbells. These doorbells are a premium upgrade that offers reliability and quality all at the same time. If you are an avid Alexa enthusiast, then getting the Ring doorbell can be your next best step towards better home automation.
Hope you now are able to make a choice between the Wyze Video Doorbell and Amazon Ring wired doorbell camera.