Do you want to create a movie with all your screen activities on your iPhone? If you own an iPad or iPhone you can record all screen activities of your device on your computer. You can record the iPhone screen when you play a game or watch a video direct on Mac Screen. The Mac OS will record all screen activity of iPhone or iPad without any third party apps.
Let us see how to record iPhone screen direct on Mac without using any third party apps. We are going through the steps to record iPhone's screen with Mac OS.
You have to connect your iPhone or an iPad device to your Mac using Lightning cable. You may need to accept your iPhone to trust your computer.
Connect your iPhone with Lightning Cable to Mac.
Launch QuickTime Player on Mac.
Click on the Menu bar and Select File.
Select New Movie Recording.

This will launch a new Quick Time window for video recording.

Select the Camera to "Your iPhone".

Mac's built-in camera will select by default on Quick Time window.

Click on the record button on the window.
Now you will be able to see iPhone screen on Quick Time window. Click on the record button to start/stop and it will start to record your screen activity on Quick Time video recorder.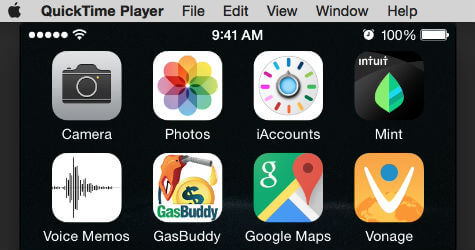 This will record the iPhone screen on Mac. To record the voice from iPhone Microphone, check under Camera menu, select your iPhone and select the iPhone MicroPhone. if you want to record the audio from your iPhone MIC. You can set record quality to High or Maximum.

Once you're done recording, stop recording and save the video. You can edit this video later from your Mac and share with your friends or upload into the web.
Related: How to mirror the iPhone to Windows
Record iPhone Screen to Mac with Voice
You can record your screen by connecting your iOS device to Mac using the lightning cable. Make sure your iPhone or iPad is running iOS 8 or later. With the above solution, you don't need to install any third party apps on your iPhone or Mac to record your phone. Instead, Mac's Quicktime Player will take care of it to record the iPhone screen on Mac. You can create an educational video or record an application demo with your iPad or iPhone screen.