Google introduced Nearby Share on Android to answer the iPhone's AirDrop. It works well, except for the fact that it only works with Android devices. Android, which has no presence on laptops and desktops. While AirDrop works between macOS, iPadOS, and iOS. Google is finally solving this problem almost 3 years later. Android's Nearby Share now works with your Windows PC.
Those who like to click things may have noticed that Windows already has a nearby sharing feature. It's easy to use as well. You have to right-click the file you want to share and click the Share button. Windows presents many sharing options, including recent email contacts, other apps, and Nearby sharing.
Like the Nearby Share on Android, Nearby Sharing on Windows is limited to Windows devices. Last we checked, Windows is not available on smartphones. Google had mentioned earlier, though, that Android's Nearby Share would work with Windows in the future. One can't be blamed for thinking both companies would unify their version of nearby sharing. After all, Google did team up with Microsoft for Edge.
Download Nearby Share for Windows
Yeah, that did not happen this time. Instead, Google has launched the beta version of a Nearby Share app for Windows. It's yet another app that will run in the background and show up in your system tray. And also, it will take one extra spot on your right-click context menu. All of this could have been avoided, but at least this is better than nothing.
Download: Nearby Share for Windows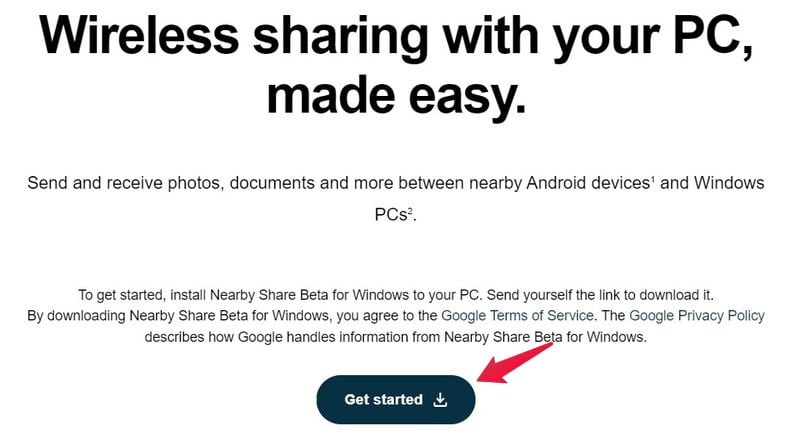 To download, visit the link above and click the Get Start button.
Double-click on the downloaded file.
Wait for the setup to download and install Nearby Share.
Click Done.
Configure Sharing Options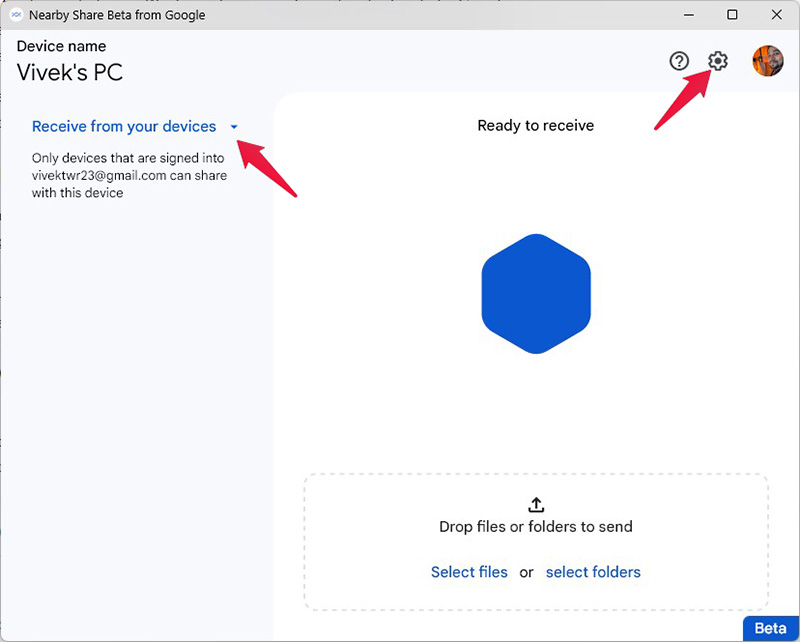 The app should launch itself automatically after installation. In case it doesn't, you can find it in the Start menu as Nearby Share Beta from Google. You will have to sign in using your Google account. You can select visibility options from the drop-down menu on the left. The configuration options are basically the same as what you find on Android. You can access them by clicking on the gear icon.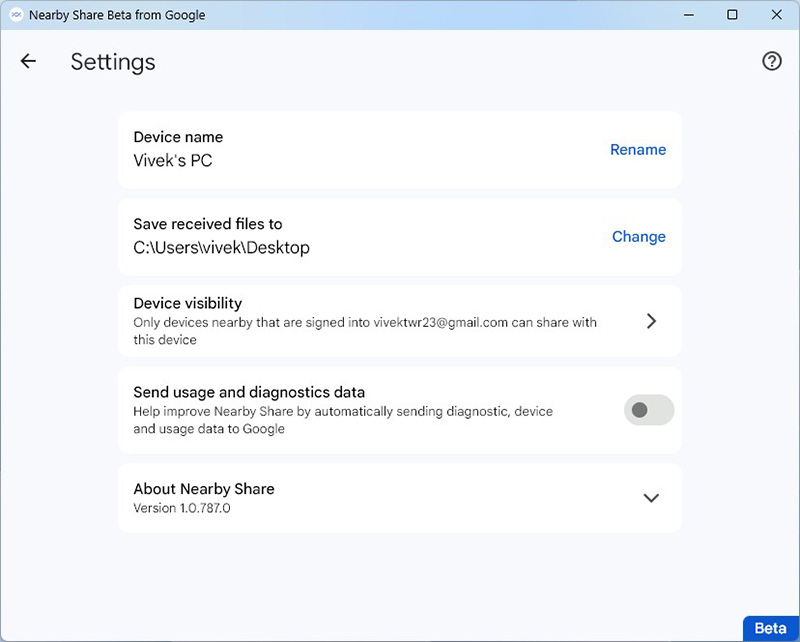 If you want to use this to share files between your devices, it's best to set Device visibility to Your devices. This allows you to share files without accepting requests on the receiving device. This does require both your devices to be signed in to the same Google account.
You can set device visibility to Contacts or Everyone if you want to share from devices not signed in with the same Google account. Receiving files from devices not signed in with your Google account will require you to accept the sharing request.
Nearby Share PC to Android
In this case, we want to share files between your Android and PC; we'll set the device visibility on both devices to Your devices. So, on Android, go to Settings > Connected devices > Connection preferences and select Nearby Share. Tap on Device visibility and select Your devices. This only needs to be done one time. With that done, sharing is rather easy.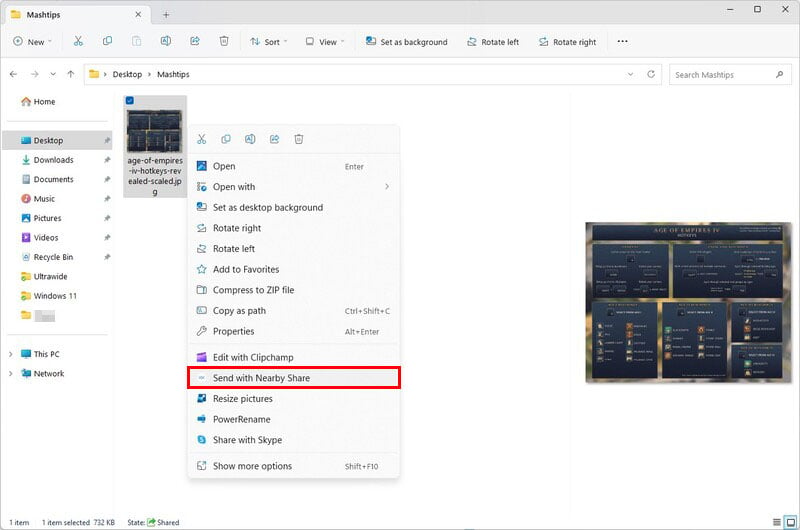 Right-click on a file on your Windows PC. You can also select multiple files.
Select Send with Nearby Share from the context menu.
Select your Android device.
The file will be sent without you having to accept it on your Android device.
Nearby Share Android to PC
You can do this feature the other way around. You can follow the steps below to proceed with that.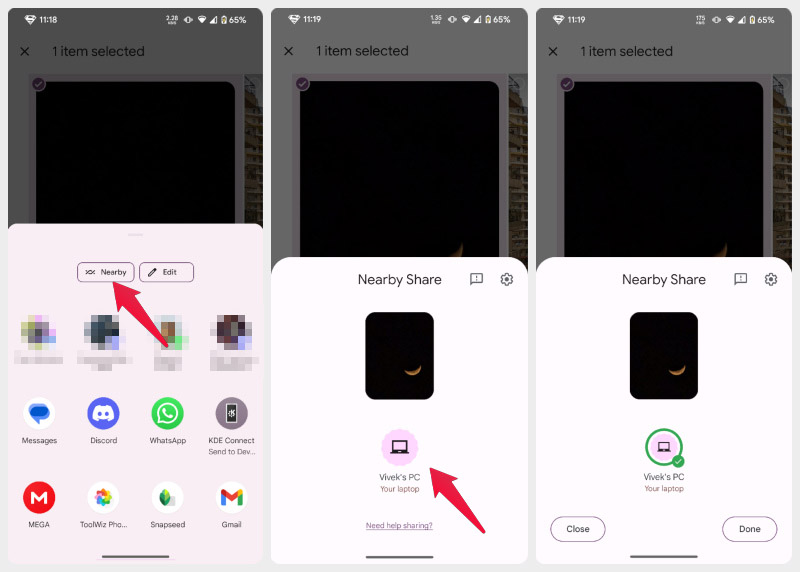 Select the files you want to send and tap on the share option.
Select Nearby.
Tap on the name of your Windows PC.
As before, the file will be sent, and you don't have to do anything on your Windows PC to receive it. This sharing protocol uses your Wi-Fi data, so you may need to be careful if you're on a metered connection. Although, if you're sharing large files, it switches to a local network to share files that don't count against your data usage.
Integrating Android's Nearby Share with Windows PC is a file-sharing game-changer. This new development enables users to transfer files seamlessly between Android devices and Windows PCs, eliminating the need for third-party apps or cables. With the increasing need for remote work and collaboration, this feature will undoubtedly increase productivity and efficiency. Furthermore, this integration highlights the significance of cross-device compatibility in the modern era of technology. This development marks a significant step forward for file sharing and reinforces the importance of seamless integration between devices.