Apple knocked off the 4GB RAM option for the MacBook Air and Pro, in order to make them future-proof as the software requirements are increasing day by day. The base model of MacBook Pro is now available from 8GB RAM and can be upgraded just at the margin of $200. This causes confusion among customers, in choosing 8GB vs 16GB RAM MacBook Pro.
There has been uncertainty in the mind of most people ever since Apple released the new 2019 MacBook Pro. If you are looking at buying a MacBook Pro, and not sure which to choose, here is a detailed comparison and verdict on the new MacBook Pro 8GB vs 16GB.
8GB vs 16GB RAM MacBook Pro
The macOS, which runs on every Mac devices, is developed to be one of the most efficient and memory-optimized operating systems even on a mediocre level of hardware. The Unix-based operating system optimizes the app usages and takes memory accordingly, by calculating how much left. Therefore, it takes and runs whatever is being thrown.
8GB
13-inch
8GB
13-inch
16GB
13-inch
16GB
13-inch
16GB
16-inch
Activities
Core i5
(1.4GHz)
Core i5
(2.4GHz)
Core i5
(1.4GHz)
Core i5
(2.4GHz)
Core i7
(2.6GHz)
Media Playback
Yes
Yes
Yes
Yes
Yes
Basic Documents
Yes
Yes
Yes
Yes
Yes
Basic Photo Editing
Yes
Yes
Yes
Yes
Yes
Heavy Browsing
No
Yes
Yes
Yes
Yes
Heavy Documents
No
Yes*
Yes
Yes
Yes
Heavy Photo Editing
No
No
Yes
Yes
Yes
Video Editing/Rendering
No
Yes*
No
Yes
Yes
Heavy Multitasking
No
Yes*
Yes
Yes
Yes
Check Price
Amazon
Amazon
Apple

Amazon

Amazon
*Even though the memory is not enough, the CPU performance would be enough to handle the requirement.
There are still many users who run their old MacBooks with 2 Gigs of memory. With the new series of MacBook Pro, Apple confirmed that there will be no more 4GB variants. Thus, Apple is making the 8GB of RAM as a norm and allow privileges to upgrade while purchasing. Although, people still confuse and want to know the difference between 8GB and 16GB RAM MacBook Pro.
MacBook Pro 16GB RAM
A plus point for the 16GB version of MacBook Pro in this debate is its assurance to be "future-proof." The 8GB of RAM is a great specification in 2020 but in 5 years. Software system requirements are elevating day by day, and your MacBook Pro won't be able to withstand after 3-4 years of usage. Most of the users buy Mac foreseeing the years of usage, which could even last for a decade. So, being future-proof is a necessity now.
There are two 16GB RAM models on Amazon with a 16-inch screen. The 512GB storage MacBook Pro comes with Intel Core i7 and 1TB model with Intel Core i9, listed below.
16″  MacBook Pro 16GB RAM Models 
The top-notch variant with MacBook Pro 16GB RAM is suitable for those who are working in the visual or designing field. More amount of memory means the notebook can run multiple apps at a time and can retain their states without letting the memory overflow.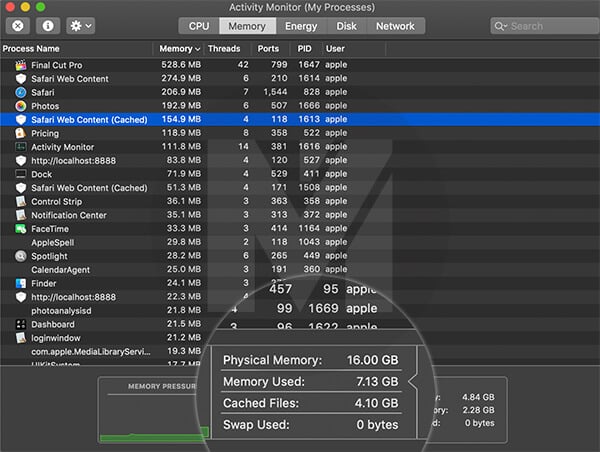 Also, most of the market-leading software tools for development and designing takes much memory than you think it would. In such cases, you are definitely in the need of buying a 16GB MacBook Pro.
15″ MacBook Pro 16GB RAM Models
Working on large spreadsheets and statistical operations require a bigger amount of memory. When it comes to the home purpose, running virtual machines on a lesser memory variant would be an overload.
Give the 16GB a try if you have plans to run multiple virtual machines, and do other bigger tasks simultaneously. Besides the performance peak, you can get high resale value as well when you resell your MacBook Pro 16GB RAM model after a couple of years.
MacBook Pro 8GB RAM
In a few words, the 8GB version is more than enough if you are looking to buy a MacBook as an average daily driver. It is the same amount of memory most people opt for when buying a Windows system for average usage in 2020 itself. So, you do not have to have any regrets about buying an 8GB model by saving $200. This gap of $200 might seem lame for Windows users who are tempting to upgrade to a new MacBook. This is how Apple sells, pals.
There are three different MacBook Pro 8GB models are available at Amazon. The 128GB and 256GB models with 1.4GHz Intel Core i5 and 512GB model with 2.4GHz Intel Core i5 processor.
13″ MacBook Pro 8GB RAM Models
We all consider notebooks with 8GB RAM as the best companion to browse the web and media. Surprisingly, the 8GB variant of the new MacBook Pro did not perform up to the mark with the Safari tabs.
The mouse pointer turns into the spinning color wheel while the Safari or Google Chrome browser is opened with more than 20 tabs. So, it is bad news for those who are actively using web browsers along with other power-consuming programs like Android Studio.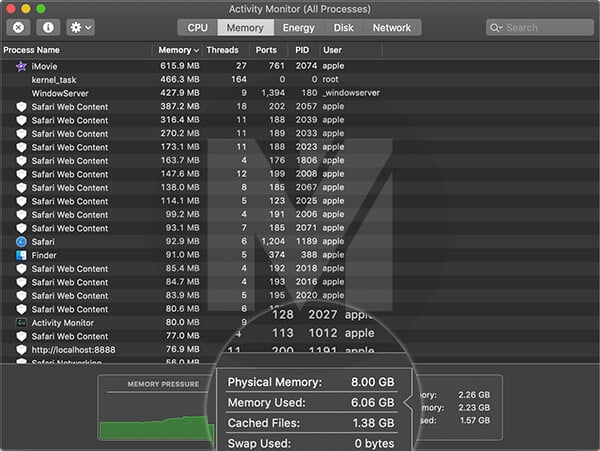 Putting the home users aside, most of the MacBook users will be either coders or designers. So, we did put some most used software tools into the test to see the relative results on an 8GB MacBook Pro.
While running AutoCAD alone, we did not experience glitches on the performance side instead, the system managed to utilize the RAM usage accordingly. Apple's XCode and Sketch are also running without any stutters. Final Cut Pro, the most favorite video editing tool is quite smooth in running small projects.
The next in the row is the Adobe Creative Cloud Suite products, including Photoshop, Premiere Pro and After Effects. The 8GB version showcases an "okay" performance with normal-sized photos on Photoshop. However, if the image size is much bigger, like flex or billboard, you would not be able to get the same experience.
There is a bigger chance of memory overflow and you will finish up crashing Photoshop processes. The same happens with bigger After Effect or Premiere projects. You could also experience the lack of a dedicated graphics card while rendering.
Should You Choose MacBook 8GB or 16GB RAM?
Now, you must be having somewhat idea about how the memory variants of new MacBook Pro acts in the real-world scenarios.
When you have 8GB RAM, the system will work fine until it runs out the entire 8GB system RAM. When the system RAM demands more than this available 8GB, you may experience the performance issue.
Usually, the 8GB RAM set on the single bank in the Mac. The 16GB probably has dual-channel 2x8GB, and the performance will be slightly better.
Game lovers, 8GB is enough to handle the majority of games, if you closed all other heavy-duty apps while playing the games. Still 16GB MacBook Pro guarantees the performance while you play the games like Shadow of War or Cities Skylines.
Here are our perspectives on why you should choose  MacBook Pro 16GB RAM or MacBook Pro 8GB RAM. Also, check out the chart below to get a rough idea of the performance of both models.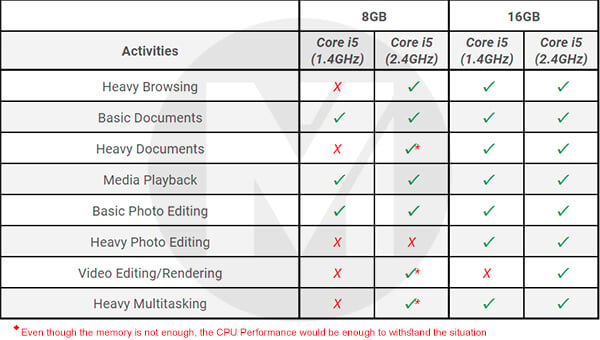 Why Should You Buy 8GB RAM MacBook Pro?
$200 cheaper than 16GB.
Enough for basic office usage, browsing, media playback, etc.
Basic designing and coding apps can run smoothly.
Small photo editing, basic video editing are smooth.
Why Should You Buy 16GB RAM MacBook Pro?
No up-gradation possible when required.
Future-proof.
All software suits run perfectly.
Video editing and rendering are possible.
It can run multiple virtual machines with enough memory.
Better resale value after years of usage.
MacBook Pro 13inch 16GB RAM
On the top-tier lineup of Mac notebooks, Apple released the 2019 variants of MacBook Pro in two screen sizes – 13 inches and 16 inches. The 13-inch MacBook Pro is now way more affordable and packs decent hardware specifications in handy. The top-notch hardware specifications are assembled in the larger 15-inch model $400 off at Amazon, while the most demanded, MacBook Pro 13-inch variant comes with a mid-range hardware lineup.
The 2019 MacBook Pro 13-inch comes with Intel Core i5 quad-core processor, with 8GB RAM onboard. The keyboard now drags attention with the new, rectified butterfly mechanism. You can customize on Apple Store to get a 13″ MacBook Pro with 16 GB.
Holiday Deals from Amazon and Best Buy for MacBook Pro and Air
Apple also provides an upgrading to 16GB of RAM at an extra $200. The internal SSD also varies from 128GB to 512GB, at different price tags. Just because Apple killed the 4GB variants for MacBooks, there are only two options left for the buyers, 8GB and 16GB.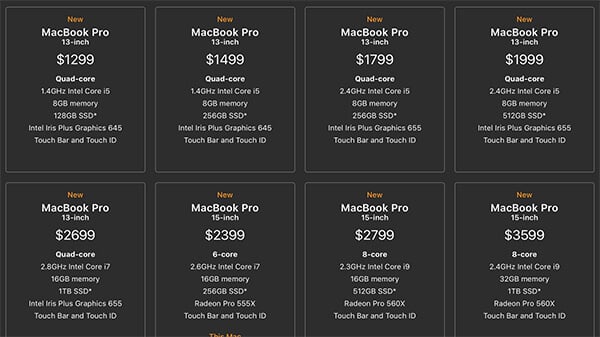 Even though the Windows and Linux systems require more memory for a buttery-smooth performance, having a 16GB RAM aboard may seem like an overkill for most of the people. At the same time, Mac is way optimized than the other two in terms of memory usage. Still, almost everyone is confused between the two and hesitates to go for a memory variant without a second opinion.
MacBook Pro 16GB RAM Models
New Apple MacBook Pro (15-inch, Touch Bar, 2.6GHz 6-core Intel Core i7, 16GB RAM, 256GB SSD): @ Amazon
New Apple MacBook Pro (15-inch, Touch Bar, 2.3GHz 8-core Intel Core i9, 16GB RAM, 512GB SSD): @ Amazon
New Apple MacBook Pro (16-inch, Touch Bar, 2.6GHz 6-core Intel Core i7, 16GB RAM, 512GB SSD): @ Amazon
8GB RAM MacBook Pro Models
Final Verdict
Suggesting one specific model for everyone is not an adequate way to conclude here, but you already know a lot well. When you choose to buy a new MacBook Pro, there will always be a temptation to buy the higher model. But, it costs $200 more than the base variant. However, the basic 8GB variant would be enough to run as a daily driver.
You should definitely go with the 16GB model, in case you see a chance for upgrading after one year. Apple does not allow hardware upgrading these days, so go for the bigger ones if you are looking into that. If you have enough budget and looking for a machine to survive for the next 5 years, go for 16GB RAM MacBook Pro with a larger SSD.