Windows 10 is coming with Holographic computing which will change the computing experience with the help of a new device called Microsoft HoloLens. The Microsoft event on 21/1/15 demonstrated the holographic computing along with the future improvisations of Windows 10 that are to be included in the final versions.
We will look out the upcoming features announced in the event here. The biggest and important feature is Windows Holographic using the MicroSoft HoloLens itself.
Using a HoloLens which may have little resemblance of Google glass, it is used to project the holograms to the eyes of wearer in a real background.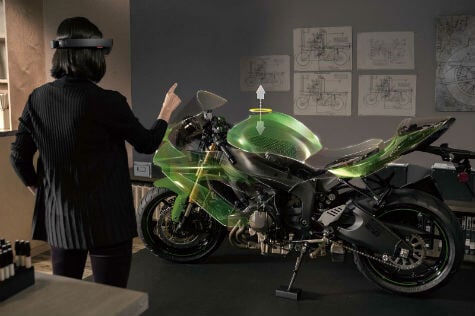 Microsoft demoed this feature that it can be useful in 3D modeling, Science explorations like Mars Rover exploration and even to the normal Skype calls that will come along with you. Also, this feature allows you to play games with the background of your living room.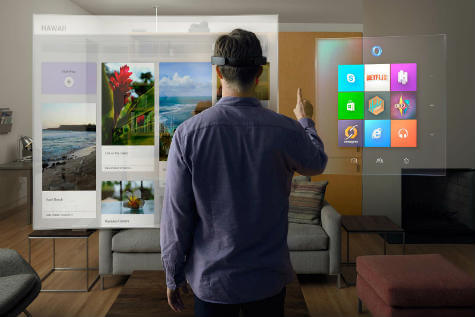 Microsoft HoloLens uses a Holographic processing unit HPU along with the normal CPU and GPU. HPU combines all the inputs of sensors to a real plane for computing. It can also work without any other devices like mobile, tablet and PC.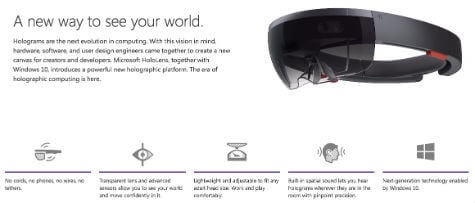 Other upcoming features of Windows 10 are,
One OS for All devices strategy. All devices will run the unified Windows 10 OS from screen-less to Big screen devices.
Continuum function between Desktop and Touch mode which is more suitable for working with hybrids in both touch mode and keyboard mode.
For desktop users, the start menu can be expanded to full screen and back for those interested in the old Windows 8 Start Screen.
More control over traditional Desktop apps for Tablet users like the Apps can be closed with the normal closing gesture.
New Updated Cortana version that is working on desktops too. The data which is gathered by Cortana can be controlled using personal settings. It is able to do tasks like email, music, search and more.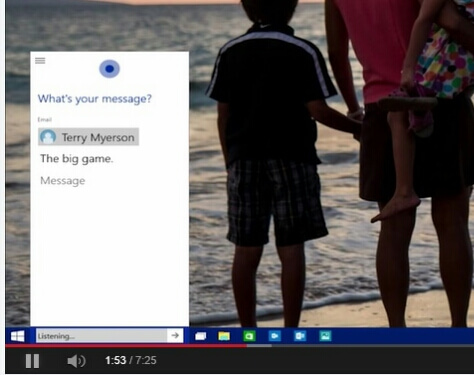 Texting can be integrated in Skype in Windows 10 phones.
Windows 10 will have built in universal apps like new Office for Touch,  New Outlook app with new gestures (swipe left to right or vice versa) and new OneDrive sync'd photos, People, Music, Maps Apps for better experience.
With Windows 10, Microsoft is introducing a new browser called  Project Spartan- which supports inline reactions (eg: to markup an area, to highlight and to comment or share etc can be done inline with the webpage), New reading mode right into the Browser and it is Cortana compliant so that it can suggest the webpages according to your nature of browsing or your appointments & calendar etc.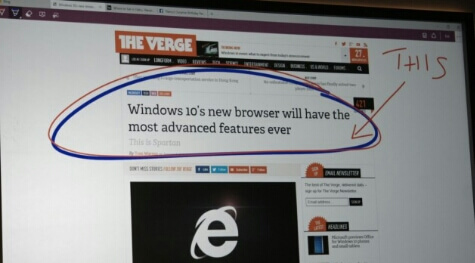 Windows 10 provides more social and interactive gaming with DirectX 12 which takes half the power consumption and gives more graphics power in same hardware compared to DirectX 11. Also, Windows 10 supports streaming of Xbox Apps to Windows 10 devices and the user can continue playing with it from the last point.
Microsoft also has unveiled the new Surface Hub for designers with 84 inch display for business houses to conduct one touch meetings using Skype for Business. It will be useful for brainstorming sessions that the content can be incorporated into the shared workplace very easily.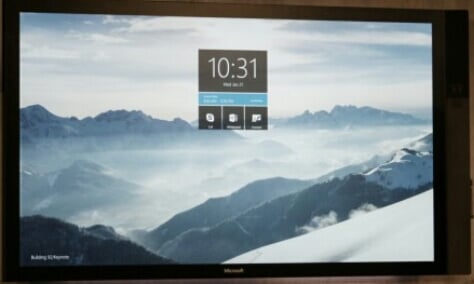 Microsoft is proposing that Windows 10 will be a free upgrade to devices that are working with Windows 8.1 and Windows Phone 8.1 and Windows 7 too for a limited 1 year period. These features will be rolled out in the coming builds or updates of Windows 10 in next few months for the Windows Insiders to experience and giving feedback. Microsoft still hasn't announced the release date in the event.