Have you ever thought why people are so much crazy towards iPhones? Besides user-friendliness and tons of features, Apple always gives importance to data privacy & security. It is a well-known fact that iPhones provide better security to users than Android smartphones. Plus, whenever a new version is released, Apple always tries to enhance the privacy & security of its devices.
Let's take a look at some of the new privacy/security features of the upcoming iOS 13/iPad OS.
Sign in with Apple ID
Majority of us will be regularly downloading new apps on our iOS devices. And, most of the apps expect us to provide an email address even for trying out the app. To save time, some apps allow using your existing Facebook/Google account for signing up instead of using a new email address.
Even though signing up using your existing social media account is pretty straightforward, it is not considered secure. Because you will never know what kind of your personal information is shared with the third-party developers. Plus, it is not a wise option to share your email address with an unknown app.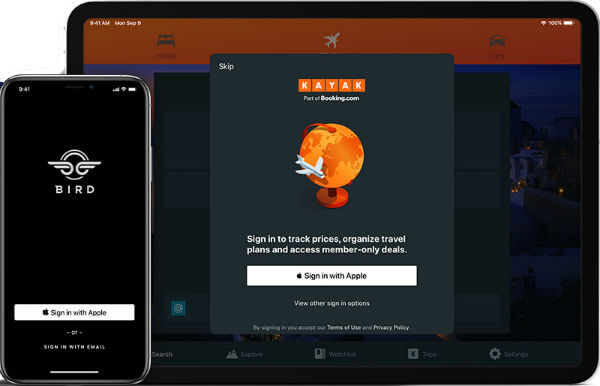 Fortunately, Apple has addressed this concern in its upcoming iOS 13/iPadOS with a new privacy tool called Sign in with Apple ID. Like you are using your Google/Facebook profiles to sign up or create a new profile on websites/apps, you can use your Apple ID to do that job. Unlike Google/Facebook which shares user some kind of information with third parties, Apple has clearly stated that it will neither track your activity nor share any kind of personal information with third-party developers without your consent.
Hide your email
Apple has added an extra layer of protection which allows users to hide their email address. If you decide to hide your email address, then a unique verified email address will be created. Only this email address will be shared with the third-party app you install on your device. Of course, any email received in this address will be forwarded to your real email. In this way, you don't need to share your email address with an unknown or untrusted developer and keep your personal information safe.
Works on all Devices
The good thing about Sign In with Apple is that you don't an iOS device in order to use this tool. Even if you are using an Android device or Windows, you can use this feature provided you have an Apple ID. Not only on apps, but this feature also works on websites as well.
Two-Factor Authentication
Sign in with Apple always come with two-factor authentication using Touch ID/Face ID. Hence, an extra layer of protection is automatically added to your favorite apps/websites, when you decide to use your Apple ID for signing in to your account.
Related: 9 Best Secured Messaging Apps for iPhone users to keep Privacy
Hide Location Info on iPad and iPhone
With iOS 12 or earlier, you don't have an option to hide the location information while sharing photos. And, the only available method was to disable location services on your Camera app, which many of us won't prefer. Thanks to iOS 13/iPad OS, now you can disable location for any photo you share with your family or on social media. Let's see how to do that.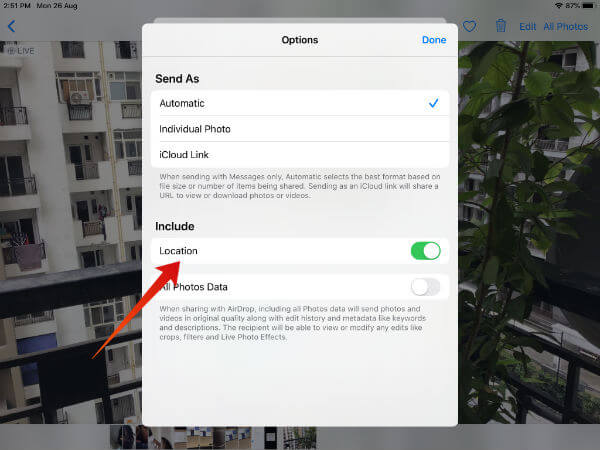 Launch Photos on your iPhone/iPad.
Tap on the image you would like to share.
Tap Share icon.
Select Options located on the top.
Under section Include, toggle Location switch to left. (Here you will find other options to send an image as Individual Photo or iCloud Link)
Now, your location will not be shared along with your Photo anymore. In case you would like to share a bunch of images, first, select all your images. Then, you can follow Step 5 so that the location will be hidden for all the selected images.
Related: What is VPN on iPhone and How to Use iPhone with VPN
App Location Permissions
Apple has added more options to users to restrict location sharing with apps in iOS 13/iPadOS. In iOS 12 or earlier, apps will have access to your location either while using or always. Now, you can decide to grant location access to an app once. For subsequent location access, the app needs to get your consent.
Let's assume that you don't need to turn location ON always while capturing images on your iPhone/iPad. Instead, you would like to turn it ON based on your need. Let's see how to do that.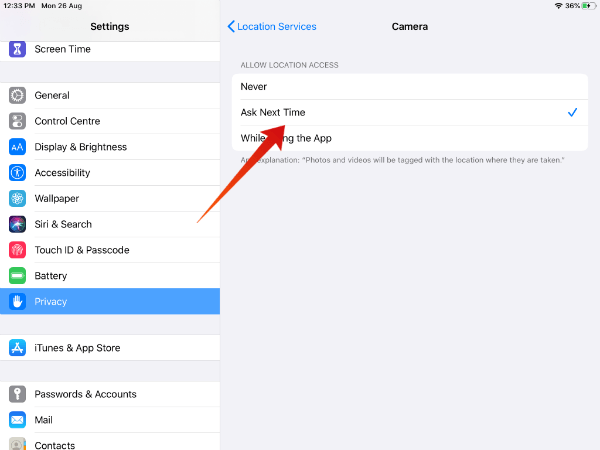 On your iPhone/iPad, tap Settings->Privacy.
Tap Location Services.
Make sure that Location Services is turned on. Then, tap Camera.
Tap Ask Next Time.
Now, whenever you try to capture images from your iPhone/iPad, you will see a similar screen like the one given below: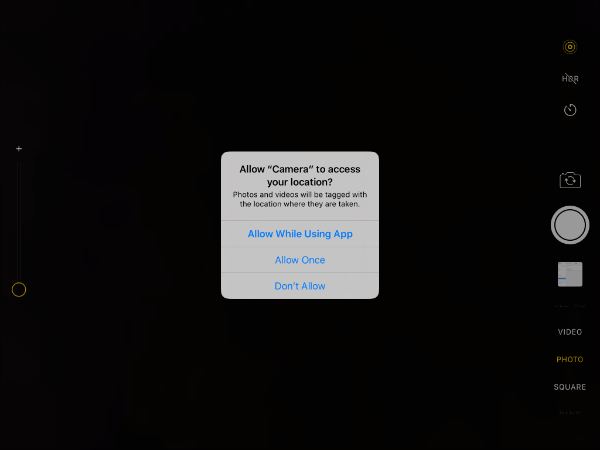 Based on your need, you can select any one of the options: Allow While Using App, Allow Once, Don't Allow. If you had selected Allow Once, then your iOS will display the same selection during your next image capture as well.
App Location Transparency
In addition to controlling the location permissions for apps, iOS 13/iPad OS helps you to monitor apps that are accessing your location. You will receive a pop-up notification when an app is using your location in the background. This notification will also display information on why the app is accessing your location. And, it displays two options Change to Only While Using, Always Allow so that users can select one of them to restrict location sharing with that app.
Well, with a bunch of new privacy settings, it looks like Apple is committed to providing better privacy for its users in the upcoming iOS release. Especially, the Sign in with Apple is more secure than signing up with your Facebook/Google accounts.