Are you trying to install the new OS on your iPad and it is not getting updated? Well, you cannot update the iPadOS if your iPad does not support latest version. Even if you can get the latest iPadOS versions, you might not be able to update your iPad.
Here we have some working methods to fix the iPad unable to update error.
Why Is My iPad Not Updating?
Although you have latest updates available, you will be stuck with older version of the software on your iPad due to many reasons. Below are some of the reasons your iPad is not updating:
Insufficient storage
Poor network connection
Low battery
Server issues
Best Ways to Fix Unable to Update iPad Issue
Once you identify and resolve the issue, you should be able to update your iPad with the latest software. Let's see some of the ways to resolve your iPad unable to update issue.
Free Up Storage on your iPad
In general, any new iPadOS will consume at least 5 or 6 GB of free internal storage on your device. Therefore, you need to make sure there is enough storage space available on your iPad before starting to install the OS. If the storage is less, spend some time deleting all the unnecessary files or back up them to a computer or an external hard drive.
If your iPad is not updating even after clearing the storage, connect to a computer and try to update the software using iTunes.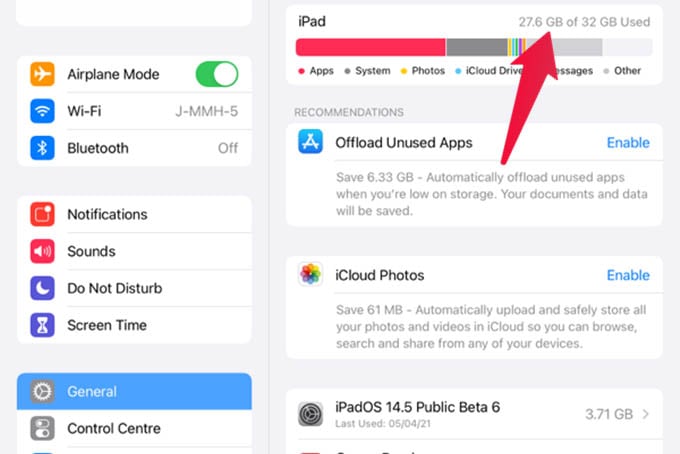 To see the storage left on your iPhone, go to Settings > General > iPad Storage. There you can see all apps and files eating up most from your iPad storage and clear them easily.
Related: iPad Storage Full: How to Free up Space on iPad Storage
Check Your Internet Connection
It is very important to have a stable internet connection to update your iPad. If you are using a Cellular iPad, avoid using your cellular data for installing the OS, as the update might fail due to connectivity and speed issues.
Before starting to install the iPadOS , check if your iPad is connected to your Wi-Fi network and the connection is stable. In case your home Wi-Fi network is not high speed, then avoid updating the OS when other members are streaming movies/TV shows. Instead, select a time during which you get a good speed connection like at night.
Related: How to Sync Your iPhone and iPad Quickly: Sync Photos, Emails, Contacts, Texts, Calls
Try Reinstalling the Update
Sometimes, when your device is not able to connect to the Apple server, you might see a screen that says "There was an error connecting to Apple ID Server."0
If you get this error, wait for some time and try to reinstall the update. Or if you have access to multiple Wi-Fi networks, then try connecting to a different network. Or you can also connect the iPad to your computer and update the iPadOS using iTunes.
Make Sure Your iPad Is Connected to Power
Generally, if the iPad battery level is less than 50%, you will see a warning message and you cannot install updates on your device. Or if your battery level drops in the middle of the installation process, the iPad update might fail.
To avoid that, make sure you connect the iPad to an external power source, if you are updating the software wirelessly. If you are using iTunes to update your iPad, you need not worry about power as it is connected to the computer.
Related: 10 Best USB C Car Chargers for MacBook, iPads & Phones
Restart Your iPad
Restarting your iPad will have the effect oof resolving temporary software issues. It can also remove any errors that caused your iPad not avke to update. Therefore, if any of the above listed things didn't work out, try restarting your iPad.
Press and hold the Power/Top button until the power off slider appears. Then, drag the slider to turn off your iPad. To restart the device, press and hold the Top button till you see the Apple logo on your screen.
Related: How to Fix iPhone Is Disabled Connect to iTunes Error
FAQ: iPad Unable to Update
How do you update an iPad that won't update?
If your iPad does not update automatically, you can update the iPadOS software by going to Settings > General > Software Updates. From there, check for updates and install available updates manually.
How do I force iPad software update?
You can software update your iPad from the iPad settings. In case you want to force update, us ethe iTunes or Finder by connecting your iPad to PC or Mac.
Is my iPad too old to update?
You can generally get iPadOS updates for your new iPads for at least 4 to 5 years in a row (and even more). Once your iPad gets too old, you might stop getting newer updates making it too old to update.