Using a VPN is a better solution in modern-day to browse the internet securely without revealing your personal information. VPN, or Virtual Private Network, can help you secure the communication from your browser or app, and the data will be encrypted. There are many VPN services available across multiple platforms, and you might be thinking of using VPN on iPhone as well.
Here is a detailed guide on VPN on iPhone and how to use it.
What is VPN on iPhone?
Virtual Private Networks (VPN) is a method of networking that aims to improve the security and privacy of users on the internet. The basic concept is to become anonymous while surfing on the Internet. Whenever we connect to the Internet using our smartphone or laptop, all the traffic will be directed through the ISP. Both the ISP and the server we are accessing will be able to see our original IP address, location, and other details. Moreover, our ISP will have the entire traffic towards our system monitored 24/7. VPN is one of the best ways you can use to avoid such privacy issues.
Whenever you establish a connection with a VPN server, all the traffic between you and the VPN will be encrypted. So, your ISP will only be able to see the undecipherable, untraceable encrypted address and data. ISP will know that you are connected to a VPN, but not what you are browsing or visiting.
Whenever you send a request for visiting a website or access data from a server, the request will go through this encrypted "tunnel" between your system and VPN. The actual data will be visible only at the exit point of the VPN Server. So, here all the requests are actually made by VPN server, and data it received will be encrypted and sent back to your system. The access server will never know your original IP and location, but of VPN's.
Why do I need VPN?
You are using an iPhone and your data is secure than on Android, right? But your personal information including location and IP are always public whenever you connect to the Internet. So, your ISP or access server can either block you from visiting specific websites or even use the browsing data against you.
By using a VPN, you are really using a shield which helps you become anonymous online. Your ISP will only know who you are, but not what you are browsing. So, it is quite helpful in visiting websites which are banned in your country. By choosing a VPN server from a different country, you will be able to visit any website and view all the contents without your ISP or country knowing.
Using a VPN on your iPhone can help you hide your IP Address, geographical data, personal data, browsing details, torrenting information, website tracking, etc. Also, many ad trackers might get fooled if you use a VPN. This is really helpful especially when you are connected to an unsecured public Wi-Fi.
Related: 10 Best VPN Services for Mac and Windows for 2019 (Paid and Free).
How Do I Setup a VPN on My iPhone?
Unlike Android smartphones, you cannot simply use an app to switch VPN on or off instantly. If you were an Android user, you must be familiar with the standard VPN apps from Google Play Store. Either free or paid, all of them will let modify your connection from within the app. However, the iOS ecosystem is much secure, so a third-party app cannot directly modify your network configurations without letting you know. You will need to authorize your iPhone to add a new VPN profile to your device.
There are lots of VPN Client apps available on the App Store. All of them can only add new VPN profiles to your iPhone and the rest of the control is in your hands. Here is how to set up a VPN profile on your iPhone using a client app.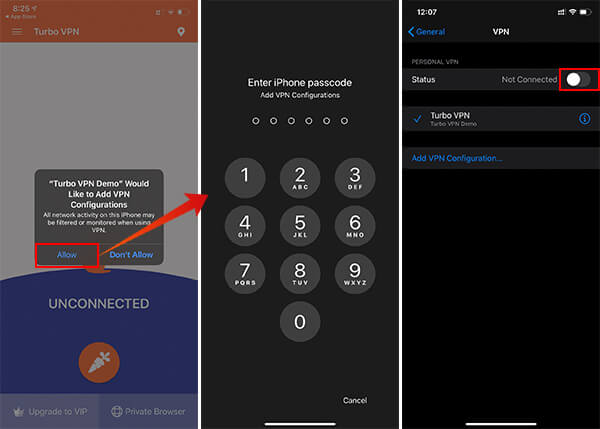 Install any VPN Client app from the App Store on your iPhone or iPad.
Open the app and buy a subscription method.
Tap start VPN button (depends on the app).
Your iPhone will then prompt for adding a new VPN profile to your iPhone. Tap "Allow."
Enter the passcode and authorize.
The VPN Profile is now available on your iPhone and must be running in the background. Check How to Start Using VPN to turn on or off the VPN.
How to Manually Configure VPN on iPhone?
You do not need a VPN Client app always to set up VPN on the iPhone. It is possible to set up a VPN profile manually using the VPN account details from your provider. In order to manually configure a VPN, you need to get the manual configuration details from your VPN Provider and need to enter along with your account details including username and password. Here is how to manually configure VPN on iPhone.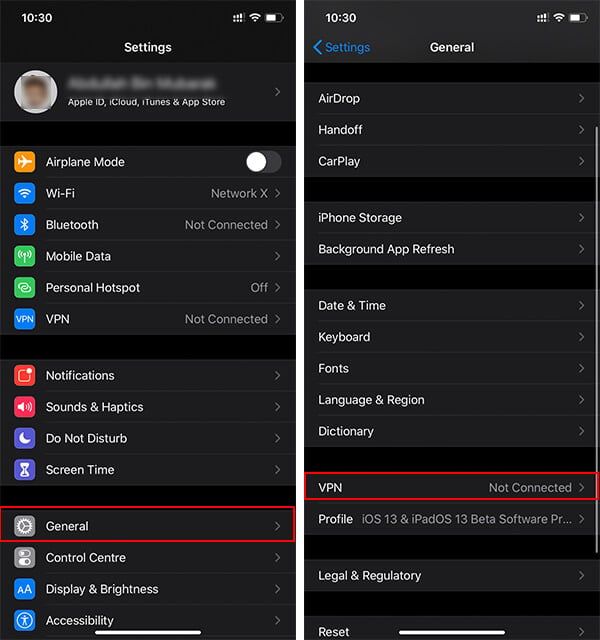 Launch Settings app on your iPhone.
Tap General.
Scroll down and tap "VPN."

Tap "Add VPN Configuration."
Choose your VPN type which matches your VPN server.
Provide Server details, user details and proxy details.
Tap Done.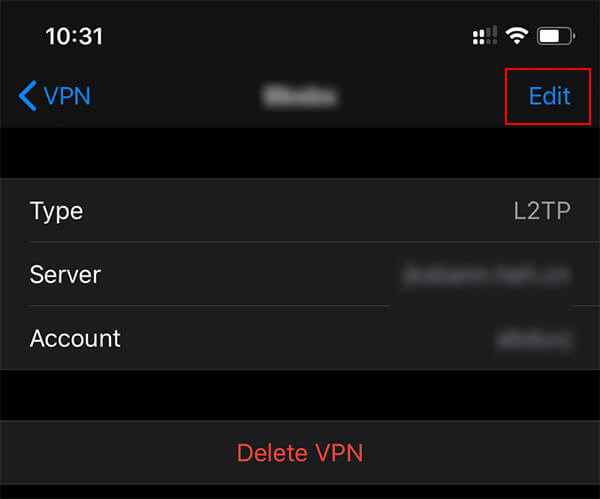 You can tap each of the profile to edit the configuration settings. However, you cannot directly edit VPN Configurations added by third-party VPN Clients.
Your newly added configuration will be listed in the VPN menu on Settings.
How to Start Using a VPN?
After configuring the VPN profiles, you can simply start using any of them instantly. Your currently active internet connection (either mobile network or wifi) will be directed through the VPN tunnel. Here is how to turn on or off the VPN on the iPhone.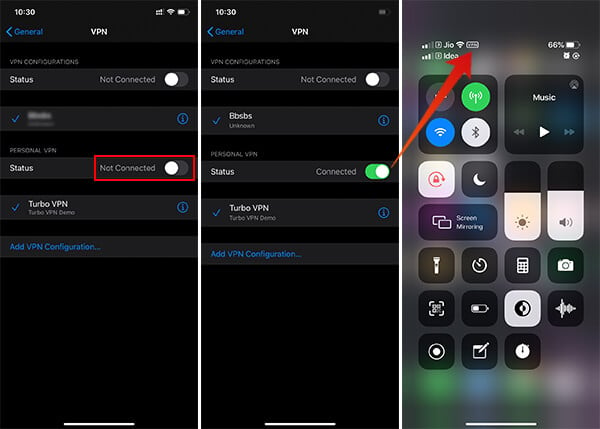 Open Settings on your iPhone.
Tap General > VPN.
Choose any of the profile and toggle on the button against "Status."
When one profile shows "Connected" you are connected to that VPN server.
You can either check on the status bar or pull the Control Center to see if you have an active VPN Connection.
Best VPN Clients for iPhone
There are lots of VPN services available across the internet and you can use them without any platform restriction. However, if you do not want the hassle to configure the VPN manually alone, there are several VPN Client apps that can automatically add their configurations to your iPhone so that you only need to worry about turning them on or off. Here are some of them. You can see a complet list of VPN apps for iPhone best VPN for your iPhone.
VPNs are relevant to protect your privacy and secure teh transactions through the internet. It is important toi use a VPN while you browser sensitive data on your iPhone through public WiFi. In addition to this, iPhone VPN can also hide the source IP when you browse. Hope you found this guide helpful in setting up a VPN on your iPhone.