Do you look for ambient sounds on YouTube while doing meditation or Yoga? Thanks to iOS 15, you no longer need to spend your time in third-party apps for the Background Sounds in your iPhone.
In this post, let's see how to get ambient sound directly from your iPhone during meditation or yoga without depending on any third-party apps.
How to Get Ambient Sound on iPhone
While doing meditation, it is very important that the background noise is minimal. To help users minimize distractions and to get more focus, Apple has added six different background sounds: Balanced Noise, Bright Noise, Dark Noise, Ocean, Rain, and Stream. You can play these relaxing ambient sounds on your iPhone whenever you need them.
Now, let's see how to enable Background Sounds and use that.
On your iPhone, head to the Settings app and go to Accessibility.

In the Accessibility menu, scroll down and tap Audio/Visual.

In the new screen titled Audio/Visual, tap Background Sounds. To get ambient sound on your iPhone, toggle on Background Sounds. Now, you will start hearing the stream sound from the iPhone speaker or headphones. If you want to hear a different sound, then tap Sound.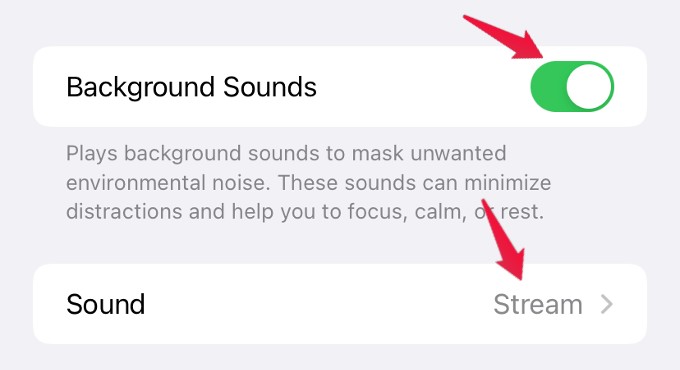 Choose an ambient sound of your choice from the next screen. As of now, you get to choose from six different ambient sounds on your iPhone.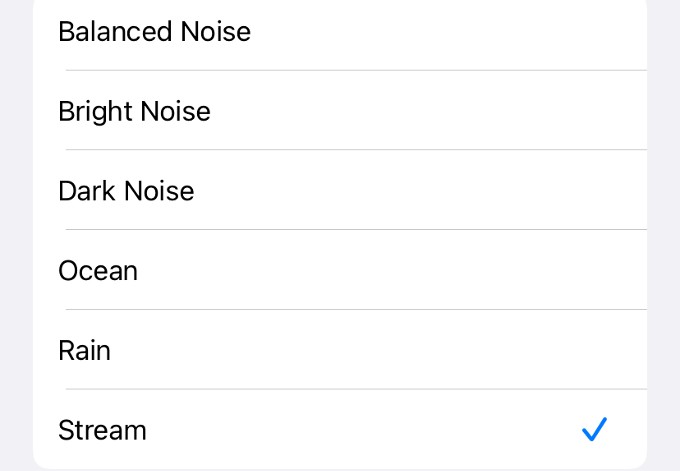 By default, you can play the background sound even when a video or music is already playing. You can also adjust the volume using the slider. In case you don't want to hear background sound while another media is playing, then toggle off the option Use When Media is Playing.

If you don't want the ambient sound to play when you lock your iPhone, then toggle on the option Stop Sounds When Locked.
Related: 10 Best Apple Watch Meditation & Relaxation Apps
Playing Ambient Sound from Control Center on iPhone
Playing ambient sound on your iPhone does not always require you to run around the Settings. The Control Center has a quick option to play ambient background sound on iPhone. Let's see how to do that.
On your iPhone, swipe down from the top right to launch Control Center.

In the Control Center, when you tap on the Ear or Hearing icon, a new menu will appear. In that, tap on the field Background Sounds to select the sound you wish to play.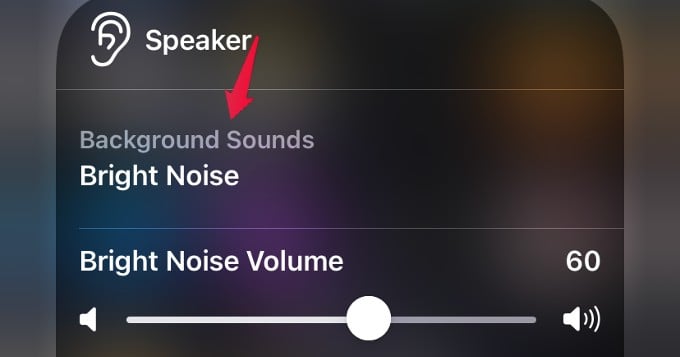 If you wish to stop playing the background sound, just tap on the Background Sounds icon from the Control Center again.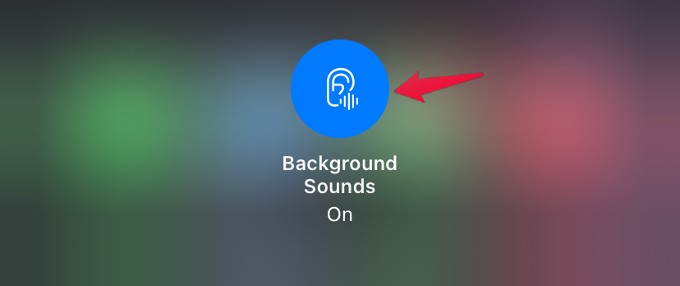 Related: 10 Best iOS Apps for Relaxation and Stress Management
Well, Background Sounds is a handy feature in iOS 15 that allows users to hear calming sounds while doing meditation. You can have a handful of background sounds