Mozilla has been selling Firefox as a privacy-focused web browser for more than a decade. It's not exactly selling though. Firefox is a web browser that is available for free on virtually every platform. There have been other web browsers since then that have tried to do the same thing. But none are as widely available everywhere as Firefox. That doesn't mean Firefox has all the privacy and security features you need.
Here are the best Firefox security add-ons that you should consider to protect your online privacy.
Facebook Container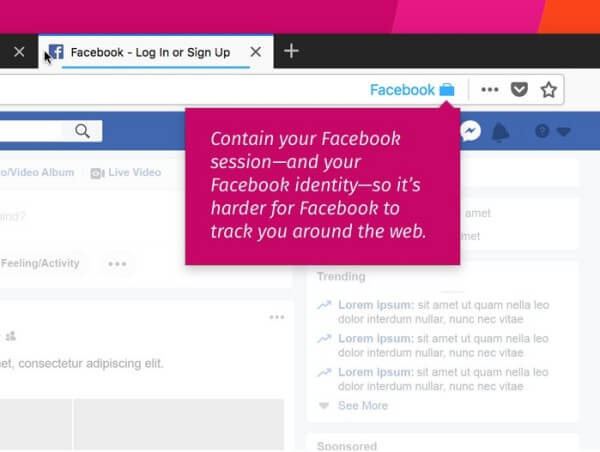 Facebook has been in the headlines for all the wrong reasons lately. The social networking website is known to track users all over the web. Yes, Facebook tracks you even when you've logged out. It does this by using third-party cookies. The Facebook container add-on by Mozilla aims to prevent that. It lets Firefox open the website in a separate container or sandbox tab.
This tab prevents Facebook from accessing any non-Facebook web activity you have in your browser. The Facebook container security add-on is a modified version of another add-in. That one is called the Multi-Account Containers add-on. Facebook Container works in a similar fashion. However, it is designed specifically for Faceb
Key Features: Opens Facebook in a sandbox container tab | Blocks off-site tracking by Facebook | Download: Facebook Container
uBlock Origin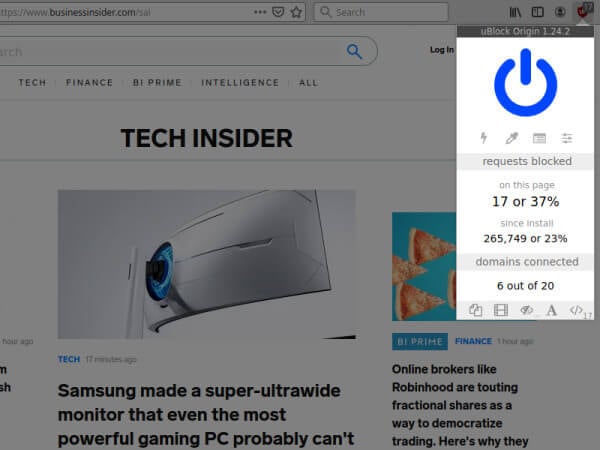 There is no lack of adblocker extensions on Firefox. The browser will even block some unwanted scripts on its own. However, uBlock Origin is one of the most advanced adblocker and Firefox security add-ons. It relies on a few filters out of the box. Users can create their own filters as well. This makes the extension even more useful in the long run.
When you click on the uBlock Origins button you can see how many ads were blocked and from where. This button also lets you zap an ad, disable JavaScript and other unwanted elements on a webpage. It also lets you turn off ad-blocking for individual sites. You can create a whitelist of websites that it will not block ads on. You can also add more filters or create your own.
Key Features: Blocks ads | Blocks scripts & other elements | Whitelist websites | Download: uBlock Origin
Related: Best Browser Privacy Plugin to Keep Data Private
Privacy Badger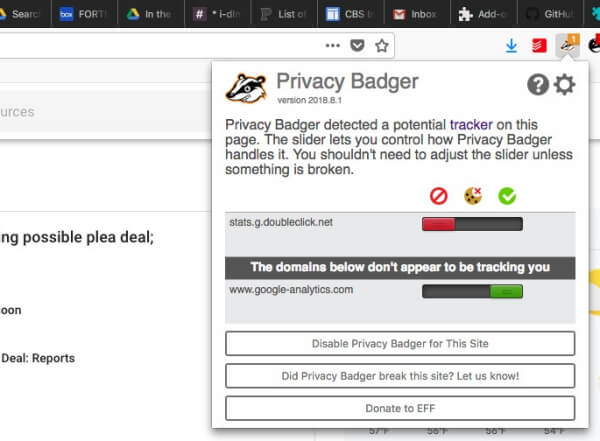 Facebook isn't the only website that tracks your off-site activity. There are plenty of websites that do this today. Privacy Badger watches for third-party trackers by such websites that monitor your browsing.
The extension then blocks their ability to do so without your permission. It works similarly to the uBlock Origins extension. Therefore, you can allow trackers from certain websites by clicking on the extension. It's one of the simplest, straightforward Firefox extensions to protect your online privacy.
Key Features: Opens Facebook in a sandbox container tab | blocks off-site tracking by Facebook | Download: Privacy Badger
HTTPS Everywhere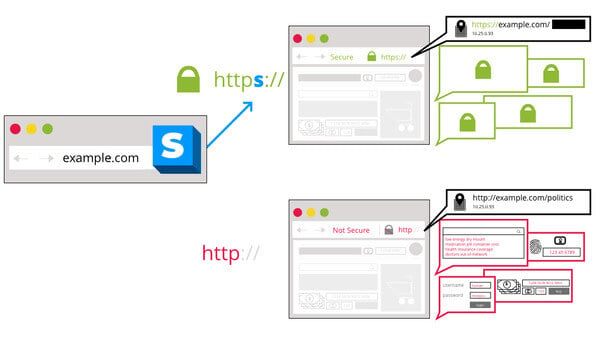 HTTPS Everywhere is made by the Electronic Frontier Foundation or EFF. They're the same people responsible for the Privacy Badger Firefox security add-on. If you're not aware, HTTPS is a more secure version of HTTP where your data is encrypted.
The HTTPS Everywhere security add-on for Firefox does one thing. It automatically redirects your traffic to the HTTPS version of a website. That is when it's available. This, therefore, encrypts your web communications. Naturally, that also helps protect your online security & privacy.
Key Features: Redirects traffic through HTTPS protocol | encrypts web traffic | Download: HTTPS Everywhere
Related: How to Stop Pop-Up Ads on Android
DuckDuckGo Privacy Essentials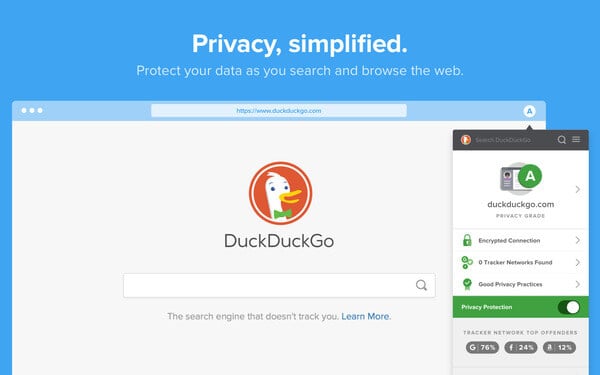 You've probably heard of the name DuckDuckGo. In case you haven't, it's a popular privacy-focused search engine. DuckDuckGo provides an alternative to the likes of Google and Bing. It doesn't track your searches, unlike the other two major search engines. DuckDuckGo Privacy essential expands that into a Firefox security add-on with more features.
For one, it changes the default search engine to DuckDuckGo. It lets you see privacy grades for the websites you visit. The built-in online privacy protection also blocks third-party trackers. This means you wouldn't need additional extensions for that. DuckDuckGo Privacy essential also includes the functionality of the HTTPS Everywhere extension.
Key Features: Defaults the search engine to DuckDuckGo | redirects traffic through HTTPS protocol | see privacy grades for websites | blocks third-party trackers Download: DuckDuckGo Privacy Essentials
Cookie Autodelete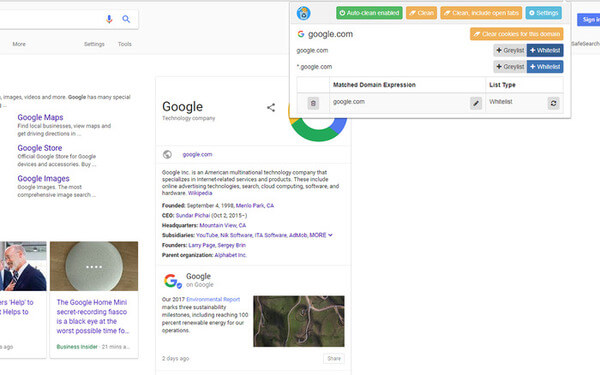 Browser Cookies are how some websites track users. But they're also essential to the working of some websites. That's why disabling cookies altogether is not a great idea. One way to stop websites from tracking you is to delete the cookies you don't need anymore. This also frees up some space on your system. Obviously, doing it manually will be a labor-intensive task.
Cookie Autodelete is a Firefox security add-on that automatically deletes cookies. It does it as soon as you close a tab. You can whitelist certain websites, however. This means cookies from these sites will not be deleted once the tab is closed. You can also greylist websites. This means that the cookies do get deleted but only after you have closed the browser. The extension settings include more granular control. This includes when, how and if cookies are deleted.
Key Features: automatically delete cookies on tab close | automatically close cookies on browser close | whitelist websites | Download: Cookie Autodelete
Related: How to Easily Install Chrome Extensions on Firefox
NoScript Security Suite

Scripting is a powerful tool for web developers. It allows them to provide you more features, a more interactive website, and other things. It's what makes today's web possible. But as with every tool, there are some that can use it in bad ways. Some scripts can infect your system with malware. It can also result in cross-site scripting attacks, clickjacking attempts, and other hazards.
With the NoScript extension, you can block these scripts for all websites. Of course, most modern websites need scripts to be turned on to even function. Hence, the NoScript Firefox security add-on lets you enable scripts for certain websites. These can be your favorite websites or websites that you trust. By default, this kind of content is only allowed for certain sites.
Key Features: blocks scripts on all websites | whitelist websites | Download: NoScript Security Suite
Decentraleyes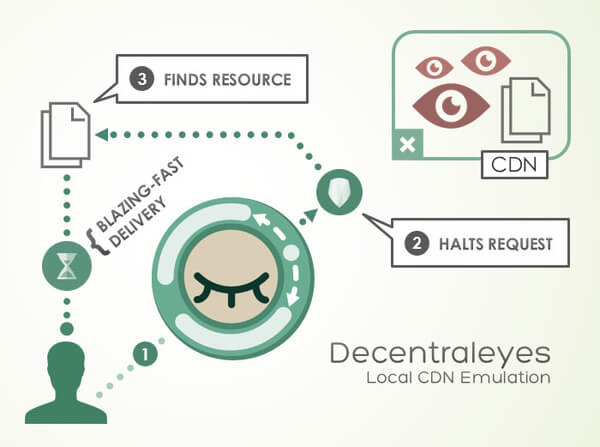 Decentraleyes includes a local library of commonly used JavaScript and CSS libraries. Many websites will request a JavaScript or CSS file from an external server. When that happens, Decentraleyes blocks that connection. Instead, it serves the request using its own locally stored library.
As a result, your browser has to talk to a lesser number of different servers. This should protect your online privacy while also improving page loading times. At least, in theory.
Key Features: forces websites to use locally stored scripts | speeds up browsing | Download: Decentraleyes
Disconnect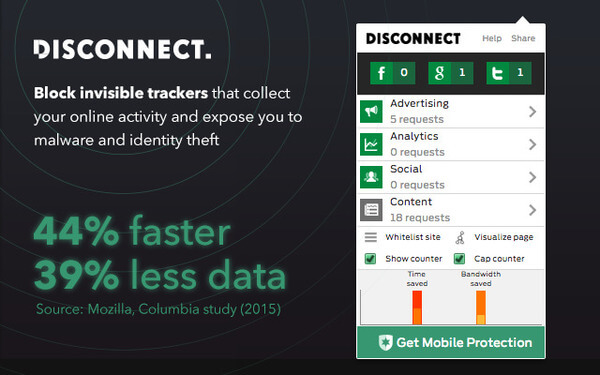 Disconnect is a Firefox security extension similar to Facebook Container or Privacy Badger. It is primarily used for identifying and blocking trackers. Thus, it helps protect your online privacy.
Key Features: blocks trackers | whitelist websites | Download: Disconnect
LastPass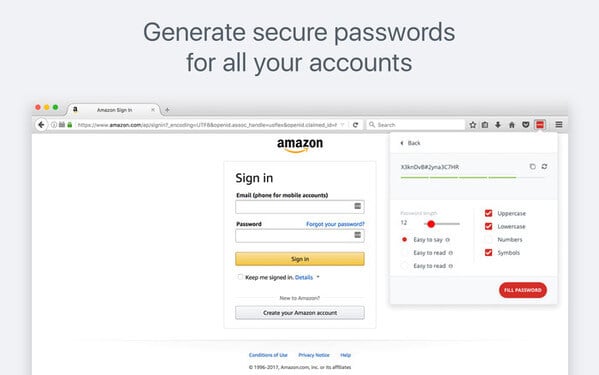 LastPass is a little different than the other Firefox extensions mentioned above. It does not protect your browsing habits and data. Instead, it offers the convenience of not having to remember your passwords. LastPass can keep a catalog of all your user accounts and passwords. This allows you to start using unique passwords for all your accounts.
The extension can even suggest strong and unique passwords when you need it. LastPass is also available on every other major web browser. It also has Android and iOS apps.
Key Features: saves all passwords, payment, and address info | create strong unique passwords | cross-platform | Download: LastPass
Related: 7 Best Cross-Platform Password Managers for Android, iPhone & PC
Privacy Possum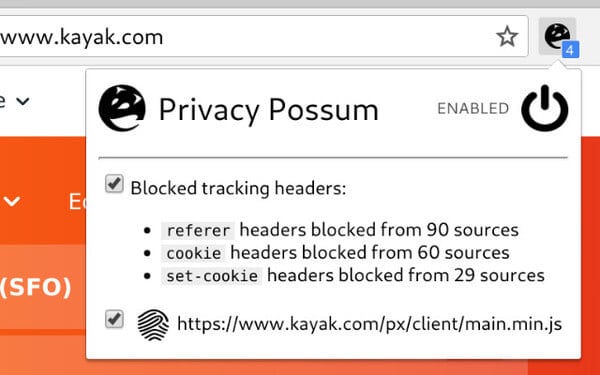 The Privacy Possum Firefox add-on aims to block websites from tracking you. If it sounds like Privacy Badger, it's because it is. Tracking companies create a unique profile or fingerprint for different users. Privacy Possum makes it much harder for companies to create a unique fingerprint for you. And thus, it helps protect your online privacy. It does this by obstructing tracking methods that tracking companies use.
Key Features: blocks third-party trackers | Download: Privacy Possum
History Cleaner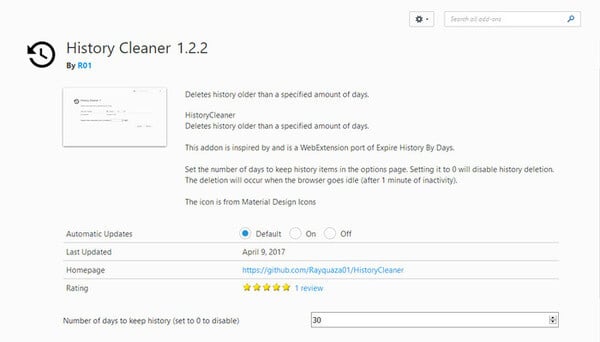 As the name would suggest, this Firefox extension cleans up your history. Usually, you'll have to do that manually. History Cleaner lets you set a preferred number of days. After the set number of days, the extension will automatically clear your history.
Key Features: automatically clean browser history | set preferred number of days to keep history | Download: Privacy Possum
There have been a number of privacy issues involving Facebook and even Google. More and more people are understanding now that privacy is a serious concern. One must protect their online privacy on their own. Firefox is one of the best browser options for it. It gets even better with the help of some of these security add-ons.