Meditation brings peace of mind and clarity in your life. With the new technology, you can practice meditation and relaxation techniques with Apple Watch. There are dedicated Apple Watch Apps available to help you to clam your mind and body with meditation. You can enjoy these apps and their features right from your wristwatch and practice those on your free schedules.
Here is the list of best meditation and relaxation apps for Apple Watch users to practice meditation to calm their mind and body for a healthy life.
The Mindfulness App
This relaxation app is a "Get Started" guide that has an introduction to mindfulness, and a 5-day guided practice. This Apple Watch meditation app brings you 3 to 30-minute timed sessions of silent and guided meditation. You can also customize your meditation with bells and a guided introduction. And, remain mindful of your meditation throughout the day with mindful notices and meditation reminders.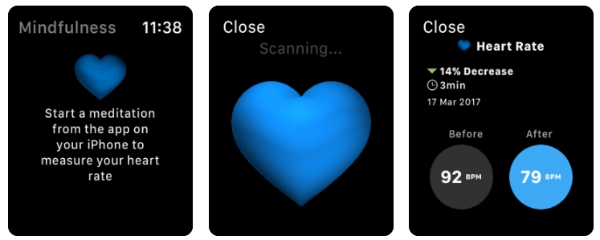 With Apple Watch, it is easy to keep track of your meditation journey with statistics. The Premium section of the app contains 200+ courses and guided meditation sessions by influential teachers (one-time purchase or subscription). Furthermore, sync your meditation time with Health App. With the premium membership of this Apple Watch meditation app, you can get unlimited access to courses and meditation sessions on focus, calmness, relationships, etc. You can spread calmness and inner peace to your loved ones.
Key Features: Personalized Meditation | Timed Sessions | Health App integration | Family Sharing for up to 6 family members | Download from Apple Store: The Mindfulness App
RealifeChange
RealifeChange is your personal wellness coach and is designed to take care of you. This Apple Watch wellness app takes all your decisions, social interactions, discoveries, moods, and emotions. The Apple Watch relaxation app can provide you with actionable and meaningful feedback. Ultimately, this helps you live a better life. Most importantly, this Apple Watch app turns your experiences into valuable and instant insights available on intuitive dashboards.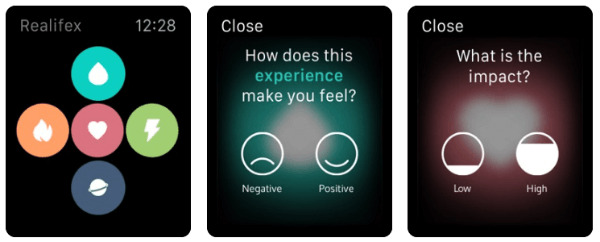 You also get personal guidance from the app, and so it is your virtual coach. This app tracks experiences, emotions, and feelings by location, intensity, and type. Enter the impact that your life experiences have had on you and easily track them using hashtags. With this efficient app, you can become free of anxiety and stress and scale up your confidence. Amidst your busy schedule, you will find this app useful as well as suited to your lifestyle.
Key Features: Exploring life events with Filters and visualizing your well-being score | Receiving personal guidance | Life Map Shows Your Notes | Charts to Analyze Life Events | Family Sharing for up to 6 family members | Download from Apple Store: RealifeChange
Also see: Complete Guide to Install or Delete Apps on Apple Watch
Relax Meditation: Guided Mind
Practicing meditation is an integral part of your lifestyle and it increases the quality of your life. Get an immersive experience that approaches meditation from an everyday life perspective. Relax Meditation: Guided Mind is a new Apple Watch relaxation app that specializes in mindfulness meditation. With this Apple Watch app, quieten your mind and improve your health and awareness.
Furthermore, with mindfulness meditation, you can know yourself at a much deeper level. Utilizing only 10 minutes a day, you can practice mindfulness meditation with a system that is carefully designed for all. You can participate in an extensive collection of 5-day meditation programs. The topics are success, relationships, self-esteem, and creativity. Content is updated every month, and S.O.S. sessions are available for immediate relief.
Key Features: Meditation Reminder | S.O.S. sessions | Community Melodies | Family sharing feature for up to 6 family members | Download from Apple Store: Relax Meditation: Guided Mind
Timeless | Meditation
This Apple Watch app offers you a beautiful personal practice timer, guided meditation, and multi-day courses. Timeless is a powerful meditation app for Apple Watch owners that is made for meditators by meditators. The app also provides guided instructions given by practising meditators and multi-day immersions to learn new techniques. And, its personal practice timer is easy-to-use, elegant, and fully customizable. Timeless Meditations app's personal practice timer disappears to ensure pure concentration, ease-of-use, and simplicity.

Also, the Meditation app's progress charts, best streaks, and custom goals and reminders give you detailed meditation insights. The guided teachings are from the rich traditions of meditation and are tailored for modern living. Sessions include sleep, relaxation, emotional well-being, focus, walking meditation, and more.
Key Features: Custom shortcuts with Siri | Up-to-date meditation progress | Cloud Sync and handoff | Optimal design for all devices | Multi-day, in-depth courses | Guided meditation | Family Sharing for up to 6 family members | Download from Apple Store: Timeless | Meditation
Related:  Best Meditation Apps for Android to Calm your Mind
Zen: Meditation & Sleep
Zen is the perfect app for Apple Watch to live a healthier, happier, and more balanced emotional life. The Zen Apple Watch Meditation app offers an ever-growing and diverse amount of features and content. Zen app offers weekly guided meditation. This helps for deep sleep, anxiety relief, focus at work, relaxation, mood improvement, and more. The Zen app offers plenty of audios and videos for meditation and relaxation. Its morning music and deep sleep music give you positive energy. And, its ASMR audios are useful for deep sleep, relaxation, and mental massage.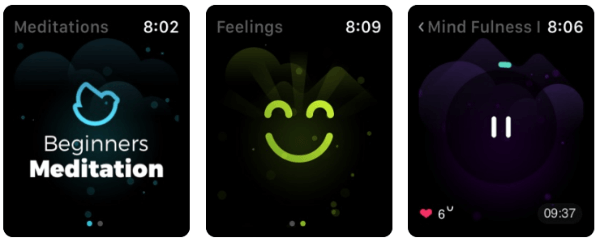 You can get useful motivation messages, proverbs, inspirational quotes, and reflections. In the midst of your busy schedule, take time to relax with the app's realistic 3D sounds. There is also a unique mood monitoring feature that helps you keep track of your emotional status.
Key Features: Weekly Guides | Deep sleep music | Binaural beats therapy | Realistic 3D sounds | Download from Apple Store: Zen: Meditation & Sleep
Also read: How to Use Apple Watch Fall Detection?
Headspace: Meditation & Sleep
Headspace is your personal guide to happiness and health. It's the best way to let go of your stress and get a better night's sleep. Learn to relax with mindfulness techniques and guided meditation that bring calmness, balance, and wellness to your life. The Basic course is free and teaches you the fundamental techniques of mindfulness and meditation.

Get the good rest you deserve every night with Sleep by Headspace, which includes sleep sounds and sleep casts. The Headspace animation library has a lot of helpful wisdom and tips to keep your meditation on track. You can also add friends and motivate each other with this Apple Watch Relaxation app. Above all, this app was built, keeping in mind the needs of disturbed sleepers. The good news for kids is that the Relaxation app has mindfulness exercises and guided meditation, especially for them.
Key Features: Adding friends to meditate with you | Hundreds of guided meditation sessions | Sleep by Headspace to give you good sleep | "SOS" sessions for moments of anxiety, stress, and panic | Daily meditation on new topics | Download from Apple Store: Headspace: Meditation & Sleep
Aura: Sleep & Mindfulness
Aura Sleep app gives you mindful breathers and reminders, and you can take mindful breaks whenever you want. You also get daily reminders for mindful breathers to help you stay calm throughout the day. You can share your experiences with the community, get valuable support, and more. Also, get to learn where other members are on their journey in relieving anxiety and stress. Through daily reflections, form the habit of expressing your gratitude with this Aura Relaxation app for Apple Watch.

With the Aura Apple Watch relaxation app, you can select 3 or 7 or >10-minute meditation duration based on your comfort and availability. Also, Aura Relaxation and Meditation app support to download meditations to use offline. You can save unlimited meditation sessions to listen to them whenever you want. Start your day with purpose and energy with the help of the Aura Apple Watch app.
Key Features: Free 3-minute guided meditation session daily | Personalized meditations |  Unguided meditation with nature sounds | Improving mindfulness through experience rating | Tracking mood patterns | Integration with Apple Health | Reminders and mindful breather | Download from Apple Store: Aura: Sleep & Mindfulness
Calm
Calm is one of the best apps for Meditation, Relaxation, and Sleep. This app comes free of cost for Apple Watch users. With Calm, you can experience better sleep, less anxiety, and lower stress. The Apple Watch Calmness app offers guided meditations, breathing programs, relaxing music, sleep stories, and stretching exercises.

Guided meditation is available in 3, 5, 10, 15, 20 or 25-minute lengths. You can select the perfect length that fits your schedule. Sleep Stories are bedtime stories which ensure that you get a deep and pleasant sleep. Also, the Calm Apple Watch app has about 100+ exclusive sleep stories for children and adults alike. You can drift off to dreamland peacefully and then wake up energized and refreshed.
Key Features: Exclusive music to help you relax, focus or sleep | Mindful stretching and movement to relax yourself | Breathing exercises for relaxation | Soundscapes like Heavy Rain, Ocean Waves, Babbling Brook, Camp Fire | Timed and unguided meditation | 7 and 21-day mindfulness programs | 3+ soothing nature scenes and sounds | Download from Apple Store: Calm
Also read: How to Change Apple Watch Screen Orientation
Sleepiest: The Sleeping App
Get a good night's sleep with the sleep meditation techniques, bedtime stories, and soothing sounds from the Sleepiest Apple Watch app. With this Apple Watch calmness app, you get a wide range of soothing sounds. And, the Apple Watch Sleeping app's audiobooks will carry you to sleep gently. The sleepiest app has white noise, sounds of the jungle, rain, or mystical realms to calm you. You will wake up feeling refreshed, happy, and ready for the day. The Sleeping App for Apple Watch lets you craft your own personal soundscape, according to what helps you sleep better.

For those who like podcasts or audio casts, bedtime stories come in handy with this Apple Watch app. With this app, you can relax and enjoy bedtime stories from renowned voice actors. Also, enjoy modern literary works and narrated classic tales by upcoming storytellers and authors. With its Composer feature, you can create your own sleep sounds. For those who can't sleep in silence, enjoying sleep sounds is the best option.
Key Features: Beautifully narrated stories | Relaxing sleep with three stunning meditations | Integration with Apple Health App | Ask Siri to play content | Family Sharing for up to 6 family members | Download from Apple Store: Sleepiest: The Sleeping App
Insight Timer – Meditation App
Insight Timer – Meditation App is the number one free Watch app that contains talks and guided meditation sessions. There are music tracks from famous artists in the world. With the Insight Timer Meditation app, you can join the millions learning to meditate to calm the mind, manage stress, improve happiness, and sleep deeply.

The app's free features include integration with Apple Health Mindful Minutes, milestones, and stats for tracking progress. With about 10+ new guided meditations added every day, more meditation happens here than anywhere else. You can access thousands of community features and discussion groups in this Apple Watch app. Also, this app is perfect for beginners, as well as experienced practitioners.
Key Features: Guided meditations | Thousands of music tracks and ambient sounds | Stats, and milestones | Integration with Apple Health | Family Sharing feature for up to 6 family members | Download from Apple Store: Insight Timer – Meditation App
10% Happier: Meditation
Do you want to sleep better, improve your relationships, be more mindful, and become happier? Then, 10% Happier: Meditation is the most suitable Apple watch app for you. The app's talks, videos, sleep content, and guided meditation sessions will help you boost your meditation practice. Furthermore, there are meditation and video combos that make learning meditation straightforward and fun. Its library has 500+ guided meditation sessions on topics like anxiety, focus, and parenting.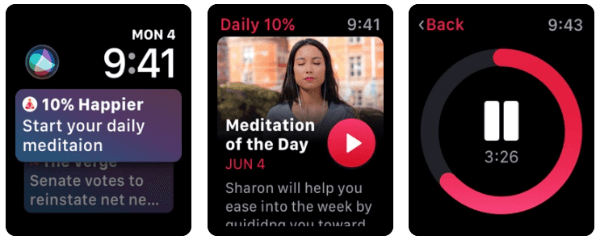 This meditation app's relaxing meditation sessions give you peaceful sleep every night. When you don't feel like meditating but need some mindfulness, you can get wisdom, inspiration, and bite-size stories. Apart from these, there are also quick meditation sessions to fit into your busy schedule.
Key Features: A library of 500+ guided meditations | Bite-size stories | Quick meditations | New weekly content | Family Sharing feature for up to 6 family members | Download from Apple Store:  10% Happier: Meditation
Enjoy a better quality life with a healthier and more relaxed state of mind with an Apple Watch meditation app. Whether you are a beginner or well experienced in meditation, these Apple Watch meditation apps will benefit you. These meditation apps offer you to calm your mind with nature sounds, stories, etc. The 3D nature sound can immerse you in the world of peace and calmness.