Apple is introducing Night Shift Feature to new Mac OS Sierra. Even though this is is a simple feature, this is going to save your eyes if you are sitting behind the screen for a long time at your work or home. Here we are going to introduce a Night Shift Software solution for the user those are using an old version of Mac OS X. This open source software can help both Windows and Mac users to adjust their screen to a different level of brightness automatically based on the time you scheduled. f.lux can adjust the screen of your computer according to the room light and your computer screen looks like the room you're in. This software can adjust your screen to match with your indoor lights when the Sunset.
This Night Shift software will work both in Windows and Mac platform. Windows OS users also can take advantage of this open source Night Shift.
Get Night Shift Feature on Windows PCs
This free software will work on almost all versions of Windows; you can download the free Windows f.lux app from this link. Once you start the app, it will locate your PC location and start to adjust your screen brightness (temperature) according to your location.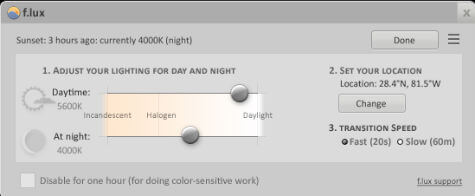 f.lux is working based on your location and automatically changes the screen tone according to the time change. This night shift software gradually adjusts your screen from Day to Night mode or to the custom settings. The day and night screen lighting can set manually with our choice.
Related: How to Choose Right Color Temperature CFL to Customize the Mood of your Room
Get Night Shift Feature on Old Mac OS X
For Mac users, download and install this free Mac app from flux. Once you open the f.lux, the popup will ask you to share your location. Your location information is using to calculate the sunrise and sunset time on your location.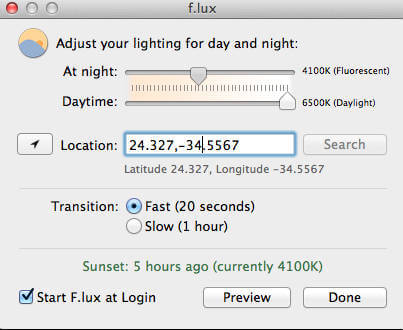 Once you allow location access, f.lux will start its magic by adjusting your screen accordingly. Now you have the option to set the color temperature in Kelvin of your Mac screen on three different scenarios like Daytime, Sunset & Bedtime.
Flex is a very lightweight open source app for your Mac or Windows machine. The latest features are adding like background alarm clock for the users, expand daytime setting, etc. You can exit f.lux any time and retrieve your original screen color and temperature if you don't like this feature.
Related: Ultimate LED Lamp Buying Guide Every Buyer Should Know
This is a quick easy solution for Windows and Mac users, who are working long-time behind the screens. There is no need to manually adjusting the screen brightness or monitor temperature. Once you set up the required screen temperature and the brightness, the rest will take care by f.lux automatically. Try to use this software and this is a gift for your eyes.