The Apple iPhone 14 and iPhone 14 Plus are here with new features and improvements over the last generation. If you are planning to get a new iPhone 14 or 14 Plus anytime soon, the first thing you should get is a protective case to protect the front and back glasses.
Here are some of the best iPhone cases to protect your iPhone 14 or iPhone 14 Plus from scratches, dents, or accidental drops.
Best iPhone 14 Protective Cases
Apple introduced the iPhone 14 as the base model in the latest lineup with A15 Bionic processor and many other advanced options like in the Pro models. If you are getting the baseline iPhone this year, here are the best protective cases for iPhone 14.
Apple iPhone 14 Clear Case with MagSafe
This protective case from Apple is made to complement the iPhone 14's stunning new color scheme. The buttons can be easily pressed because the case is made of a blend of flexible materials and transparent polycarbonate. Both the interior and exterior have been given a scratch-resistant coating. Also, all materials and coatings have been optimized to reduce the likelihood of yellowing over time.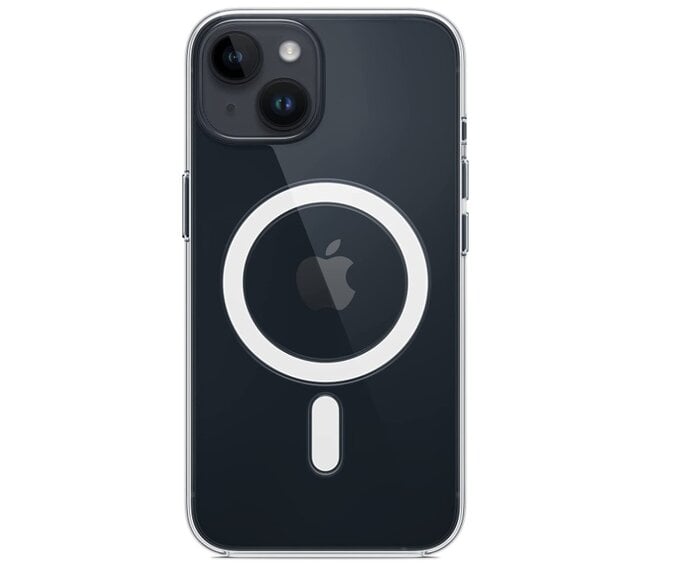 The case's magnets are precisely aligned with the iPhone 14, allowing for a seamless attachment and quicker wireless charging every time. Leave the case on your iPhone and plug it into a MagSafe or Qi charger when it's time to juice up. Just like every other Apple product, this one is tested for thousands of hours before release. It's stylish and functional, protecting your iPhone from scratches and bumps.
Key Features: Clear Case | Scratch Resistant Coating | Transparent PolyCarbonate | MagSafe Support | Qi Standard Supported | Prevents Yellowing
Today's Deal: $14.01 Off
Related: 14 Best iPhone 14 Pro and 14 Pro Max Cases to Safeguard Your iPhone from Dents and Scratches
Speck Products Gemshell Case for iPhone 14
The Speck iPhone 14 case can withstand falls from 8 feet, has dual layers of perimeter protection and is scratch- and dirt-resistant. As a result of using Microban to protect the case, the surface will be less likely to carry bacteria and hence cleaner.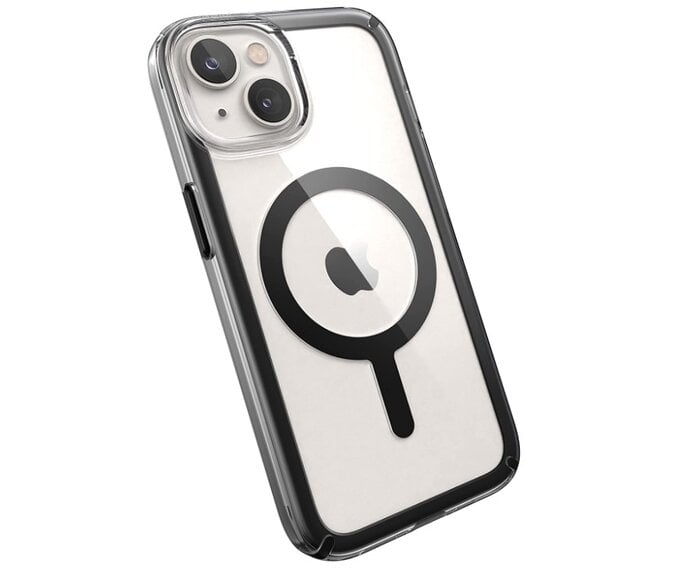 Its precision magnets ensure compatibility with all Apple MagSafe devices. The exterior is manufactured out of polycarbonate. The raised camera lip ensures protection to the iPhone's camera island.
Key Features: Dual Perimeter Protection | Precision Magnets for Magsafe | Microban | Raised camera for protection | MagSafe compatible
Today's Deal: $10.93 Off
Dogodon iPhone 14 Case
The Dogodon Case is made from the finest vegan leather, giving it a soft, natural feel and an elegant patina as it ages. The iPhone 14 case's one-of-a-kind leather texture makes it easy to hold and feel luxurious. The bumper is made from TPU material to give extra protection from drops.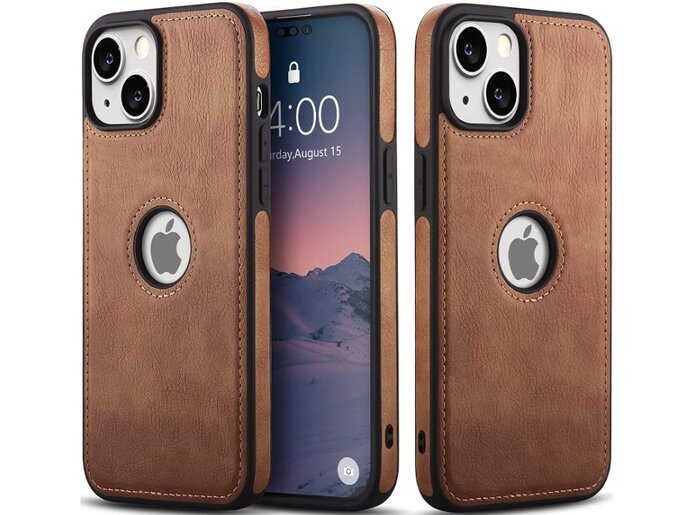 Protect your camera and screen from cracks and scratches with 1mm raised lips. You can be assured that your phone will be safe from dust, accidental drops, and everyday scratches with this sturdy, anti-slip, anti-fingerprint case. It also supports wireless charging of the iPhone with the case.
Key Features: Vegan Leather Material | TPU Bumper for Protection | 1mm Raised Lip for Camera and Screen | Anti-Fingerprint | Wireless Charging Support
OuXul iPhone 14 Case
The diamond antioxidant exterior layer of the OuXul iPhone 14 case prevents any discoloration or fingerprints, and the 1.5mm and 1.00mm raised bezels ensures that the screen and camera never meet any damaging surfaces.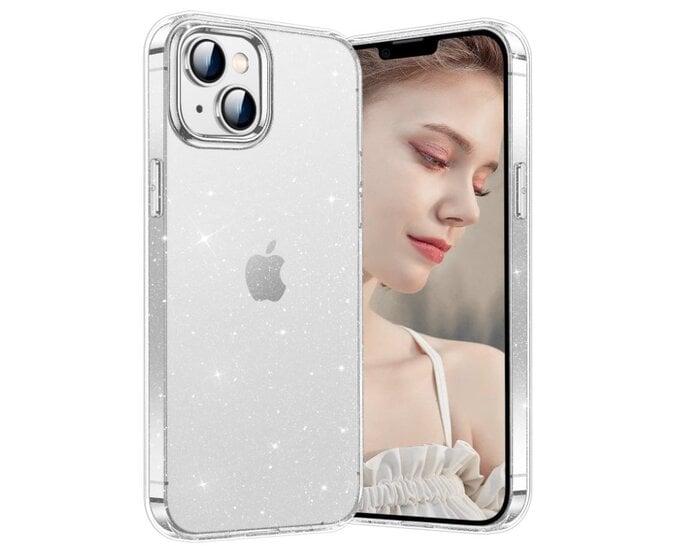 The iPhone 14 Case has detailed cutouts that are specifically designed to work with the iPhone 14 and provide unrestricted access to all buttons, ports, and the camera without sacrificing any of the phone's signature tactile feedback. Despite being dropped from a height of 1.2m on five different surfaces and at thirteen different angles, the updated hybrid structure with a hardback, a flexible silicone TPU bumper, and four cushioning corners suffered no harm.
Key Features: Anti-oxidant Exterior to prevent Yellowing | 1.5mm Display and 1.0mm Camera | Detailed Port Cutouts | TPU Bumper | Hybrid Hardback Structure
Related: AOHI MagCube PD 40W Wall Charger and Braided Cables Are Perfect for Your iPhone and MacBook
Spidercase iPhone 14 Case
The Spidercase iPhone 14 case protects your phone's screen and body against cracks, scratches, and drops with 1.5mm raised lips all around. Marks and fingerprints are no longer an issue thanks to the superior frosted material's anti-scratch and anti-slip properties.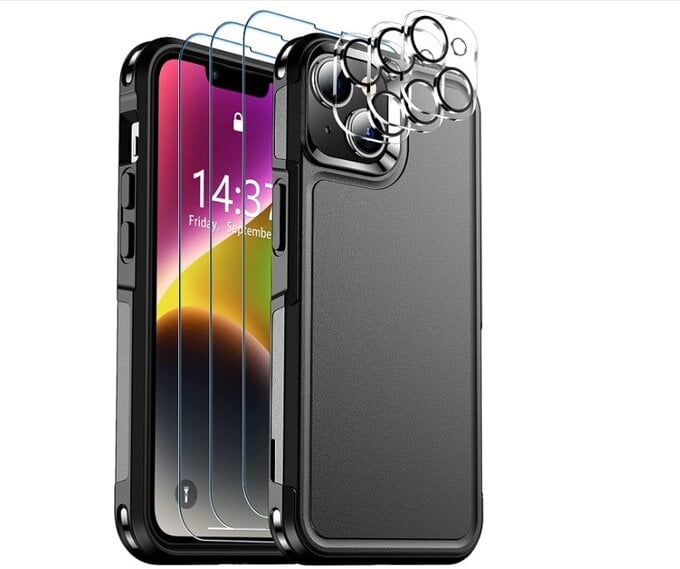 The Spidercase was able to survive drops from 10 feet in height. The two-layer design offers full-body, robust protection from every angle. The iPhone 14 case has a soft rubber interior and a durable polycarbonate exterior, making it resistant to shock and drops without compromising on durability. Also included are three protective covers for the camera and three for the screen, all of which are made of scratch and crack-resistant tempered glass.
Key Features: 1.5mm raised lip all around | Anti-Scratch | Survive 10-feet drops | Dual-layer design | Polycarbonate Exterior | 3 Screen Protectors and Camera Protectors Free
Today's Deal: $2.00 Off
Doplon Clear iPhone 14 Case
The Doplon TPU case's design ensures your phone is safe from any scratches thanks to the 2.5mm raised camera borders and 1.5mm higher screen bezels. As it is Magsafe-compatible, you can leave the case on while charging or place it on a Qi-enabled charger.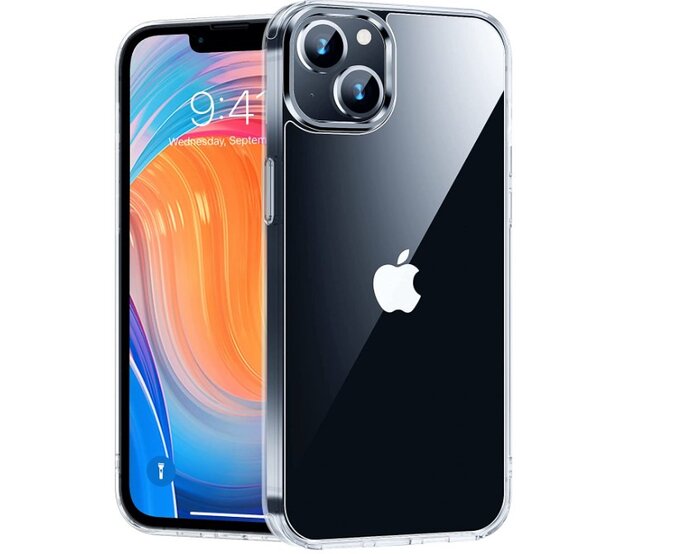 Superior anti-yellowing components ensure your phone retains its glossy look for the long term. Your phone is protected from drops of up to 3 meters (about 10 feet) thanks to the Air-guard design at all four corners. Because of its unique hybrid structure, which combines a flexible bumper with a rigid back, it can absorb shock extremely well. Even when held horizontally, the design ensures the best possible grip.
Key Features: TPU Case | 2.5mm camera lip | 1.5mm display lip | Anti-yellowing components | Air-guard design | Flexible Bumper with Rigid Back | Protected up to 3m
Related: 10 Best MFi Game Controllers for Apple Arcade Games on iPhone, iPad, Mac, Apple TV
Best Protective Cases for iPhone 14 Plus
The iPhone 14 Plus is the bigger version of iPhone 14 with a larger screen and battery. Here are some protective cases in case you are looking for the bigger iPhone this time.
Apple iPhone 14 Plus Leather Case with MagSafe
Apple's Leather Case with MagSafe, made specifically for the iPhone 14 Plus, is a great way to safeguard your phone without sacrificing its sleek aesthetic. The exterior is crafted from leather that has been expertly tanned and treated, so it feels smooth to the touch and acquires an elegant patina with use. The cover can be snapped on your iPhone in a jiffy and provides a secure fit without adding any bulk.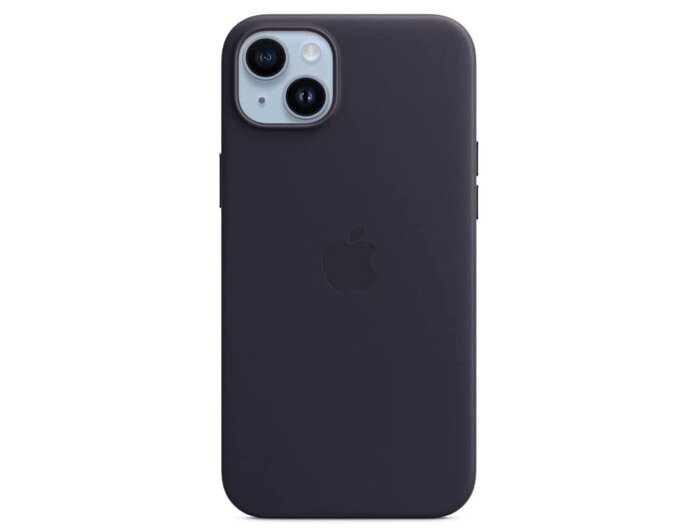 The case's integrated magnets perfectly match with the iPhone 14 Plus, allowing for a seamless attachment and removal every time. Because of the magnets' strategic placement, wireless charging is now more efficient and convenient than before. You can leave the case on your iPhone and charge it with a MagSafe cable or a Qi-enabled charger without removing it.
Key Features: Leather Case | Raised Lips for Protection | Precise Cutouts | Integrated Magnets | MagSafe and Qi Supported
Today's Deal: $40.39 Off
Torras iPhone 14 Plus Case
The improved TORRAS-BACH magnetic array in this iPhone 14 Plus case ensures a secure and speedy connection to MagSafe and other Qi-certified chargers. The magnet is four times as powerful as a standard N52, allowing it to securely attach to any MagSafe device.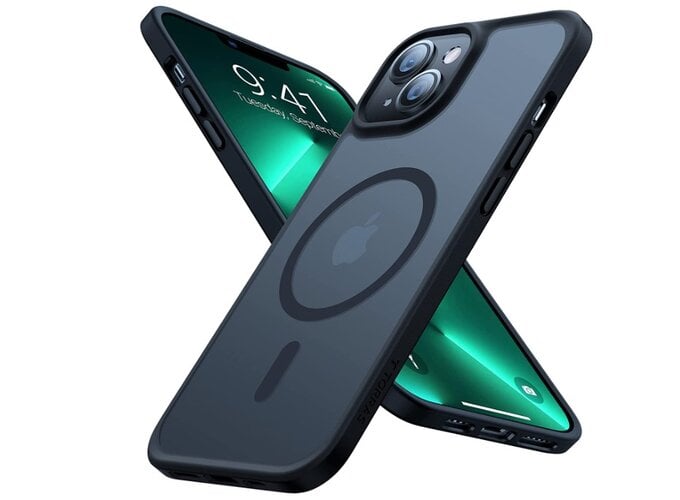 This protective iPhone 14 Plus phone case is made from a TPU bumper of 4-ply cushioning structure and tough polycarbonate and is designed with exclusive X-Shock 3.0 Technology on all 4 corners providing excellent protection for your phone. The 1.2mm screen lips, 0.8mm camera bezels, and patented Camera Airbags shield your expensive device from dirt, scratches, and other damage.
It has separate buttons that are more responsive and easier to push than those found on typical cases, so you can enjoy a satisfying click as soon as you press them.
Key Features: Torras Bach Magnetic Array | MagSafe and Qi Support | TPU Material | X-Shock Technology | Raised Lips | Tactile Buttons
Today's Deal: $4.00 Off
Related: How to Get Battery Percentage on iPhone Status Bar
Proxa Slim Card Case – iPhone 14 Plus
The excellent vintage synthetic leather used to create this iPhone 14 Plus wallet cover is both elegant and durable. This wallet case for the iPhone 14 Plus has a flexible card slot that can take up to five cards. Even with just one card, you'll feel safe thanks to the bumper design.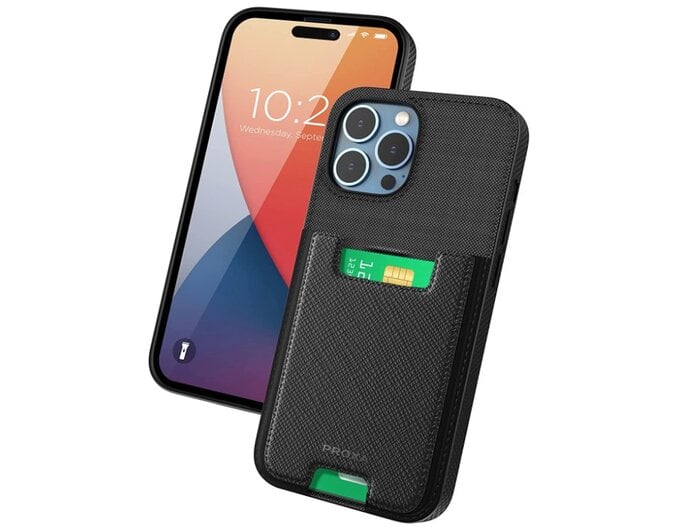 The interior is cushioned to protect the phone from being scratched. The case's raised lip surrounds the phone on all sides, shielding the display and protruding camera from damage regardless of how the phone is held. This iPhone 14 Plus case was designed with precision cutouts so that all ports and buttons are easily accessible.
Key Features: Leather Case | Built-in Cardholder | Cushioned Interior | Raised Lips | Precise Button and Port Cutouts
Torras Slim Fit Case – iPhone 14 Plus
This slim cover for the huge iPhone 14 Plus is a Torras original, designed to keep the phone from getting any bulkier than it already is. The four-layer construction makes it thinner and more durable, and it hardly seems like you're using a case at all. You won't believe how clean and smooth the surface remains thanks to the matte finish and nano coating's ability to repel fingerprints and oil stains.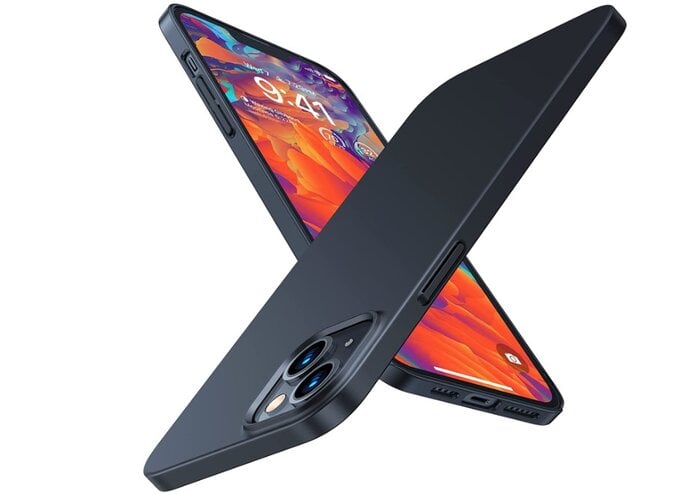 A 1.0 mm lip around the screen and a 1.2 mm lip around the camera lens prevent damage. The impact is well mitigated by the X-shock airbags located in the four corners. The precision cuts and sophisticated button design of this case for the iPhone 14 Plus allow an effortless installation and removal.
Key Features: Four-layered construction | Nano Coating for Oil Repellant | 1.0mm Screen Protection | 1.2mm Camera Protection | X-Shock Airbags | Precision Cutouts
Related: 13 Best MagSafe Chargers for iPhone 14
Caseology Nano Pop Case iPhone 14 Plus
The Caseology Nano Pop is made of Thermoplastic Polyurethane, offering great protection and durability. Built-in magnets keep your smartphone in place and in alignment, and they work with MagSafe chargers. The silicone exterior of the case ensures a secure fit and keeps out dust and lint from your pockets.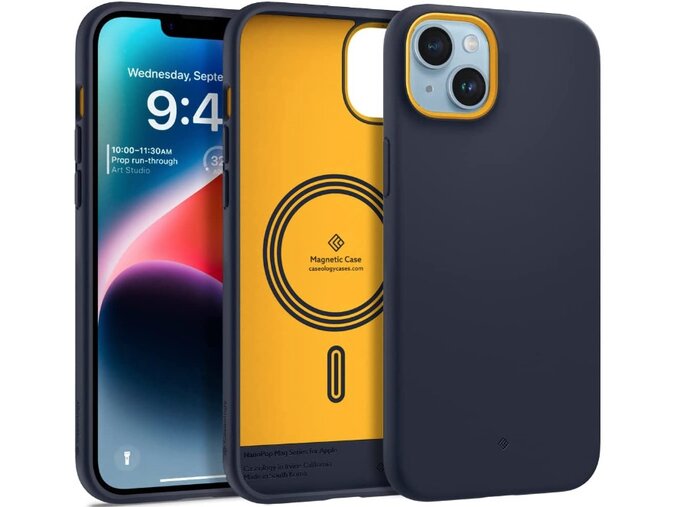 The camera's raised protective ring and bright, contrasting two-tone color scheme give it a sporty, casual vibe. It has military-grade certification, support for wireless charging, and the ability to apply a screen protector. It has a 1.2mm raised lip and a 2.0mm camera lip for enhanced protection.
Key Features: Thermoplastic Polyurethane | Magnets for MagSafe | Dual Tone Color Finish | 1.2mm screen protection and 2.0mm camera lip
Today's Deal: $4.00 Off
Hualele iPhone 14 Plus Case
This case's processed TPU frame offers a sturdy, slip-resistant grip, making it ideal for switching between texting, gaming, and taking selfies. An improved ultra-clean backplane with a proprietary AF Anti-fingerprint coating helps to minimize the buildup of fingerprint residue over time.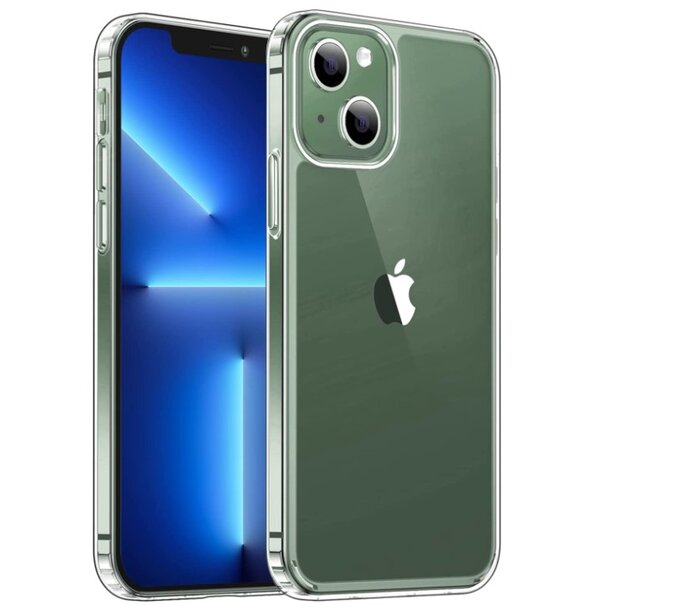 The ability to charge without removing the case is further enhanced by the use of carefully placed cutouts. Allow for wireless charging when the case is installed. It has 1.2mm screen protection and 1.6mm lens protection. The Hualele iPhone 14 Plus case is made from high-quality German Bayer materials, which are known for their superior anti-oxidation performance and ability to avoid yellowing.
Key Features: TPU Frame | Anti-Fingerprint Coating | Precise Cutouts | MagSafe and Qi Wireless Charging | Avoids Yellowing | 1.2mm screen lip and 1.6mm camera lip
Related: 20 Best iPhone USB-C Charger Adapters and Cables for iPhone 14
Putting on a TPU Bumper case allows your iPhone 14 and 14 Plus to stay away from scratches and drops. It also enhances the look and feels of holding the iPhone. Just try these best iPhone 14 cases that we found on Amazon.