Are you getting lot of spam calls on WhatsApp? Well, you are not alone. After getting a report of uptick in spam calls from users worldwide, Meta company has added a new feature on WhatsApp that will automatically mute the calls from an unknown number. In this article, let's see how to silence unknown callers on WhatsApp.
How to Automatically Silence WhatsApp Calls from Unknown Numbers
From iOS 13 onwards, iPhone allows you to silence calls from unknown numbers. And, you can make use of third party apps on Android to block unknown calls. However, these methods won't work for WhatsApp calls. Thanks to the recent update of WhatsApp on both iOS and Android, you can automatically silence calls from unknown numbers. Let's see how to do that.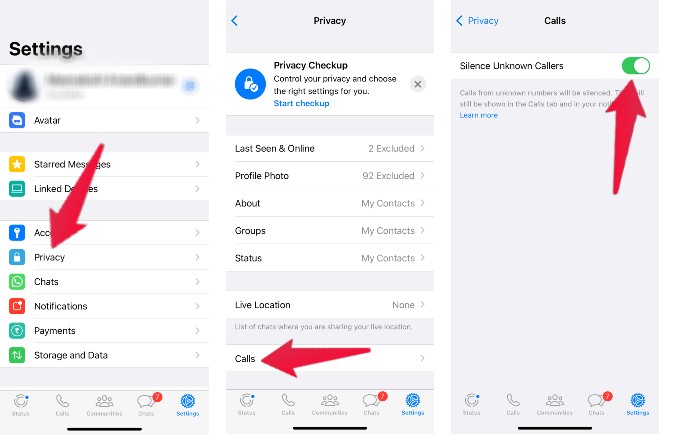 Launch WhatsApp on your phone and tap Settings at the bottom right.
In the Settings screen, tap Privacy.
Tap Calls in the new screen.
Toggle the field Silence Unknown Callers to green or on.
From now on, your phone won't ring when an unknown caller is calling you on WhatsApp. However, you will see the number in the Calls tab and in Notifications so that you can call that number if required.
According to WhatsApp, "You can call an unknown caller back from within the Calls tab. Alternatively, tap the Silenced unknown caller message within a chat. If you call or message the silenced caller, you won't be able to silence their calls in future."
If you are getting repeated spam calls from the same number, the best option is to block that number on WhatsApp so that they cannot call you again.
Silencing unknown callers is a much needed feature on WhatsApp that will help many users to avoid distractions at work.
WhatsApp's automatic mute feature for unknown callers provides a much-needed solution to the persistent problem of unwanted calls. By automatically empowering users to silence calls from unknown contacts, WhatsApp enhances privacy, peace of mind, and overall user experience. Whether it's avoiding spam calls, telemarketers, or simply maintaining uninterrupted focus, this feature puts control back in the hands of the user. With the ability to customize call settings, individuals can tailor their WhatsApp experience to suit their preferences. Embrace the power of automated call muting and enjoy a quieter, more hassle-free communication experience on WhatsApp.