YouTube means a lot for all of us, from the favorite Music player to the daily digest news source. But, it cannot play videos in the background on your iPhone or iPad. That means you cannot use any other apps while watching a video on Youtube, and that's bad for most of us. There have been tons of workarounds that explains how you can play YouTube in Background on iPhone and guess what? All those methods do not work anymore. But surprisingly, we have found an interesting way on iOS 14 to keep YouTube playing even while your iPhone is locked.
Here in this article, we will take you through the detailed guide to play YouTube in the background on iPhone with iOS 14.
Play Youtube in Background Using PiP Mode on iOS 14
The iOS 14 update brings tons of features to your iPhone. One among them is the Picture-in-Picture or the PiP Mode. The PiP Mode on iOS 14 can help you use any other apps while watching videos on your favorite websites or apps. On the PiP Mode on iPhone, the video will play in a floating container. You can drag the floating window across the screen. It is also possible to resize and minimize the Picture-in-Picture mode window on your iPhone with iOS 14 now.
Apart from this, there is one hidden feature that Picture-in-Picture mode on iOS 14 offers. Your iPhone can play any YouTube video in the background and keep the YouTube playing even after you lock the screen. Interesting, right? For this, you do not need to have YouTube Premium or even any third-party apps. Follow the steps below if you have updated your iPhone to the latest iOS 14, to play YouTube in Background.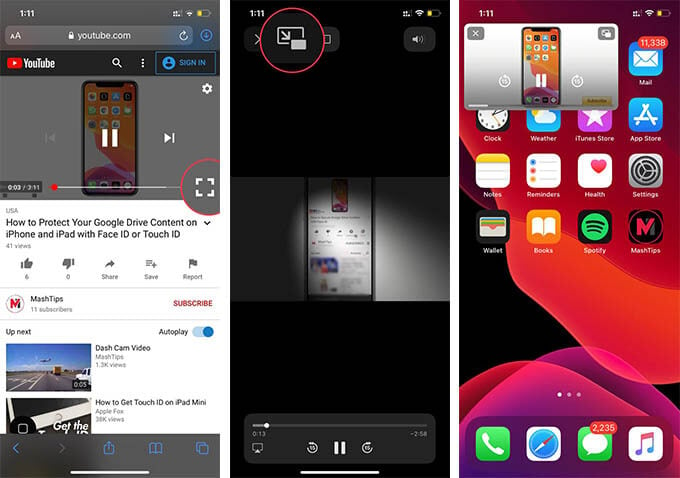 Open the Safari browser and go to Youtube.com on your iPhone.
Search and play any video.
Switch the video to full-screen.
From the full-screen mode, tap on the Picture-in-Picture button at the top left corner.
You can also swipe from the bottom to go to the home screen with the video in PiP Mode.

Now, press the lock button on your iPhone.
The video will pause. Now, click on the lock button and tap the Play button from the media player notification on your lock screen.
Now, listen to the YouTube video content by locking your iPhone.
As we observed, the older methods on iPhone to play youtube in the background are no longer working. Therefore, you can update your iPhone to the latest iOS 14 and can have the advantage of this hidden trick. You can now enjoy music from YouTube while keeping the iPhone locked.
Does your iPhone run the older iOS versions? You can still use the older workarounds to play YouiTube while the screen is off, and you can go through our detailed guide to learn more.