The YouTube audio will stop playing even if you press the home button and leave the YouTube app. This is a problem because keeping the display light on eats a lot of battery and heats up the phone. Plus, it is annoying as hell during the night.
Let's see what we can do to play YouTube music in the background with screen off on both iPhone and Android.
Play YouTube Music in the Background on Android
The YouTube app was designed to help you watch, not listen, to videos. After all, YouTube is the world's most popular and largest video hosting site. So if you want to listen to YouTube videos like music, TED Talks, and interviews, use a browser.
The trick to listening to YouTube in the background in Android is simple but effective. Launch Firefox, because Chrome and YouTube are owned by Google and it ain't that stupid. Go to the YouTube site and start your favorite video. At this point, you may be redirected to the mobile app which you must avoid.
Related: 6 YouTube Parental Control Features to Limit YouTube Time for Kids
Click on this link youtube.com to open in the browser. On your mobile, the YouTube website will redirect automatically to m.youtube.com (the mobile website). Now, we have to force to load the desktop site of YouTube. Click on the menu button and select the Desktop site. Now playback any YouTube video and switch off your screen. You will continue to hear the audio.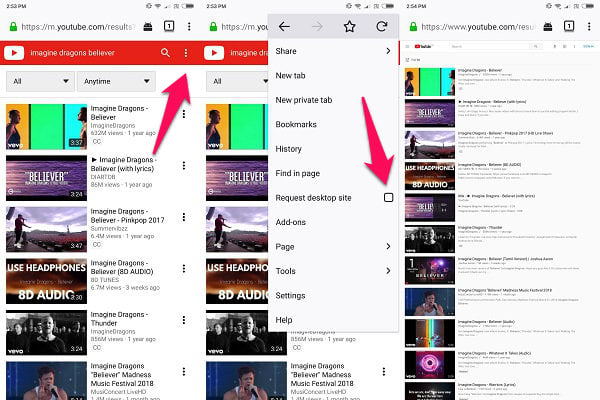 If the audio stops, press the volume up/down button to begin the playback. This is where you will have to test the waters a little. Some of our readers have told us that the trick is not working on all browser apps. If Firefox is not working for you, try Brave or Dolphin browsers and type manually youtube.com on the address bar. Depending on the make and model of your smartphone, one of them will work to listen to YouTube audio.
If the audio playback is still not working then pull down the notification drawer and press play from the audio controls there. It should be visible.
Note that some browsers like Brave come with a power-saving mode which must be turned off in order to continue listening to YouTube audio when the screen is off.
Also Read: How to Enable YouTube Dark Mode on iPhone, Android, and PC?
Play YouTube Music in the Background on iPhone
Background youtube listening in on iPhone a is bit tricky, but it is worth to try. Instead of YouTube apps, we have to depend on iOS browsers for this workaround. Firefox and similar browsers failed to play YouTube audio on my iPhone with the screen off. Surprisingly, Safari was able to do it. So the steps will remain the same for the most part to do Background youtube listening in on iPhone. Open YouTube in Safari browser, request desktop version and play your favorite video.
Editor's Note: The Safari browser trick will only work if you are using iOS 10 or earlier. If that is not the case, try using Opera Mini browser. It works fine and the steps are the same.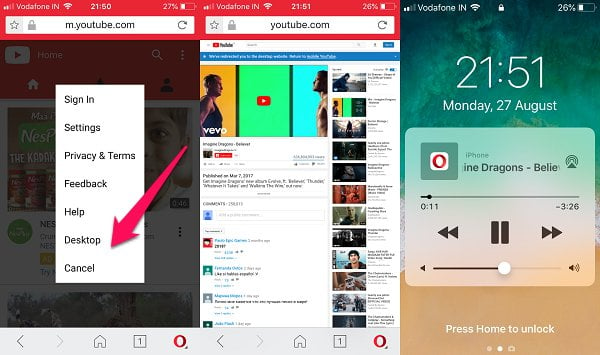 Turn the screen off and then hit the lock button once to turn the light back on. Don't unlock your phone. By now, the music should have stopped playing but you should see playback controls on your screen.
Just press the play button and you should be able to hear the audio play. If you don't see the music controls, swipe up from the bottom to reveal the Control Center manually. It should be there provided you have the music widget enabled in the settings.
Also Read: Best Music Player with Lyrics for Android and iPhone
YouTube Premium to Play YouTube Music in the Background
You already knew it, didn't you? This is why YouTube won't let you listen to audio with the screen off. Because it is a paid only feature. There are two main offerings: YouTube Premium (previously known as Red) and YouTube Music.

YouTube Music will allow you to listen (watch) just music videos even when you are using another app or when the screen is turned off. Same goes for YouTube Premium but it also includes all other channels. YouTube Music will cost you $9.99 while YouTube Premium will cost $11.99. Other features include no ads, exclusive content, and YouTube Originals.
Also Read: How to Delete YouTube Watch History on Android
YouTube Client to Play YouTube Music in the Background
YouTube has a pretty powerful API that is used by many different apps to showcase its large and immersive video collection. NewPipe is one such app which is available, not on Play Store, but the ever so popular F-Droid.
Features include the ability to play YouTube music in the background with screen off. Yes, the app is free to use. Let's see how this works.
Download the app using the link shared below and install it. You will have to allow app installation from unknown sources in Settings-Developer Options. Once done, open the app and search for the video that you want to listen to.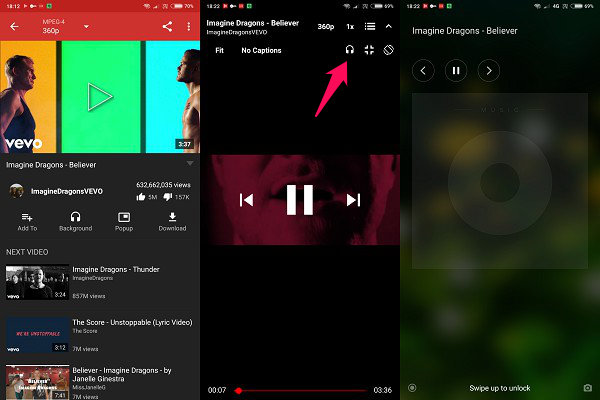 When you begin playing the video, the app will go full screen. Tap on the screen once to reveal more options. Click on the Headphone option and you are done. You can now lock your phone and the audio will continue to play when the screen turns off. You don't really need headphones to use the app although you could use one. The speaker will work just fine. You can also control audio playback on the lock screen.
Play YouTube Music in the Background
While there are plenty of music streaming apps available on the market, sometimes, all you need is YouTube. No matter what you are looking for, chances are, there is a YouTube video for it. I personally use it to listen to music videos that I can't find anywhere else. This is cool but has its caveats.
You see, unlike music streaming apps like Spotify and Gaana, you can't listen to YouTube music in the background with the screen off. The moment your smartphone turns off the screen, the music stops.
Listening to YouTube music play while the screen is turned off is an essential feature and Google knows it. That is why it is safely hidden behind a paywall. Fortunately, there are ways to overcome this hurdle with third-party apps and some simple little tricks.
You can listen to anything on YouTube with your smartphone's screen off irrespective of the mobile OS that you are using. Android has many options to listen to YouTube in the background. Background youtube listening in on iPhone is bit tricky, but still, you can do without any tweaking or rooting. This will come in really handy, especially when you are driving, traveling, or just sleeping in the dark.