Meta-owned WhatsApp has recently added many cool features, from locking your WhatsApp chats to editing the sent messages. Recently, it has added a new option to share your screen during a video call. This feature is rolled out in a phased manner and will be available on all platforms like iOS, Windows, and Android. In this article, let's see how to share your screen on WhatsApp.
How to Share Screen on WhatsApp Video Call
If you want to show someone the settings on your phone while explaining, you can share your screen on WhatsApp during a video call. Let's see how to do that.
Before starting, make sure your iPhone/Android is running the latest version of WhatsApp.
Launch WhatsApp on your iPhone/Android and start the video call with your contact.
Once your contact accepts the call, you will see the screen-sharing icon next to the video icon. Tap on that.
In the pop-up screen, tap Start Broadcast.
After a 3-second timeout, screen sharing will start, and the contents on your screen will be visible to the person you called.
At any point in time, you can tap Stop Sharing to stop screen sharing.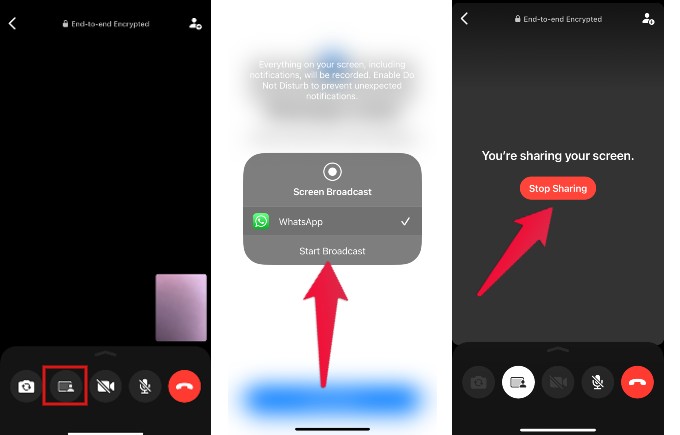 If you don't see the screen sharing, please wait till it rolls out in your region.
Note: We have not tested the feature on a group call. However, it is expected that the screen-sharing feature will work on group calls too.
A few things about WhatsApp Screen Sharing
Though WhatsApp screen sharing is a handy feature, you must ensure that you are not sharing any sensitive information by mistake.
It is highly recommended to close any open apps like Photos, Gmail, Banking, or any apps that contain your personal information.
WhatsApp screen sharing includes everything on your screen, like passwords, messages, and notifications you receive during the call. You can temporarily pause notifications when you share your screen to avoid that.
Avoid sharing your screen with lesser-known contacts.
Sharing your screen on WhatsApp adds a new layer of convenience and connection to your conversations. Whether you're troubleshooting, collaborating, or simply sharing your digital experiences, this feature empowers you to bridge the gap between virtual and real-world interactions. With just a few taps, you can provide real-time demonstrations, offer assistance, or make plans more effectively. WhatsApp continues to evolve to meet the diverse needs of its users, and screen sharing is yet another step towards fostering seamless communication in our increasingly digital lives.