Apple just announced the iPadOS 14 for iPad users, followed by the public beta release. The latest iPadOS 14 comes with some major improvements in design and usability. The good news is that the latest iPadOS 14 supports all the new iPads as well as the iPad devices that had the previous update.
Here is a complete list of all iPad models compatible with the iPadOS 14.
List of iPad Models Compatible with iPadOS 14
This year, Apple had included the same range of iPad models to run the latest iPadOS 14. Therefore, all the iPad models that had original iPadOS will get iPadOS 14 as well. Here is the complete list of all the iPad models which will get the latest iPadOS 14.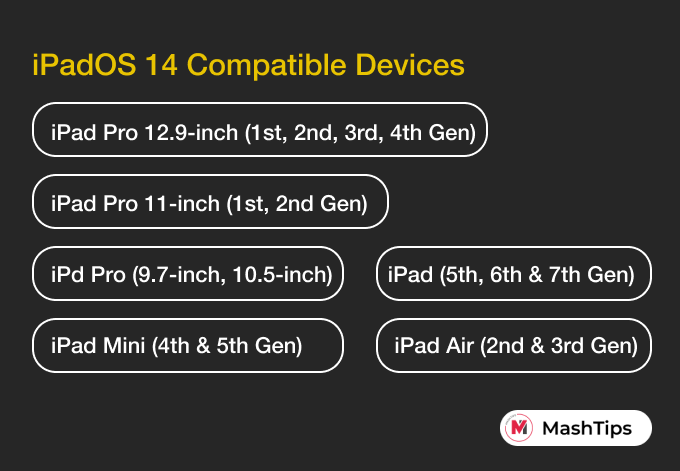 iPad Pro 12.9-inch (4th generation)
iPad Pro 11-inch (2nd generation)
iPad Pro 12.9-inch (3rd generation)
iPad Pro 11-inch (1st generation)
iPad Pro 12.9 -inch (2nd generation)
iPad Pro 12.9-inch (1st generation)
iPad Pro 10.5- inch
iPad Pro 9.7-inch
iPad (7th generation)
iPad (6th generation)
iPad(5th generation)
iPad mini (5th generation)
iPad mini4
iPad Air  (3rd generation)
iPad Air 2
The latest iPadOS 14 is compatible with almost every iPad model except a few older ones.
Things To Do Before Updating to iPadOS 14
As of now, you can get the public beta release for iPadOS14. As of now, it is safe and running smoothly without any glitches. However, make sure you take basic steps before updating. In case you are unsure about the steps, below is a checklist for you.
See if your iPad is mentioned in the above compatible devices list.
Take a full backup of your iPad.
Ensure enough storage space.
Check your battery charge and health before updating.
Make sure you have a fast internet connection.
Delete any other beta profiles to get the right update.
iPadOS 14 Update: FAQs
Still have not made up your mind about updating to the latest iPadOS 14? Here are some of your questions answered by our experts.
What Can I Expect with iPadOS 14?
iPadOS 14 comes with a lot of new features and improvements for iPad users. Here are some of the key features of iPadOS 14.
New calling screen.
Sidebar for improved navigation.
Redesigned Home Screen Widgets.
Changes in Siri.
Advanced Search.
Keyboard and mouse game support.
Apple Pencil feature.
Additionally, the new iPadOS 14 offers improved battery-life, privacy, and security modes.
Is It Safe to Install iPadOS 14 Beta?
The Beta version is actually the software that is in the final stage of development. Mostly, beta versions are released to the general public to get feedback on changes and bugs. Similarly, Apple releases iPadOS 14 public beta for testing, before pushing it to the public. It is really safe to use the iPadOS 14 Beta. However, there can be bugs in various features.
When is iPadOS 14 Releasing?
The public beta of iPadOS 14 is already available to download for everyone to try and test. The final version will release this fall.
Who Can Join the Beta Program?
Apple's beta program is available for the public. You can test the new iPadOS 14 on your iPad devices. You can join Apple's Beta program to test out the new iPadOS 14 with the Apple account.
How to Get iPadOS 14 Public Beta?
iPadOS 14 public beta is available for anyone to test. Before installing, make sure to backup your iPad. You can do it with your PC or Mac. Here is how to install the latest iPadOS 14 public beta.
Go to Apple's Beta Program website and signup with Apple ID.
Tap Download Profile to install the iOS public beta.
On your iPad, navigate to Settings.
Tap the option Profile Downloaded.
Tap Install at the top right corner.
Now go to General > Software Update.
You will see the latest iPadOS 14 available. Tap the option Download and install. 
How to Install iPadOS 14?
You will get the final release of iPadOS 14 once it is out. Till then, you can use the public beta.
How to Downgrade iPadOS 14 Beta to iPadOS?
You might face issues with iPadOS 14 beta update. If you do, you can roll back to the previous version. To switch back to the older version, put your iPad into recovery mode. Redownload and Restore the previous iPadOS from your iCloud backup or restore iPadOS with a local backup from your Mac/PC.