iOS Secure Messaging apps are critical when you want to send sensitive information through secure text messaging with iPhone. The regular messaging apps are sending data without any encryption to the receiver, and a hacker can read your communication without much effort using packet sniffing. The easiest solution to keep your communication secure is to depend on the encrypted messaging app. Secure messaging apps are encrypting data in real-time, and using end-to-end encryption for texts, images, and videos those sending through these secure private chat app.
Encryption can protect your privacy every way from possible sniffing and hacking attacks. Here are a couple of the most secure messaging apps for iPhone.
Signal
Signal instant messaging app comes from Open Whisper Systems. The Signal app is known as one of the most secured messaging apps that allows you to send and receive messages in real time. This secure text messaging app uses your phone number to verify the device and register. Signal is available for free and is notably one of the best iOS secure messaging apps.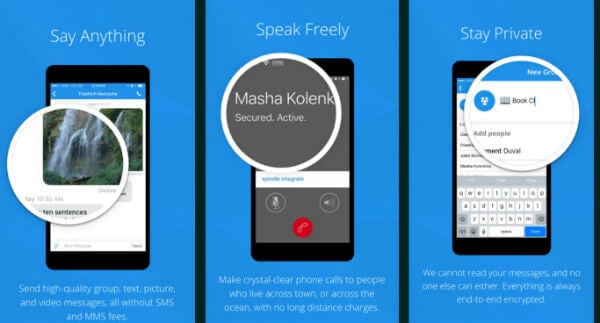 This private messaging app offers end-to-end encryption for texting. For additional protection, it uses Curve25519, AES-256, and HMAC-SHA256. Signal only allows to communicate to people using the app for proper security and does not store any metadata of messages exchanged.
Encryption Technology: End-to-end encryption | Additional Security Layer | Curve25519 | AES-256 | HMAC-SHA256 | Download Signal
Also Read: 10 Settings You Should Change to Secure iPhone
Threema
Threema, one of the emerging secured message app in the market, is gaining attraction for those who are looking for privacy in their communication. This secured messaging app keep your data away from hackers.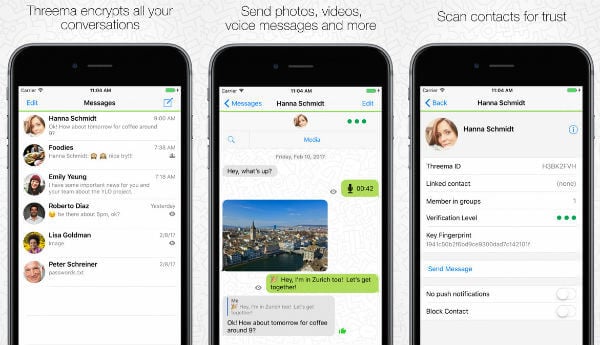 Threema encrypts end-to-end encryption for all messages, group chats, and medial files. This secure message app uses the NaCl cryptography library, an open-source encryption technology, and the encryption keys stored on user's devices to prevent back door access. All the messages going through Threema app are immediately deleted after they have been delivered and local files are stored encrypted, this make maximum security to your communication.
Encryption Technology: End-to-End Encryption |NaCl cryptography library for encryption | Encryption key stored in local device | No back door access | Download Threema
Telegram
Telegram provides the iPhone and iPad users some brilliant features for instant messaging service. The application allows you to send text, picture, sound, and location to any other person using the app. Living alongside other secure messaging apps; Telegram message app gives you the chance to keep in touch with iOS users.

This secure text messaging app ensured the industry-wide encryption for secure texting in its service. Telegram app does not encrypt the chats by default and has an additional setting to on for encryption.
Encryption Technology: 256-bit symmetric AES encryption | 2048-bit RSA encryption | Diffie–Hellman Secure key exchange | Secret chats use an extra layer of client-client encryption | Download Telegram
Also Read: Spam Calls: How to Stop RoboCalls on Cell Phone and Land Phone?
WhatsApp
Many reports claim that about 42 billion messages are sent via WhatsApp on a daily basis. This fact alone shows how enormous WhatsApp is. More than a billion people in the world use WhatsApp. Available for multiple platforms and this app is accessible on the mobile OS and PC platforms.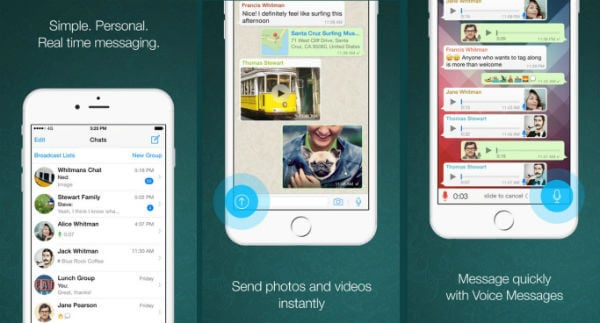 In the latest versions of the app, end-to-end encryption is available. This secure chat app encrypts by using a Message Key using AES256 in CBC mode as well as HMAC-SHA256 for encryption and authentication. Unlike other iOS secure messaging apps, every chat has a unique code for verification and secure texting.
Encryption Technology: Message Key using AES256 in CBC mode | HMAC-SHA256 for encryption and authentication | A unique code for every chat | Download WhatsApp
Viber
Viber is a great instant messaging app accessible on cross-platforms with ease. There is no need to register with fuzzy usernames and passwords. The app comes with unlimited free voice and video calls to other users with ease. Viber also comes with a version for desktop and laptop computers allowing you to stay connected all the time.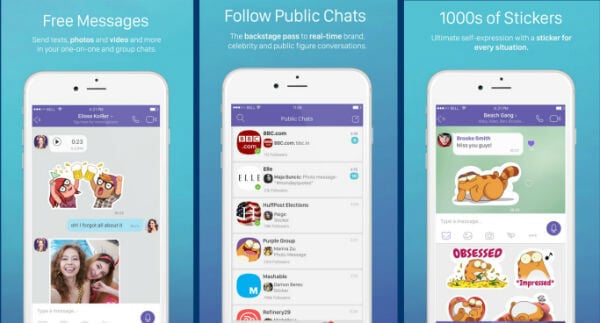 This secure messenger app uses end-to-end encryption for security. Users sending as well as receiving messages can decipher the code present in messages. A lock icon is present in each chat stating the level of encryption present between the users. Each icon denotes diverse statement.
Encryption Technology: One-time 128-bit symmetric key is generated and is used to encrypt the message body using Salsa20 encryption algorithm | Download Viber
Gliph
Not many people know about Gliph. The secure message app is one of the numerous iOS secure messaging apps available on mobile phones as well as on computing devices. When you are on the move, you can use it on mobile and when at home or office, access it on the computer. You can also buy and sell your stuff on Gliph Marketplace. It accepts Bitcoin payments through several third-party services. On Gliph for iPhone, you can type and set a particular time to send messages.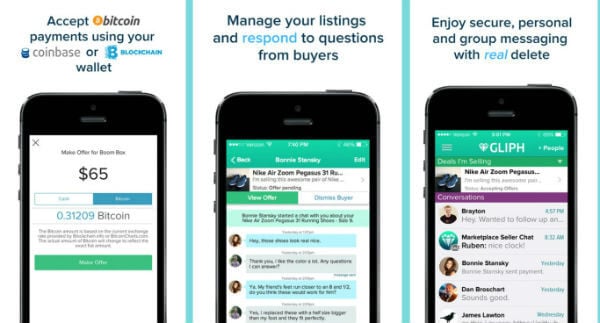 For security, Gliph comes with 'Real Delete' feature deleting a chosen message from your, receiver's phone and company's server. You can use a screen name for personal chatting and revert to your real name when needed. Gliph uses SSL over the wire and AES-256 encryption on disk.
Encryption Technology: SSL over the wire and AES-256 encryption on disk  | Download Gliph
ChatSecure
ChatSecure is a free and open source instant private messaging app that can be used for creating a new account. The app is flexible letting the user choose by connecting an existing Google account. It does not require your phone number and any other personal data to get started.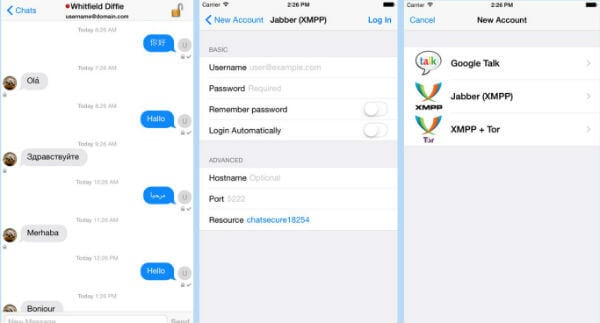 This secure instant messaging app uses well-known open source cryptographic libraries for keeping the conversations private. Loaded with XMPP, OTR, and Tor, ChatSecure encrypts your messages from day one and making sure that the users are truly safe unlike just the claims of other apps.
Encryption Technology: Loaded with XMPP | OTR | Tor | ChatSecure encrypts messages | Download ChatSecure
Wickr Me
Wickr Me is a standard instant messaging app coming with similar texting features like other apps. It allows users to chat with a group of 10 people at the same time. Through Wickr Me app, you can send photos, videos, audios as well as documents and messages to allow quick conversation and sharing of moments.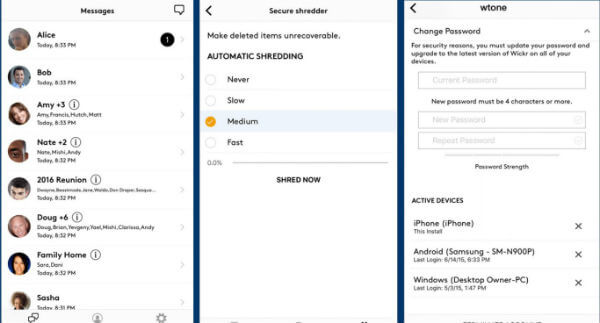 The Wickr message app uses AES-256, RSA 4096 (Legacy App), ECDH521, TLS and SHA-256 for data protection. Wickr meets the encryption standards stated by the US National Security Agency (NSA). All communications on Wickr Me are locally encrypted with a new key and every new message has its own unique key. It also strips all the metadata from all content transmitted through the network with ease.
Encryption Technology: The app uses AES-256, RSA 4096 (Legacy App), ECDH521, TLS and SHA-256 for data protection. Wickr meets the encryption standards stated by the US National Security Agency (NSA) | Download Wickr Me
Silent Phone is stated by many as unique in the league of iOS secure messaging apps. This messaging app offers unlimited text, talk, video, and conference calls between the members using the app. Over the app, a user can send and receive large files up to 100MB per message. Make conference calls allows up to six contacts simultaneously.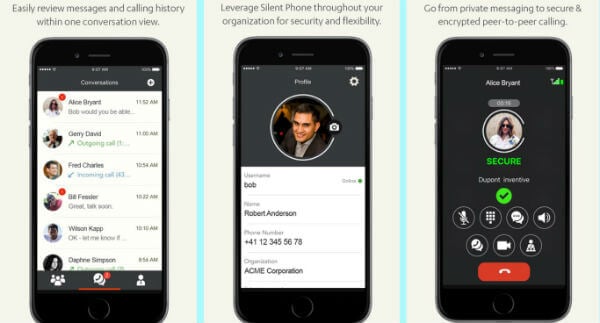 The secure messaging app comes with scheduled burn functionality. Choose the messages that you want to delete from both ends along with the time limit. You can also make secure file transfers besides users only hold the encryption keys of the app.
Download Silent Phone
Best iPhone Secured Messaging Apps
The present scenario is the right time to use an encrypted message and phone calls. Secure texting is the first step in being aware of your privacy and doing something about it. Several iOS secure messaging apps are there to send encrypted messages and do secure texting.
Related: Best 7 Free MAC Music Players to Replace iTunes
Even with advanced encryption protocols, a few apps have back doors and risking the privacy of the users. With the apps given in the list, you can assure yourself about the security and confidentiality of your chats. While measuring security, something better than nothing.