Mac Mini offers an easy carry-around option and great performance at lesser than half the price of a MacBook. If you are setting up a Mac workstation for your home office, here are some Mac Mini accessories that will work best for you3.
These Mac mini accessories offer great help to the users and make the experience much more convenient. Let us discuss some of the best Mac Mini accessories out there that can make your life easier.
Mac Mini Mount for Monitor, Wall, Under Desk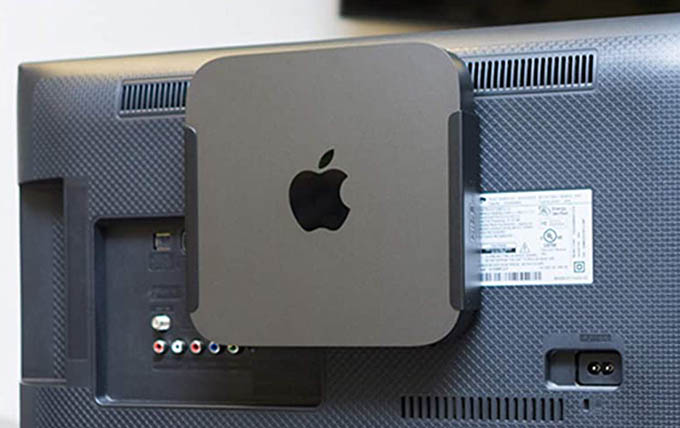 If you are a person who prefers a cleaner and spacious desk while using your Mac Mini, you are going to love this Mac Mini mount. The wall mount is a small mounting plate to which your Mac Mini can be attached. The Mac Mini accessory has the same installation process as a normal wall mount.
The mount can be screwed into the back of your monitor or into the bottom of your desk. After mounting, you can easily slide the Mac Mini into the mount. If you mount the device back to your monitor, you will have a much more cleaner setup. The device is made up of steel and comes in 2 different colors. The mount is compatible with Mac Mini models from 2010 onwards.
Pros
Space saving
Vertical and horizontal orientation
Universal compatibility
Key Features: Easy Installation | Very clean setup
Today's Deal: $9.00 Off
Satechi Mac Mini Stand Docking Hub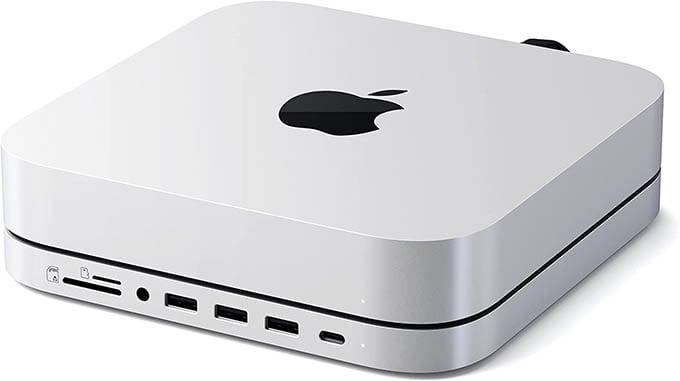 Having easily accessible ports in a Mac Mini can provide you great convenience. The Satechi Type-C Aluminum Stand is a USB hub that comes with lots of ports and can hold your Mac Mini in place. The dock can be easily connected to the Mac using the Type-C connector. You get 6 expansion ports with the Mac hub.
The mac mini stand comes with one USB-C data port, three USB 3.0 ports, micro/SD card readers, and a 3.5mm headphone jack port. These are placed in front of the hub which is very convenient. The Hub has built-in air vents to provide correct airflow in your mac mini.
Moreover, you can use the Satechi Mac Mini stand docking hub as an SSD enclosure as well. You can mount an internal M.2 SSD within the docking hub and use it as an external SSD as well. Apart from Satechi, there are many SSD docking hubs for Mac Mini available out there.
Pros
Multiple expansion ports
SSD enclosure
Mac stand
Key Features: 6 Expansion ports | Built-in air vents | Elegant design
Mac Mini Desktop Stand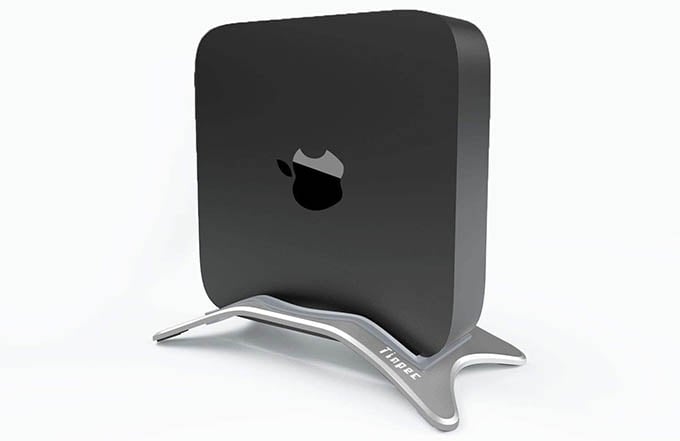 Vertical stands are a great option as a Mac Mini accessory. They make the desktop look more elegant and reduce the area of space while placed on a table. The Tinpec Aluminium Stand is a great Mac Mini stand that comes with anti-slip rubber feet.
What I love about this Mac Mini stand is that it stand adds a touch of style to my normal desktop setup. This is a great mac mini accessory if you are looking for a more convenient and spacious desk to work. The only shortcoming is that you can only place the Mac Mini upright and not flat.
Pros
Sturdy and firm
Gripped holding pads
Space saving
Key Features: Highly durable | Sturdy design | Exact fit size
Samsung Business Thunderbolt 4K Monitor for Mac Mini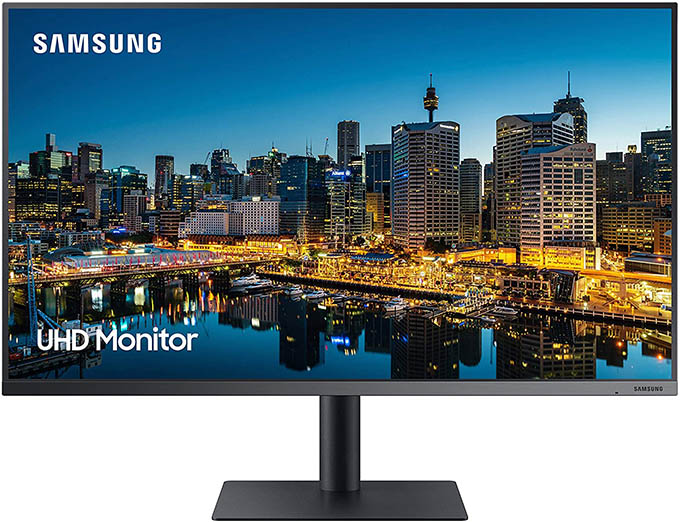 Having a great monitor makes a good working environment. Adding a 4K monitor to your Mac Mini will make things 'clearer' and easier for you. The Samsung TU872 Series 32-inch UHD 4K monitor is one of the best workstation monitors you can pair with your Mac Mini.
The monitor comes with the thunderbolt port that offers 4K support. You can view your crisp and clear visuals coming from your mac in this marvelous 4K display. The 32-inch size makes things easier for editors and content creators. The Samsung monitor is height adjustable and offers a 3-year warranty.
Its slim and bezel-less profile gives an effortless look to your table. One thing to note is that you need to get a compatible USB C Thunderbolt cable to connect the Mac Mini with this monitor.
Pros
Ultra HD 4K
Thunderbolt port
High color accuracy
Cons
Low brightness (250 nits)
Key Features: 4K | HDR10 | slim and sleek | Thin bezels
Related: How to Connect Mac to Monitor and Multiple Display Setup: A Complete Guide
Satechi Full-Sized Bluetooth Keyboard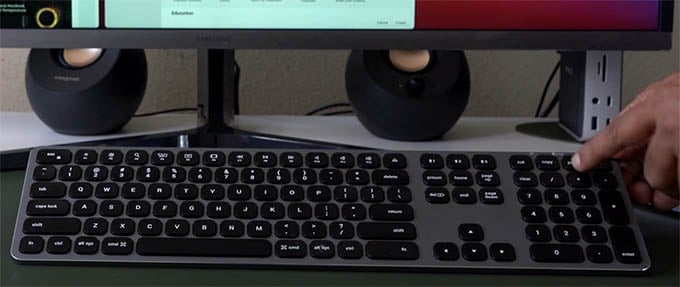 In this new world of wireless devices, having a wireless keyboard is quite a necessity. Don't worry you can use any Bluetooth keyboard with your Mac Mini. You don't always have to go for the Magic Keyboard from Apple to get a good typing experience. The Satechi Aluminum Bluetooth keyboard is a good typing keyboard for your Mac Mini.
I personally prefer mechanical keyboards for typing. But they are not quite suitable for office environments always. In such cases, the Satechi keyboard is my first choice. It comes with a full numeric keypad, Bluetooth connection, and scissor-switch keys.
This mac mini keyboard offers connection to 3 different devices at the same time. Comes with a USB C rechargeable port, you can quickly charge the keyboard using any USB C charger. Its battery can even stay up to 80 hours on a single charge.
Pros
Great battery back up
Elegant design
USB C recharge port
Cons
Pairing issues with older Mac
Key Features: Bluetooth connectivity | Full numeric keypad | scissor key switches
Logitech MX Master 3 Mouse for Mac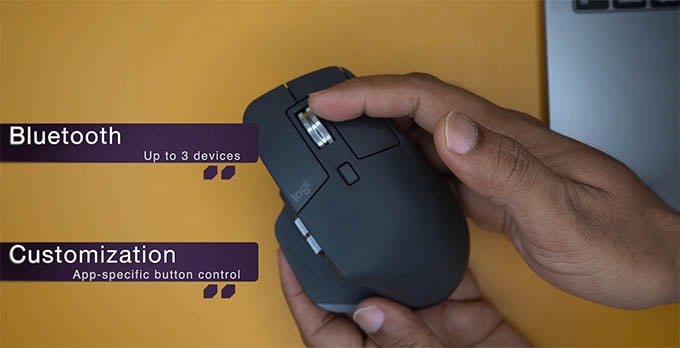 A Wireless mouse is as important as a wireless keyboard. When it comes to Macs, the Logitech MX master 3 Advanced Wireless mouse is one of the best mice you can opt for. The Mac Mini mouse has an ultra-fast mag speed scrolling with greater precision.
The Logitech MX is very comfortable and can be customized very much. The MX Master 3 works on any surface and is USB-C rechargeable. One full charge lets you use it up to 70 days. The great battery backup and utmost precision make this a great Mac Mini accessory.
Pros
High precision
High scrolling speed
Key Features: great battery life | High precision | USB C rechargeable
Related: 10 Best Ergonomic Mouse to Buy
SanDisk 1TB Extreme Portable SSD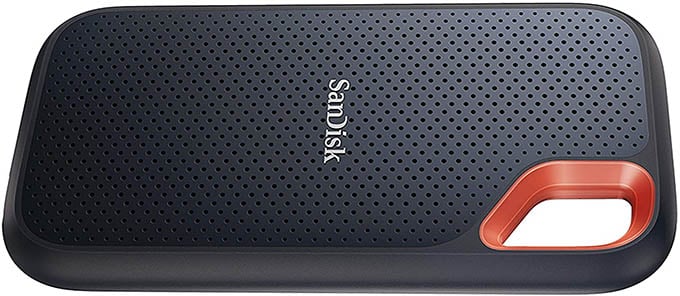 Macs usually come with lower storage options, so is the Mac Mini. If you want to upgrade your Mac Mini storage, a portable SSD is a great option. The SanDisk 1TB portable SSD is a great mac mini accessory that offers a speed of up to 1050 MB/s. This portable SSD is very fast and convenient to carry around.
The Sandisk portable SSD has 2-meter drop protection and IP55 water and dust resistance. The portable storage also comes with included password protection that features 256-bit AES hardware encryption. All these features make it one of the best Mac Mini accessories as a portable storage option.
Pros
Speed up to 1050 MB/s
Portable design
Key Features: High speed | IP55 water-resistant | 2-meter drop resist | password protected
Today's Deal: $14.99 Off
Related: 12 Best External SSD for Mac, Windows, and Android Device
Creative Pebble V3 USB C Speakers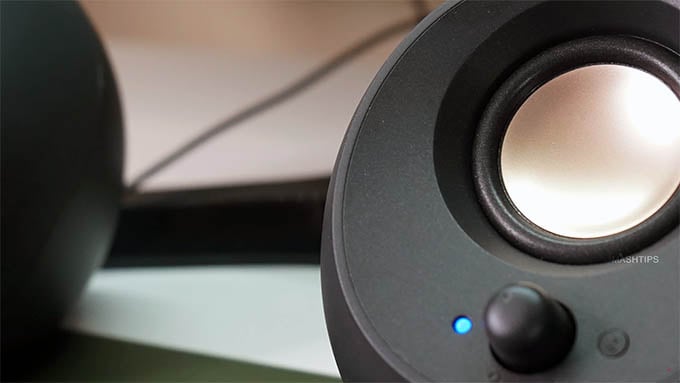 Having a great audio output is a necessity if you are working with media content. The Creative Pebble V3 is a desktop speaker that offers great audio output for your Mac Mini. The speakers are very convenient to carry around and offer both wired and wireless (Bluetooth) connectivity.
This Mac Mini speaker has a clean and minimalist appearance. The speaker has a USB C connectivity that provides higher power consumption and improved audio output.
Pros
Great volume and audio quality
USB C and Bluetooth connectivity
Key Features: Minimalistic design | Volume adjustable | Easy to carry around
Related: 8 Best Bluetooth Speakerphone for Meetings While Working from Home
Mac Mini Carrying Case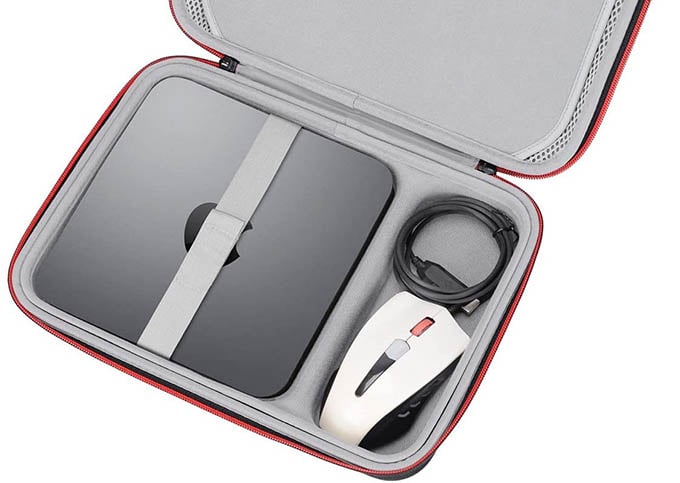 If you are a person who loves to carry your mac mini to your workplace or wherever you go, the first thing you require is to have a decent case. The RL SOCO Mac Mini case is a great option as a carrying case.
The case is a perfect fit for a Mac mini and offers great protection. The mac mini accessory is made up of high-density EVA and excellent 1680D materials. It allows you to store the power cord, mouse, and a couple of Mac Mini accessories. If you are a person who travels around a lot with your mac mini, this will be a great Mac Mini case for you.
Pros
Easy to carry around
Good protection
Cons
Not a backpack-like design
Key Features: Great protection | Flexible case | Perfect fit
Sony WH-1000XM4 Wireless Noise Canceling Headphones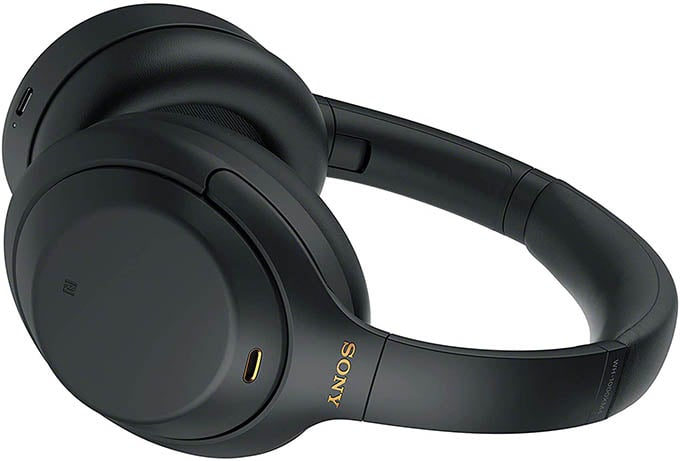 If you wish to work peacefully or listen to music or watch movies without disturbing others, you sure will have an interest in headphones. There are a lot of headphones out there that you can use with your Mac Mini to get an immersive audio experience. The Sony WH-1000XM4 is considered the best noise-canceling headphones that work brilliantly on any device including your Mac Mini.
The headphone is wireless and offers extremely good audio quality. It has a very efficient noise-canceling system that auto-adjusts itself according to its surroundings. Pair these awesome Mac Mini headphones to your desktop to get an immersive audio experience.
Pros
Good noise cancellation
Exceptional audio quality
Great battery life
Key Features: Extremely well audio quality | Noise-canceling | Auto-adjusting profiles | Wearing detection
Today's Deal: $120.00 Off
Related: 10 Best Headphones with Mic for Zoom Meetings, Google Meet, Skype
All these are some of the best Mac Mini accessories out there that can level up your workstation set up. Many of these gadgets already rule our work setups at MashTips. These accessories enhance the user's comfort and easiness in many ways. Figure out which accessory will make your life easier and give it a go.