Android apps for Chromebooks have been available for quite some time now. They still suffer from the basic problem that they did (still do) on Android tablets. Most Android apps don't really take advantage of a larger screen and aren't optimized for landscape mode. Naturally, not many Android apps have been updated to support Chrome OS either. Only a handful of the entire Play Store library of apps are actually usable on Chrome OS.
Here are some of the best Android apps for Chromebooks or Chrome OS that you need to install on new Chromebook.
Best Solid Explorer File Manager for Chromebook
If you plan on using Android apps on Chrome OS you'll need a good Android file explorer too. On Chrome OS, Android apps simply run inside a container and don't have access to the entire hard disk. instead, they're given a separate space labeled Android files. These apps cannot access anything outside this space. While the built-in Chrome OS file manager does allow access to Android Files, it is itself quite barebones. The Google Play Store has many options that are a lot more feature-packed and useful.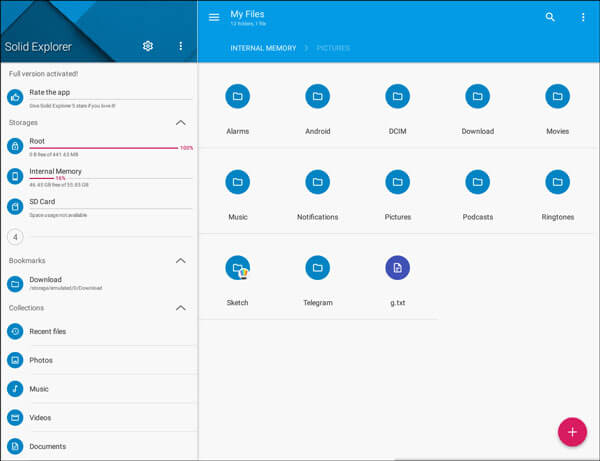 Moreover, some apps may not be able to access the storage at all. Remember they weren't built to be used inside containers on another OS. So such bugs are unavoidable unless developers update their apps. In that case, to open a file using such an app, for instance, you'd need to navigate to the file using an Android file explorer, right-click on it, select Share and then open it using your preferred app.
Solid Explorer File Manager just happens to be one of the best, if not the best file explorer app on Android. It adapts really well to different form factors and works really well on Chrome OS as well. And it has a dual-panel mode which is something that not even many desktop file explorers have which are primarily made for use on bigger screens. It isn't free but this app is worth every penny.
Chromebook Solid Explorer: Solid Explorer File Manager
Also read: Best Android Apps for Architects to Save Time and Effort
Best Video Streaming Apps for Chromebook
Chrome OS runs the full desktop version of the Google Chrome web browser. That means you don't really need service-based apps as much as you do on your phone. Everything is available on the web and easier to browse in a web browser where you can have multiple tabs open at once. Video streaming on something like Netflix, Prime Video, Hulu, Hotstar, etc. is a lot different than YouTube though. You aren't looking for new things already while you watch one video, opening new videos in other tabs.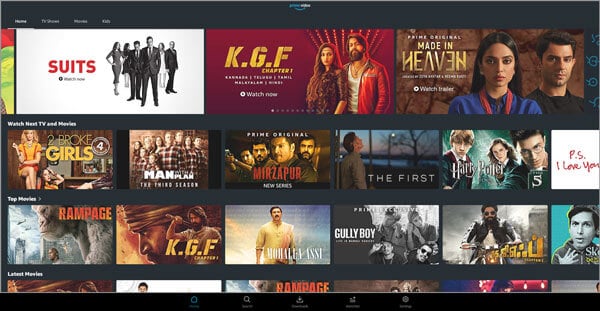 You binge-watch shows, watch a movie or at least prefer to focus on watching one video for at least half an hour. That means you won't generally need a lot of multitasking. This is why using the Netflix app is a much better experience than using the Netflix website. The fact that using the app you can download videos offline is just an added bonus. That's true not only for Netflix but for Amazon Prime Video, Hotstar or any other streaming apps. I haven't tested if all of them work great with Chrome OS but you can surely find your favorite streaming service on the Play Store.
Chromebook Video Streaming Apps: Netflix | Prime Video | Hotstar | Hulu | Tubi
Also read: How to Fix Chrome's Continue Where You Left off Feature Not Working
Best Music Apps for Chromebook
Just like video streaming, music streaming is a lot better with apps compared to streaming on the web. People who generally end up opening a lot of tabs will understand this a lot better. Not only having a separate app makes it easier to find your music but it also is better integrated with the system. On Chromebooks for instance, playing music via an Android app means you can control it from the notification tray without leaving what you're doing.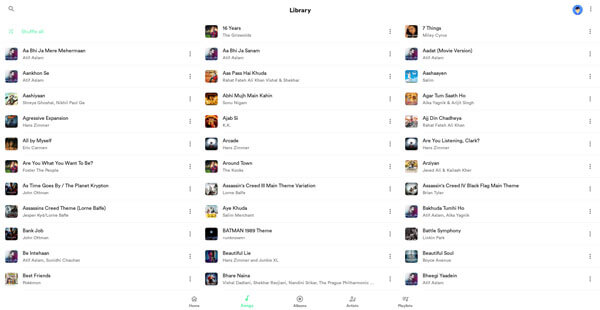 This is why a dedicated desktop app for Google Play Music has been so much in demand on other desktop operating systems. This is why Spotify has made sure their app is available almost everywhere. On Chrome OS, there is no real music streaming app, only website shortcuts. Even Google Play Music is available only on the web for desktop, no matter the OS that you use. At least on other platforms, there are third-party options.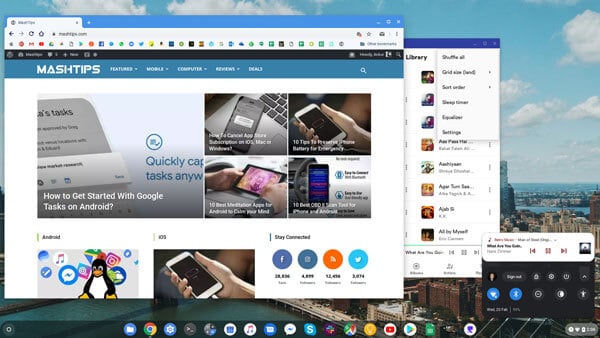 But with Android apps for Chromebooks, you can get the app for your favorite music streaming service, even Google Play Music. Some apps like Apple Music don't exactly support Chrome OS and always run in full window mode. You can minimize but not resize and even then, the experience is a lot better than a new tab in the browser. With Android apps, you're not limited to music streaming apps either. You have the option to download offline music apps and listen to your offline music as well.
Chromebook Local Music Apps: Retro Music Player | Eon Audio Player | Pi Music Player
Chromebook Streaming Services: Spotify | Google Play Music | Apple Music | JioSaavn | YouTube Music
Also read: Top Free Android Scanner Apps for Smartphone
Best Chromebook Office Apps
If you want to get any office work done on your Chromebook, you're basically left with online tools like Google's Office suite or something else. Even with Linux apps support coming in, Microsoft Office on Chrome OS isn't going to happen. Not until Microsoft brings over its Office suite to Linux. Your best bet until then is the plethora of Office Android apps that now also work on Chromebooks. Quite a few of these are actually optimized for larger displays and work very well with Chrome OS too.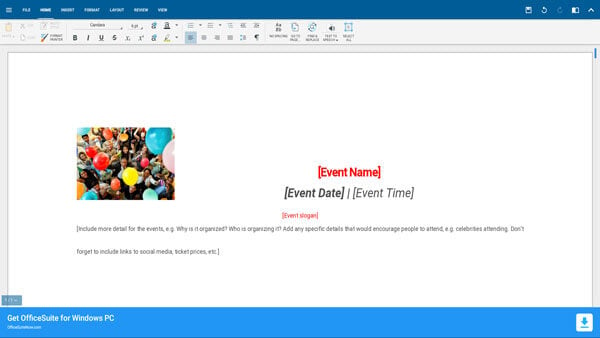 Even Microsoft has made its entire MS Office suite available on Android and optimized for larger screens. The one slight problem is that they're only free for devices with a screen size of 10.1 inches or less. If your device sports a larger screen, you can only use Microsoft Office apps in read-only mode. For anything more, you'll need an Office 365 subscription.
There are other quality apps too such as OfficeSuite, Polaris Office, WPS Office, etc. which are an all in one suite themselves instead of separate apps for Word, Powerpoint and Excel sheets.
Chromebook Office Apps: Microsoft Apps | OfficeSuite | WPS Office | Polaris Office
Adobe's Mobile Suite
Adobe is the most popular name when it comes to creating software for creators. Adobe is also a name quite absent on Linux and Chrome OS. So even with Linux app support, you won't be getting a full-fledged version of Adobe Photoshop on Chrome OS anytime soon. It does, however, have the entire Adobe Mobile suite thanks to the Google Play Store. From Lightroom CC to Acrobat Reader, Adobe's portfolio of mobile apps is pretty impressive. Sure, you won't be able to do everything that you can on the full desktop apps. You also will need to learn to use these apps again but once you do, you'll have some pretty powerful tools on your Chrome OS machine.
Download for Chromebook: Adobe Apps
Related: Best Android Apps for Interior Designers
Best Notes Apps for Chromebook
While we're on the topic of productivity, Chromebooks have also lacked proper app support for note-taking apps. There have been some popular names though like Evernote, but still, Android offers a lot many more, even offline options for those concerned about their privacy.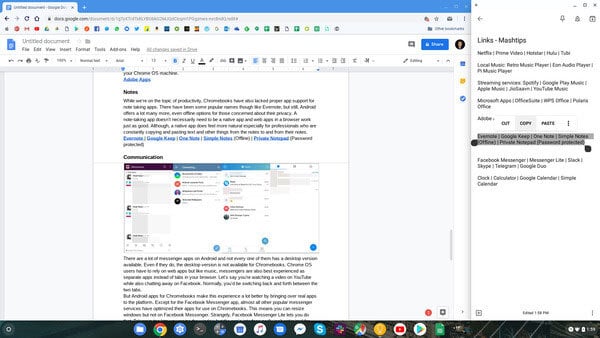 A note-taking app doesn't necessarily need to be a native app and web apps in a browser work just as good. Although, a native app does feel more natural especially for professionals who are constantly copying and pasting text and other things from the notes to and from their notes.
Chromebook Notes App: Evernote | Google Keep | One Note | Simple Notes (Offline) | Private Notepad (Password protected)
Chromebook Communication Apps
There are a lot of messenger apps on Android and not every one of them has a desktop version available. Even if they do, the desktop version is not available for Chromebooks. Chrome OS users have to rely on web apps but like music, messengers are also best experienced as separate apps instead of tabs in your browser. Let's say you're watching a video on YouTube while also chatting away on Facebook. Normally, you'd be switching back and forth between the two tabs.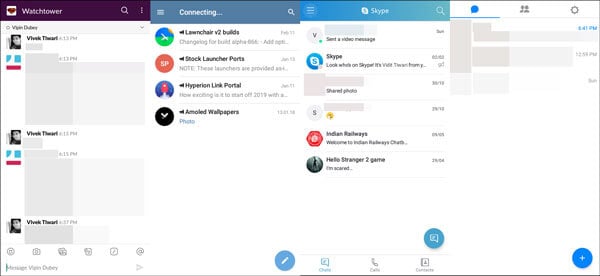 But Android apps for Chromebooks make this experience a lot better by bringing over real apps to the platform. Except for the Facebook Messenger app, almost all other popular messenger services have optimized their apps for use on Chromebooks. This means you can resize windows but not on Facebook Messenger. Strangely, Facebook Messenger Lite lets you do that. Telegram too lets you resize the window but the app's interface sadly isn't optimized for better use of a larger screen.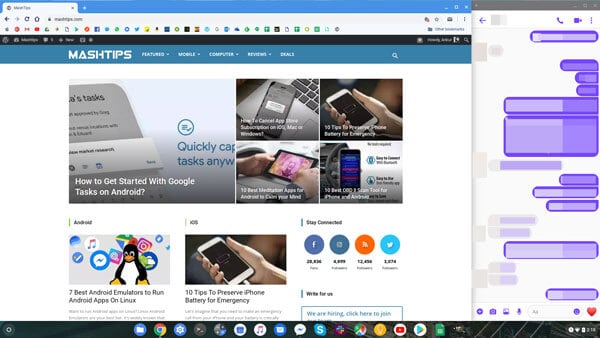 Another Facebook-owned app, WhatsApp cannot be used on Chromebooks because you can't have the same account active on more than one devices. For WhatsApp, you'll still have to rely on the web app.
Communication Apps for Chromebook: Facebook Messenger | Messenger Lite | Slack | Skype | Telegram | Google Duo
Additional Tools for Chromebook
Chrome OS also lacks some really basic apps being so dependent on web apps. Apps such as a calculator, calendar, etc. A calculator is that little app that you don't often use but you never know when you'll need it. It's a shame such a basic app is not already present. Android Apps for Chromebooks have brought a much needed actual operating system feel to Chrome OS.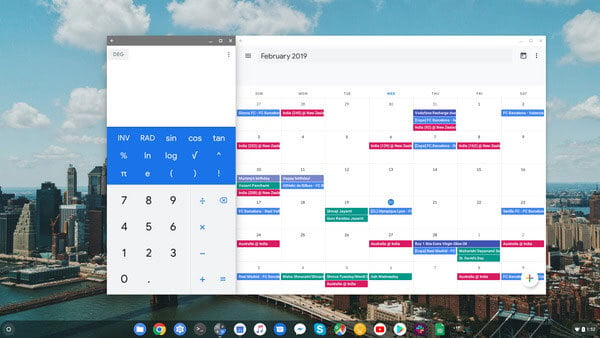 There are some apps on the Chrome Web Store too but the Play Store has a larger selection to choose from. That includes an official Google Calendar client from Google or something more private like Simple Calendar.
Chromebook Tools: Clock | Calculator | Google Calendar | Simple Calendar | Unit Converter | Audio Recorder
You may notice we haven't mentioned any offline video players or some other apps in our list of Android apps for Chromebooks. That's because Chromebooks are also getting Linux apps support. This means using VLC for Android, for instance, redundant because you can use VLC for Linux which is a full-fledged desktop media player. Unlike a Calculator app that will have the same functions regardless of whether it is an Android app or a Linux app.