A nice well-furnished home is our dream. When you invest in interior design, it should match our rooms, location, sunlight, and most of all, our interest. You don't need to be a professional to get design your home interiors. Non-professional people can take advantage of Android apps to get design ideas. The interior design apps help them visualize their imagination for their own project.
This list contains the best Android interior design apps for designers and their artistic imagination.
Houzz: Interior Design Ideas
Houzz is a great Android app for inspiration or ideas for interior designs. This Android interior designing app has around 16 million+ high-quality photos. User can connect and get advice from experts with this designing app.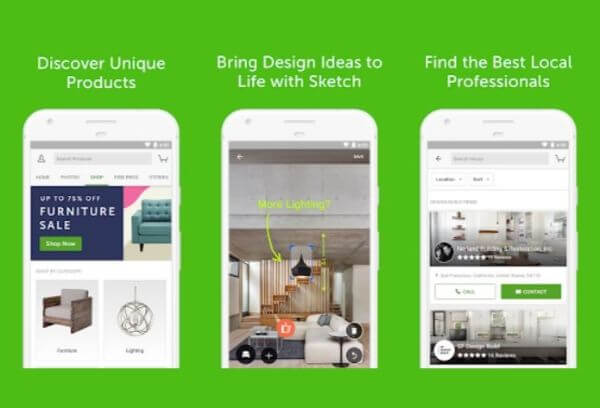 Besides this, users can also post their ideas or question in the discussion. The "View in my Room" button lets you use the smartphone camera to place the selected product in your room. With this, you can get an idea of how the product would look when you place them in that room. You can build an inspiring concept book for your own ideas. Share them with different social media networks or other means. The app lets you purchase a range of decorative objects to improve your home.
Download Android App: Houzz
Pinterest
Pinterest is a great platform to share your views, ideas, and gather inspiration. This photo sharing app is also a source of ideas for interior designs. The Pinterest app allows scrolling through millions of inspiring ideas and conceptual images. You can share images and ideas with millions of people across various platforms.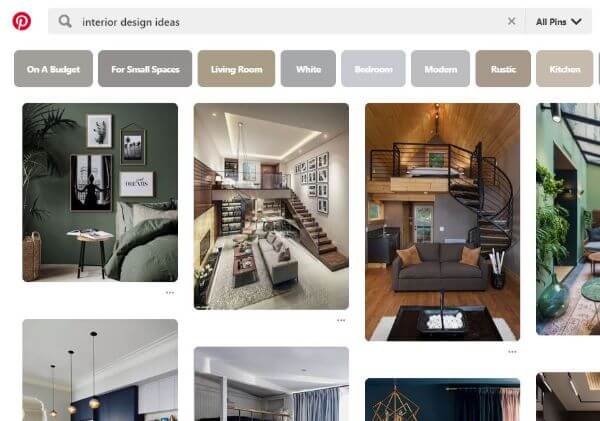 You can build your own imageboard and share your concepts with the Pinterest app. With its Android or iPhone app, Pinterest lets you discover million lifestyle and inspiring articles or images.
Download Android App: Pinterest
Also read: Best Android Apps for Architects to Save Time and Effort
Room Planner LE Home Design
The room designers can create a floor plan in 2D and later convert it and display it in 3D, and can also drag or drop room layouts ranging from square, rectangle, T and L Shaped. This app is one of the best Android app in order to visualize interior designs.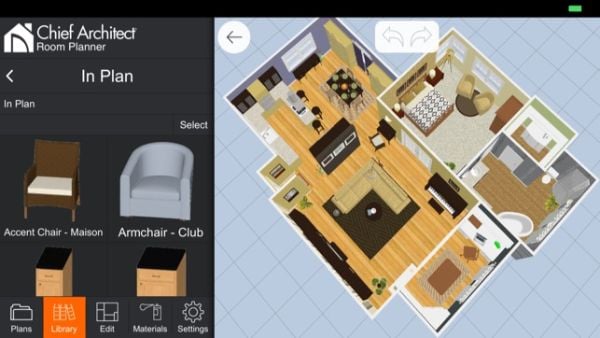 This app allows you to measure dimensions or use external Bluetooth measuring devices. It includes equipment and items for the kitchen, bathrooms, etc. With its virtual navigation feature, you can take virtual tours of the created rooms. You can add your favorite items and furniture. Add color or texture to the room walls and view them in real time. This is a great interior design app for creating and visualizing your designs.
Download Android App: Room Planner
Homestyler Interior Design
Homestyler Interior Design keeps you informed about the latest trends and tips. Also, visualize the furniture or decoration in your room before you buy. All you need is to click on a picture in your room and create your color and decor.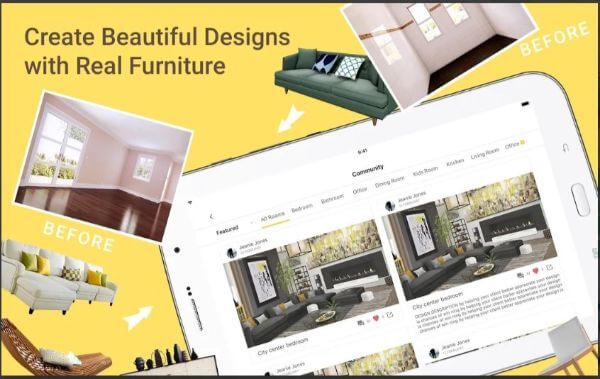 This Android interior design app allows you to clear up your existing items and try out new ones. The 3D visualization feature helps you go through your decoration and experience it. Share with everyone on various platforms your ideas and creativity.
Download Android App:: Homestyler
Related: 7 Best 3D Modeling Software Tools (Free & Paid).
Palette – Extract Colors
Palette is a productive application for interior designers. This app lets you extract colors from any image. Moreover, it shows a palette of extracted colors. You can save or share across sharing platforms.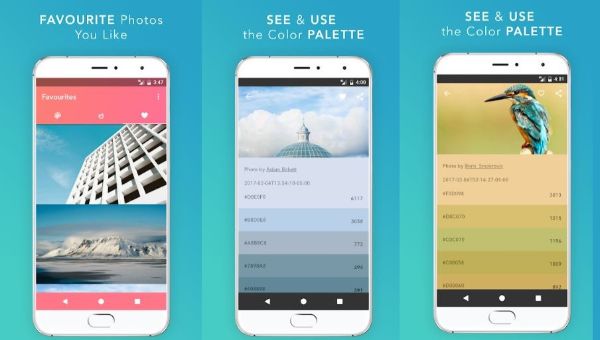 This is a small app for color inspiration. Likewise, you can take a snap of anything and extract colors from it that fits your need. It has a clean user interface and also can capture images from URLs or links and add them to Palette. This app lets you save colors from the generated palettes. Thus, it is a great app for designers because they are able to capture pictures and color their own projects.
Download Android App: Palette
Wunderlist
A tool for interior designers for great productivity. One of the most important aspects of every design project is a list of tasks to perform. Wunderlist is an effective tool for to-do lists and sharing.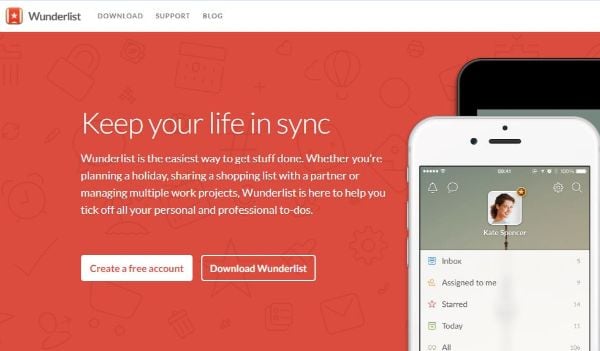 It helps you to work with your team and set reminders or due dates for your to-do list. Wunderlist sync across all the devices and also allows you to convert your emails into a to-do list. It is a great interior designing app that lets you attach photos, PDFs, presentation to your list.
Download Android App: Wunderlist
magicplan
The best application for designers or people who want to renovate their homes. Magicplan scans the room using the camera and re-creates pictures into a build-up plan.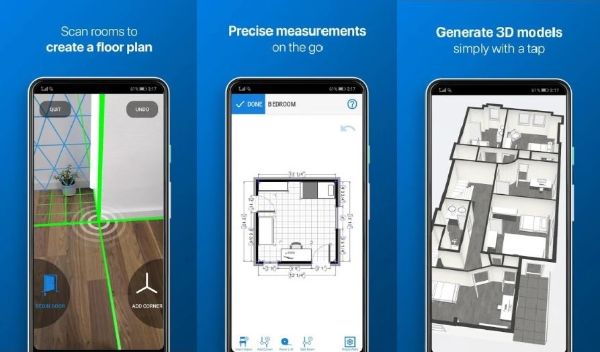 You can export your floor plan in PDF, JPG, PNG, CSV or other formats using magicplan. In addition, add 1000 + items to your room and create a model space with ease. Data are available including distances, material assessments or surveys. In addition, your plan is shared between different platforms. It is MS-Excel, AutoCAD and Chief Architect compatible.
Download Android App: magicplan
Home Design 3D
It is one of the best house renovations and interior design app. With Home Design 3D you can create, refurbish and furnish your room or your whole house in order to change its wall width, build angles, etc.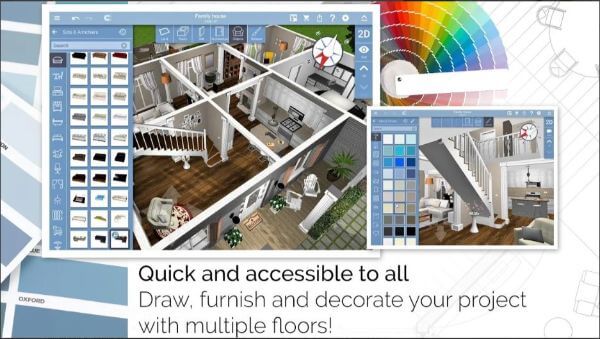 In addition, it provides the opportunity to view your products in the 3D rendering. They can be shared across various devices and platforms. The best functionality is that it can work in offline mode.
Download Android App: Home Design 3D
iStaging – Interior Design
The iStaging app has strong AR, VR, and 3D technology. It creates beautiful designs, designs, etc. Furthermore, you can add furniture and objects to your bedroom with augmented reality.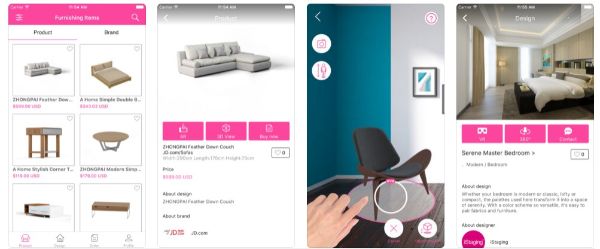 The VR feature allows immersing into the 360-degree design world created by design experts. Not only this, you can scroll through your styles through the furniture gallery.
Download Android App: iStaging
Related: 7 Best Websites to Download Free 3D Models
Houzify Interior Design Ideas
Houzify is a great design application. It is helpful for house renovation, furnishing, etc. Creative designs from top online and offline furnishings in India are available. All the ideas are custom fitted for modern homes and there is a design for every style.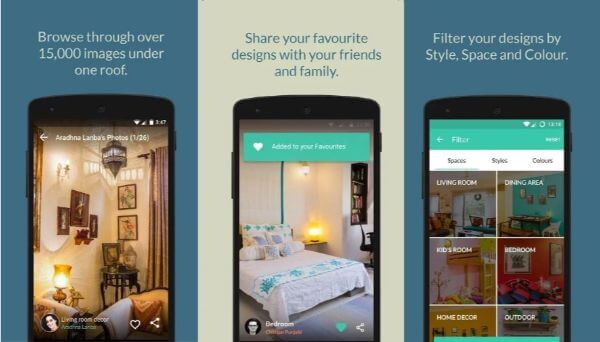 It allows seamless sharing of your ideas in HD quality. In addition, you can save inspiration or work with friends and colleagues. This is a brilliant app that gives you new insights into home design and creativity.
Download Android App: Houzify
Best Interior Design Apps for Android
Today, however, you can have all the things you've needed in your smartphone with your mobile apps. It seems that there is almost everything and there's an app for interior design, which is no exception. You can take the help of applications to have an idea about various design or decoration tips. Not only ideas, but apps also help keep your home projects on time and offers advanced budget and other planning. You can also save your inspiration or work with friends and colleagues. Have fun with this interior design apps on your Android phone.