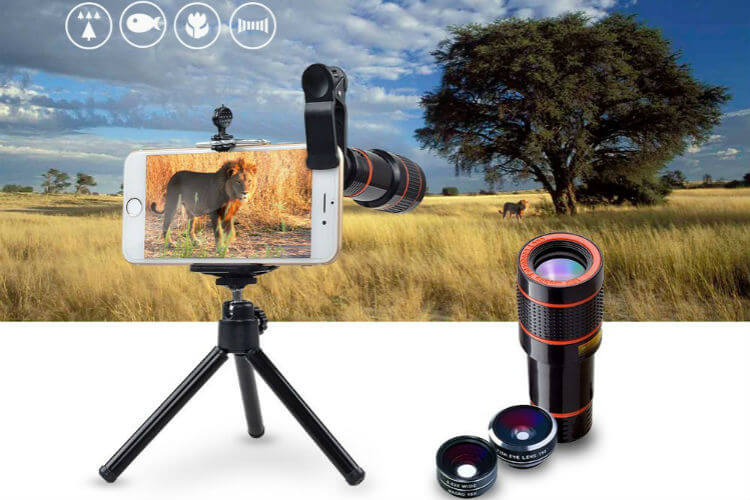 The iPhones are coming with high-resolution camera competing with the color filter and deeper pixels. We are not utilizing the power of this camera in full extent. With the right combination of iPhone Camera and the additional lens, you can capture amazing pictures of landscapes and macros. You can consider the fisheye, wide angle, macro combination lenses that can clip onto the iPhone. These iPhone camera lenses are small, lightweight, easy to use, and portable. These iPhone lenses are going to take your photography skills to the next level.
We are going to list the best iPhone Camera Wide Angle, Fish Eye Macro and Telephoto lenses that you can get for less than 50 bucks.
MashTips Best Picks:
Xenvo iPhone Camera Lens Pro (Macro Lens)
The Xenvo iPhone Camera Lens Pro tops our list of the best iPhone camera lens. The whole package comes with a 12.5X macro lens and trugrip lens clips. These lens clips(rubber clips) give you superior grip over the mobile device and sees that no motion distortion takes place. This cool camera lens comes with a multi-element body (Solid Anodized Aluminium).
The superior 0.45x wider view combined with improved LED flash. This fisheye lens is compatible with some of the leading Android devices and Apple's iPad. Another benefit of this camera lens is that it can be accommodated with the iPhone's OtterBox series cases, and yes, it just works fine. If you take photography as a priority, we guarantee that this product will give you a pleasant experience and its high time you consider checking them out.
Buy from Amazon ($29.99)
Todi Mobile Camera Lens (Macro & Wide Angle Lens)
The Todi iPhone Camera lens is the new type of aspherical lenses that can minimize lens glare and reflections. It is capable of giving you DSLR like snaps with both the wide and zoomed images. It is a 2 in 1 lens kit for iPhone that has a 20X macro and a 120° wide angle lens. The wide angle lets you shoot amazing landscape videos and images.
The lens is made of premium aluminum and has a greater durability factor compared to basic lens kits. The macro lens can. Identify nearby objects and capture even the smallest detail possible thanks to its 20X zoom capacity. The Todi lens kit is compatible with the iPhone 6s, 7, 8 and X. It also works well with some of the selected Android devices.
Buy from: Amazon
ShutterMoon iPhone Lens (Macro & Wide Angle Lens)
The ShutterMoon lens kit features an exceptional macro lens that can capture even the tiniest of the detail. It is a 15X Macro lens with 5X greater capacity to capture depth than any other ordinary macro lenses. This can give you the best snap with a greater level of detailing with limited distortions. Also, you must keep in mind to equip a motion stabilizer, like a tripod or a stand to make the best use of it.
Apart from the Macro lens, this iPhone lens kit has a 2X telephoto lens, a 0.63X wide angle lens a fisheye lens and a CPL filter. The compatible models of the iPhone series include the 6s, 7, 8, and X. It can also work well with some of the Android devices too such as the S7 and One Plus 6.
Buy from:Amazon
Olloclip Core Lens Set for iPhone (Macro & Wide Angle)
The olloclip core lens set offers you unmatched user experience, picture quality, and flexibility for your iPhone 7 and 7 Plus photography. It's new advanced CONNECT interchangeable lens system that you can adapt to your environment.
The Core Lens includes a circular fisheye lens with almost 180-degrees of coverage, as well as a 15x Macro lens and a super-side optic that provides a 120-degree field of view.
Buy from Amazon ($99.99)
Also Read: Best Solar Chargers for Cell Phones & Tablets to Recharge
AUKEY Ora iPhone Camera Lens (Wide Angle Lens)
This wide-angle lens for iPhone 7 offers a 120-degree field of view, that perfect for most landscape shooting. It has won rave reviews from the customers for its incredible features.
The macro Lens provides you 15x closer to your subject for great close-up shots. It is compatible with 52mm lens filter since you can shot the sky and bodies of water. Lenses are Detachable soft rubber clip is easy to adjust and won't leave any scratches on your devices
Buy from: Amazon ($29.99)
Moment Original Wide Lens (Wide Angle Lens)
Moment Wild lens has an incredible build quality. It's bigger, heavier and yet more elegant than any iPhone lens. Its 18mm design allows you to capture almost twice the standard picture.
Its advanced optical design allows the lens to take in more images without bending it. The Moment Wide lens works with or without a case on iPhones. It has been a low-profile mounting plate that bond to the phone because any standard case can cover this.
Buy from: Amazon
TURATA 2 in 1 Professional HD Camera Lens (Wide Angle)
Turata Clip-On 2 in 1 lens kit is compatible with any iPhone 7 devices. It features a 12.5x macro lens and a 0.45 X wide angle lens both high quality and great for taking pictures of an object. These lenses are both screwed together for secure storage though you can separate them if you want to use the macro lens.
The high-quality aluminum material increases durability while the multi-element coated glass minimizes lens flare, reflections, and ghosting. The soft rubber clip is straightforward to adjust, and you won't have to worry about unnecessary scratches on your device.
Buy from Amazon ($10.18)
AMIR 2in1 HD Camera Lens Kit (Wide Angle & Macro)
It is one of the most popular iPhone camera lens kits and is also compatible with most of the smartphones. It features a super wide angle lens to allow you to take pictures of large ranges.
This 15X macro lens with fixed focal length glass provides you incredible images. The professional Lens Manufactured with advanced Lanthanide Optical Glass and Top-grade aluminum which enhanced durability. This Lens Kit minimizes lens glare, reflection, ghosting, so it gives you an experience of DSLR quality performance.
Buy from Amazon ($28.99)
Also Read: Best Portable Photo Printers for iPhone & Android
Moment Fisheye Lens for iPhone
The Moment M series fisheye lens works to give you the best fisheye effect possible. It can give you 170° of fisheye effects with every snap you take. You get smooth images with less distortion and blurriness the multi-element glass design also gives you greater durability during harsh conditions.

The M series super fish lens works with the iPhones, Google Pixel, Galaxy series, and the One Plus devices. It requires the M series mounting cases or battery photo case to attach the lens to your phone. Also, keep in mind that it doesn't work with the O series cases at present.
Buy from Amazon
Delehero iPhone Lenses (Fish Eye & Macro)
The Delehero lens kit is a 4 in 1 photography kit with a phenomenal fisheye lens. It offers 185° fisheye effect in every snap you take with it. Apart from the fisheye lens, you also get a 50x macro lens, a wide angle lens and an LED fill light for enhanced night photos. It has a rechargeable cord from which you can recharger the led light.
It fits the front as well as the rear cameras of most of the iPhone models. The 50X macro lens lets you take smooth close-up images and lets you get every detail with more clarity. Note that the macro and wide angle lens are attached together. You need to clip it off to use the wide angle lens. At present, it works well with the iPhone models as well as some of the Android smartphone models.
Buy from: Amazon
Afaith 4 in 1 iPhone Camera Lens (Fish Eye & Macro)
The Afaith lens kit comes with a fisheye lens that can give you 198° circular effect on your smartphone. It can be clipped on to your iPhone or the Android devices with the universal clip-on design. Being a 4 in 2 lens kit, it has a wide angle lens, a telephoto, and a macro lens apart from the fisheye lens.
The wide angle lens helps you capture landscape images with more clarity. The telephoto lens is capable of giving 20X zoom effects. Coming to the compatibility part, this iPhone lens kit works with the iPhone 6s, 7, 8 and X. It also suits well with the Galaxy S series devices.
Buy from: Amazon
Olloclip 4-In-1 for iPhone (Fish Eye Lens)
Olloclip makes a wide range of lenses for smartphones, but this 4-in-1 lens is one of its flagship products. It provides the most versatile and premium mobile lens experience in a compact, easy design.
The 4-in-1 lens includes four lenses: fisheye, wide-angle, 10x macro and 15x macro. These lenses enhance your field-of-view far beyond the built-in camera for iPhone. The Macro lens provides crisp close-ups and detail-oriented pictures. Olloclip is not just for the selfie lovers, but also for travel lovers too.
Buy from: Amazon ($79.99)
Also Read: 10 Best Antitheft Backpacks with USB Charger
Faireach Zoom Lens (Zoom & Wide Angle)
The Faireach 4 in 1 iPhone lens kit comes with all the essentials you need to for an outdoor shoot. It has a good quality HD telephoto lens that can reach up to 18X zoom. The high-quality glass and the multilayer coating ensures greater durability and efficiency. It lets you focus the long-range objects and gives a decent pic with less noise and distortions.
Apart from the zoom lens, you also get a 180-degree fisheye lens, a 20X macro lens, and a wide angle lens. It's better to equip a tripod stand while using the lenses as it averts a lot of distortions and images will be crisp. Coming to the compatibility part, this lens kit can work with all models of the iPhone series including the iPhone X. I also fits well with the Android smartphones such as the Galaxy S7, S7 EDGE, etc.
Buy from: Amazon
Aomais iPhone Zoom Lens (Zoom & Wide Angle)
The Aomais iPhone lens kit comes with all those essentials a pro requires. It has an amazing 18X telephoto lens that gives clear long distance images. It is specially made for long distance photo and videography. The lens also has an adjustable focal aperture that helps adjust the amount of zoom you require. Apart from the telephoto lens, you receive 8 additional camera add-ons.
These include the 0.63X wide angle lens, a macro lens, a fisheye lens, and a tripod stand. It also has a CPL filter to enhance your snaps and a durable metal clamp to hold the lens intact. The CPL lens also removes solar glare and unwanted reflections from your snap. Coming to the compatibility part, this lens kit is compatible with the iPhone X, Xs, and its lower versions. As of now, it's not compatible with the Andriod devices yet.
Buy from: Amazon
Hizek 5 in 1 Lens (Zoom & Wide Angle)
Another great set of lenses, this time a 5 in 1 kit, comes from Hizek. Its 9x Telephoto lens can take explicit photos of far distance. It has been a 180-degree fisheye lens to see the world from a different angle. The 5 in 1 kit contain 63x macro lens can get pics of small objects.
The 063x wide angle Lens and 04x super wide lens used to capture more objects from a wide area. Enhanced design and aluminum alloy frames increase the durability of the product and light transmission. This design helps to make the image brighter. This Lens Kit is compatible with a wide range of cell phones and mobile devices including iPhone 7.
Buy from Amazon ($21.99)
Related: 10 Best Portable Power Banks for Apple Watch and iPhone
HXGD Telephoto Lens (iPhone Telephoto Lens)
The HXGD telephoto lens lets you take stunning images using its 22X zooming ability. It gives you the best optical zoom among all other leading telephoto lenses. It lets you get a good view of long sceneries with minimal noise and blurriness. You also receive an extra tripod stand and a universal mobile clamp. The tripod lets you take images without much of distortions and gives professional images with each snap.
The universal clamp is made from good quality aluminum material and lasts longer than other second grade clamps that you buy from the stores. The lens apparatus is a bit bulky but you can neglect that aspect as it produces some stunning images. The compatibility ranges from all major smartphone brands. It works well with most of the iPhone models available. It even suits some of the selected Android smartphones too.
Buy from: Amazon
Rongdx Telephoto Lens
The RongDX telephoto lens takes crisp, clear pictures just like a professional piece of equipment. This clip-on smartphone camera lens is very portable, compact and lightweight so that you can bring this with you anytime and anywhere.
The Rong Dx has 12 times zoom and adjustable focus lens to get the highest definition picture. The telephoto lens helps you take HD pictures with 360 degrees no black corner. It will be fit for most of the phones.
Buy from Amazon ( $11.99)
Mactrem iPhone Lens (Telephoto, Fisheye & Macro)
The Mactrem iPhone lens kit features one of the best iPhone zoom lenses. It comes with one of the best telephoto lenses that can take stunning pics that are far away. It has a 20X telephoto lens which is made of good quality material.
As you know, Macterm lens kit is a 9 in 1 photography kit but most of the users were extremely satisfied with the telephoto lens. Apart from the telephoto lens, you get a fisheye lens, a 25X macro lens, a tripod, and all other photography essentials. The compatibility range encompasses all iPhone models available in the market. It suits Android smartphones too.
Buy from: Amazon
Related: 8 Best Phone Camera Lens Kits for iPhone & Samsung.
Godefa Cell Lens Kit
The Godefa Cell iPhone camera lens kit consists of 6 photography essentials. It is a 6 in 1 lens kit that includes an 18X Zoom lens, 0.63X wide angle lens, 15X macro lens, 198° fisheye lens, kaleidoscopic lens, and a CPL filter. Apart from the lenses, you also get a smartphone tripod stand and a Bluetooth enabled camera shutter. The telescopic and wide angle lenses help you do wide range photography and the macro lens gives you even the tiniest detail. The CPL filters are worth mentioning because there's no professionalism without these image enhancing filters.
Apart from the iPhones, its compatible with Android smartphones from Samsung, LG, etc. You can check the compatibility chart if you're looking to equip it with your Android smartphone.
Buy from: Amazon
As the age of smartphones began, most people don't seem to find the need to carry around an expensive camera with modules to shoot quality images. iPhone cameras are renowned for their excellence in this field. Use these iPhone camera Lens modules to enhance the great hardware on your Apple Devices.