Well, most of the latest iPhone models do have the portrait mode but some perform better than the others. Suppose you are having an iPhone XR, and your friend is having the latest iPhone 12 Pro. You can take stunning portrait photos using the latter and then AirDrop to your iPhone later. But can you edit those portraits right on your iPhone, by adjusting the background blur and portrait light?
Let us see how to share portrait photos from iPhone with blur and lighting data so that you can edit the same portrait photos using another iPhone.
Share and Edit Portrait Photos on iPhone
When you share or AirDrop a portrait photo from an iPhone to your iPhone, it mostly shares the photo as a normal image and may not let you edit portrait blur and all. With this quick workaround, you can share portrait photos with blur and lighting information. In case you are unaware, this is a way you can take portrait photos on the latest iPhone model you saw in Apple Store and share them with your iPhone so that you can edit them later right from your iPhone.
Related: Best Hidden Tricks to Quickly Take Photos on iPhone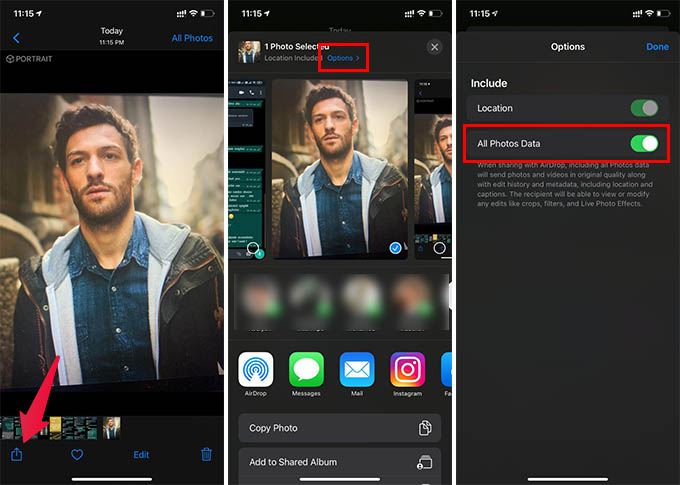 From an iPhone take a portrait image.
Now open the portrait image.
Tap the share button at the bottom left corner.
Tap on "Options" at the top of the share sheet.
Toggle on the "All Photos Data" option and tap Done.
Now tap AirDrop and send it to your iPhone over AirDrop.
You need to accept to receive the photo from another iPhone. Then you can open the shared portrait image on your iPhone and edit it like it was shot on your iPhone. In case you do not see your iPhone in the AirDrop list, make sure to select "Everyone" from the AirDrop settings in Control Center.
Related: These Hidden Features in iPhone Photos App will Make Your Life Easier
By sharing all photo data over AirDrop, you can see the photo edit history, original photo without filter, and the bokeh effect on your iPhone as well. Hope this guide helps you get raw images of portrait photos taken on another iPhone.