The portable image printers were boomed from nowhere and have made clicking photos to another level. You get these images in front of you within seconds after you click them with these dedicated Android and iPhone printers. There are quite a several portable image printers available online, and yet, selecting one among them is the toughest part. It becomes a mammoth task when there's a tight battle brewing between the manufacturers.
We have made a list of the best portable photo printers compatible with the iPhone and Android combined with a brief description and clearcut reasons as to why you need to have them.
Polaroid ZIP Mobile Printer
The Polaroid Zip wireless photo printer is a compact mini printer exclusively built for smartphones. This mini pocket-sized iPhone photo printer is super portable and perfect for anyone who loves to travel, blog or go on adventures. The Zip is capable of quick and easy photo processing through its Zero Ink Technology.
You can connect a smartphone or tablet via Wi-Fi and watch your portraits, selfies, and social media photos transform from digital images to physical pictures in an instant. The images that come out of the printer are of the size 2×3' combined with a sticky peek back that helps you attach the photos wherever you want. Thanks to Zero Ink Technology, the processed images are colorful, smudge-proof, and water repellent.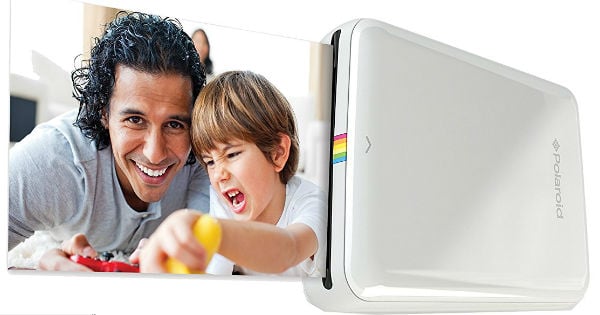 You also receive an iOS/Android compatible Polaroid app that lets you edit fresh images, download other photos from your social media. The best part is that you can print the pictures within less than 60 seconds. Moreover, the Polaroid Zip printer lets you print a maximum of 25 photos from initial charging. With 500mah internal battery, you don't always need an external power source when you are on the go.
Buy Polaroid Zip from Amazon
Also Read: 7 Best iPhone Apps for Scanning Old Photos
HP Sprocket Portable Photo Printer
The HP Sprocket portable image printer is a portable printer that connects itself with your smartphone through Bluetooth. You can easily connect your social media accounts to the free-to-download HP Sprocket App. This Android photo printer can instantly turn those photos into colorful prints. Also, with the help of the Android app, you can customize your photos before you print and add texts, borders, emojis, etc. as you wish.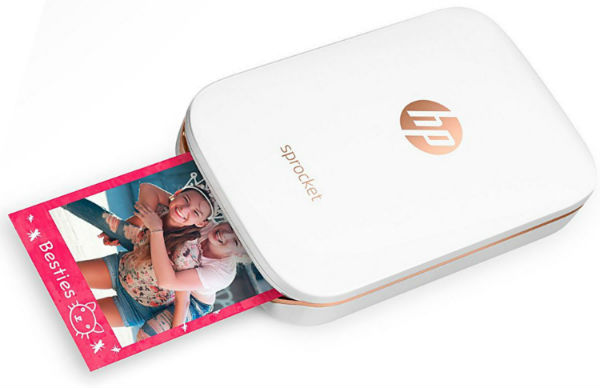 The printing quality is vibrant and prints a photo in 2×3' inches. You receive ten sheets of the printing paper that work on the new Zero Ink technology, the ten sheets are inadequate mostly, and you need to equip more.
The sheets have a sticky peel back that helps you stick your pics wherever you like. Just peel off the back of your prints, and your photos become instant stickers with an instant. The Sprocket also includes a rechargeable battery that lets you print round 30 photos with one charge.
Buy HP Sprocket from Amazon
Also Read: 7 Best Android Apps to Scan Old Photos
Kodak Dock Photo Printer
The Kodak portable photo printer is yet another small image printer that prints images instantly. It works on the new Dye Sublimation Printing Technology giving you smudge-free processed images. Moreover, the one-touch printing and docking mechanism saves time and is more convenient. The processed photos are of standard 4×6 inches with clear-cut details. It features 5-Pin Micro USB for Android & USB Host for Printing from iPhone, iPad, Digital Camera, or USB Memory Stick.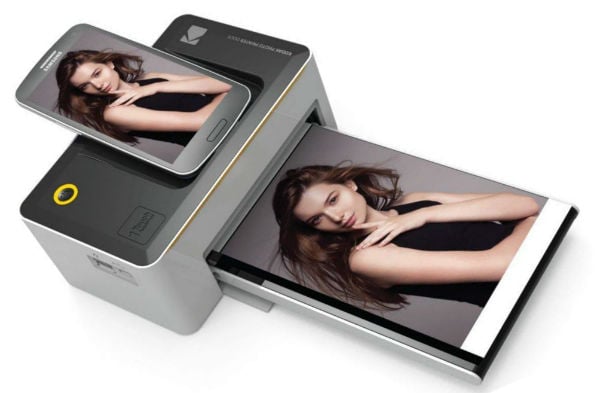 Also, the dock supplies a fast charging source too. This portable mini printer works well with both the Android and iPhone. But yet, the presence of fast charging makes it more iOS friendly and make it the best iPhone printer for photos. The connectivity features include the WiFi technology that makes your device connect with the printer via its ios or Android app. The app lets you access a wide range of features such as quick editing, resolution changing, etc.
Buy Kodak Dock from Amazon
Fujifilm Instax Share SP 2
The Fujifilm Instax share is a smart portable image printer that is capable of printing high-quality images within a giphy. The photos printed are quite good with a strong and avid pixel resolution. This portable printer works well with both the iPhone and Android. Most of the mechanism is controlled within the app. Thanks to the inbuilt Wifi connectivity, you can easily pair your smartphone with the app.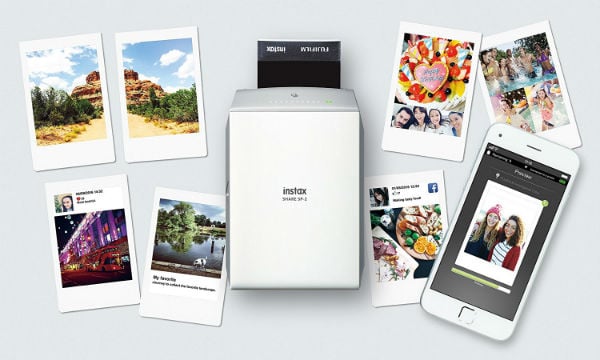 The Android app lets you choose images, try on some quick edits, etc. Unlike other portable printers, the stand out feature is that the printing period is extremely short. It takes only around 10 to 15 seconds to print an image. Apart from that, being a mini printer, you can always use them while you are on the go. The built battery takes care of your power issues to a great extent.
Buy FujiFilm Instax from Amazon
Canon Selphy CP1200
The Canon Selphy is a mini portable printer that is capable of printing vibrant images instantly. This compact printer makes larger pics up to 4×6 inches without borders. You can easily print images that are on your phone or FB or Instagram accounts instant, thanks to the inbuilt WiFi connectivity. Also, Setting up the printer is a little labor-intensive, and you always need to find a way to plug in your printer. An issue you can encounter is the lack of rechargeable batteries.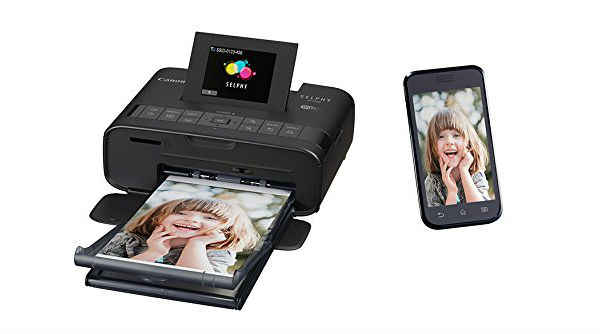 You need to equip standard batteries for outside uses. You can connect the Selphy to pc or another camera with a USB cable. Coming to another important aspect, the printing speed, it's somewhat slow. Moreover, printing images over wifi connect are the slowest. It merely depends on your connection speeds. However, it takes about 2 minutes to print on a connection of the average rate.
Buy Canon Selphy CP from Amazon
Zink Happy Phone Printer
The Zink Happy Phone printer is a mini printer suitable for people who are always on the move. It is the best companion for those who love to cherish their snapshots. This portable printer is a WiFi-enabled device that prints good quality images in no time. Zink photo printer features connectivity over its own Zink studio app that makes the printing process less cumbersome.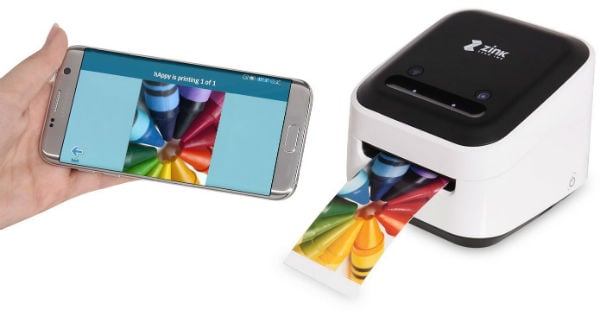 The images that are printed are around a decent size with a unique adhesive peel back, and a 2×4 inch photo takes under one minute to print, which is the average speed. A thing worth remembering is that it comes with power cords, and if you prefer the printer to be fully portable, then you should equip rechargeable batteries.
Buy Zink Happy Portable Printer from Amazon
Prynt Case Photo Printer
The Prynt photo printer is a portable camera case that is capable of printing images you took with your iPhone. It is more like a camera case that goes around your phone, printing out images instantly when you need them. Although the case looks stylish, it cannot really substitute the real smartphone hard case. The printing process requires printing papers to be loaded. Moreover, the Prynt app helps you edit, crop, and align your snapshots or images from the camera roll within no time.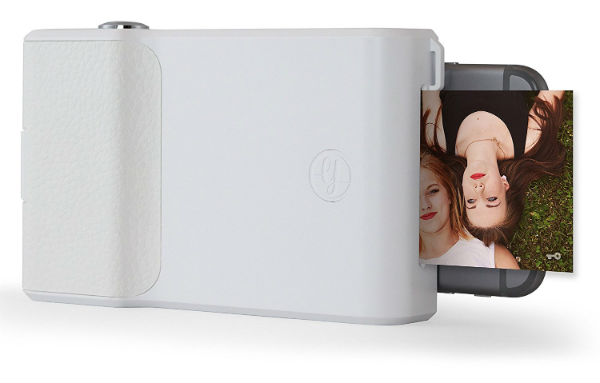 Another innovative feature is that this portable printer can print images of specific moments of videos. You can take a video with your phone and can print the image from that video through the app. The printing process uses Zero Ink Technology that uses no ink at all. The processed images are of the size 2×3 inches with a sticky back peel.
Editor's Note: The Prynt is compatible with iPhone 5s/SE, 6/6s/7 plus, and 6/6s/7. You need to order the right case for your phone to fit with the printer.
Buy Prynt portable printer from Amazon
LG Pocket Photo printer
The LG pocket Mini printer is a good one to equip if you plan to print images every time you take a snap. It uses the Zero Ink technology that works exceptionally well, giving you smudge-free prints. The LG Pocket printer will be your good companion while you are on the go. This Android printer extraordinarily lightweight and takes up only limited space. LG Pocket Printer features a power button and a mini USB port for charging. The printing papers (with sticky peel) can be loaded by opening the top portion, and printing takes place with 2×3 inches.
The connection process involves Bluetooth. Installing the LG photo printer app on your smartphone takes you to the printing business. The app lets you choose images, do quick edits, and help process the images. But yet, the app can be a bit fussy at times, and also the pairing can be a bit hard at first. We believe the developers will roll out a bug-free app in the coming future.
Buy LG Pocket Printer from Amazon
Fujifilm Instax Share Printer SP-2
The FujiFilm Instax SP-2 is the big brother of the Instax share we listed above. SP-1 provides a quick and rapid printing process with the help of the ZINK technology. This iPhone portable printer uses the wifi connectivity to connect with your phone through the Instax app. Moreover, equipping the app lets you get access to editing features, including time and date stamp add-ons, etc.
The Instax app is compatible with iOS device versions 5.0 and above. The powering issues are met with the help of two lithium batteries that you get with the product. The batteries are capable of producing a maximum of 100 prints per set. The printing dimension is of 4.8 x 1.65 x 4", which is quite reasonable, and the printing process takes place in around 16 to 20 seconds. Moreover, thanks to the ZINK technology, you don't need to equip any color cartridges.
Buy Fujifilm Instax Share Printer SP-1 from Amazon
Canon Pixma ip110 portable printer
The Canon Pixma is for those who wish to print larger images from smartphones rather than those wallet-sized ones. The Pixma is, in fact, a bit more puffed up than most of the portable printers out there. But because it prints the regular-sized photos, its size becomes not that big. The powering issues are met with the power adapter, and also, Li-ion batteries can be used when you use it for outside uses. You can connect it with your smartphone through wifi connectivity.
However, you can opt to connect it with a USB cable if you are planning to connect it to PC and charge the battery with the USB. The printing process is rather crisp and is capable of printing photos of the size 4×6 inches and that too under a minute. Also, It features support for Google Cloud Print and Apple AirPrint, in addition to Pixma Printing Solutions.
Editor's Note: Setting up the printer is much different than setting up a typical printer, and you need to install two cartridges properly.
Buy Canon Pixma ip110 from Amazon
It's the living fact that iPhone takes some of the stunning and best pictures. The urge to bring the clicked photos to life paved the way to the portable photo printers. As things went quite compact, no one does spend time sitting in front of laps or PCs as much when it comes to smartphones.
There you have it, our list of the best iPhone and Android photo printers. These portable printers are coming with dedicated Android and iOS apps to connect to the printer from your Smartphone. Most of the printers mentioned above are quite compact and works with Zero Ink technology. These portable printers produce crisp and clear photos that are smudge and tear-free. Another thing to note this price budget you prefer. The list mentioned above consists of printers of different price tags. Equipping the best one according to your need and taste is quite necessary.