The best solution for preserving old memories is by scanning old photos and save in hard drives. Yes, digitalizing your old pictures into computer memories to save for years. Digital photos are easy to organize, back up and save, the advantage of digitalizing old photos. Use your iPhone to scan old photos, to convert the pictures to live again and just requires your phone's camera. You can get back the treasured moments back and make them greater than ever.
Please see the list of best iOS apps for Scanning Old Photos that can do as your next weekend project.
Photo Scan by Google Photos
Photo Scan is from Google, one of the excellent iPhone photos scans app to scan old photos with the iPhone. This is a standalone photo scanning app allowing you to scan an old photo and convert it into a digital one.
The interface of the app is simple and not requires a login whenever opened. On scanning a picture, it recognizes the four corners of the photo, when the phone hovers over the dots. The phone is kept over the photo until the circle in the middle is completely full.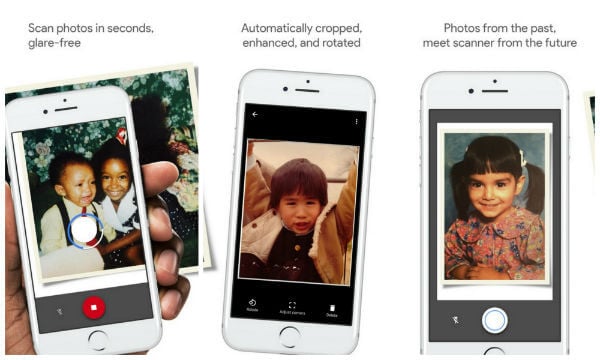 The photo scanning app will do its
own cropping
,
rotation
and
color correction
of an old photo. After the capture of the photo, this scanner app backs up the photo online as well as added to your Google Photos database. With the editing feature in the app, you can make each and every photo unique and share it with your family and friends.
Download from iTunes: Photo Scan by Google Photos (free)
Related: 7 Best iOS Weather Widgets for iPhone Notification Area
Photo Scanner Plus
When you want to preserve old photos and precious memories, try this app Photomyne, which can convert your printed photos into digital format. Photomyne is offering to bulk scanning, that is ideal if you want to scan an entire album of photos using your iPhone. Scan the whole album page in a single shot as it detects multiple in a shot.
The multiple photos are cropped and saved at the same moment. The app separates the photos from each other to give out a scan that is digitally similar to the photo. Just make sure all four corners come within the frame. One can quickly scan the photos in any format keeping the natural color and brightness of the photo intact.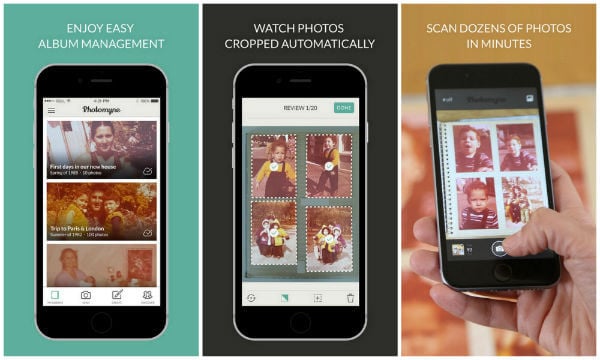 This old photo scanner app will take only a few minutes to convert paper photos into a digital album with the help of an iPhone powerful camera. To make your life easy, this iPhone photo scanner app can automatically detect the photo boundaries to crop, and auto-rotates if required. Once you scan the photos, you can tag them with the location, and add name and date if required.
If you spend a little bit more time, you can create an entire digital album with this photo scanner iOS app. The cutting-edge AI technology can further enhance your Album and bring a new life to the fade photos. The paid version offers the full power (unlimited albums, photos, multiple device access) of the app and offers online access using cloud services to your photos with a subscription.
Download from iTunes: Photo Scanner Plus(0.99) | Photo Scanner Free
Related: iOS Flash Drives-A Complete Backup Solution for iPhones & iPads.
Photo Scanner for Me
Do you have old memories in Polaroid form or faded album? Time to digitize those albums and photos with your iPhone camera now with the powerful iOS app to convert old photos. Photo Scanner for Me app is capable of recognizing multiple photos at a time and scan those in one shot. The app itself scans and crop the photos for you or you can do all in manual with your home.
This iPhone photo scanner app can enhance your old photos and polish them to give a new life automatically. The variety of photo editing tools with this app can easily allow you to crop, rotate, adjust brightness and adjust the contrast. You can proudly share these pictures as an individual or as an album between your friends and family and transfer to PC to keep forever.
Download from iTunes: Photo Scanner for Me (1.99)
Related: iOS Apps to Stream Videos and Photos to Chromecast TV from iPhone / iPad
Photo Scanner
This iPhone photo app is a new photo scanning app giving you the feature of scanning old photos with iPhone's camera. With the app, you can restore back the vibrant look and aesthetics of the old photo. The photo scanner offers highly accurate auto-detection and -cropping of photos, that make your life easy and photo scanning quick and easy.
The app built ion intelligent filters revive faded colors to produce high-quality digital pictures. Just put the image in the frame and leave remaining work to the application's 'Magic Color' filter. The faded colors also revive in the photo through the app, and it is super easy to use.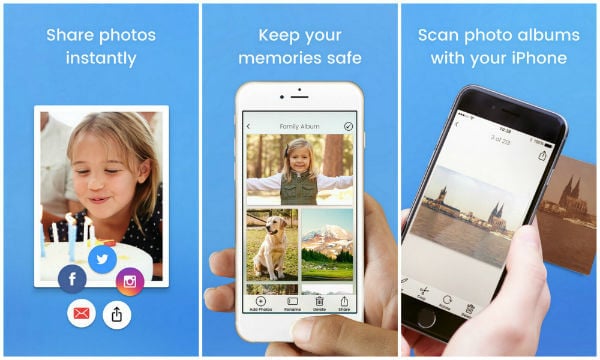 Many new features are also in the pipeline that includes some editing, image presentation, and sharing tools. After the selected images digitize, one can easily sort them into diverse albums. The additional features include fast photodetection and auto scanning, filter to enhance the faded photos, iCloud Sync & iCloud Drive Export, lossless editing, location, and data tagging, etc.
Download from iTunes: Photo Scanner Pro | Photo Scanner Free
Pic Scanner
Pic Scanner is designed to scan old photos. This photo scan app is allowing you to scan up to four prints at the same time. Pic Scanner does not require the internet to work fluently. The app is fast and intuitive scanning your all photos in a matter of minutes. Pic Scanner detects, crops and saves different photos individually. Every user can manually adjust the rotation and trim of each picture as well as perform image enhancement.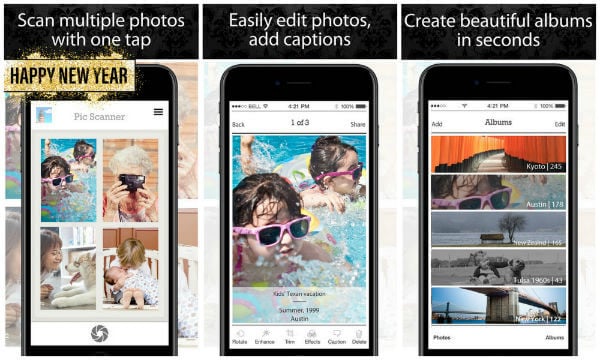 The free version of the app comes with a limit. It allows you to a number of shares as well as to 12. For an unlimited number of scans and saves, one has to do in purchase for the full application version.
Download from iTunes: Pic Scanner: Scan Old Photos (1.99)
Pic Scanner Gold
Pic Scanner Gold is the app build with super fast speed to scan old photos using iPhone. This app supports multiple photo scanning, automatical crop and saves options to save time while scanning old photos.
In addition to this, Pic Scanner Gold support Bluetooth communication, that can use to convert your iPhone into a scanning machine with completely hands-free operation. This app is coming with Adobe powered 19 tool image editors that help you to add captions, fine-tune images, fade and sharpen faded pics.
Download from iTunes: Pic Scanner Gold (4.99)
Memories
The photo scanning app comes with a built-in friendly guide to capturing the digital image of the real photographs quickly. Memories also tell how to achieve the best and perfect angle for your picture. One can quickly scan the photos in any format keeping the natural color and brightness of the photo intact.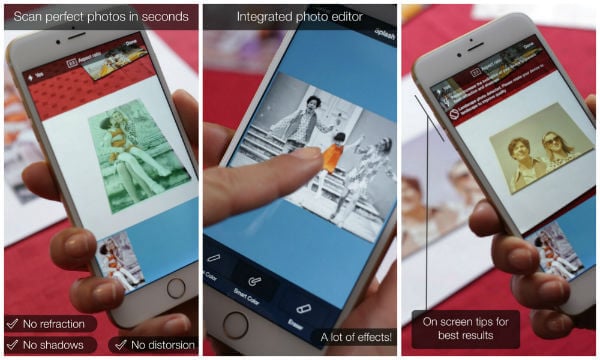 For best results, one has to keep the iPhone at a 45-degree angle over the photo. It is excellent in increasing the brightness of dull old pictures and allows you to make the images more clear. In every photo, there is a watermark of the app.
Download from iTunes: Memories
All we have have a huge pile of albums full of photographs that have unique memories of the past. They often see the sunlight or else tucked away in a closet. Each photo has own unique memory and consists of a reasonable part of their life. These pictures remind us of the era when people took photos and not the ones like now, the real negative and printed copies.
Related: 5 Free Cloud Services to Upload and Backup iOS Photos.
Take out your dusty photo albums and use the above photo scanning apps. Keep your legacy alive and show it to other people. Preserve your history for a longer period and get in a way more refined and great. These apps are available to help in the process of scanning the photos with ease.