iPhone Flash Memory is a First Aid Solution for your iPhone if you are struggling with low memory. These USB Flash Memory Devices can work just like External Hard Disk for iDevices like iPhone, iPad or iPod. Compare to iTunes backup; these devices are pretty easy to operate.
These devices can connect directly to iPhone's lightning connector and take a backup of your phone with few taps on the driver app. These Flash Drives can back up all sensitive data like media files, contacts, and documents from your iPhone to this drive with a single tap.
These drives are built as a portable, lightweight and elegant appearance that can carry with your keychain where ever you want to connect to your iPhone when you want to backup or need additional memory to save some video that can directly record with your iPhone camera.
iPhone USB Flash Drive Capacity
Apple is introducing large size internal memory on upcoming phones and going to launch iPhone 8 and iPhone X with a maximum of 256GB memory. When you select a USB flash drive for iPhone to backup the entire media, you must have some idea about the size of the flash drive that you required. The ideal solution for the iPhone flash drive size is the same as more size of your iPhone memory capacity.
However, we are presenting a table below to get some idea of how many photos and videos you can save in different memory sizes of flash drives. Compare to video and HD image size, your contact file and other setting file size is negligible and not considered as a size determining factor on this guide.
iPhone Flash Drive File Capacity Information
Here is a detailed table about iPhone USB flash drive storage capacity information.
| Drive Capacity | 10MB Photos | 1080P Video | MP3 Songs |
| --- | --- | --- | --- |
| 16GB | 900 Photos | 40 Minutes | 1,000 Songs |
| 32GB | 1,800 Photos | 80 Minutes | 2,000 Songs |
| 64GB | 3,600 Photos | 160 Minutes | 4,000 Songs |
| 128GB | 7,200 Photos | 320 Minutes | 8,000 Songs |
| 256GB | 14,200 Photos | 640 Minutes | 16,000 Songs |
Note: The above table is not the exact information on how many photos, videos, and songs you can store on the drive. It can vary depends on the flash drive storage left and the file size.
Those who want to direct to the list of iPhone flash drives available in the market, please visit Best iPhone Backup Flash Drive to Save Photos, Videos & Contacts.
Flash Drive App Features

The iPhone backup drives are interacting with iOS with the help of dedicated apps. These apps build feature-rich and smart enough to detect the different format of the data files. Before you select your driver, check the backup drive apps from iTunes and make sure the app is offering a variety of backup options, media format support, direct photo/video recording, document reading capability, etc. We tested the HooToo iPhone backup drive which will prompt you to download the app iPlugmate for the first time and open the app automatically when you insert the drive every time after installing the app on your iPhone. This app allows you to browse files downloaded from the flash drive to your iPhone, iPad or vice verse and also can backup and restore your contact list.
How to Connect External Hard Disk to Home Network over WiFi without PC
iPhone USB Drive Media Player Support
Apple devices are not supporting to play all the media formats that we want. Just in case, if you have MP4 or 3GP video files on your backup drive, you may need additional apps to play these files on your iPhone.
Please check the drive apps before you buy the backup drive and make sure the app is supporting all the video/audio formats you need. Most of the drive supporting apps are coming with built-in support for eBooks, major video, and music formats. This lets you read eBooks, view images, and stream videos directly from the drive on your iPhone or iPad screen.
Please be aware that you can't transfer recorded voice memos, media files (DMCA Files) downloaded from iTunes or other 3rd party apps, those files are DRM (Digital Rights Management) protected. iPlugmate for HooToo can open the VLC player to run the video file directly from the drive itself and support the formats like MKV, MPG formats that can't play directly on iOS and can buy HooToo iPhone Flash Drive USB 3.0 from Amazon.
Best iPhone Flash Drives
We have tested a couple of USB Flash drives for iPhone and iPad listed the best that we found from Amazon.
RAVPower iOS Flash Drive: RavPowr flash drive for iPhone is coming with an auto-backup feature for iPhone photos. and other data. This 128GB flash drive for iPhone can transfer data directly from the iPhone through the lightning port. The USB 3.0 port for PC makes sure fast data transfer to the PC. RavPower iPhone flash drive offers 80 Mb/S reading and 30 Mb/S writing speed through USB 3.
SanDisk iXpand Flash Drive: Sandisk iXpand is a lightning memory stick for iPhone to backup photos, videos, and other files. This iPhone external drive is coming with a free app called SanDisk iXpand Drive app that lets you easily manage iPhone photos, videos, and files. The drive has a flexible connector to fit through most iPhone cases. The app supports to automatically back up photos and videos and contacts.
HooToo iPhone iPad Flash: This iPhone external storage is available in 128GB, the maximum capacity. The extra extended lightning port can insert to the iPhone port with almost all protective cases. HooToo iPhone flash drive will ask to install the supporting app when you connect this iPhone USB drive first time with the iPhone. The drive offers high-speed file transfer with USB 3.0 file transfer. The premium aluminum build drive can buy from Amazon.
You can see more iPhone Flash Drives with 256GB capacity here Best iPhone Backup Flash Drive to Save Photos, Videos & Contacts.
Organize Media Backup
Apple iDevices are smart enough to organize your photos and videos while recording based on the date and time. You can see your media files on your phone organized with date stamps if you switch the view mode into collections on the iOS Photo app.
You can expect the same organized folders when you back up your media into the iPhone backup drive. The supporting apps coming with the drive should offer the same feature to organize the media in different folders based on the dates or months to organize your media for easy access.
File Transfer Between iPhone and PC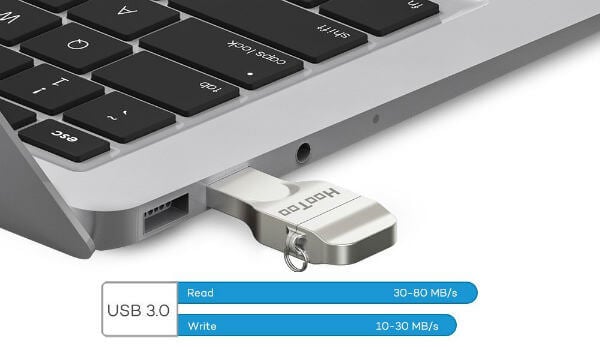 While you use iPhone backup drive, there is no need to depend on iTunes to back up your data. These drives are easy to use, coming with dedicated apps that can copy data files between your iPhone and the backup drive. You can just select and drag the files you want and back up into the flash drive. No need to struggle with iTunes on your PC or time-consuming backup procedures.
iPhone Drive USB Standard
iPhone USB backup drives are coming with two end ports, one with Apple Lightning port and the other end with a standard USB port that connects your PC. Theoretically, USB 2.0 can transfer data at 60 MB/s per second where USB 3.0 can handle up to 640MB/s, which is ten times as fast as 2.0 maximum.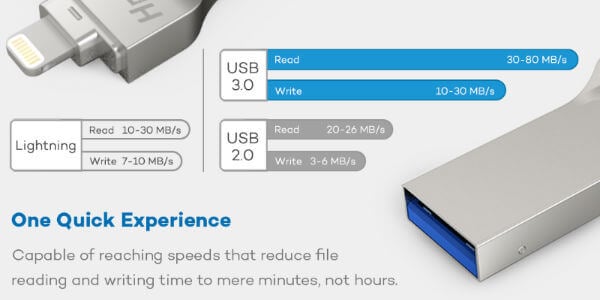 image credit: HooToo iPhone Flash Drive USB 3.0 from Amazon
When you select the backup drive, chose USB 3.0 to get the maximum speed to transfer files with PC those can work on speed up to 80 MB/s reading and 30 MB/s writing speed, good to transfer lengthy video files from USB to your PC.
iOS Drive Compatibility with PC

Windows Operating System works with NTFS format drivers, and MAC OS is working on Mac OS Extended (Journaled) format. All the USB drives are formatted into the FAT32 format by default, which is compatible with both MAC and Windows. The only downside of FAT32 format is, it can support only up to a 4GB size of a single file. But you can transfer the files bigger than 4GB by reformatting these USB drives into exFAT format that will support both Windows, Linux, and MAC operating systems.
Lightning Connector Length

The USB backup drive is coming with a lightning connector to connect with the iPhone. This lightning connector length is very critical if you are the one using a protective cover with your iPhone. It is better to get a lightning connector extended far enough (like 2-4mm extra) length from the body of the drive to insert into the iPhone connector without having to remove the protective case. The drive has an extra 4mm extension that makes sure you can properly insert this drive to the iPhone lightning connector even with thick iPhone cases.
iOS/Device Backward Compatibility
Please make sure the drive is going to support the iOS version that you have on your Apple device. There are old Apple devices still working on iOS 7 and iOS 8. All these USB drives will support old iOS versions and make sure the drive you are planning to buy is going to support that particular iOS. As you know, the old drives have 30pin connector instead of lightning port, but these USB drives are coming with lightning port. You can still use these drives with the help of a converter that can convert the lightning port to an old Apple 30pin port.
USB Drive Formfactor/Body Material
Most of the manufacturers are building memory drives as portable, lightweight and beautifully crafted to carry with you wherever you want. The drives are built with plastic/metal/aluminum alloy to make it lightweight with elegant appearance. You can choose 32GB or 64GB based on how much media files you have in your iPhone to backup.
These backup drives are offering easy solution transfer of files between your iPhone and personal computer. For example, if you want to transfer a large video file that you have on your iPhone. Just insert this backup drive into your iPhone, move the file into the drive. Once the transfer complete, then connect the drive back to your MAC or Windows computer to drag the video from the backup drive into your computer hard disk. You can use this drive to transfer files from your computer to your iPhone or iPad too.
This iPhone USB drive is ideal to copy video/movie files from PC to this drive, and you can watch later on your iPad while you travel by just connecting this drive to your iPad's Lightning connector, no Wi-Fi / Data or external power supply need to work with this backup drive.
Related: Get Complete Command of iPhone Data Usage & Save Money!
Always keep a copy of your valuable data and media file. Apple's 5GB iCloud backup won't be sufficient for your backup needs and media files. For a low memory phone, you can save the songs or movies directly into this external drive and watch them while you travel.
There is no need for the data connection or extra space or your phone; the drive apps can directly play videos or music from drive to your iPhone screen. These iOS backup drives are an ideal solution and come with a lower price with a higher memory size that can meet your backup needs without any external power supply or data consumption.