These days people are watching videos more on their smartphones than on a TV. Thanks to WhatsApp and other social messaging platforms, they are more interested in watching mobile videos of any duration, from 30 seconds to 5 minutes. And, it is predicted that mobile videos will contribute to more than 75% of all mobile data traffic in the coming years. In order to grab this huge opportunity, Instagram launched a new video app called IGTV (Instagram TV).
In this article, let's take a detailed look at what is IGTV and how to use that to watch/upload videos.
Content:
What is IGTV
IGTV is a free standalone video application launched by Instagram in June 2018. Like YouTube, it allows users to upload and share long-form videos. Even though it is released as a standalone app, the basic features of IGTV can be accessed from within the Instagram app and website. With an active user base of 1 billion, Instagram aims to make IGTV a strong competitor for YouTube in creating and distributing long-form videos.
Since IGTV is mainly designed for use on smartphones, you can easily upload vertical videos as such and avoid the hassle of flipping your phone. First of all, let's see how to get IGTV.
Related: Instagram for PC: How to Upload / Download Instagram Images & Videos.
How to Get IGTV
Are you an existing Instagram user? Then, it's pretty straightforward to get IGTV on your smartphone. Just launch Instagram on your phone and tap TV icon on the top right. That's it. Now, you can start watching or upload videos on IGTV right away. Don't you have an Instagram app? No worries. You can install the standalone IGTV app on your Android/iOS and see the links to download IGTV from Google Play Store and Apple Store.
However, you need to have an Instagram account to watch or upload videos on IGTV. If you would like to create a business account, you can check out another article to Set up Instagram Business Account.
How to Watch Videos on IGTV
You can watch IGTV videos either on the Instagram app or the standalone IGTV app. By default, it shows the most popular videos related to your interests and the ones uploaded by people whom you follow.
Just launch the Instagram app and tap the TV icon on the right. IGTV videos will start playing automatically. To skip between videos, just swipe or left. You can like, comment or even send the video as a DM (Direct Message) to someone.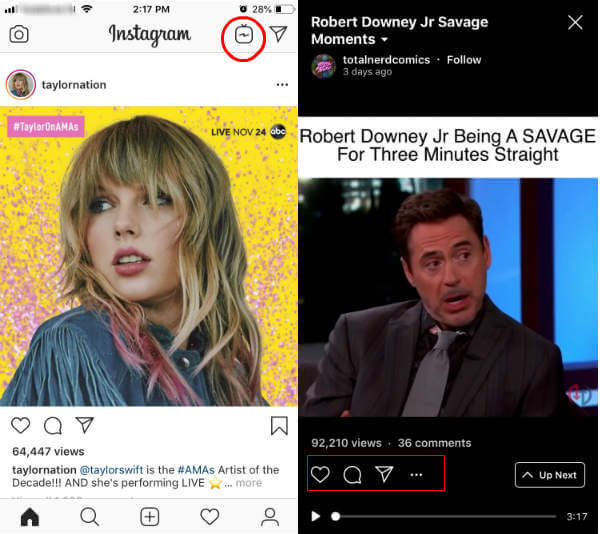 How to Watch Videos of Someone You Follow
In addition to watching the IGTV, you can watch the videos from Instagram followers. Would you like to watch all the IGTV videos of someone you follow? Follow the below steps to do that.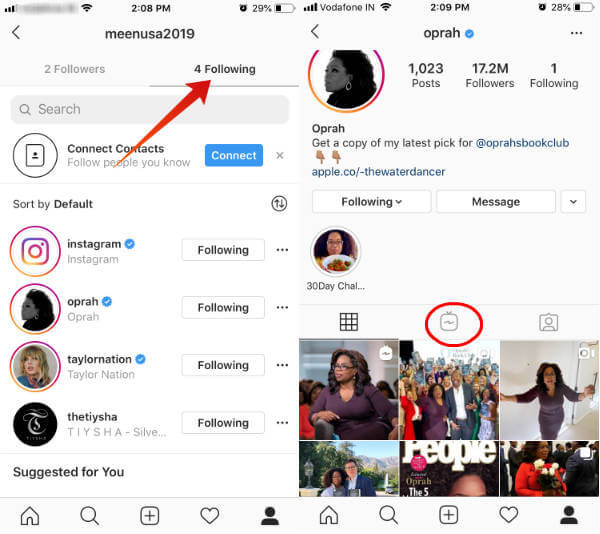 Launch Instagram and tap the profile icon on the bottom.
Tap Following.
Tap the person whose videos you would like to watch.
Next, tap the TV icon and start watching the videos. Note that if that user has not uploaded any videos on IGTV, then you won't see the TV icon.
Also Read 7 Instagram Privacy Settings You Need To Check Right Away
How to Search Videos on IGTV
In addition to watching the IGTV, Instagram TV offers search functionality. Now, let's assume that you would like to watch videos related to a topic or a popular celebrity or something else.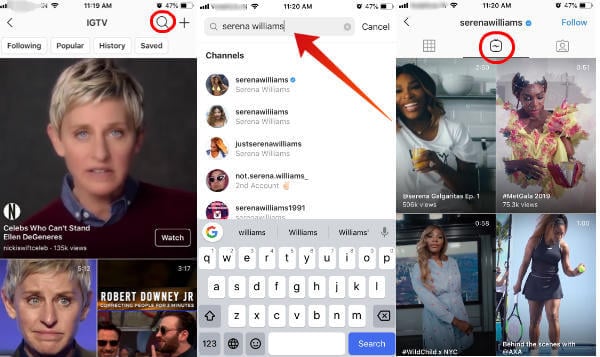 Tap TV icon on your Instagram app.
Next, tap Search icon located on the top right.
Enter the keyword you would like to search (eg. Serena Williams)
Here, it will show the list of channels that matches your word when you are typing. Go ahead and tap the channel you like to watch.
Related: 7 Best Tools to Schedule Instagram Posts (Free & Paid)
How to Save Videos on IGTV
Would you like to save some videos to watch it later or whenever you like? Of course, you can do that. While you are watching a video, just tap the three-dot icon and then tap Save.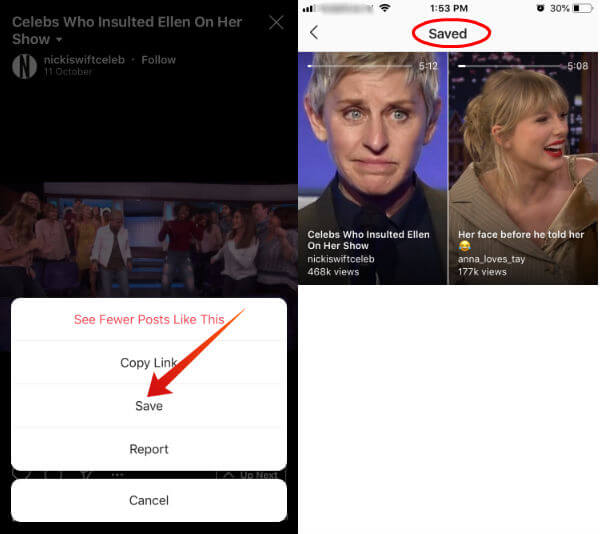 Whenever you want to watch the video that you have saved, tap Saved tab on the home screen of IGTV to watch all the videos you had saved.
Also Read: How to Save Instagram Videos on Windows, Android, and iOS
How to Upload Videos on IGTV
By now, you should have been familiar with watching videos on Instagram TV. Now, it's time to upload your own videos on Instagram TV. Before uploading videos, you need to make sure that your videos meet the following requirements.
The minimum length of your video should be at least 1 minute. The maximum length is 15 minutes when uploading from mobile and 60 minutes from the web.
The video should be in .mp4 format.
For cover photos, the recommended size is 420px by 654px.
You can check out the Instagram Help page to learn more information about the requirements for IGTV videos. Now, let's see how to upload the videos from your smartphone.
Launch Instagram and tap TV icon.
Next, tap + icon on the top right.
Select a video and tap Next.
Here you need to select the cover image for your video. Tap Add from Camera Roll to add an image from your Camera. Or you can select a frame from the video to be used as a cover image. Then, tap Next.
Enter the title and description for your video.
If you would like to add the video to an existing series, tap Add to Series. Or tap Create Your First Series and follow the instructions if you are creating a series for the first time. (You can skip this step to upload as an individual video)
To post this video on your Facebook page as well, toggle Make Visible on Facebook to right.
Finally, tap Post.
Now, your video has been successfully uploaded and will be visible to all your followers.
Is IGTV an Alternative to YouTube
By default, users can upload videos of duration up to 15 minutes. If a user has verified the account, then it is possible to upload a video of size 128 GB or 12 hours, whichever is less. At the time of writing, the maximum time limit of videos on IGTV is 60 minutes. Unlike YouTube, you cannot watch your favorite movie or TV shows on Instagram TV.
IGTV is ideal for businesses/influencers to promote their products or services to a large section of the audience. Or you can use Instagram TV to watch your favorite celebrities in action. I'd say, it is not a complete alternative to YouTube at the moment.