Online stores are buffed up with a variety of digital photo frames that come in different sizes and features. When you shop around for digital frames, you must check the resolution of the screen, supporting format for images and video, etc. The electronic photo frame may have small built-in memory, and support for USB and SD card to load images for the slideshow. The advanced digital photo frames are coming with WiFi connection, cloud storage to keep images, and smartphone apps.
Here, we have prepared a list of the best digital frames that you can buy online if you are considering one. Our list includes frames of different sizes that come packed with some excellent features like cloud storage and smartphone app.
NIX Advance- 15-inch Digital Photo Frame
The NIX Advance digital photo frame tops our list. This cool digital frame can slideshow images from a short duration to 15 seconds max. The new HU- Motion technology makes the digital frame turn on whenever you enter your room and turns off itself off when you leave. In fact, NIX digital frame turns off itself if no motion is detected within a time range of 5 minutes to one hour.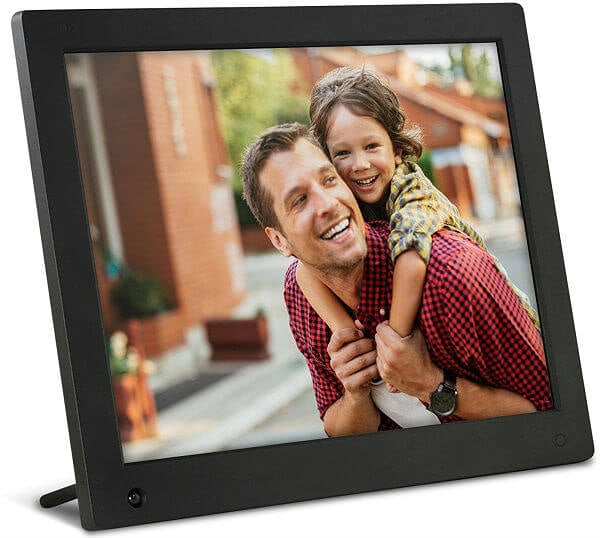 This electronic photo frame gives you an HD aspect ratio, 1024×768 (4:3), with a soothing LED-backlit display. The NIX smart digital frame comes with an 8GB portable memory card and supports USB storage devices and even an SDHC card. This digital photo frame is capable of showing video files (720p). This electronic photo frame can display the clock as well as the calendar. What surprises everyone is that this digital frame comes with a remote controller. Don't know why they combined a remote controller, but yet, this feature surely makes the NIX Advance a convenient and easy photo frame altogether.
Note: The NIX advance photo frame does not work on batteries. It can only draw power from an AC outlet.
Buy from: Amazon
Nixplay Edge 8-Inch Digital Photo Frame
This Nixplay digital frame comes with a high-resolution 1028×768 pixel IPS Display combined with an enhanced wide angle. The high definition 720p video playback, as well as the simultaneous slideshow of snaps, make it a good choice for gifting your loved ones. The playback can be via the normal USB or the SD card. The NIX Edge also features WiFi to easily access your photos on FB, Instagram, etc. For this cloud-based digital frame can slideshow images from the cloud storage. You can easily upload the photos to the NIX online cloud storage. Also, you can manage multiple frames from one NixPlay account. You get around 30GB cloud storage with additional storage options.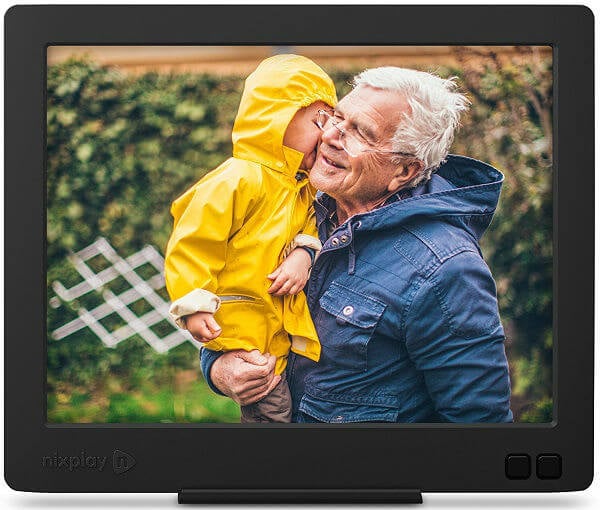 This electronic photo frame suits every kind of photo, be it in portrait or even in landscape. Also, the new Human motion sensors incorporated with the digital camera, sense human activity to turn on the photo frame itself. NixPlay has added IR remote, help you navigate through playlists, and make image adjustments without eve touching the frame.
Note: The device could be wall-mounted accordingly or even kept on tabletops with its rigid back support. It would be better to keep it mounted on walls because the back support doesn't give you the appropriate viewing angle always.
Buy from: Amazon
Pix-Star 15-Inch Digital Photo Frame
The Pix-Star digital photo is one of the most stylish within the 15-inch barrier that provides an endless slideshow of snaps that you select. This digital photo frame comes with WiFi connectivity and access to cloud storage. With the cloud storage in hand, you can quickly receive and share photos directly from the frame. Also, it has around 4GB internal space that can store more than 15000 images altogether. The Pix-Star photo frame displays your each favorite snap with ultra clarity.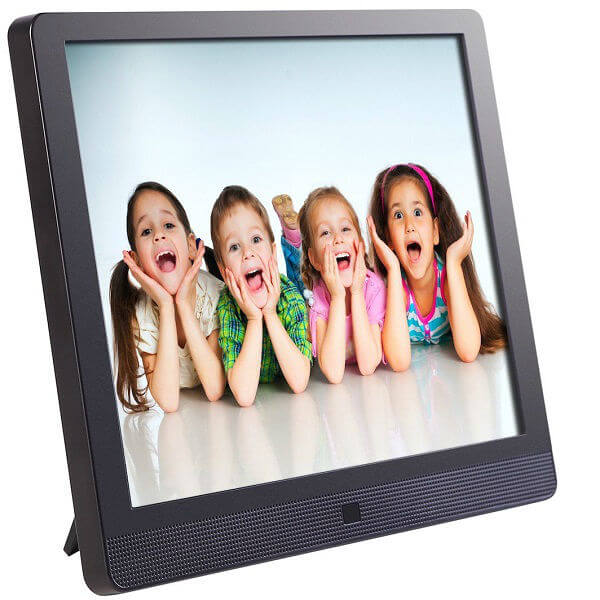 The resolution of 1080p makes it a beautiful image displayed on its big 15-inch screen. You can send pictures through a registered Pix-Star account and access the snaps on the frame within seconds. This WiFi digital frame also scans automatically for new incoming images and notifies you when a new snap gets accessible. The remote control that comes with the frame lets you access and navigate the settings and accept incoming photos, without even touching the display screen. Apart from that, this electronic photo frame comes with date/time, and reminder features too.
Note: You can easily copy pictures to the frame's local memory using an SD card or a USB stick. You get sorting options, alphabetical order, and date-time order for the slideshow.
Buy from: Amazon
Nixplay Original 15-inch Digital Photo Frame
The Nix Play Original has a 15-inch crystal clear digital photo frame that offers 1024p resolution. This digital photo frame comes with inbuilt WiFi connectivity let you access all your photos on social media and safely upload them to the NixPlay online cloud storage. Simply registering it with the NixPlay account gives you around 10 GB cloud storage combined with max sync up to 5 NixPlay digital photo frames. Instead of using the cloud storage, you can opt to use a USB stick or SD/SDHC card to slideshow images. This digital frame is coming with NixPlay mobile app, lets you access images, and drop your favorite snaps into the registered email address to appear on the frame.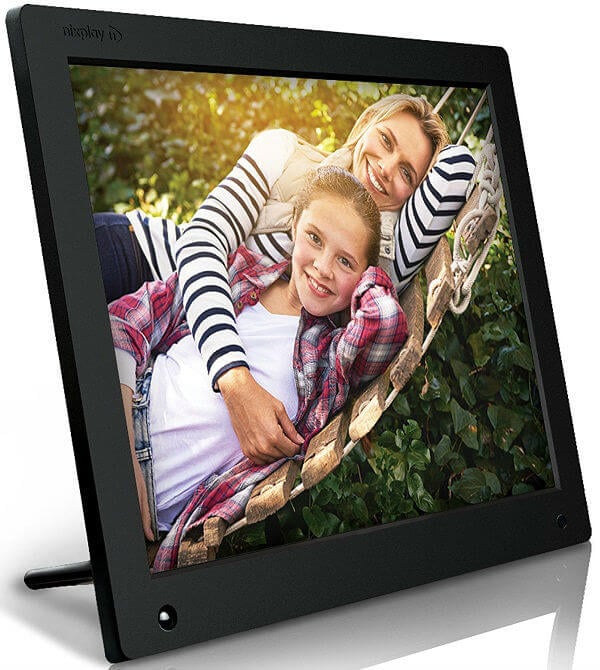 This WiFI digital photo frame is offering image display options with photo transition effects. You can shuffle images, display images according to date and time, etc. Also, an added feature is the presence of a reminder combined with clock and calendar access. The Motion detection technology triggers the photo frame while you present in the room and turns off within 5 mins when no human activity gets detected.
Note: The Nixplay can turn off at a specific time and on to a particular time. This photo frame does not come equipped with an external SD card or USB stick.
Buy from: Amazon
Micca NEO 15-Inch Digital Photo Frame
The Mica Neo is capable of displaying pictures in high-resolution 1024×768. This portable digital picture frame comes with a 15-inch wide design coupled with a crystal clear LCD screen that shows vivid and contrasting snaps without compromising on its clarity. You get the access to play video files, including MP4 and MKV, at a max 720p resolution. This electronic photo frame comes with a free 8GB additional SD card and supports an external USB stick or SD card.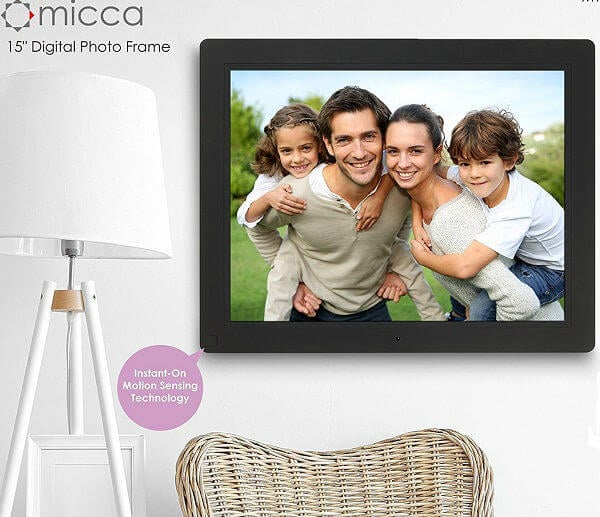 The presence of motion sensors helps to turn on and off the digital frame automatically. You receive a portable remote controller with built-in simplified and necessary switches. An integrated remote control storage slot keeps the remote out of sight yet handily available. Hence you never need to wander off thinking where you held the remote. The accessibility of date and time combined with the reminder feature also adds to its charm.
Note: The Micca Neo comes with an option to connect your headphones. It also accepts all SD cards within a max capacity of 32GB.
Buy from: Amazon
Tenker 7-inch Digital Photo Frame
The Tenker digital photo frame is basically a 7-inch image frame with an IPS LCD display. This digital photo frame is capable of displaying snaps in HD resolution(1080p). The video playback quality is also crisp and supports 720p and partial 1080p videos. Also, with the auto-rotate feature, the digital frame adjusts the picture orientation automatically. Unlike those other digital photo frames on our list, this one here supports more image and video formats.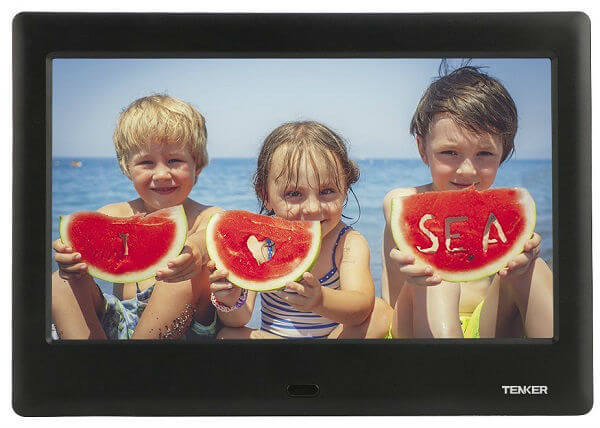 As connectivity features are nil for this one here, you need to manually copy your favorite images and videos from your computer into an external SD card or USB stick. The frame's internal storage is limited to only 8MB, hence equipping an external storage option is necessary. This electronic digital frame lets you access the calendar's prompt date and time. Moreover, you can also play music while it displays your required image or snaps. Access the music settings and play your favorite track, the LCD screen continues to display the selected image without any delay or disturbance.
The Tanker digital photo frame here, being compact, mostly favors keeping it on tabletops and shelves. If you are looking for a small yet elegant photo frame, this one here is definitely a good choice.
Buy from: Amazon
Apzka 10-Inch HD Digital Photo Frame
The Apzka 10 inch digital photo frame comes with an IPS 16:9 LCD screen that displays images in HD quality. This electronica photo frame is capable of playing 720p and partial 1080p videos, including music, with its inbuilt speakers. The motion sensors that come inbuilt with this electronic picture frame detects motion within a distance of 2.5 m and triggers auto on/off when the human activity gets detected.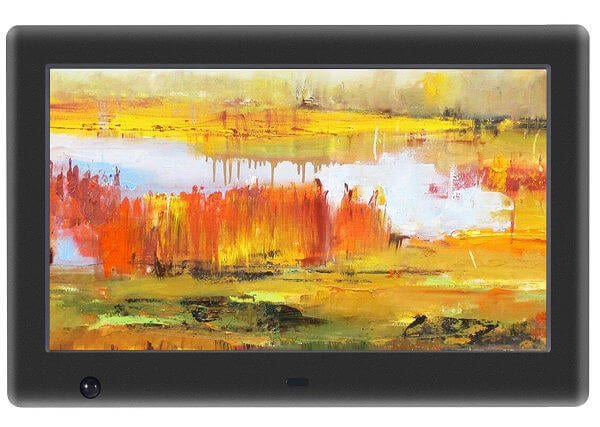 The Apzka digital photo frame comes with an internal memory of 2GB that lets you store your intimate and precious snaps safely. Moreover, it also supports the external SD card, USB drives up to 32GB. Coming to playback settings and features, the Apzka comes with the auto-rotation feature and features background music when you play slideshows too. All you need to do is just to select music from the storage device and sync it with the slideshow. Again, the Apzka supports 14 play effects combined with two playing sequels.
Buy from: Amazon
SSA 21.5 Inch Digital Photo Frame
The SSA digital photo frame is the biggest frame on our list. This photo frame is a 21.5 inch LCD, HD 1080p resolution with a 16:9 aspect ratio. The SSA digital photo frame supports video playback with a full 720p and partial 1080p support. The motion sensors support auto on/off when the human activity gets detected. The SSA digital photo frame supports the support Movie file format: MPEG1, MPEG2, MPEG4, and AVI. Images formats such as .jpg, .jpeg and .png also works well. Like most digital frames, this one here also comes with built-in clock and calendar functions. The clock and calendar also facilitate the reminder feature.
The SSA digital picture frame supports USB and SD card and gets an additional 16GB USB stick with this product. The remote control coming with this huge digital frame helps select transition effects and display settings, including brightness, contrasts, etc. If you are looking for the perfect large wall mount digital picture frame, the SSA is invariably your best pick. With its big size, it could also be used as an ad player when you take it for a professional purpose too. The included USB port is coming with a USB 2.0.
Buy from: Amazon
PhotoSpring 10-Inch Digital Photo Frame
The PhotoSpring 10-inch digital photo frame is quite innovative and modern comes with an IPS LCD screen. This digital frame displays images in true HD quality, and video playback supports 1080p. The standout feature of this electronic photo frame is that it comes with touchscreen navigation, and an inbuilt rechargeable internal battery makes this touchscreen digital frame portable. A full battery charge will last for a little over 4 hours (based on default brightness setting).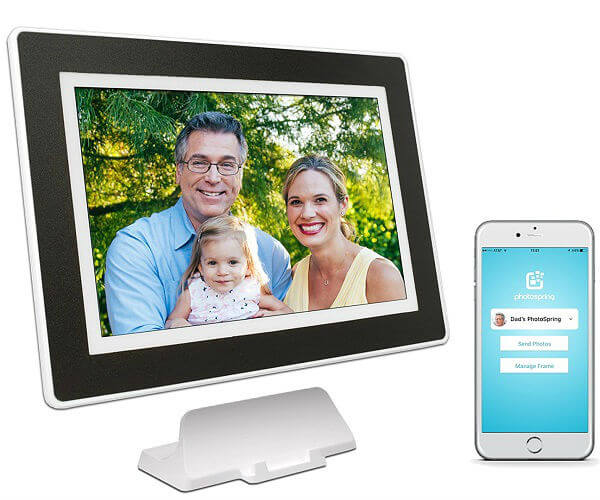 The PhotoSpring is a WiFi-enabled digital photo frame, and you can access favorite snaps by connecting with the PhotoSpring mobile app. The fully automated display lets the frame gather selected pics and sort them to format automatically. A small flaw of this WiFi photo frame you could feel is the absence of the motion sensor. But yet, the access to touchscreen navigation within a reasonable budget makes it one of the best ones to consider when you plan to buy a digital photo frame.
Buy from: Amazon
Micca NEO 8-Inch Digital Photo Frame
The Micca Neo 8 inch digital photo frame houses similar features as that of the Micca Neo 15 inch frame. The IPS LCD display makes the images so vibrant, and the pixel resolution 1024×768 gives you stunning clarity. The only notable difference is the difference in size. This one is suitable to be kept on tabletops and shelves. This digital frame supports the SD card or USB sticks.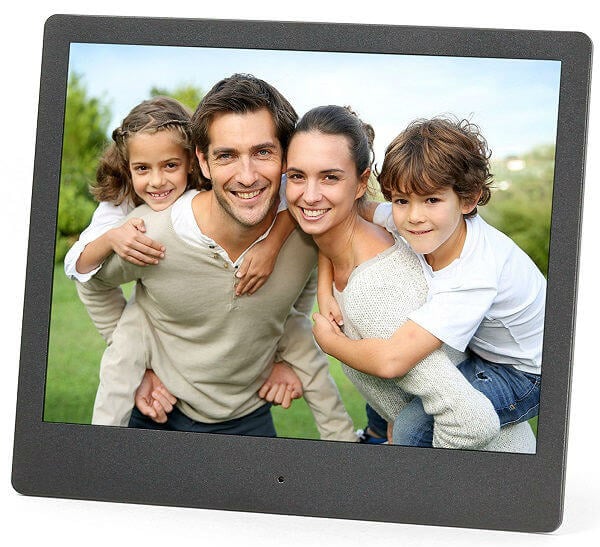 Moreover, the video playback supports up to 720p and plays all video formats, including MP4 and MKV(encoded with H.264 and MPEG4). This compact digital photo frame also features timer-based automatic on/off control to set the photo frame to start and stop based on a daily, weekday, or weekend schedule. You can also Control the photo frame using built-in buttons or via the included ergonomic remote. If you are in the hunt for a compact yet sleek photo frame, this one here is yet another good option to consider.
Buy from: Amazon
The digital photo frames are growing in demand, and yes, its one of the best things to consider if you are planning to gift your loved ones. Seriously, what else matters more than cherishing deep and loving memories? Here, we have compiled some of the best and most convenient digital photo frames from Amazon. These are highly cost-efficient, and WiFi connected Digital Photo frames are good to keep old memories and rewind them from your living room.