You don't need to pay for cable providers if you want to watch the FIFA World Cup Live on TV. There are a few solutions that you can try out at your home to watch the live FIFA World Cup 2018 on your couch. There are paid and free websites and channels available to watch FIFA WorldCup 2018. You may see Roku dedicated channels are subscription-based, and you can pay a monthly fee for your favorite channel. This monthly subscription fee is cheap compared to the monthly cable bill.
For those who want to watch FIFA WorldCup Live for free, better to depend on the live streaming websites and stream to your TV with Chromecast or Roku device.
Update: 10 Best Apps For FIFA World Cup 2022 Updates
Watch FIFA World Cup 2018 without Cable
Before heading to further details, please make sure you have a couple of things ready. You need a smartphone (Android/iPhone) or PC with Chrome browser. (download Google Chrome). You need a Roku (buy from Amazon $29.00) or Chromecast (buy from Google $35.00) streaming device. And finally, your big screen must have the TV connected to this Roku or Chromecast device. For those who have Gaming consoles like Xbox or PS4, there is no need to buy any streaming device. Since you are not using any cable TV, you need at least one of these streaming devices to watch live streaming on TV. If you don't have the FIFA Cup Schedule handy, you can download the calendar to your Android/iPhone or PC.
Watch FIFA 2018 on TV with Chromecast
For Chromecast users, there is no need for any particular app to stream sports. You can open the live streaming site on the Google Chrome browser. The latest Google Chrome browser comes with a built-in cast button that can see on the toolbar. If you don't see the Google Cast icon on the toolbar, update your Chrome browser to the latest version. Once you update, you can see the cast option from Chrome Browser Settings. Please see more details to bring the cast button on the Chromecast toolbar.
Now open the FIFA live stream website on the Chrome browser. We have a list of sports live-streaming sites. FOXSports has exclusive rights to FIA Worldcup in the US, and you can watch the live stream on the official website (Link to FoxSports). Here we used ESPN for the purpose of screenshots. Open the live stream from the FoxSports website with Google Chrome and click on the cast button.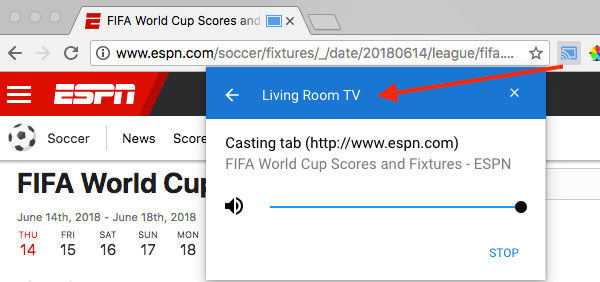 YouTube TV is streaming live FIFA Worldcup 2018 if you already have a membership on YouTube TV. You can open YouTube FIFA TV (
Link to FIFATV
) and play live on your Computer. Alternatively, you can use the YouTubeTV app on Android or iPhone to open YouTube FIFATV. Once you open the app or site, tap on the cast button to cats the live stream to TV through Chromecast. Alternatively, you can depend on any other FIFA live-streaming site to cast to Chromecast, depending on your country's availability. You can use any one of these websites to cast live FIFA World Cup 2018 games to your
big-screen
TV through Chromecast.
Stream FIFA 2018 on TV with Roku
Roku users can also take advantage of the Google Chrome cats button. Roku Supports to cast from Google Chrome. However, there are dedicated Roku Sports channels that can be used to live stream FIFA 2018 on Roku Device and Roku TV. Since FoxSports has exclusive rights in the US for FIFA 2018, here is the FoxSports Roku Channel that you can add to your device to live stream the game.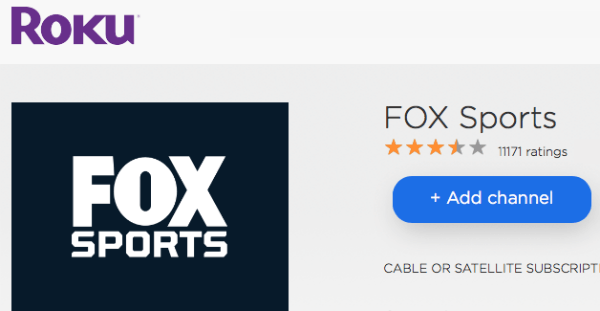 For those who want to watch the FIFA Worldcup 2018 with other Roku Channels based on the country, see below for the list of a few Roku Sports Channels. Again, you don't need to depend on exclusive Roku channels for live streaming. Roku supports any website that opens in Chrome, and you can cast from Google Chrome to Chromecast.
Watch FIFA WorldCup 2018 with Game Consoles
If you have Xbox or PS4, you don't need to depend on these streaming sticks. You can live stream FIFA Worldcup 2018 to your TV through Xbox or PS4 console. Please ensure you have access to FOX Sports or BBC iPlayer (Link to Microsoft Store) with your game console.
FIFA World Cup 2018 Live Streaming Sites/Channels
We listed most of the websites and Roku channels that stream FIFA World Cup 2018. The websites are free to stream on your devices and TV. The availability of these streaming networks depends on your country.
These websites offer free streaming to their own country's IP address. If you see any website is not available in your location, you may have to depend on a VPN service (Best VPN Services).
There is no need to spend money on cable TV to watch FIFA games. You can use these free streaming websites and devices to watch live FIFA games.