The popular messaging giant WhatsApp has added the biometric lock feature on the iOS app itself (Version 2.19.20). The latest feature let you lock WhatsApp on your iPhone either using Touch ID or Face ID. This new add-on will be very useful to prevent someone from viewing your WhatsApp conversations, even if it is not intentional. Also, this new feature comes in handy for parents (like me) to lock WhatsApp before sharing the device with kids.
Now, let's see how to configure this new WhatsApp Touch ID/ Face ID lock feature on iPhone to lock WhatsApp.
Update WhatsApp to Latest Version
Before starting to update the software, make sure that your iOS version is at least iOS 9 or higher. Otherwise, you will not see this new feature. If you have enabled automatic app updates on your iPhone, then you can skip this step. Otherwise, you need to update the latest version of WhatsApp manually.
For that, just navigate to AppStore on your iPhone and search the keyword "WhatsApp". Check if the version number reads 2.19.20. If that version is not updated on your iPhone, then you will see an UPDATE button. Go ahead and tap that button to upgrade WhatsApp.
How to Lock WhatsApp with Touch ID
Follow the below steps to lock WhatsApp on iPhone with Touch ID. If you are using iPhone X or other models which supports Face ID, then you can use Face ID to lock WhatsApp.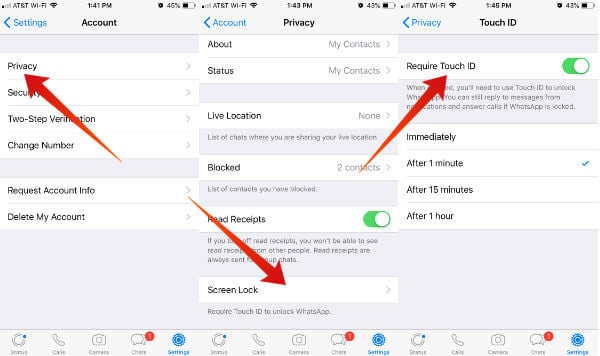 Tap WhatsApp on your iPhone.
Navigate to Settings->Account->Privacy.
Scroll down and Tap Screen Lock.
Toggle switch Require Touch ID to the right.
Next, tap any one of the four options to select the amount of time after which you would like to activate the lock:
– Immediately
– After 1 minute
– After 15 minutes
– After 1 hour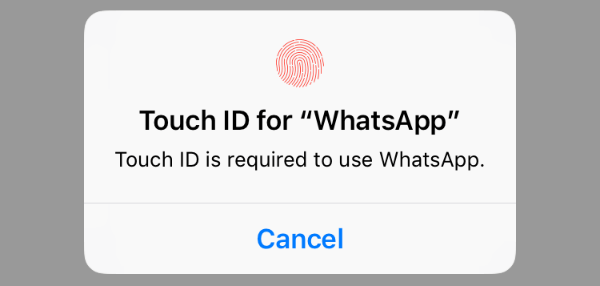 That's it. Now, your WhatsApp will get locked either immediately or based on the time interval you have selected in Step 5. And, you need to use your Touch ID to unlock the messaging app.
Can You Answer Calls if WhatsApp is Locked?
Yes. If you receive a WhatsApp voice/video call from someone while the app is locked, it allows you to answer the calls. Once you finish answering that call, it displays the message "WhatsApp Locked" and you need to use your Touch ID to unlock the messaging app.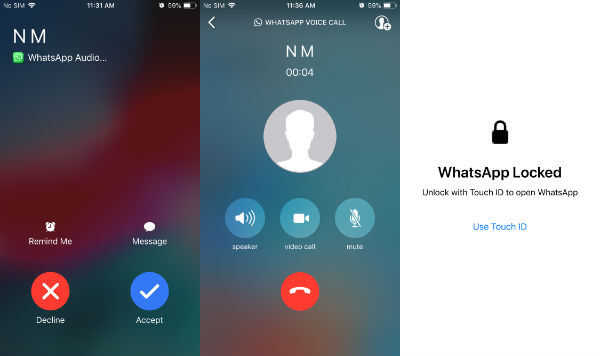 Can You View Messages If WhatsApp is Locked?
If the Show Preview for WhatsApp is enabled on your iPhone, then you can view the message previews on your Notification center, even if your WhatsApp is locked. However, you need to unlock the app either to reply to the sender or to view the full message.
Related: 19 Hidden WhatsApp Tricks and Tips for iPhone/Android
Is it Possible to Lock WhatsApp on Android?
There is no solution rolled out yet for WhatsApp on Android users. However, we can wait a while to roll out the new update for Android users to get the TouchID or FingerPrint lock features for WhatsApp. Until then you can depend upon the free Android Apps to Lock WhatsApp and Facebook.
What About WhatsApp PC Version
There is no solution released for WhatsApp Windows or Mac version yet. Even though you can lock the WhatsApp on iPhone, still you can see messages on Windows or Mac if you already set up the same account in your PC. Let's hope the developer team will roll out the feature to PC and Android version soon.
What's Missing?
If you are having an older model of iPhone (like iPhone 5), then you will not be able to use this feature as the Touch ID/Face ID is not available on them. It will be really helpful if WhatsApp adds a passcode option to help those users.
We hope you should have got a clear picture of how to lock WhatsApp on iPhone with Touch ID/Face ID. And, we highly recommend the users to enable this additional security measure. Now no one can access your WhatsApp chats, even if your iPhone is stolen, lost or missing.