Managing the Instagram page of your business is already easy with so many additions Instagram added recently, including the post scheduling. The new Instagram Guide now lets you curate and group your posts under different titles. Thus your followers can find your curated content easily and explore what you have to offer in a better way.
Here, we will guide you through how to set up Instagram Guides to curate post contents as your wish.
Recommend Curated Content to Followers Using Instagram Guide
Your Instagram followers will see all the posts on your profile but scattered. You might have posted related content at different times. But, your followers might not catch all of them at ease. You can solve this with Instagram Guides. You can group multiple posts and videos and curate them into a blog-like post for your followers to get relevant content quickly.
See how we used Instagram Guide to help you find product reviews quickly. You can go ahead and open the "Best Gadget Reviews" guides on our Instagram page. We curated it with the review videos and posts we have published so far on our page. Let's see how we did it.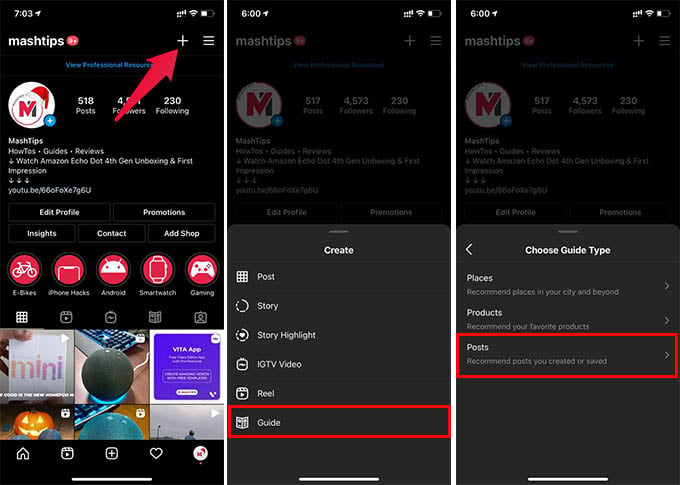 Open the Instagram app and go to the profile tab.
Tap the "+" icon at the upper-right corner.
Choose "Guide" from the menu.
Tap the "Posts" option.
Select your posts from the next window and tap Next.

Give a Title for the Guide with a description. (Give a common title, you can add multiple posts under the same topic).
Give a title for the posts you added and tap Next.
Tap Share from the last screen to share the Guide to your profile.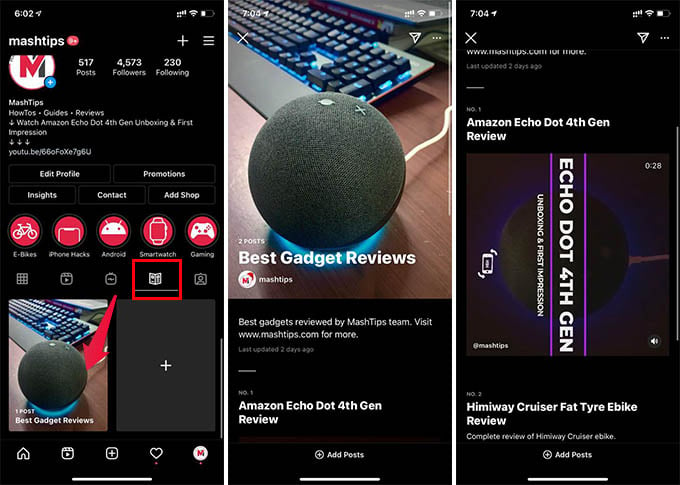 Related: How to Use Instagram QR Code to Get Followers for Your Business
Now, a new tab will appear on your profile. You can find it left to the tags tab on your Instagram profile. Your followers can now find curated posts by you from the Guide tab. Apart from the posts, you can also recommend places and products on Instagram Guide.
Just like normal posts, you can share Instagram Guide with others. Also, you can put it on your stories so that your followers can easily find your curated posts Guides.