Making a group video call to all members of a WhatsApp group can be done with a single click. But, if you want to make a group call by selecting specific people from your contacts, it will take some time as you need to add the participant individually. WhatsApp has a call-sharing feature called Call Links to make group calling easier.
You can create links for making WhatsApp calls, and anyone with the link can join. Want to know how? Let's take a detailed look.
What Are WhatsApp Call Links?
For those uninitiated, WhatsApp group calls have been around for a long time. However, to video call multiple people on WhatsApp, you had to create a new group and add those people in if there wasn't such a group. This was in line with what most communication apps were offering. Similarly, WhatsApp conference calls were just like regular conference calls on the phone. You had to call up each person individually, one by one.
You might have seen the call links in video conferencing apps like Google Meet, Microsoft Teams, or Zoom. You can start or join a call by just clicking on the link. Apple iPhone users can already create FaceTime links to video chat with anyone, even someone who does not use an iPhone or Mac.
Over on Zoom and other alternatives, you could simply send people a link that they could use to join your online meeting. Now, you can do the same for WhatsApp group calls or WhatsApp conference calls.
Likewise, WhatsApp will allow you to create direct call links for audio and video calls, and you can share that with your contacts. Once they get the link, they can join the WhatsApp call anytime, even while the call is in progress.
WhatsApp has also announced that group calls will soon support up to 32 participants. That being said, the call link feature will help to make WhatsApp group calls much easier.
Related: How to Record WhatsApp Calls on Android and iPhone
How to Create and Share Call Links on WhatsApp
The WhatsApp Call Links feature will soon be rolled out to iPhone and Android users. Once you have the updated WhatsApp on your phone, you can create the call link from the CALLS tab.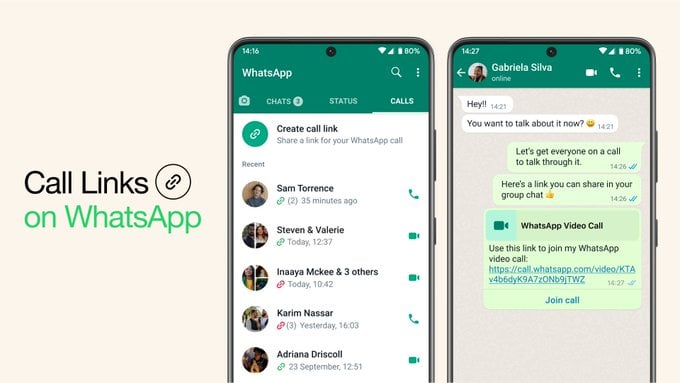 Open WhatsApp.
Head to the Calls tab.
Tap on Create Call Link at the top.
Select a Call Type from Video or Voice. By default, it is set to Video.
From here, tap on Send link via WhatsApp, Share Link, or Copy Link and then share the link via any apps you prefer and to the people you want to send the link to. Keep in mind, however, that unlike Zoom or Google Meet, anyone can join your WhatsApp meeting or group calls if they have the link.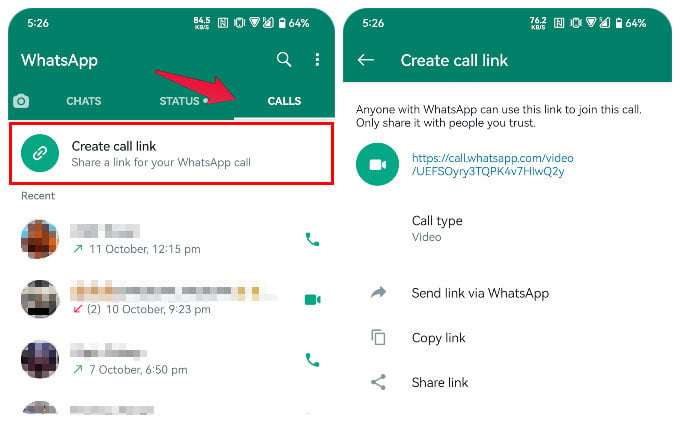 There's no additional security, such as a passcode, involved. Therefore, only send links to people you know and trust. WhatsApp call links expire automatically in 90 days.
Another difference between Zoom, Google Meet, etc., and WhatsApp is the lack of web support. If you send someone a link to a Zoom call, for instance, they don't necessarily need to join you from the Zoom app on their phone. Users can join Zoom calls on a PC from the web. That option isn't available in the case of WhatsApp meetings or group calls. So, if you send a WhatsApp call link to someone who doesn't have WhatsApp, they will be redirected to download the app from the App Store or Play Store.
Related: How to Blur Background in Video Calls on iPhone Using WhatsApp, FaceTime, Instagram, Messenger
Limitations of WhatsApp Call Links
According to WhatsApp, the call links will expire 90 days after you create them. If you share the call link with someone who doesn't use WhatsApp, they will be redirected to download WhatsApp from Google Play Store or Apple App Store.
The WhatsApp Call Links feature is a welcome move and might be an alternative for video conferencing calls on Zoom and Google Meet.
FAQ
Can you use WhatsApp to call someone without WhatsApp?
No, you cannot call someone on WhatsApp that does not already have WhatsApp. This is true for WhatsApp voice calls as well as video calls, conference calls or WhatsApp group calls.
How can I call from WhatsApp?
There are several ways you can call someone on WhatsApp. You can either press the video or call button at the top of the chat thread or head over to the calls tab.
Can you join a WhatsApp call?
If the WhatsApp call was started in a group, you could head to the group chat and tap Join call if the call is still ongoing. Alternatively, if you were sent a link to a WhatsApp call, you can click on the link to join the call.