Do you think you are overpaying for the landline? Well, we can help to set up an absolutely free home phone with monthly zero dollar payment. This workaround is going to show you to save money on your residential phone bill by obtaining a free landline phone number with no extra charge. You don't need to worry about monthly or yearly telephone charge with this free landline phone. This is going to cost you a one-time device price less than $70.00 for a lifelong free landline phone connection.
This workaround is using the Google Voice Account with OBi device that allows you to make US and Canada unlimited calls for free.
An Active Google Voice Account
The Google Voice account is a free service from Google and currently available for US and Canada residents. You can set up a Google Voice Phone account and obtain a free Google Voice number for free with an active Google Account. For those who do not have a Google Voice Account and like to get one, check here to get Google Voice Account for free.
Even though Google Voice account is free, there are a lot of Google Voice features that you can get with your Google Voice account. Even you can set up Google Voice account with Google Home to make calls directly from Google Home.
Landline Home Phone
Well, most of us are familiar with the handphone with a connector that connects to the wall socket connector.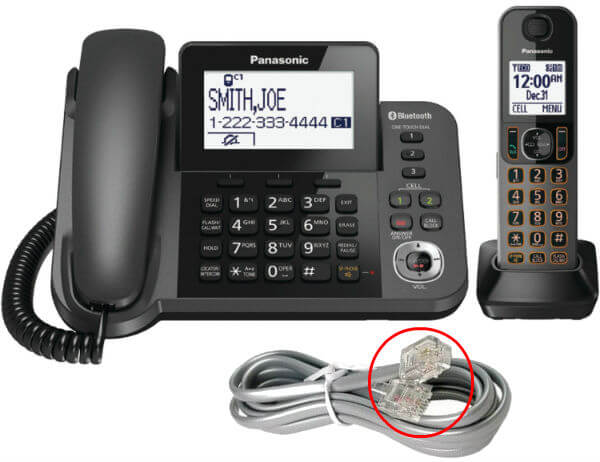 Home phone is using the RJ-11 cable to connect the wall socket for a landline connection. You can use your existing land phone that used before for the landline service. There is cordless
two headset land phone is on Amazon
 for $85.75.
A VoIP Device (OBI Device)
This is the last item you need for this workaround to get a free home phone number. OBI device is a VoIP box that is using to connect your landline phone device to the home internet router. This device has one ethernet port (RJ-45) that connect your router. The second port is the RJ-11 landline port that can directly connect to the home phone cable.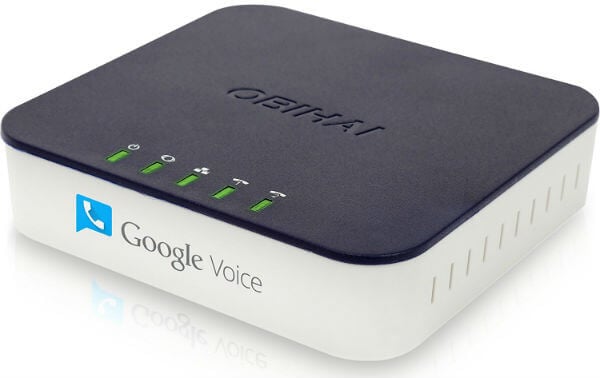 The cost is less than 50.00 USD for a basic device and that is only one-time device cost you need for this free landline setup. There is no yearly fee or monthly cost for this setup as long as you have Google Voice number, OBI device, and an internet connection.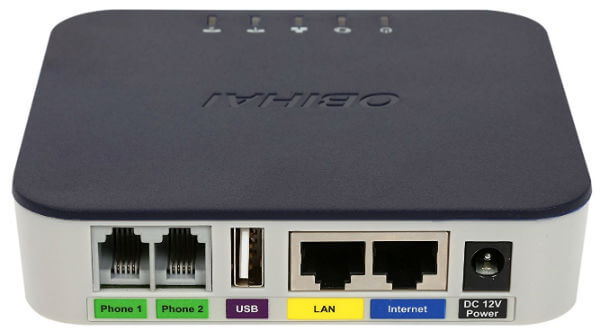 OBITALK VoIP service offers different products and the basic device OBi200 VoIP Telephone Adapter costs 49.99 from Amazon that has one port VoIP phone adapter with Google Voice and Fax Support. It supports up to 4-VoIP services such as a multitude of SIP-based VoIP services plus OBiTALK calling. The OBi200 box is perfect for customers who do not have a traditional telephone service and want the savings and simplicity of using a VoIP service for all their calls. The OBi202 is available with 2 port VoIP phone adapter with Google Voice and Fax Support cost $74.99 from Amazon.
Setup Google Voice on OBi Box
This OBI VoIP device let you set up your Google Voice Number as a land phone number by login into the built-in software for OBI device. You don't need PC or any additional connection to PC for this setup and OBI works independently with your WiFi or Ethernet router.

The setup of Google Voice and OBI Device is pretty easy. First of all, connect your OBi device to Home Router with the ethernet cable coming with the OBi Box. After connecting the device, you have to register OBi device on OBIHAI website.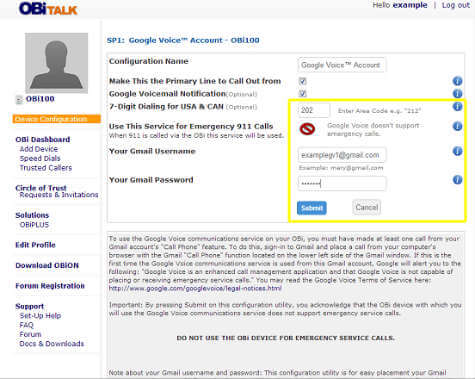 Now you have all the instruction to go forward on the website. Please follow the instructions from site to finish your setup. Once you finish the device configuration change the voice setting of Google voice to forward the calls to Google Chat.
Related: How to Forward Google Number to Your Landline or Cell Phone
Once you set up the OBi device with the Google Voice account, the next step is to connect the home phone to the OBi box with an RJ-11 cable that coming with OBi device.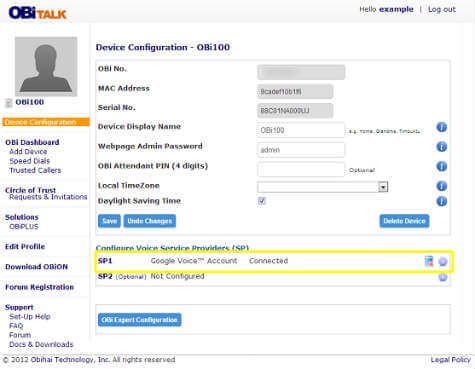 Now you have to forward calls to Google Chat to start using your free home phone with Google Voice account. See the instructions from this article to see how to forward the calls to Google Chat, that is all you need to start to make calls from your land phone.
This setup is completed now and you can receive and make calls for free to US and Canada. Here are the things you need to know before you start the setup for a free landline:
1, This workaround is applicable to only US and Canada residents those can get a free Google Voice Number.
2, By default, Google Voice does not support emergency calls like 911 in the US. You can't depend on this solution for emergency calls. But those who want to get an emergency 911 call service from the landline can get with Anveo and OBi Device for $25/year.
3, Are you getting a lot of spam calls to your current Google Voice number? Well, you can easily change your home number to another one. The only thing you have to do is setup the OBi device with a new Google Voice account and your landline will change to new Google Voice number.
We tested the OBi device and Google voice account for Fax line and works fine. You can use the same setup for your Fax Line using the same OBi device or you can set up two separate devices for FAX and another device for your Landphone.
My favorite feature of this setup is the quick solution to change the landline number to any available Google Voice Phone Number. This is a cool feature to switch phone number if you are moving from one state to another state and already have a registered local Google voice number for your new location. If you have multiple Google voice phone account, you can switch those Google accounts and that switch the local number of your land phone to different Google Voice Numbers.