Cricket is one of the most popular sport having about 2.5 billion fans around the globe; loved to be played and watched. But now people are too busy with their lives to even watch a match live. When you are free or have some spare time, there are always chances that your favorite match might get missed due to accessibility or some other problems. With the help of these apps just get live scores while in office or college.
Here are some apps for Android that bring real-time updates and scores of cricket match and tournament.
Cricbuzz Cricket Scores & News
It is a quite well-known app for ascertaining Cricket updates and live score. It is fast and has an easy to use interface giving you the live score of the present match in progress along with ball-by-ball documented commentary.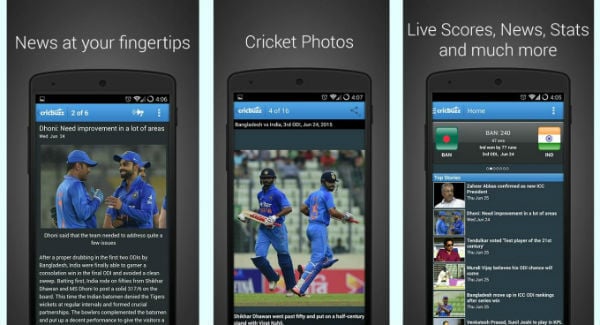 Cricbuzz offers you the feature to make up for notifications for the matches to get an instant update when the match is going to start. It covers all the major leagues and updates of every possible match.
PlayStore Link: Cricbuzz Cricket Scores & News
Related: Top 8 Virtual Reality Games for Android that is completely free.
The ESPNcricinfo Cricket App
As the world's largest sports network, ESPN has covered nearly all sports present in all around the world. For the cricket fans, they offer The ESPNcricinfo Cricket App with the best coverage of Cricket News, Updates and Live scoreboards growing bigger and bigger each passing day.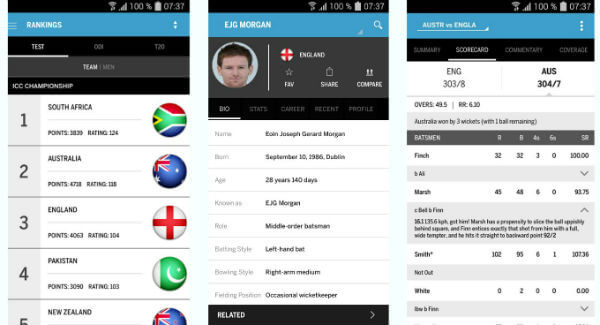 You can get engaging content with the snippets, stands, and others along with the feature to compare the statistics and profile of the players playing for diverse teams.
PlayStore Link: The ESPNcricinfo Cricket App
Star Sports Live TV
Widely known for the coverage of diverse sports, Star Sports Live Cricket Score has several features, making it unique than others present in the same ecosystem. Through the app, you can get live match schedules, fixtures and results as well as the tournament standings with points.
As they say, nobody covers live matches like we do, it is quite true being a comprehensive app having the characteristics to take a look if more than just basic score updates are needed.
PlayStore Link: Star Sports Live TV
ICC WT20 Cricket
Want to stay ahead from your friends and colleagues in cricket updates, then you can rely on the ICC WT20 Cricket app to get the exclusive updates and info about the present tournament.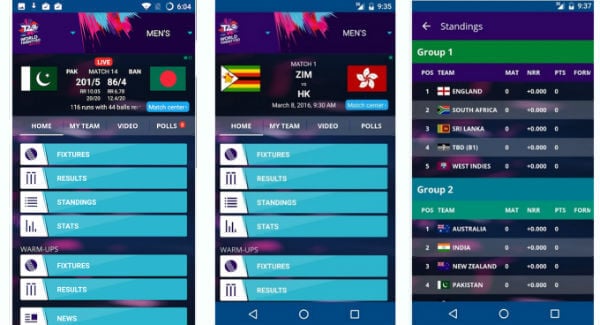 The application states that they provide the fastest commentary in ball-by-ball form, which is relatively true. Along with real-time score updates, one can watch videos with the highlights that stream on the app in a fair manner.
PlayStore Link: ICC WT20 Cricket
crictich T20 Live Cricket
Get real-time feeds and score information from crictich T20 Live Cricket regarding the ongoing Twenty20 tournaments and international T20, ODI and Test cricket.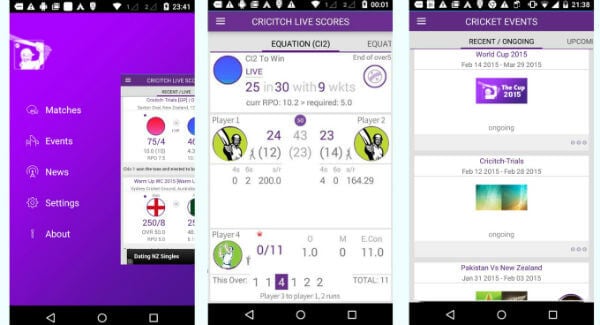 Even if you have a slow internet connection on your device, the app functions properly allowing you low bandwidth usage. Enjoy cricket at its best through the app.
PlayStore Link: crictich T20 Live Cricket:
NDTV Cricket
Another fantastic cricket application that allows you to deliver the latest updates regarding the scores of the matches, stats, and news to your Android device.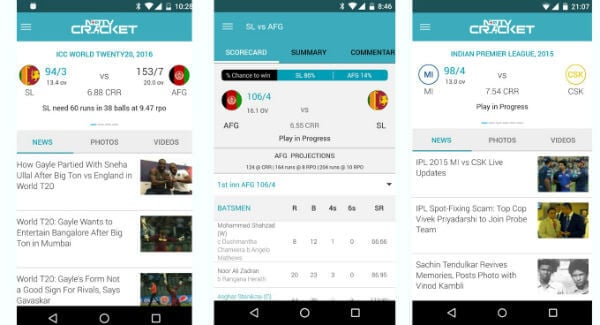 As a die-hard cricket lover, you will like the smoothness of the application. You can also stream the live matches on the app and get the latest scoop, photo as well as updated stats of your favorite players and team.
PlayStore Link: NDTV Cricket
Related: 8 Best Chromecast Free Movie Apps for Good Quality Movies
If you want to stay updated to the ongoing match, then you can easily opt for real-time scoring applications, allowing you to save time instead of watching the whole match. Never miss any shot or ball of the tough match, whether you are outside your home, in office or college, get the ball by ball score of the matches with these real-time cricket score apps.