Are you worried that one of your contacts is neither replying to your texts nor answering calls? Don't jump to the immediate conclusion that someone had blocked your number on Android. There might be some reason for your contact to ignore your calls/messages. For example, sometimes people might be working late for a week or so to meet their project deadlines. Or they might have enabled Do Not Disturb mode on their devices and they won't get notifications about your calls or messages. Or they might be staying in a location with the poor network coverage. Hence, it is better to wait for a couple of days to a week.
In case you are not getting any messages or calls from your contact for a long time, then you can try out one or more of the following options on your Android phone to know if someone had blocked your number.
Content
1. Count Number of Rings
Do you hear a single ring when you dial that contact before being redirected to voicemail? Sometimes, your contact might be on another call or their phone is switched off. So, wait for some time before making a call again. Still, if you get only a single ring or your call is redirected to voicemail right away, then you can suspect that your number might be blocked by that contact.
Also Read: How to Find If Someone Blocked Your Number on iPhone
2. Send a Message on WhatsApp
These days, the majority of Android users prefer WhatsApp over traditional text messages. Of course, it is popular among iOS users as well. In case your contact is available on WhatsApp, send a message to him/her. If your message is delivered, then it is very likely that you are not blocked. However, if you see only a single tick to your message for a long time, then it is not good news.
Even though there are other reasons to get single like poor network connection, mobile switched off, etc, you should check whether you are blocked by that particular contact on WhatsApp as well. If you don't know how to do that, you can check out our article to know if someone blocked you on WhatsApp.
Even though you see someone blocked your contact on WhatsApp, it doesn't mean that you ate blocked from calling them direct. WhatsApp and phone calls are two different ones and not affect each other.
3. Hide Your Caller ID
Is your contact not using WhatsApp? Then, it is not possible to try out the above option to find out to know if someone blocked your number on Android. Still, you can find if someone has blocked your number by hiding your Caller ID.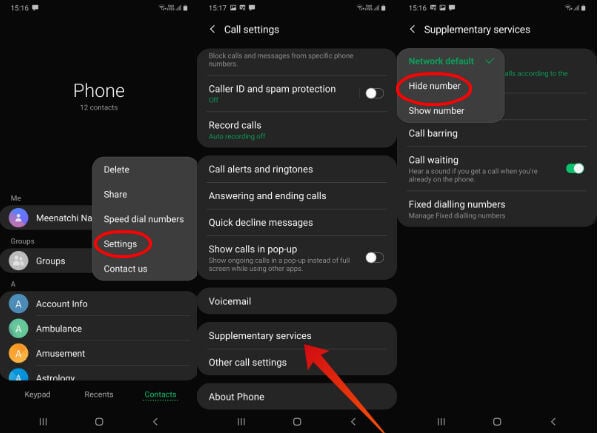 On your Android phone, launch the Phone app.
Tap three-dot or More icon located on the top right of your screen.
Tap Settings from the list of options.
Next, tap Supplementary services->Show my caller ID. (This setting will vary based on your phone manufacturer. Just search for the text Caller ID in your phone to find the correct menu option)
Tap Hide number to hide your caller ID.
Now, make a call to your contact with your hidden caller ID. If you contact either answers the call or the phone is ringing normally without getting redirected to voicemail, then it is very likely that your number is blocked. Otherwise, you have to assume that your contact is not in a position to answer any calls for some reason.
Also Read: How to Make Anonymous Calls from Android & iPhone
4. Call from Another Number
You don't like the concept of hiding caller ID? Fine. If you have a second number or a landline phone, call that particular contact from that number. Or you can borrow the phone from other family members residing in your house and make a call. Alternatively, you can ask a mutual friend to call that contact. If your suspected contact, answers the call in any one of the above-listed scenarios, then it is confirmed that only your number is blocked.
5. Check with Messaging/Social Media Platforms
Even if your contact is not using WhatsApp, he/she must be active on other messaging or social media platforms like Facebook, Instagram, Telegram, Snapchat and more. Try to send a message to your contact on other platforms. Or you can even try sending an email as well. Still, if you don't get any response at all, then it is clearly understood that your contact is not interested in having a conversation with you. So? Instead of spending your precious time to figure out why your number is blocked, just forget about that contact.
What to Do If Someone Blocked Your Number?
Let's assume that you have tried one or more of the options listed above and you came to the conclusion that your number is blocked by one of your contacts. Now, the next question is: What to do? Well, if your number is blocked by someone, then you cannot do anything about that. In case it is very crucial or important to get in touch with that contact, then you can meet him/her to find out the person. Or you can try to get the help of a mutual friend.
Do remember that if you get a 'Yes' answer in one of these options, there is a possibility that your number is blocked. However, there is no standard method available at the moment to know if someone had blocked your number on Android.
However, you should remember that it is not wise to disturb someone if they are not interested in having a conversation with you. Plus, you might get yourself into trouble, if your contact reports your behavior to police or other legal councils.