Generally, most Fire TV users are not aware of the complete features as they just stick to opening apps like Prime Video or Netflix to watch their favorite movies or TV shows. Apart from simply watching movies and streaming music, there are many other things you can do to make your life easier with the TV.
Here, we have listed some of the best tips and tricks you need to learn about your Amazon Fire TV stick to experience new features.
Use Your Phone As Remote
Do you feel that you are changing the batteries on your Fire TV remote frequently? Or is your remote not working properly and getting stuck in between? Instead of spending money on new batteries or fiddling with your remote to fix it, there is a better solution. You can just download and install the Fire TV Remote app on your iPhone or Android and start using your phone as a remote.
Amazon Firestick Remote App: iPhone| Android
As long as your phone and Fire TV are connected to the same Wi-Fi network, the Fire TV remote app will work perfectly.
Stop Movies From Playing Automatically
Are you annoyed with the automatic preview of movies or TV shows while you are just browsing the titles on your Fire TV home screen? This happens because Firestick automatically plays the preview of featured content by default. However, you can easily avoid that by navigating to the Preferences menu in Fire TV settings and disabling the autoplay. Check out this post on How to Turn Off Autoplay in Fire TV to stop movies/TV shows from playing on their own.

Sideload Apps to Firestick
Are some of your favorite Android apps not available on the Amazon Appstore yet? Fortunately, Firestick allows you to manually install or sideload an app from your Android phone or tablet. For that, you just need to change some settings on the Fire TV and pair that with your Android device. We have published a detailed post on How to Sideload Apps on Fire TV stick. Before sideloading, just ensure that the app you want to install is safe to use.
Speed Up Your Fire TV
Do you feel that your Amazon Fire TV is streaming movies at a low speed or getting paused in the middle? If you are not subscribed to a high-speed internet connection, then you can't do much to increase the speed. However, if you experience buffering issues even with a high-speed connection, then you need to check whether your Firestick is updated with the latest software.
If you are using VPN, then try turning that off and checking the streaming speed. Still, if it didn't resolve, try restarting your Wi-Fi router and Amazon Fire TV. Also, it is good to get rid of all the unused apps installed on your Fire TV to avoid buffering issues.
Disable Ad Tracking
Do you know? Advertisers can learn a lot of information about you by monitoring your streaming behavior. Though they use that to show similar content based on your interests, it can be a concern of privacy for some users. Fortunately, you can configure the Fire TV settings so that your device ID will not be shared with the advertisers. To do that, go to Privacy Settings in the Preferences menu and turn off Interest-based Ads. Though this will not help you to get rid of the ads completely, your profile will be kept private and not shared with advertisers.

Parental Control Settings
Are your kids watching cartoons or movies on Fire TV? Then, you need to make sure that they get access to only content relevant for their age. To do that, enable the content restrictions based on their age by visiting Preferences > Parental Controls on your Fire TV stick. For example, if your kid is not a Teen, then select the option Family. Likewise, there are other settings like General, Teen (13+), Young Adults(16+), and Mature (18+).
In addition to setting content restrictions, don't forget to set a PIN for your profile so that your kids won't get access to content inappropriate for their age. To learn about setting up parental controls, read our guide on Fire TV Parental Controls.
Protect Your Data Privacy
By default, Amazon will collect the user data related to App Usage and Device Usage on your Fire TV. i.e it will store information regarding the apps downloaded and the usage of your Firestick. To turn off this data collection, go to Settings > Preferences > Privacy Settings. In the Privacy Settings menu, set the value for the fields Collect App Usage Data and Device Usage Data to OFF.
From now on, your usage data will not be gathered by the company for marketing or product improvement purposes.

Connect Bluetooth Headphones to Fire TV
Do you want to watch movies at late night on your Fire TV? Well, if you are watching TV in your living room at night, it might disturb the sleep of other members in your family. To avoid that, you can just connect your Bluetooth headphones to the Amazon Firestick and enjoy watching the movie alone.
Go to Settings->Controllers & Bluetooth Devices->Other Bluetooth Devices. Make sure your headphone is turned on and connect it to your Fire TV. If you need any help in doing this, check out How to Connect Bluetooth Headphones to Amazon Fire TV.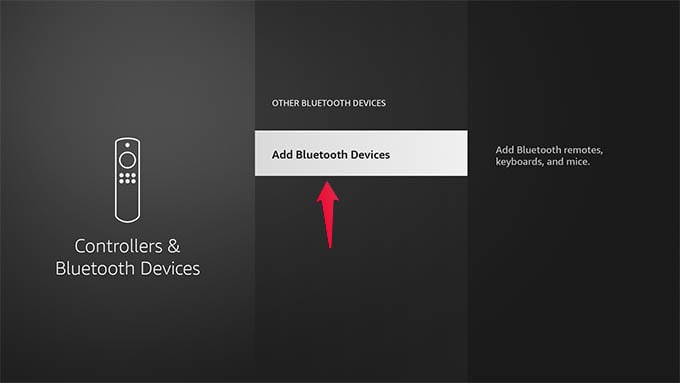 Not only headphones, you can also connect a Bluetooth keyboard/mouse to Fire TV based on your need.
Create Different Profiles for Kids and Adults
If you are sharing your Prime Video subscription with your kids or other family members, then it is better to create individual profiles for them. Using a single Amazon account, you can create up to 5 additional user profiles. Keeping different profiles will help you to organize your home screen in a better way. Also, you can monitor the content watched by your kids and control their screen time. If you are new to the streaming world, you can read our guide on How to Create Multiple Profiles on Fire TV.
Cast Photos From iPhone To Firestick
Do you wish to see your recent trip photos on a bigger screen, but you don't have a smart TV? No worries. You can easily stream your local photos/videos on your iPhone to Amazon Firestick with screen mirroring. Since AirPlay is not available on Fire TV, you need to install a third-party app on Firestick to cast photos or videos from your iPhone. You can check out our post on How to Cast iPhone to Firestick where we have listed a bunch of apps to mirror your iPhone on Fire TV.
Well, we hope that the above-listed tips and tricks will help you to explore the full potential of Amazon Fire TV. Have we missed anything? Please feel free to share that in the comments.