Whether you are watching free content on YouTube or a paid subscription on Amazon Prime/Netflix, you cannot avoid Ads. Some ads may be based on the content you watched or searched for recently. Though you cannot eliminate Ads completely, you can limit ad tracking and showing ads related to your search.
In this post, let's see how to remove Ad tracking in Amazon Fire TV and protect your privacy.
Disable Interest-based Ads on Fire TV
When you turn on the Fire TV, you will see the personalized content recommendations on the home screen. Though these suggestions are mostly based on your watch history, some of them will be an advertisement. Sometimes, these ads become so annoying that TV shows like the ones you watch appear on the home screen of Fire TV. In order to stop Ad Tracking, you need to modify your privacy settings.
Related: Firestick Automatically Playing Movies? How to Turn off AutoPlay in Fire TV
On your Home screen, click the Settings (gear) icon located at the end in the middle of the screen.

After you select the Gear icon, you will see a list of options displayed below that. Scroll down and click on Preferences.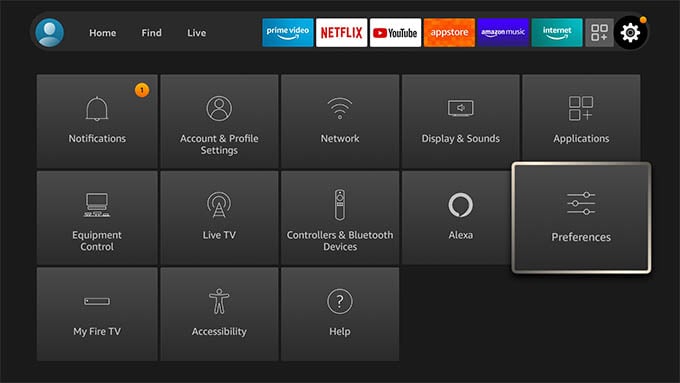 In the Preferences menu, click on Privacy Settings.

From the Privacy Settings screen, click on Interest-based Ads and make sure it is set to OFF.

If the setting is turned OFF from ON, you will see the following confirmation screen. Go ahead and click on the Turn Off option.

Once you do that, the Fire OS will not provide the advertiser ID value which is unique to every device. And, the apps will be instructed not to use your advertising ID to build profiles and show Ads based on your interests.

You can also turn off the other settings Device Usage Data and Collect App Usage Data to avoid the display of marketing offers from Amazon.
Well, this method will not help to completely get rid of Ads, but it will ensure that your profile will remain private and no more annoying ads are shown in the Firestick when your kid opens it the next time. If you want to protect your kids from seeing unnecessary content on Fire TV, you can create a child profile and lock adult profiles on Fire TV.