Brain training games and apps help you improve your memory, thinking, and focus to better handle the demands of your daily life. People of all ages, from children to elderly people, can improve their cognitive abilities, such as reaction time and ability to reason.
Taking that into account, we have gathered some of the best brain training apps and games for iPhone users.
Peak – Brain Training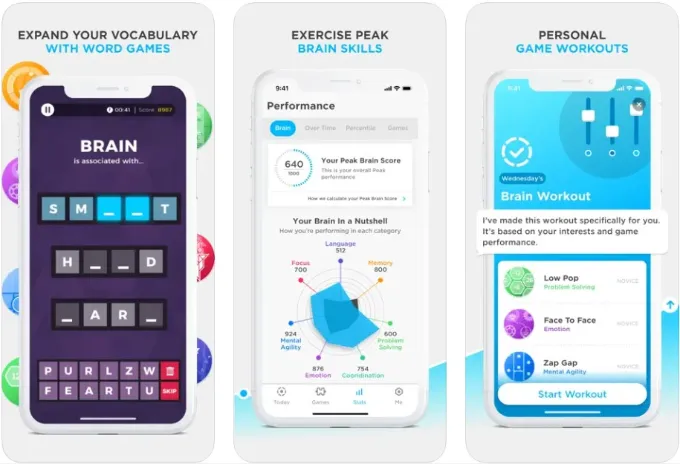 Peak has more than 45 games in six categories, all designed with your needs and abilities. You can play various games or take on a new challenge each day with one of our many Daily Workouts.
The app will also show you insights about your efficiency to assist you in supporting your own growth and development and provide you with data-oriented feedback. It has daily brain workouts to improve your memory, awareness, problem-solving, and other cognitive abilities. Language, coordination, and emotional control all play a role in mental agility.
Use skill-based workouts like Coffee Break, Weakest Link, Low Rank, and The Total Workout to get in shape. You can access their Advanced Training modules, which were developed by researchers and academic institutions.
Pros:
Wide variety of challenges
Data-oriented insights
Cons:
Deducts points if challenges are lost
No Google Sign-in
Key Features: Multiplayer Mode | In-depth Insights | Daily Brain Workouts | Advanced Training Modules
Download: Peak – Brain Games (Free)
Related: These Apple Watch Games Are the Best Ways to Get Rid of Boredom
Brain Dots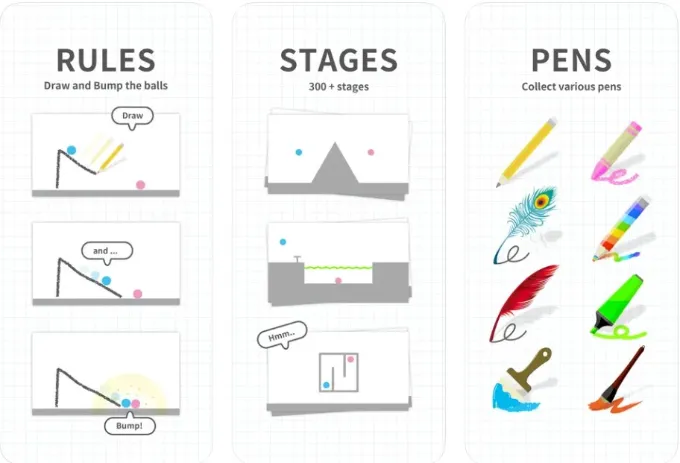 Translimit's Brain Dots is addictive and enjoyable. Take any steps necessary to bring the two dots together and into contact. Draw various structures, including ramps, hills, and bouncy lines. Brain Dots also claim to increase the cognitive thinking skills of children.
Let your creative juices flow and come up with as many different solutions as you like. The levels may appear simple at first, but you'll quickly learn that they are far more complex than they appear, making victory all the sweeter. As you progress, various pens and pencils in various shapes, sizes, and colors are available.
Pros:
Increases problem-solving ability
Fun game to play
Key Features: Create own stages | Simple UI | Enhances creativity
Download: Brain Dots (Free)
Threes!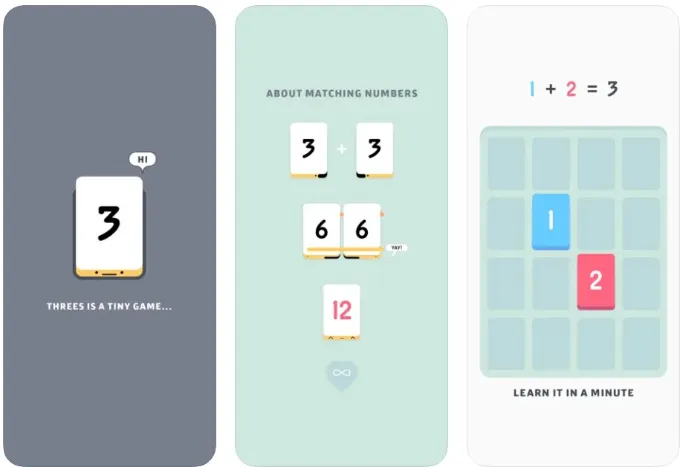 In Threes, you slide numbers and make multiples of three while attempting to score the most points possible to reach the highest score.
There is only one way to play Threes. The game's goal is to obtain high scores by grouping numbers to make threes, then combining those to make sixes, then combining those to make twelves, and so on. Swiping the screen to move similar numbers together accomplishes this.
However, it's essential to remember that swiping the screen moves every digit at once. Every time you swipe the screen, a new number is added to the grid.
Pros:
Endless challenge from one simple game mode
A heart-warming soundtrack
Key Features: An endearing cast of characters | Addictive Card Game
Download: Threes! (Free)
Related: 12 Best Puzzle Games for Android Users
Eidetic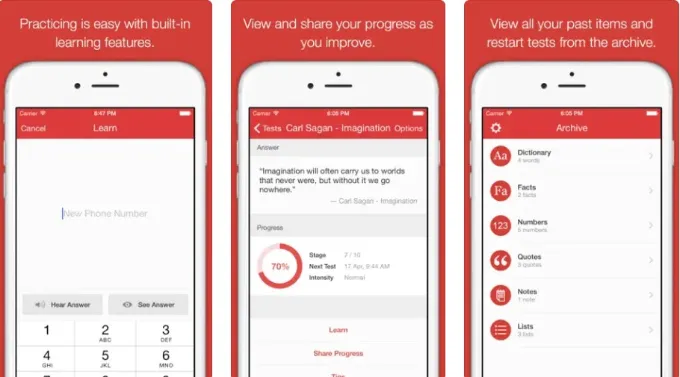 Eidetic employs a method known as spaced repetition to assist users in learning new information, whether it is important contacts, exciting words, or interesting facts. In contrast to other brain training apps, it uses items that have context and meaning to train the brain. An excellent tool for anyone needing to remember phone numbers, new account information, or interesting facts and quotes they've come across!
Notifications will jog your memory when it's time to put your knowledge to the test in Eidetic. Because of the spacing effect, it is easier to remember what you've learned over time if the tests are spread out over an extended period.
Pros:
Tasks need repetition
Good for memory
Cons:
No way to turn off DND
Frequent crashes
Key Features: Spacing effect | 3 intensity levels
Download: Eidetic (Free)
Elevate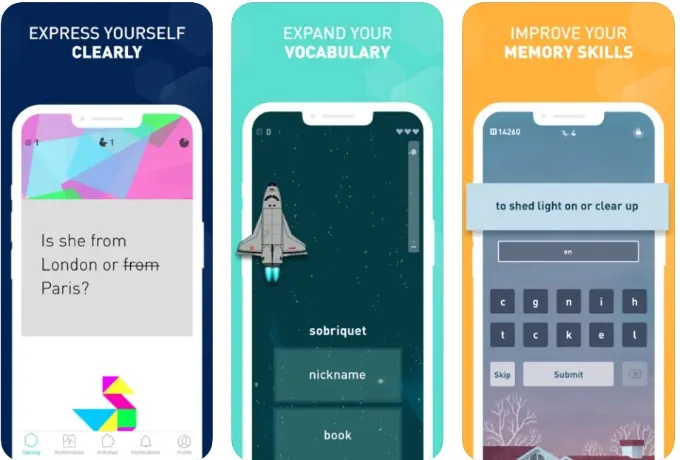 Elevate is a brain training program that aims to improve a user's ability to concentrate, as well as their speaking skills, processing speed, memory, mathematical abilities, and more. Every individual receives a custom-tailored training program that can be modified according to their progress over time and is designed to produce the best possible outcomes.
It has 40+ games to improve focus, cognition, processing, math, precision, and comprehension, among other critical cognitive skills. Weekly or biweekly workouts tailored to your specific abilities and goals allow for a gradual increase in difficulty to keep things interesting.
Pros:
Adaptive difficulty progression
Workout calendar to help you stay motivated
Cons:
Not too challenging tasks
Key Features: 40+ games for critical cognitive skills | Detailed performance tracking | Brain training algorithm
Download: Elevate (Free)
Related: 20 Best iPhone Apps You Must Try Out
GEIST
There are over 720 levels in 24 mind games to train your memory, logic, concentration, reaction, and math skills in GEIST. This app combines stunning graphics with an intuitive user interface, which features four relaxing and straightforward mindfulness exercises to help reduce stress and bring back mental equilibrium.
Regular scientific tests and daily personalized workouts tailored to your preferences will help you keep tabs on your progress. In addition, statistics are provided to show where you excel and where you have room for improvement.
Pros:
Daily Workouts
Accurate statistics
Great Graphics
Cons:
Payment processing is a mess
Key Features: Audio Relaxation Stories | Meditation Games | Smooth graphics | Personalized Workouts
Download: GEIST (Free)
NeuroNation
This app specializes in brain and cognition training and offers a variety of scientifically backed online courses that can help improve mental focus, memory retention, and cognitive speed. The fact that they'd come up with their app for brain training is to be expected. This app analyses your unique qualities and potential and creates a personalized training plan for you, offering 27 exercises on 250 levels that will keep your brain active for years to come.
As you progress through the sequences, it becomes increasingly difficult to remember and analyze patterns without the help of this app. Playing this game can help those with memory issues, including dementia and other brain diseases. Your responses are recorded and sorted into memory, willpower, agility, focus, and verbal ability by the game.
Pros:
Better personalized workouts
Regularly updated with new exercises
Cons:
The interface is not smooth
Payment confirmation issues
Key Features: 34 motivating exercises | 300 levels of training | Automatically create personal training plans | Multiplayer
Download: NeuroNation (Free)
REBUS
The game REBUS presents you with several rebus puzzles, each containing a combination of letters, pictures, colors, and other hints intended to lead you to the solution of the puzzle's hidden word.
You'll be presented with a grid of eight rebuses to solve when you begin the game. More locked 8-by-8 grids can be found by swiping to the right. You can enter your best guesses by tapping on an individual rebus, which expands and provides a keyboard. You'll get 100 coins and a certain number of points if you get it right.
This game's bright colors, dynamic interface elements, and subtle sound effects keep the gameplay from becoming monotonous or repetitive.
Pros:
Minimalistic
Develops Logical thinking
Great UI
Key Features: Easy to Navigate UI | Interesting 8×8 puzzles | Enables Thinking Out of the Box
Download: REBUS (Free)
Rules!
Rules! is built on a very straightforward concept that you could probably guess correctly just by reading the film's title. A 16-card deck is placed in front of you. A picture is associated with each card number from one to ten. When you first start the game, it's pretty straightforward. You'll have to remove cards from the board by tapping them in descending order.
Once you've completed the task, you'll be given another rule: remove any cards with a green image. To complete the stage, you must remove cards by the first rule.
It's up to you to keep track of all the rules because the game doesn't let you know what they are as you play, so you're forced to do so mentally. New rules and cards will be introduced if you can clear ten boards in the allotted time without running out of time. When the time runs out, you just keep playing until you're done and see where you can go.
Pros:
Multi-Touch supported interface
Good game mechanics
Key Features: Clearing the Card Deck with the Rules | Straightforward gameplay | Time-based games
Download: Rules! (Free)
Related: 12 Best Hidden Object Games for Android and iPhone
Brain Wars
Use this app's mini-games to improve your concentration, reaction time, and ability to focus. In addition, Brain Wars provides you with an overall picture of the regions of your brain being exercised based on the games you have played and how long you have been playing them.
Brain Wars offers a total of 30 different games to choose from. Color-matching, math, shape-recognition, and number-memorization are some of the games included in this collection.
Pros:
Easy to understand for beginners
Simple UI
Cons:
Frequent crashes
Too many ads
Key Features: Multiplayer support | Continuous challenges | Brain Teasers for cognition | Repetition-based game
Download: Brain Wars (Free)
Pure Maths Training Brain Game
Improve your mathematical abilities with Pure Maths. In addition, each new game presents its unique challenges and rewards. It's impossible to guess and predict the answers to questions.
Keep your mind sharp by playing and practicing a few minutes a day. Mental math is a great way to boost your confidence and speed; this training will help you do so.
Pure Maths' increasing difficulty level makes it suitable for students of all ages and parents. You can pick up where you left off because the app saves your progress. More points are awarded for speedier responses to the problems.
Pros:
Math problems are good
Compare your score with friends
Cons:
Only 25 levels
App crashes a lot
Key Features: Suitable for Old ages | Progress is stored on the cloud | Random questions every time
Download: Pure Maths (Free)
These apps make various claims, such as improving focus and learning, raising IQ, or boosting other cognitive abilities. Some brain training apps claim to increase IQ levels, which may benefit people suffering from mental health conditions such as dementia or bipolar disorder.