Google Assistant Call Screening option for Pixel users help you avoid spam calls as the Assistant itself will attend such calls and shows you what the other person says. You can then decide whether to actually attend the call or let the robot hang up. This is a Pixel exclusive feature, but is also available on some Android phones that ship with the Google Phone app built-in.
Let's see how you can avoid spam calls and robocalls easily with the Pixel's Call Screening.
What Is Google Call Screening?
Call screening is a Google service powered by the Google Assistant on Google Pixel phones. It can answer a call for you, and asks the caller to introduce themselves and the reason for the call. You will see a transcript of anything the caller says and hears, and you can then decide to answer or end the call.
This is a great feature to avoid robocalls or just advertisement calls. You can also ask Google Assistant for further inquiry if you're not yet sure. The transcription is done locally, on the device, so you can be sure Google is not listening to your phone conversations. Google has itself said, "The Google Assistant helps with screening calls, but doesn't save call audio or transcripts to your Google Account, your Google Assistant Activity page, or Web & App Activity."
Call screening is also only available in certain regions such as the U.S., Canada, Australia, Japan, etc. As long as you're using English in the U.S, you can also automatically screen calls.
Related: 7 Best Ways to Boost Battery Life and Fix Battery Drain on Your Pixel Phone
How to Use Call Screening on Pixel
The Google call screening service is enabled by default, and there is no toggle to turn it on or off. You simply get a third option when you get a call. You can choose to screen a call during an incoming call. Here is how.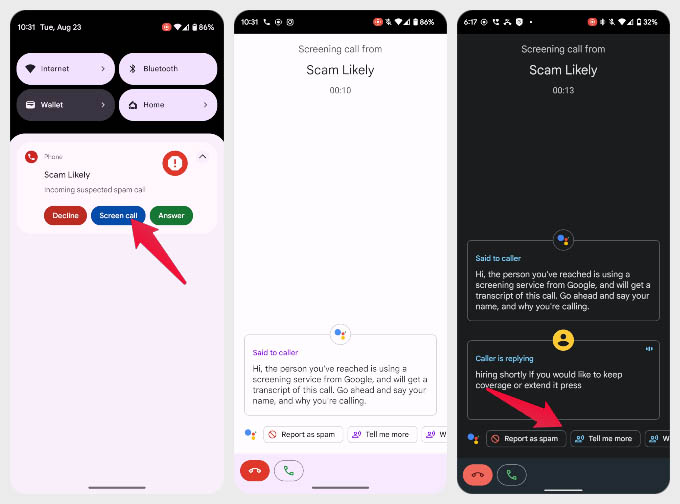 When you get a call, tap Screen call.
The caller will hear this message, "Hi, the person you've reached is using a screening service from Google, and will get a transcript of this conversation. Go ahead and say your name, and why you're calling." and you will see a transcript of it on your screen.
If you'd like your Google Assistant to further probe the caller for info, you can select any of the available phrases. These phrases include options like

"Is it urgent?"
"I can't understand you."
"I'll call you back."
"Report as spam."
"Tell me more"

When you're satisfied with the information, you can tap the red or green phone buttons at the bottom to end the call or answer it.
Related: Wake Your Android Phone Without Touching the Screen Like Google Pixel
Automatic Pixel Call Screen
As mentioned before, if you're in the US, your Pixel can screen calls automatically for you. This can be limited to only Spam calls, Possible fake numbers, First-time callers, Private & hidden numbers, some of them or all of them.
Open the Google Phone app on your Pixel phone.
Tap on the three-dot overflow-menu and select Settings.
On the Settings page, select Spam and Call Screen.
Turn on the toggle next to See caller and spam ID.
Tap on Call Screen.
Select either Spam, Possible faked numbers, First-time callers, Private & hidden numbers.
Choose Automatically screen. Decline Robocalls.
Once enabled, Google Assistant will automatically screen the calls that you've set for automatic screening. You will still see the transcript, and you will be notified about it once the caller has answered. In the call screen settings, you can also toggle on the option to Save Call Screen audio.
Related: How to Announce Calls on Android Phones: Announce Who Is Calling on Android
FAQ: Google Call Screening
How do I get Google call screening?
Google Call Screening is an exclusive feature available only on Google Pixel phones in certain markets such as the U.S., Canada, Australia, Japan, and a few others. To get Google call screening, therefore, you'll have to buy a Pixel phone.
Does Google have a Call Screening app?
Google call screening works within the Google Phone app that ships pre-installed on Google Pixel phones as well as few other Android phones.