You will not want to touch your phone when your hand is wet or dirty and your phone is lying on the kitchen table. Can you wake your phone without touching the screen? You can quickly glance over a notification or see the time, etc., without touching the screen by enabling a simple option.
Let's find out how you can wake up and use your Android phone without touching the screen.
Wake Android Phone Without Touching
Waking up an Android phone without touching can be more useful if your phone doesn't have an always-on display. Even for those who do, you must wake your phone to check out a notification. In such cases, you can wake up your phone just by waving your hands over the screen. First found on Pixel phones, you can now get the wave-to-wake option on any Android phone using an app called WaveUp.
WaveUp does not try to do too much, and that's what makes it consistent. The app simply relies on proximity sensors. They're available on every smartphone and work consistently in most cases.
Download: WaveUp from Play Store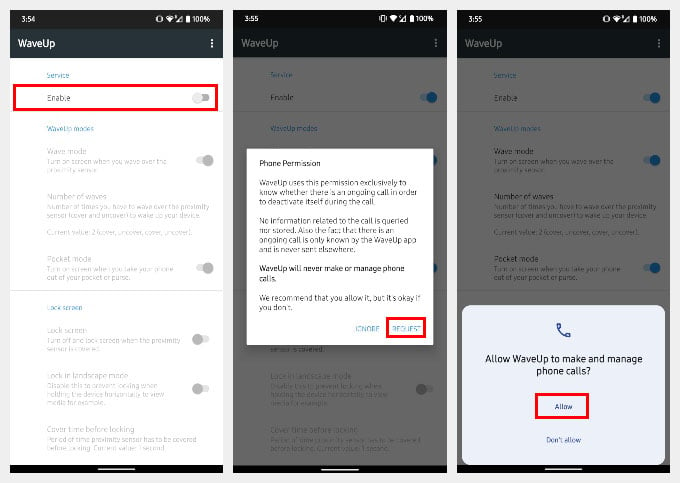 Install the WaveUp app on your phone and launch the app.
Turn on the toggle at the top that says Enable.
Tap REQUEST on the popup message.
Next, tap Allow on the permission request pop-up.
While there are other configuration options you can look at, the app already works. You can lock your screen and test it out. By default, you have to wave twice over the proximity sensor to wake the phone without touching it. You can change that in the app. You can also turn on the lock screen toggle. This lets you lock your phone by covering the proximity sensor.
You can do that with your hand or simply flip it over, and the screen will be locked. It's another quality of life feature, especially at night when you're in bed. You're scrolling through Reddit, getting sleepy; you can just put your phone face down and be sure that the phone is locked instantly.
Related: You Can Control Your Phone with Facial Expressions: Here's How
Why Does the WaveUp App Need the Phone Permission?
This is not an app you've installed to make calls; it has nothing to do with calls. But it depends on the proximity sensor to work, and the only apps that use it are Phone apps. The phone or dialer app has to turn off the display when you put the phone to your ear. Some apps even allow you to answer calls by putting the phone to your ear.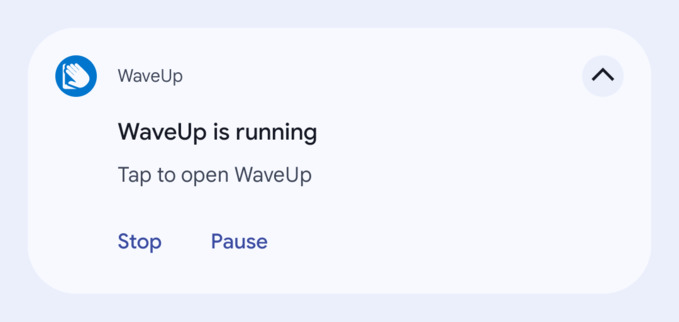 So, currently, on Android, you need phone permission if you want to access the proximity sensor. While the WaveUp app is running, you will get a persistent notification. You can either minimize it or hide it from the notification settings page if you don't like that. The results would depend on how good the proximity sensor on your phone is.
If you like the app, there's also a Tasker plugin. With the Tasker plugin, you can unlock your full potential. Instead of the limited wake phone without touching, you can control your Android phone with the hand wave gesture.