Turning on the Apple Watch screen with the side button every time you want to check the time or other complications is difficult. Instead, you can now set the Apple Watch screen to turn on full time.
In this article, we will show you how to enable Apple Watch always-on display.
Turn On Apple Watch Always-On Display
Always-On Display on your new Apple Watch keeps the display on even when you are not using the watch. It is really helpful when you want to check the time or other data on the h face without having to click the side button. Also, you do not need the "Raise to Wake" feature enabled always.
For enabling Apple Watch Always-on display, make sure your watch is p[aired with iPhone.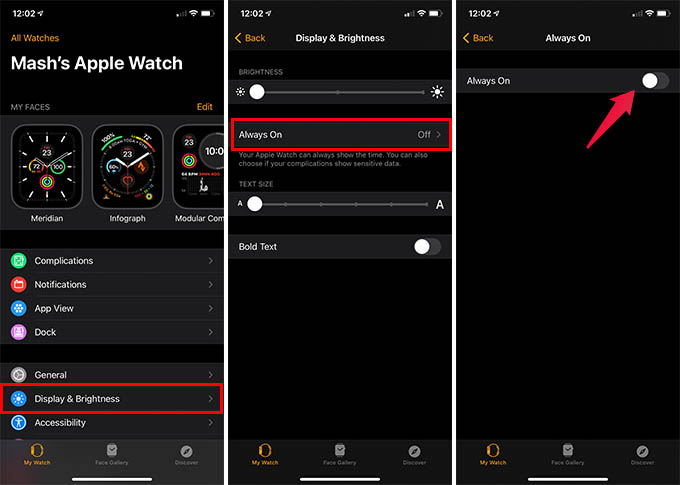 Open the Apple Watch app on your iPhone.
From the "My Watch" screen, go to Display & Brightness.
Tap Always On from the next window.
Toggle on "Always On."

If you want to hide your personal information and workout/fitness data from the always on screen, toggle on the "Hide Sensitive Complications" option.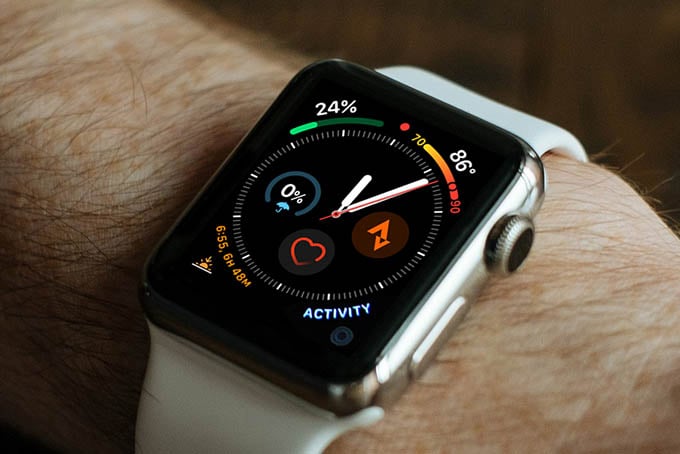 Your Apple Watch now keeps the display on even when you are not using it. There is not separate always-on display for Apple Watch. It shows your watch face with all the complications.
Does Always-On Display Drain Battery on Apple Watch
Considering the daily usage, the display takes the major part of the battery juice. So, you might be already worried if the always-on display cause battery drains on Apple Watch. The answer is, No.
Apple Watch keeps your screen on, but with the minimal brightness possible. It lets you see what's on the screen. Also, Apple Watch Always-on display causes very little power drain, thanks to the OLED screen. The touchscreen is also disabled, with refresh rate reduced to 1Hz.
Related: 24 Solutions to Fix Apple Watch Battery Draining Issue
You can get Apple Watch Always-On Display on Series 5 and 6 models. To save much battery with the always-on display, keep minimal complications on the watch face so that it needs minimal space on the screen.