We've all heard of the Apple ecosystem. It's what makes their expensive pricing worth it. it is what keeps Apple users from buying something other than Apple. Well, if you do live outside the infamous walled garden, you can still have some fun. For instance, you can get Airdrop on Android and Windows, if you don't have a Mac or iPhone. With the help of KDE Connect, you can even get a universal clipboard apart from the other Airdrop functions for your Android and Windows devices.
Editor's Note: Before you start, make sure your Windows PC and Android are connected to the same Wi-Fi network. That is the only necessary requirement that you need to get AirDrop and a universal clipboard on your Android phone and your Windows PC.
Get Airdrop Feature on Android & Windows
1. On your Windows PC, install KDE Connect from the Microsoft Store.
Download: KDE Connect for Windows
Double-click on the downloaded file to install it.
Launch the app on your PC once installed.

The app launches in the background, and you can find the icon in the system tray.

Right-click on it and select Configure to open the configuration module.
Next, install the KDE Connect Android app from the Google Play Store.
Once the app is installed, launch it.

KDE Connect will immediately show you a list of devices it finds on your current Wi-Fi network and previously connected devices.

Tap on the name of your Windows PC.
Tap on the REQUEST PAIRING button.
On your PC, click Accept on the notification that appears at the top of the screen.
Alternatively, you can click Accept from the KDE Connect configuration module.
That's pretty much it. From now on, anytime your Android and your Windows PC are on the same Wi-Fi network, KDE Connect will automatically connect the devices. And as long as that's true, you should have your universal clipboard.
You can copy anything on your phone, and it will be synced to the clipboard on your PC, or you can have it the other way around.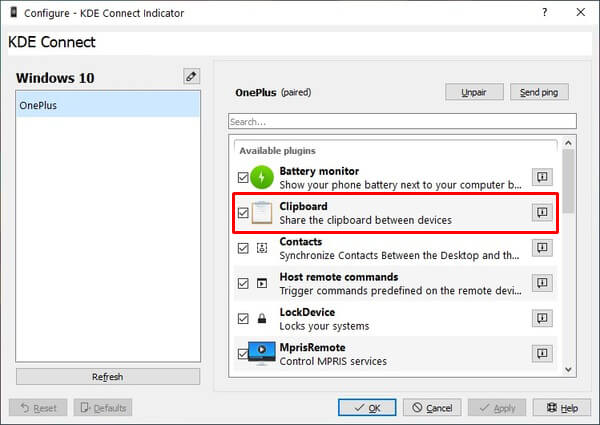 In case you don't see the magic, make sure you enable Clipboard sharing in the KDE Connect app. You can find KDE Connect in the system tray if it is running or you can start it from the start menu.
KDE Connect: The Tech Behind The Magic
For the uninitiated, KDE Connect is an app developed by the same team that brings us the amazing KDE Plasma Desktop Environment. It's a Linux thing, so you're probably not familiar with some of the terms. If you're interested in learning though, you can always check out some desktop environments, especially KDE Plasma.
According to the project's official KDE webpage, KDE Connect is a tool that is built with the aim to let all your devices communicate with each other. It also says, "To achieve this, KDE Connect implements a secure communication protocol over the network and allows any developer to create plugins on top of it." The app was recently released for macOS as well so that your Android device can join your Apple garden in some ways.
Related: How to Share Large Files between iPhone and Android Offline
KDE Connect for Windows
You may have heard some people describe how easily they can send a photo from their iPhone to their Mac like it's magic. Well, once you've set it up, KDE Connect works like magic too. Your devices, as long as connected to the same Wi-Fi network, are always connected. KDE Connect works in the background on both your Windows PC and Android phone, providing you with an Airdrop-like functionality.
On Windows, the app is not quite yet complete. Currently, Google Summer of Code student Piyush Aggarwal is undertaking the KDE Connect for Windows GSoC project and plans to tackle the current flaws. These are still early days, which is apparent from the fact that there are only these nightly builds that are available for now.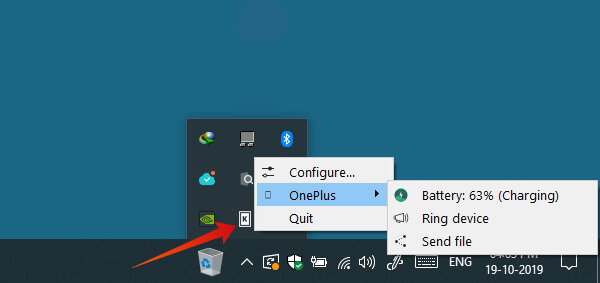 That said, the nightly builds work pretty nicely and are reliable, if not complete. Many KDE Connect features work on Windows, albeit not all. Features like clipboard sharing between Android and Windows work too. This gives your devices a universal clipboard where you can copy on one device and paste on another. This works seamlessly, without the user having to do anything on their part. Well, except for copying and pasting.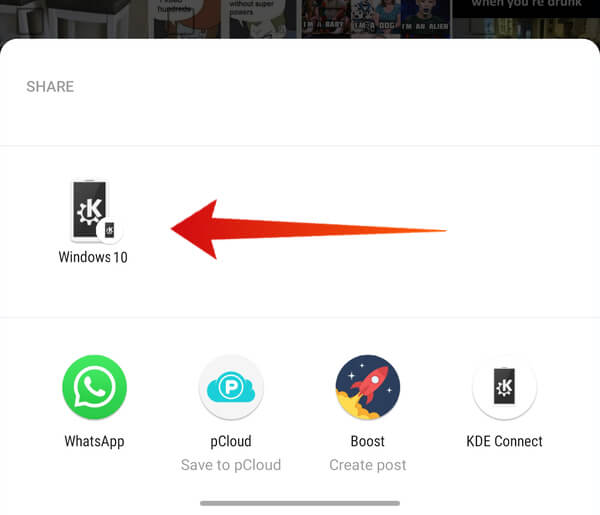 File sharing works flawlessly as well, with an exception. On Linux, KDE Connect lets you browse your phone's filesystem from your PC's file manager. Similarly, it lets you browse your PC's file system on your phone from the KDE Connect app. On Windows, this functionality is not present yet.
Better than Microsoft's "Your Phone"?
If you remember, Microsoft has also been trying to bring iOS and Android devices closer to Windows with a Your Phone app. It lets you view up to 25 of the latest photos you took from your phone's camera, view and respond to SMS messages, and if you're very lucky, mirror your phone's screen to your Windows PC. The functionality is very limited. KDE Connect cannot do screen mirroring, but for an overwhelming majority of Android users, neither can the Your Phone app.
However, with KDE Connect, you get universal clipboard sharing which can be more useful than you may think. While you cannot view all your messages, KDE connect does let you directly respond to notifications from your phone. Whether the notification is from WhatsApp, an SMS message, or even a call, you can simply mute it from your PC.
KDE Connect also lets you see your phone's battery status, i.e., current percentage and charging/discharging state. Your PC notifications can also be sent to your phone as well as any files. You can control any media playing on your PC from your phone as well as use your phone to control your PC remotely.
As mentioned before, KDE Connect is still under development, and as such, it's not the prettiest-looking app. On Windows, notifications from the app are barely noticeable and an eyesore. It does not yet support native Windows notifications. Given the early stage of development, though, it is understandable that the aesthetics are not something the developer is worried about as of yet.